Africa's free trade opportunity

The African Continental Free Trade Area has exciting implications for the continent's economies and people. Global Insight examines the scope of what has been agreed, and the important role of lawyers in enabling the full potential of free trade.
At the beginning of 2021, trading began under the African Continental Free Trade Area (AfCFTA) Agreement. The AfCFTA's aim is the creation of a single market for goods and services in Africa. It covers as many as 1.3 billion people, whose combined gross domestic product stands at an estimated $3.4tn. A new era for the continent's economies has arrived.
The Agreement – signed in Rwanda in 2018 – looks to take Africa from its current position, as a continent with 107 unique borders, high tariffs on goods and constraints on mobility, to a place of regulatory cooperation, with an integrated market, fewer tariff and non-tariff barriers and greater links between blocs of countries. In short, a continent where internal trade in goods and services is made significantly easier.
Babatunde Ajibade, Chair of the IBA African Regional Forum and Managing Partner of S P A Ajibade & Co, describes the Agreement as 'probably the most exciting development that has come out of Africa in the recent past'. Ajibade co-presented a series of webinars run by the Forum on the subject of the AfCFTA, which took place in November and December 2021.
'There are lots of superlatives that have been mentioned about what the impact of the African Continental Free Trade Agreement is going to be on the economies of African countries', says Ajibade. 'We would like to see that those superlatives actually manifest in reality, and we think that the legal profession has a significant part to play in ensuring that this happens'.
[The AfCFTA] is probably the most exciting development that has come out of Africa in the recent past
Babatunde Ajibade
Chair, IBA African Regional Forum
Elsewhere, the AfCFTA is similarly being hailed as a monumental event, not least for its potential to greatly enhance African economies and significantly reduce poverty on the continent. The World Bank estimates that the new market could lift up to 30 million Africans out of extreme poverty.
As stated in 2020 by Caroline Freund, the then Global Director of Trade, Investment and Competitiveness at the World Bank, 'Creating a single, continent-wide market for goods and services, business and investment would reshape African economies. The implementation of AfCFTA would be a huge step forward for Africa, demonstrating to the world that it is emerging as a leader on the global trade agenda.'
In its summary of its 2020 report The African Continental Free Trade Area: Economic and Distributional Effects, the World Bank lists the benefits of implementing the AfCFTA as including an increase in Africa's income of $450bn by 2035 – and a boost to the rest of the world's income of $76bn – and rising wages, to the tune of 10.3 per cent for unskilled workers and 9.8 per cent for skilled workers.
In early December 2021, the UN Conference on Trade and Development published its Economic Development in Africa Report 2021, which highlights the 'transformational ambition' of the AfCFTA. The report's authors note however that 'the extent to which the potential benefits of the African Continental Free Trade Area will be seamlessly achieved depends on several factors, including the level of integration and the policies and other complementary interventions in place that allow for the efficient exploitation of the opportunities accorded by deeper integration'.
The state of trade
The AfCFTA is a key part of the Agenda 2063 plan put forward by the African Union (AU), a body created at the turn of the millennium as the successor to the Organisation for African Unity, and which brings together 55 countries. The plan is intended to transform Africa into 'the global powerhouse of the future' and presents a 'strategic framework that aims to deliver on its goal for inclusive and sustainable development and is a concrete manifestation of the pan-African drive for unity, self-determination, freedom, progress and collective prosperity pursued under Pan-Africanism and African Renaissance'.
Currently, 54 of the AU's members have signed the AfCFTA, and 40 of those countries have ratified it. It's hoped that the next year sees ratification by the remaining signatories.
Learning from Brexit
According to Babajide Sodipo at the African Export–Import Bank, several countries felt that part of the reason the 1991 Abuja Treaty was never implemented was that it was perhaps too ambitious, and that bringing about a monetary and political union represented a step too far. 'Even in the European Union, you can see those kinds of struggles between countries that want to go "gung ho" on integration and surrendering sovereignty to supranational institutions […] and the countries that want to retain as much sovereignty over their issues as possible', he says.
'Throughout the negotiation of the AfCFTA, almost every article was about that balance, between countries that wanted to give everything, to create supranational institutions [and] surrender as much authority as is needed to make things practical, and countries that were less willing to do so, whether for political reasons, or whether for historical or cultural reasons', he says.
It's possible to discern that in negotiating the AfCFTA Agreement, the parties heeded some lessons from Brexit and the difficult departure of the UK from the EU. Article 27 of the Agreement covers the withdrawal of member states, providing an opportunity for state parties to withdraw from the AfCFTA five years after the Agreement's entry into force. It was thought important to make provision for orderly withdrawals, a point that 'had Brexit in mind', says Sodipo.
A review process is also built into the AfCFTA Agreement. 'Acknowledging that some of the things that they've attempted in the Agreement are sort of experimental and they're not quite sure how it'll work out or the kind of impact it will have, [the parties] created this opportunity where, almost as much as an obligation, they have to look at what is happening, at how the Agreement has been implemented', says Sodipo.
If necessary, recommendations could then be put forward for the AfCFTA Agreement to be amended, based on this review process.
A key difference between the AfCFTA and the EU from a governance perspective is that the former has no supranational body like the European Commission to introduce and enforce legislation. Instead, countries party to the AfCFTA Agreement come together to agree on what the rules will be. 'Of course, it may not necessarily be the most efficient way of making rules', says Sodipo. 'But it was certainly the most that the African countries were willing to agree to or commit to at that time.'
However, Sodipo believes that a 'certain degree of supranationality is certainly a better and a more effective and more efficient way to administer an economic integration agenda'.
The AfCFTA Agreement itself is made up of seven framework protocols. Three have been completed as of the end of 2021 – namely those concerning trade in goods, trade in services and dispute settlement. Each protocol sets out a specific agenda, describing what exactly is intended, the timeline for achieving it and benchmarks for assessing the results. The Protocol on Trade in Goods, for instance, intends to remove 90 per cent of tariff lines in five years for the least developed countries and over ten years in more developed countries.
These protocols then identify specific targets and objectives for the negotiations between member states, who work out the terms of trade that – when agreed by heads of state – establish the binding rules for those countries.
A number of operational tools have been introduced by the AfCFTA. For example, the 'rule of origin' principle will identify products made in Africa and apply specific rules and preferences to them.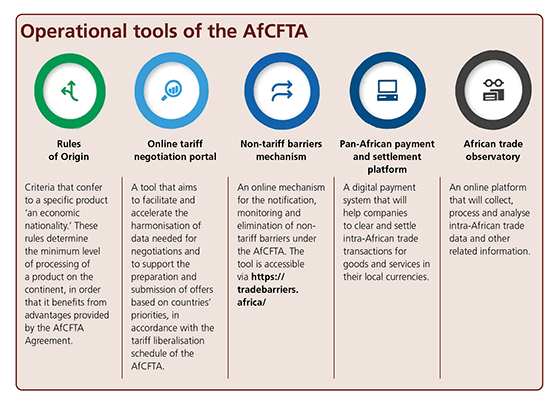 The non-tariff barriers mechanism, meanwhile, allows traders to report problems and any action taken, and pass feedback to trade ministries to obtain their support. For Dr Ify Ogo, a legal economist and trade specialist and the Regional Coordination Specialist on the AfCFTA for the UN Development Programme in Accra, it's 'an interesting tool to also track the implementation of the AfCFTA with those who actually trade in the AfCFTA. So it's a nice way to link the public and private sectors'.
Ogo appeared as a speaker during the IBA African Regional Forum webinar series. She says that, by examining the trade in goods conducted by Africa with the outside world, it has been shown that this trade comprises many low-value products. But looking at intra-Africa trade, the value of goods being traded is higher. For her, 'To transform economies, we have found that there is a clear link with trade inside of Africa, and this is only one example as to why there is the AfCFTA', says Ogo.
The AfCFTA Agreement builds on the eight Regional Economic Communities (RECs) already in place in Africa, which facilitate economic integration between countries in their group. For instance, the Economic Community of West African States includes Benin, Ghana and Liberia, while the Community of Sahel–Saharan States includes Egypt, Morocco and Tunisia.
'The AfCFTA doesn't wipe [the RECs] away', says Dr Ogo. 'The AfCFTA then says, "How do we consolidate what has been achieved in these RECs?" and so the AfCFTA, while it links the member states […] also tries to link these RECs as well in the context of the new space that is being created.'
The road to free trade
The AfCFTA hasn't appeared out of nowhere. Its roots lie in the 1980 Lagos Plan of Action, an attempt to chart a path forward for Africa's economic development through economic integration. In 1991 the Treaty Establishing the African Economic Community – otherwise known as the Abuja Treaty – was signed. This was a legal agreement that included numerous aspirational milestones towards further integration, for example in respect of creating a customs union and a monetary union.
'Because they were aspirational, it was also quite difficult to implement [the Treaty's provisions] because it didn't quite create rights and obligations which people or states will actually hold each other to', says Babajide Sodipo, a senior manager in the AU/AfCFTA Relations and Trade Policy department at the African Export–Import Bank, Cairo. Sodipo also appeared as a speaker during the IBA webinar series.
He believes 'we must see the AfCFTA Agreement as an expression or an attempt to operationalise or to actually implement the aspirations that were set down in the African Economic Community Treaty'.
To transform economies, we have found that there is a clear link with trade inside of Africa, and this is only one example as to why there is the AfCFTA
Dr Ify Ogo
Regional Coordination Specialist on the AfCFTA, UNDP
In 2012 a policy document was adopted by African heads of states, which proposed creating an initial trade agenda as part of the path towards integration. Finally, negotiations on the AfCFTA began in 2015, predominantly conducted by member states' ministers for trade.
Sodipo says that as much as the AfCFTA is an economic project and a legal agreement, it's important to understand that it's also a political project for the AU, 'in the sense that it was also an expression of a political desire to have an integrated Africa'.
He says that, examining the AfCFTA Agreement, a reader may notice that while not everything in the AfCFTA makes economic or legal sense, it instead makes political sense – something the AfCFTA has in common with many other international trade agreements, in Sodipo's view.
As lawyers seek to examine the issues in the AfCFTA, it's important for them to view the Agreement with a wide enough lens to understand all of the angles and perhaps be able to contextualise some of the things that they see, says Sodipo.
Enter the lawyers
Sodipo believes it's tempting, when approaching the Agreement, to view it in the abstract. Lawyers should however look at the AfCFTA firstly as a legal agreement, he says, highlighting that while it's a treaty, it's simultaneously a 'different kind of legal agreement'.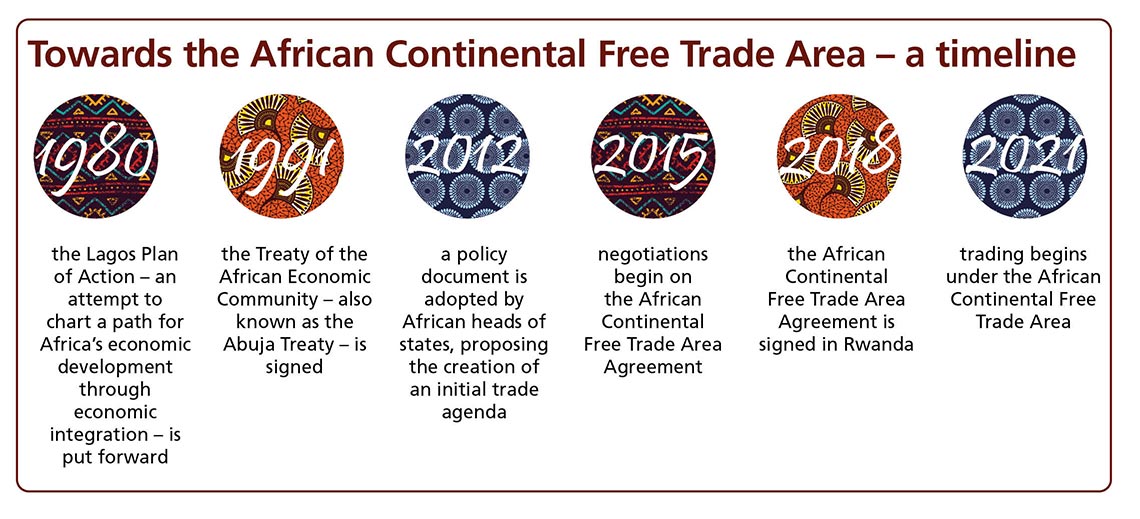 Regarding it in this way will bring the AfCFTA 'closer to you and make it easier for your mind to work itself around it, because then you look at it the same way you look at any legal agreement', for example in terms of what rights are created and who has them, what obligations exist and the consequences for not meeting them, and in respect of how conflicts are resolved. 'These are questions that as lawyers you deal with in legal agreements that you face every day', says Sodipo.
The Agreement presents significant opportunities for lawyers. One area that will generate work will be the settlement of disputes, and here the AfCFTA has its own Dispute Resolution Protocol. Dr Ogo says that this Protocol is intended more for use by state parties, however, and alternatives may therefore emerge. 'You have to think now about arbitration. You have to think about mediation', she says. 'Another way to approach it is also to think about preventive mechanisms – is there a way to begin to think about things like standard contracts [for example]?'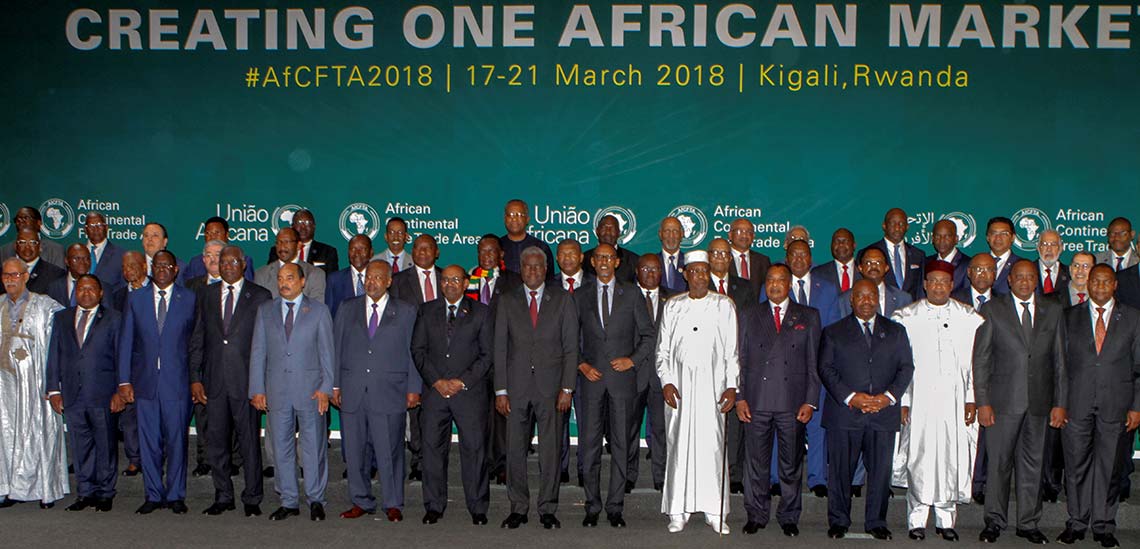 African leaders meet to sign a free trade deal that would create a liberalised market for goods and services across the continent in Kigali, Rwanda, 21 March 2018. REUTERS/Jean Bizimana
She adds that the bulk of traders on the continent are small and medium-sized businesses (SMEs), who may not have the means, time and space to engage in commercial disputes. 'So is there a way to forestall [these disputes], is there a way to say, this is what could happen and here's how to fight it?'
The AfCFTA should – if it works as planned – drive investment into Africa. This will create a space for lawyers to help clients understand the rules as well as the sector they're moving into.
Ogo says that when it comes to services, there will be a significant amount of reform and here too lawyers will need to become involved. Lawyers will assist clients to 'understand, to forecast, to explain what is happening, to also help the states themselves adjust as they begin to undertake these reforms', she says.
Further, 'understanding that trade will not have the same effect on all groups – it'll affect the SMEs in one way, it will affect the corporates in another way […] for the states themselves I think there's some space to advise and say here's what it will mean for XYZ', says Ogo. 'There is a space to also begin to understand how the AfCFTA fits in with all of these other frameworks that we have on the continent'.
While the Agreement sets out that disputes will be resolved via a state-to-state party mechanism, from a practical perspective a country's trade ministry is not going to be on hand to observe issues on the ground. Sodipo says that, where problems arise, lawyers – with their knowledge of the AfCFTA – can become involved by taking forward complaints from businesses and filing legal briefs which identify the issue and the obligations allegedly breached, and then engaging with the appropriate authorities.
Lawyers should consider the international dimension when it comes to their existing clients, and, according to Sodipo, 'be proactive to be able to advise clients […] that do business across the continent', identifying the work clients are doing in different jurisdictions and discussing with them the rights and obligations they have under the AfCFTA.
No shining knights
Asked to predict the AfCFTA's prospects, Ogo points to how the Agreement has been built to measure success. For example, observers will be able to review the progress of member states in terms of their implementation strategies and to what extent tariffs have been reduced.
She believes the AfCFTA has momentum, noting that the Agreement itself was negotiated in only a few years – a relatively swift turnaround when compared to how long international trade deals typically take to complete. The commencement of trading under the AfCFTA would have begun in July 2020, were it not for delays caused by the Covid-19 pandemic.
'Even with the constraints of Covid, we see that the member states are pressing on and saying we're still going to do all of these things that we have said we will do, and so going by that it seems […] they are convinced that this is something they should do and they're continuing to invest in [things relating to] the AfCFTA', she says.
African states have realised that there is no shining knight that is going to come and save you from your economic underdevelopment, you just have to sort it out yourself
Babajide Sodipo
Senior Manager, AU/AFCFTA Relations and Trade Policy Department, African Export–Import Bank
'There is immense political will and political desire to see it succeed,' says Sodipo, 'in the sense that African states have realised that there is no shining knight that is going to come and save you from your economic underdevelopment, you just have to sort it out yourself. And to resolve it, you have to work with other African countries, because they're the ones that have common interests, a common agenda [and so on]'.
For Sodipo, lawyers have a particular role to play in the success or failure of the AfCFTA. 'It's a legal agreement, if people are supposed to make noise where legal obligations are not being met, it's not necessarily going to be the average guy on the streets [doing that]', he says. 'It has to be legal experts that are trying to creatively look at the mechanisms, at the provisions, to see how you can push the envelope or you can get the things that will satisfy your clients'.
In the concluding webinar of the series, the IBA African Regional Forum's Babatunde Ajibade highlighted a point made in an earlier webinar, stating that 'there is more than enough talent, knowledge and expertise on the African continent to deal with the issues that arise from the AfCFTA and to make the AfCFTA work […] we Africans have to ensure that we're in the forefront of making this Agreement work to the benefit of the African economy'.
Simon Fuller is Managing Editor at the IBA and can be contacted at simon.fuller@int-bar.org
The remarks by Babatunde Ajibade, Dr Ify Ogo and Babajide Sodipo featured in this article were made during the webinar series organised by the IBA African Regional Forum. Links to all webinars in the series are found below: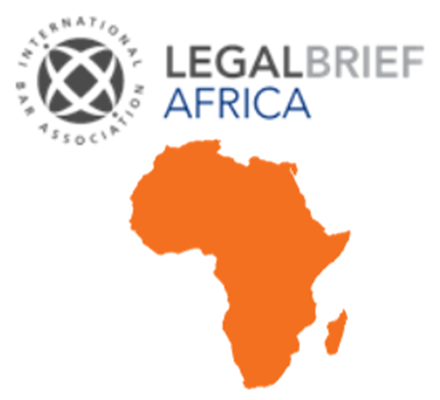 IBA Legalbrief Africa
Keep up-to-date with the latest legal news from the African continent with IBA Legalbrief Africa, the FREE weekly e-newsletter from the International Bar Association (IBA). Subscribe here: https://legalbrief.co.za/register/