IBA International Criminal Court and International Criminal Law (ICC & ICL) Programme
Our Work
The ICC & ICL Programme produces regular reports on the ICC, commenting on current proceedings and fair trial developments at the Court and providing detailed recommendations.
Click here for our programme reports
Our work also includes the production of regular commentaries on topics related to its mandate, through the release of position papers, presentations and addresses at international events.
Click here for our programme advocacy documents
Strengthening the International Criminal Court and the Rome Statute System: A Guide for States Parties
Strengthening the ICC and the Rome Statute System: A Guide for States Parties provides detailed guidance and recommendations for all existing and future States Parties to fulfill their responsibilities and obligations in the Rome Statute and guarantee a stronger and more effective ICC.
Part 1 focuses on the role that all States Parties should play in ensuring the Assembly's effective oversight of the ICC.
Part 2 calls on all States Parties to establish comprehensive and effective national frameworks to implement their individual obligations to investigate and prosecute Rome Statute crimes nationally, in accordance with the principle of complementarity, and to cooperate fully with the ICC's investigations and prosecutions.
Part 3 examines the role that States Parties should play individually and collectively through the Assembly to promote universality of the Rome Statute and ensure that all States Parties implement their responsibilities and obligations under the Rome Statute.
The Guide has been structured to be a resource for representatives of States Parties, and other stakeholders, to support the effective functioning of the ICC, including through the development and regular review of effective national implementing legislation.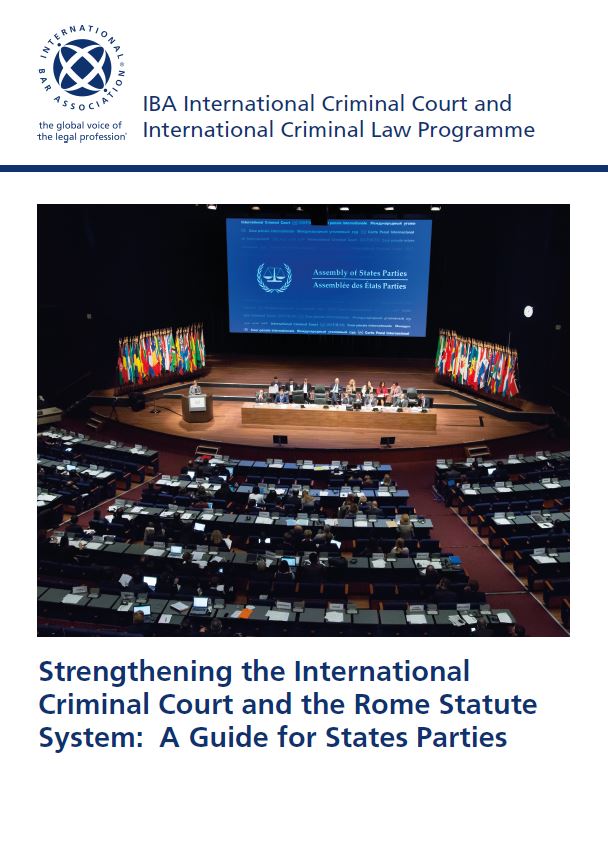 The IBA ICC Moot Court Competition
Since 2017 the IBA has partnered with Leiden University's Grotius Centre for International Legal Studies to stage the IBA ICC Moot Court Competition, which attracts law students from across the globe to test and sharpen their skills for careers as international lawyers. As of 2021, a new five-year Memorandum of Understanding positions the IBA as the primary supporting partner of the event. The oral rounds of the 2022 edition (8 - 29 May 2022) will take place online, with the exception being the final round on 27 May. This will be done in a hybrid format with ICC judges in the courtroom and the student teams pleading online. 
Detailed information on 2022 edition More information on the IBA ICC Moot Court
The IBA ICC & ICL Legal Internship Programme (The Hague)
Intern positions are available for graduate law students, postgraduate law students, and newly qualified lawyers. The ICC & ICL Legal Internship Programme is a remote internship only. Our next round will start on 5 September 2022 with the application deadline being 15 August 2022. More information on how and when to apply for future rounds can be found by clicking the button below. 
Click here for more information on IBA internship opportunities