Mental wellbeing in the legal profession
---
The International Bar Association (IBA) has embarked on a global project aimed at addressing the mental wellbeing of legal professionals around the world. To lead this work, former IBA President Horacio Bernardes Neto has convened the IBA Wellbeing Taskforce, led by IBA Bar Issues Commission Officers, with assistance from the IBA Legal Policy & Research Unit.
The key initial phase of the project consisted of two global surveys: one for individual lawyers, the other for law firms and other legal institutions, including bar associations, law societies and in-house legal departments.
The main findings of those surveys can be found below, along with the contact details of members of the Wellbeing Taskforce.
Latest:New IBA report sets out principles for dealing with mental wellbeing crisis in the legal profession
When I became president of the IBA in 2019, I made addressing mental wellbeing within the legal profession one of my main priorities. I had become increasingly concerned with all too frequent reports of substance abuse, severe depression, and suicide within the profession. Little did I or any of us know of the events that were to come. The devastating effects of depression, stress, addiction, and other such attacks on our wellbeing may have preceded the Coronavirus pandemic, but there is no question that it has exacerbated their impact. Read more
Horacio Bernardes Neto
President, International Bar Association (2019-2020)
Podcasts
---
IBA Wellbeing Survey Questions
IBA Wellbeing Surveys: Main Findings
Individuals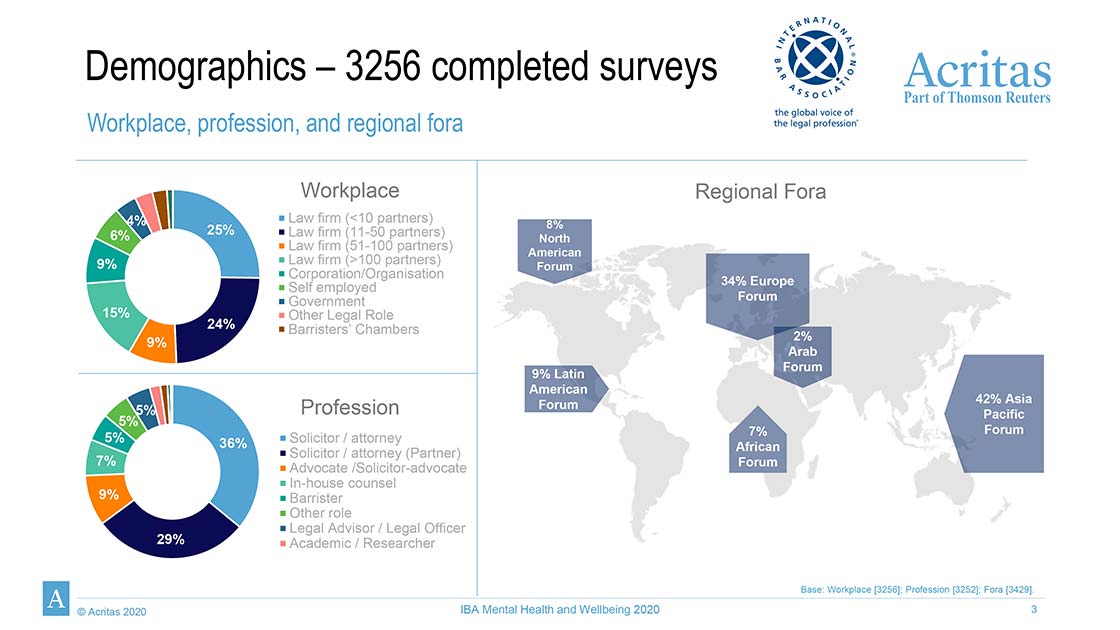 The IBA surveys utilise a wellbeing index score, created using the same methodology as the World Health Organization (WHO) for its WHO-5 index.
This index is created by asking respondents to comment on how often they have felt the following over the previous two weeks:
Calm and relaxed; cheerful and in good spirits; active and vigorous; refreshed and rested; and that their daily life was filled with interest.
A value was then assigned to each possible option based on their answer:
All of the time = 5; Most of the time = 4; More than half the time = 3; Less than half the time = 2; Some of the time = 1; At no time = 0.
The 0-5 scores from each statement were then added together to give a raw total of between 0-25 per individual. This was then multiplied by 4, to give a total out of 100.
This number represents the wellbeing index score for each individual respondent.
The WHO-5 average wellbeing index score for the general population is 75.
For respondents to the IBA survey, it was 51.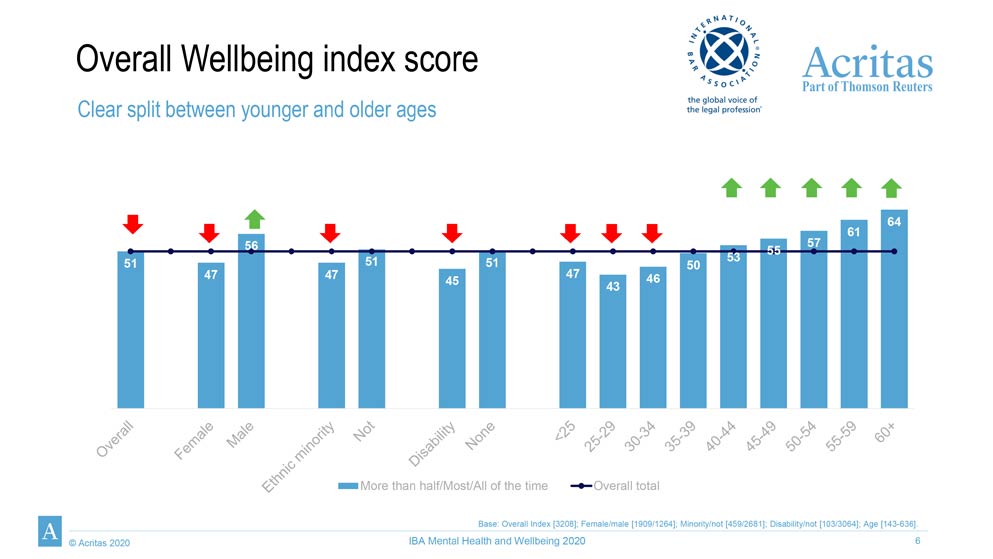 This slide shows how individual wellbeing index scores vary across different groups. Notably, the score for female respondents was significantly below that for males. Similarly, younger respondents' scores were lower than those of their older colleagues. There were also lower scores seen among those who identify as an ethnic minority, or who have a disability.
In this slide, the results of the wellbeing index scores are split between type of profession, size of workplace, and also regional responses. The Asia-Pacific forum recorded the lowest overall wellbeing index score, as did associates and advocates (in stark contrast to partners), and those working in law firms with between 51-100 partners.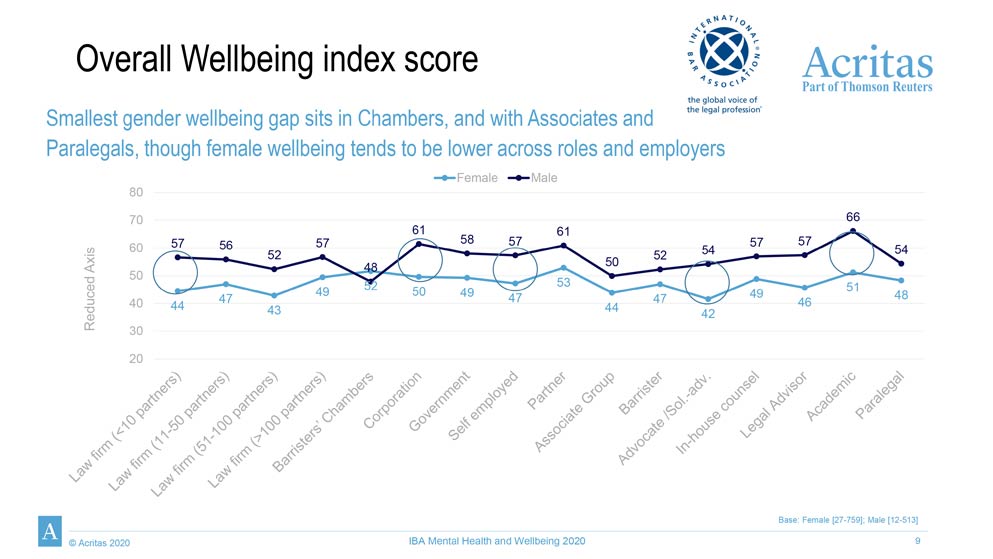 In this slide, the wellbeing index scores of male and female respondents are broken down by profession and compared in more detail. Notably, only barristers record a higher wellbeing index score for females as opposed to males.
Following on from the previous slide, this chart compares the wellbeing index scores of males and females on the basis of age and special characteristics. Once again, the male score is consistently higher than the female, with even larger gaps seen in the case of ethnic minorities and those with disabilities.
These graphs show the most commonly cited reasons given by respondents for why their work has a negative impact on their wellbeing, divided by age group. As highlighted in the slide, issues around workload appear to remain constant throughout respondents' careers, whereas concerns about work/life balance and physical and mental health issues have a disproportionate impact on the young.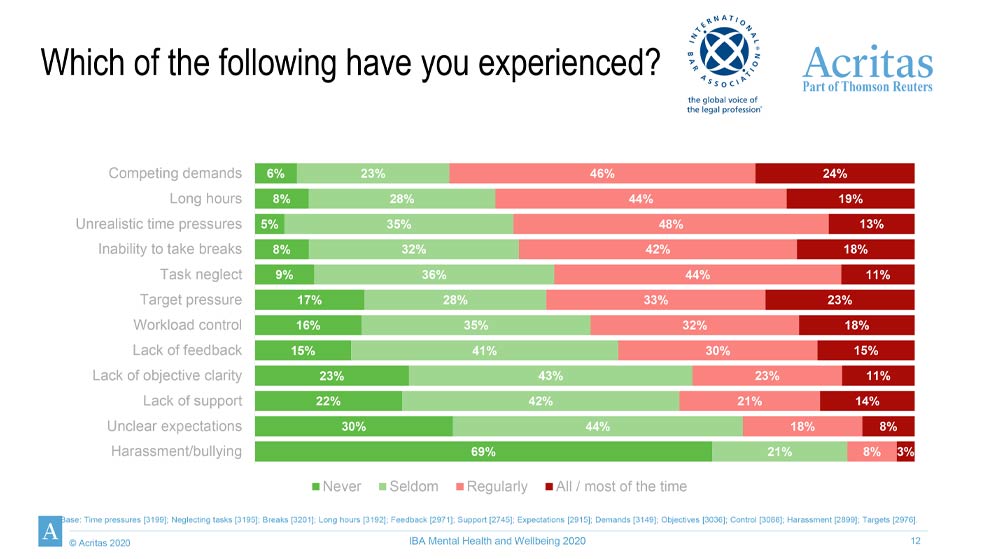 Respondents were asked which of the following issues they had experienced in their daily working lives. Competing demands, long hours, and unrealistic time pressures were the most commonly cited problems. While a majority (69%) had not experienced harassment or bullying, the remaining 31% did report experiencing such behavior seldomly, regularly, or all/most of the time, echoing findings from the IBA's existing work on bullying and sexual harassment in the legal workplace.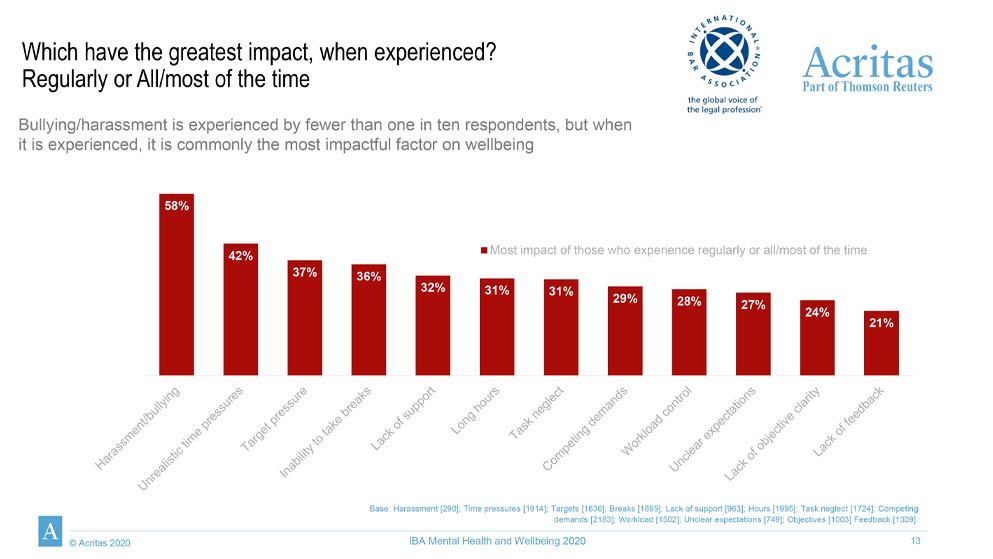 When experienced, harassment and bullying have the greatest negative impact on respondents' wellbeing, followed by unrealistic time pressures, the demand to hit targets, and the inability to take breaks.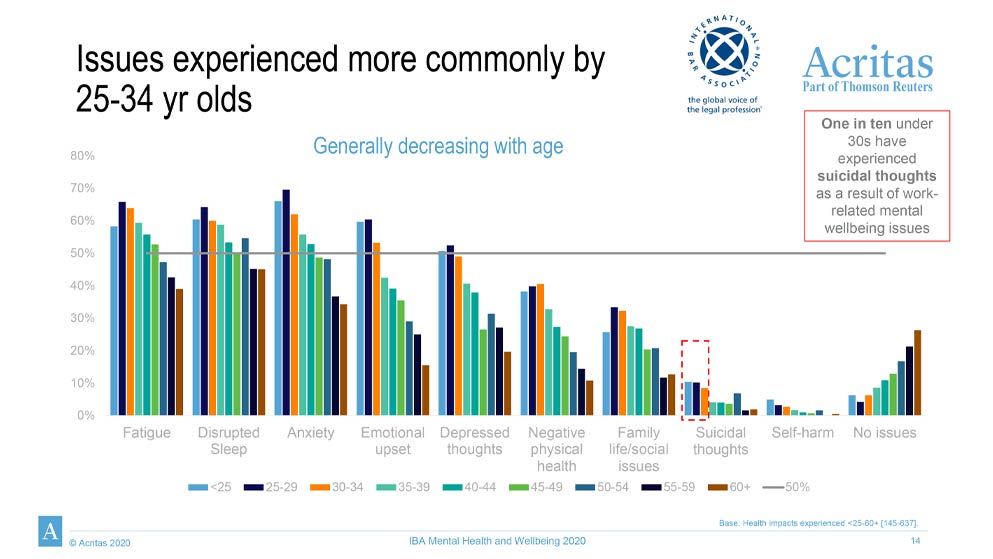 Here, the impact of negative wellbeing caused by work on different age groups is broken down further. In general, these problems disproportionately affect the young, although fatigue, disrupted sleep, and anxiety are experienced by a large proportion of all age groups. Notably, one in ten under 30s has experienced suicidal thoughts as a result of work.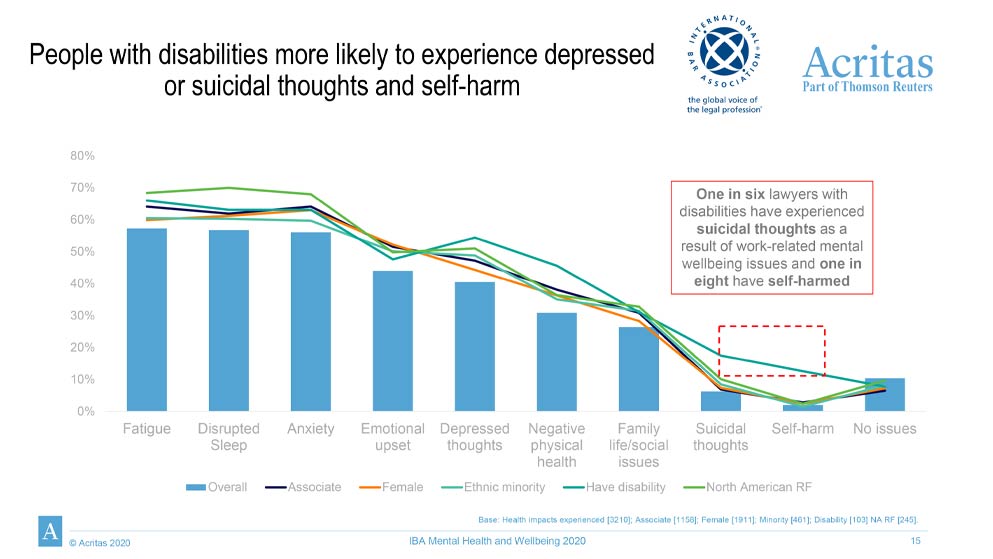 The disproportionate impact of negative wellbeing caused by work on those with disabilities can be seen more clearly in this graph. Similarly, issues caused by negative wellbeing at work are more prevalent in associates, female respondents, ethnic minorities, and members of the North American Regional Forum, when compared to the overall survey average.
Institutions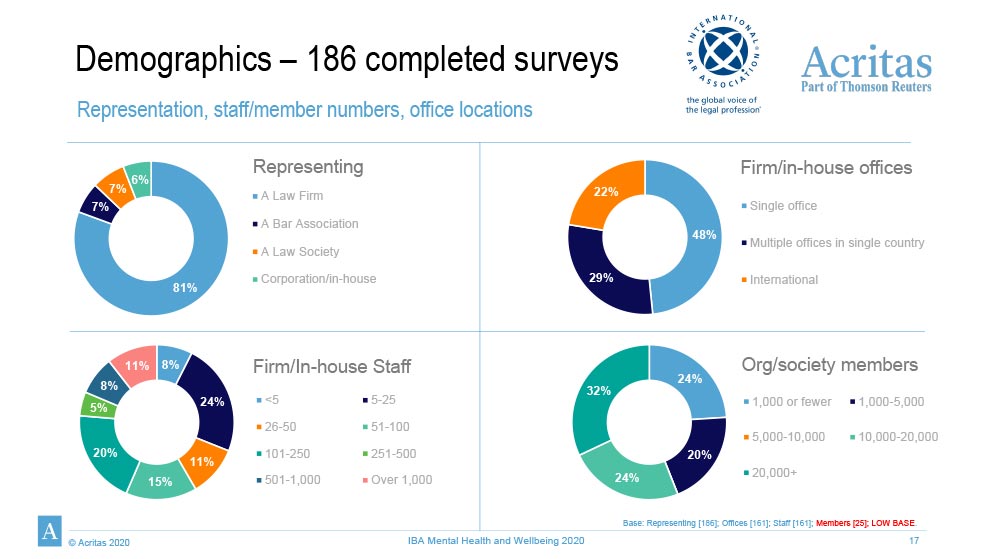 The disproportionate impact of negative wellbeing caused by work on those with disabilities can be seen more clearly in this graph. Similarly, issues caused by negative wellbeing at work are more prevalent in associates, female respondents, ethnic minorities, and members of the North American Regional Forum, when compared to the overall survey average.
Although 82% of institutional respondents say that the wellbeing of their employees and members is a priority, very few have measures in place to assess the impact of any wellbeing initiatives they may have, and only 16% provide wellbeing training for managers or those in senior positions. This is problematic, given the issues surrounding workload, time pressures and bullying highlighted in the individual survey.
When asked about how their employers had responded to the issues that lead to negative wellbeing at work, it is notable that in terms of workload, support, and harassment/bullying, most respondents replied with 'highly' or 'somewhat ineffective'. In no circumstances did the majority of respondents claim that their employer's response had been 'highly' or 'even somewhat effective'.
When asked if employers should do more about wellbeing, once again there were pronounced differences in response depending on the sex, minority status, disability, and age of the respondent.
Here, the problem surrounding lack of training for senior members of staff is laid bare in more detail. While a majority appear to be involved in the implementation of wellbeing policies, very few are receiving wellbeing training as a result of, or before, their implementation.
This table reinforces the broader recommendations emerging from the survey data, and which form the core of the IBA wellbeing taskforce's plan of action. The main areas of focus requested by employees were increased levels of openness around discussing wellbeing in the workplace, and better resources for wellbeing management and improvement in the workplace, especially for those in senior positions.
---
Task force
Relevant publications of task force members:
Mental wellness of lawyers in Nigeria
Nigeria is evolving as a result of having more investment and new businesses and becoming more commercialized in terms of infrastructural development. Lawyers play a major role in most transactions in the society; hence more deliverables are expected from lawyers.
Co-chairs
LPRU
---
Americas
---
Europe
---
Africa
---
Asia Pacific
---
News releases