The IBA's response to the war in Ukraine  
America's war on democracy

Since high-profile Republicans warned that mail-in voting had to be limited for the party to ever win the presidency again, hundreds of restrictive bills have been introduced across state legislatures. But rights advocates are battling voter suppression and corporate America is being pulled into the fight.
Eight years ago, the United States Supreme Court made it easier for state legislatures to pass discriminatory voting laws. In the majority opinion for Shelby County v Holder, Chief Justice Roberts argued that the provision of the Voting Rights Act requiring states with a history of entrenched racial discrimination to seek judicial or government approval for any voting reform was no longer needed.
But, in her infamous dissenting opinion, the late Justice Ruth Bader Ginsburg warned: 'Throwing out preclearance when it has worked and is continuing to work to stop discriminatory changes is like throwing away your umbrella in a rainstorm because you are not getting wet.'
In the aftermath of the 2020 presidential election – which reportedly saw the highest voter turnout since 1900 – historically marginalised voters face a new deluge of suppression.
According to the Brennan Center for Justice, by 24 March, legislators in 47 states had introduced 361 bills with provisions that restrict voting access.
Throwing out preclearance when it has worked and is continuing to work to stop discriminatory changes is like throwing away your umbrella in a rainstorm because you are not getting wet
Ruth Bader Ginsburg
Former Supreme Court Justice
More than 120 restrict mail-in voting, through which half of all votes were cast in 2020. Many would introduce new ID requirements, eliminate no-excuse mail-in voting and purge voters from automatic mail-in voter registration lists. Other provisions create barriers to registration, reduce voting hours and limit early voting and undermine the power of local officials.
Sophia Lin Lakin, Deputy Director of the Voting Rights Project at the American Civil Liberties Union (ACLU), says 'some of the types of restrictions we are seeing are very much a response to what happened last year, including attacks on absentee voting – mail-in voting specifically'.
She says having measures restricting local control of elections 'is something new that we have not previously seen in this kind of widespread way, and that is hard to see as anything other than an effort to punish and restrict certain local officials who really tried to make voting more accessible and safe for voters during the pandemic'.
'Legislating on lies'
Many of the restrictions are being justified on the basis of election integrity concerns, drawing on former President Trump's claims of widespread election fraud.
Despite officials in Georgia previously defending the state's elections from such claims, Governor Brian Kemp argued changes were needed to 'ensure elections are secure, fair and accessible'. State Representative Bee Nguyen chastised her colleagues in Georgia's House of Representatives for 'legislating on lies'.
The US Cybersecurity and Infrastructure Security Agency declared the 2020 presidential election the 'most secure in American history', and courts presiding over more than sixty claims of fraud brought by the legal teams of Trump and his allies dismissed almost all cases. Nonetheless, an American Enterprise Institute survey found that only 21 per cent of Republicans believe votes across the US were counted as intended, giving Republican legislators justification for reforms regardless of the baselessness of the fraud concerns. Lakin says, 'a couple years ago we were talking about voter fraud all the time, and we would actually go in and say look, based on everything you've given us there's no fraud, or it wouldn't be impacted by this law'.
'That has changed over time and what we've seen more recently is this voter confidence piece. So the rhetoric now is often that it doesn't matter if there's actually no fraud, because some people think there's fraud, and legislators can argue they need restrictive laws to make those people feel that elections are more secure. That is very frustrating from my perspective because of who has created the perception that there is any sort of electoral integrity issue in the first place.'
Some justifications are openly partisan. In March, a lawyer representing the Republican Party at the Supreme Court defended Arizona's policy of throwing out ballots that arrive in the wrong precinct, claiming that not doing so 'puts [Republicans] at a competitive disadvantage relative to Democrats. Politics is a zero-sum game'.
To Lakin, these arguments are a cover. 'There's a reason, and I would say a legal reason, for the efforts to speak about these laws in partisan terms', she says. 'Republicans can – and have previously – come into the courts and say, this isn't really about race.'
Yet, 'when you look at where the types of things that they are trying to implement are going to hit the hardest', she says, 'those are places with the most historically disenfranchised voters – Black and brown voters, voters with disabilities. These are tools that they use to vote that are being attacked'.
Examining voter suppression trends in February 2020, the ACLU reported that states with the most extreme disenfranchisement laws were those that also have historic records of entrenched racism.
Lakin believes these bills are 'a perfect continuation of this unfortunate cycle in voting rights, where you see an expansion of the electorate and then an attempt to restrict that and limit the ability of people to access the ballot'.
Jim Crow returns
The ACLU is among organisations suing states over restrictions, arguing that they have a disproportionate impact – which in some cases they argue is the intended effect – on people of colour, poor communities, disabled voters and Native Americans.
Kermit Lowery, Secretary-Treasurer of the IBA Poverty and Social Development Committee and Vice President of Legal Research Solutions at LexisNexis Legal & Professional, tells Global Insight, 'typically, because low-income white communities are in rural areas with less population density, and Black and brown people are isolated in run-down urban areas, the impact of these measures is different'.
'According to the statistics, a lot more poor, Black and brown people mailed in ballots this year. And of course, Arizona and Georgia flipped from Trump/Republican to Democratic. And it appears that there are some people who don't like the idea that early voting, additional drop boxes and all these things help get the vote out', he adds.
In its 2020 report, Obstacles at Every Turn, the Native American Rights Fund (NARF) notes that Native American voters, who face 'unique' and 'first generation barriers to voting', are regularly determinative in elections in some states. 'Perhaps this ability to "swing" elections', it suggests, 'has made them the target of voter suppression tactics in communities that are not used to Native Americans flexing their political power'.
Jacqueline De León, a staff attorney at NARF, says 'electing representatives is how Native communities can protect their interests and advocate for fair access to resources. For too long, Native disenfranchisement has left Native Americans unprotected and that has led to exploitation of Native communities and lack of investment that Native Americans are entitled to as American citizens'.
De León tells Global Insight that while voter suppression is nothing new, this recent push is notable, 'because it is so brazen and rooted in alternative narratives that are based on lies'. She adds, 'we are currently fighting both the inequities these barriers impose and the disinformation that they are rooted in'.
Advocates are particularly concerned about the new restrictions in Georgia, where historic Black voter turnout was vital to secure victory for President Biden and two Democrat Senators.
The Election Integrity Act 2021, passed on 25 March, replaces a signature-only system for requesting mail-in ballots with new ID requirements. It gives the state more power to take control of voting operations if problems are reported, limits the number of 'drop boxes' for absentee votes and shortens early voting.
Biden called the bill 'Jim Crow in the 21st century' and 'a blatant attack on the Constitution'.
ID requirements can disenfranchise Black and indigenous voters: Native Americans, whose tribal IDs are often not accepted, can face multiple barriers to attaining government-issued ID, and the ACLU reports that around a quarter of Black voters lack government-issued photo ID.
Further, limiting voting locations and hours could worsen barriers to in-person voting. The ACLU reports that only 40 per cent of polling places fully accommodate people with disabilities, and US counties with larger minority populations have fewer polling sites and poll workers per voter.
If January sixth taught us anything, it's that democracy can be volatile and it can be tenuous, and it's precious
Jeffrey Siminoff
Senior Vice President, Robert F Kennedy Human Rights
Lowery highlights the historic racism, segregation, redlining and other forms of discrimination that have isolated low-income voters of colour in such areas, where queues for voting are disproportionately long as a result. That's partly why Georgia's new ban on third parties giving food or water to queuing voters is particularly controversial. 'If you think about a state like Arizona and Georgia, where it's extremely hot even in November', Lowery says, 'if you're standing out in the hot sun for more than an hour, you're going to need some water. And that is one of the things the "get the vote out" organisations did in Georgia to help people who were standing in these long lines, they brought food and water and passed it out'.
To Lowery, 'it certainly appears that there's this sinister systemic racism that went into doing this and the way they wrote these new bills'.
Expanding access
In a December statement, Brad Raffensperger, Georgia's Secretary of State, claimed 'the cries of "voter suppression" from those on the left ring as hollow as the continuously debunked claims of "mass voter fraud" in Georgia's 2020 election'. He supports getting rid of no-excuse absentee voting because it's 'too much to manage' for officials.
While in Kentucky, which itself has extremely restrictive voting laws, the state's latest reforms did focus on electoral integrity, legislators made permanent some of the temporary changes from 2020, like allowing early in-person voting.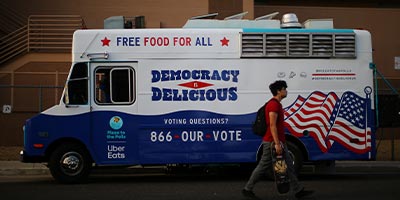 A food truck is seen outside a polling station in the majority Hispanic neighbourhood of Maryvale, Phoenix, Arizona, 3 November 2020. REUTERS/ Edgard Garrido
Matt Singer, partner at consulting firm Impactual and founder of Voter Registration Day, highlights how 'Republicans and Democrats came together after that election and said, wow, that was a lot of work. But what did we learn from it? […] how are we going to build on this record turnout?'
Other states are expanding forms of voting access. The Brennan Center has counted more than 843 bills introduced across the US, nine of which have been signed into law. Many expand access to early voting, address absentee voting and ease voter registration, and some restore voting rights to ex-convicts.
Two pieces of federal legislation could block many of the new restrictions and instead expand voting access across the nation: the For The People Act (HR 1) and the John Lewis Voting Rights Act (HR 4).
HR 1 is the most ambitious. It mandates automatic voter registration, allowing no-excuse absentee voting, handing the mapping of congressional districts to independent commissions to end partisan gerrymandering, and more. It also contains a number of rules to strengthen government ethics, overhauling campaign finance laws and increasing safeguards against foreign interference.
The bill is controversial with both parties, and some advocates believe the voting rights provisions should be separated from other parts.
Even then, Lowery doubts its chances: 'Unless they get rid of the filibuster, in my opinion, HR 1 absolutely has no chance of being successful. I don't think Biden will be able to get ten Republican senators vote for the legislation. And I don't think even the President wants to completely eliminate the filibuster.'
HR 4 may be less controversial. It aims to restore the original Voting Rights Act provisions that were gutted by Shelby County, but doing so requires fine-tuning the formula used to determine which states face the preclearance requirements.
Some advocates are calling for HR 4 to be introduced in the House and pushed to the Senate urgently, to capitalise on the momentum against restrictive laws and prevent those laws, and the redrawing of congressional maps, from having a prolonged impact. Midterms planned for 2022 are adding to the urgency.
For organisations litigating to protect voting rights, the legislation is sorely needed.
Lakin says 'efforts to pass federal legislation is related to not just forcing states to adopt rules and election administration laws that are better for voters but also to provide tools to advocates, both in the court and outside of the court'.
Shelby County limited those tools, making litigation more resource intensive. Previously, states held the legal burden of proving changes wouldn't suppress minority voters. Without that requirement, the burden shifted to organisations like the ACLU, and the 'floodgates opened' as changes that would never have been proposed were signed into law.
Companies who are speaking up, who are standing up for democracy and who are standing up for access for voters are more popular with consumers
Matt Singer
Partner, Impactual
Lakin says this makes it difficult to monitor the smaller changes like polling station closures, which could be as damaging as legislation.
Still, Lowery expects litigation to be the more effective pursuit. 'We might be successful with the Justice Department suing some of the states to be able to show the disparate impact on poor and black and brown communities', he says. 'They may be able to overturn some of [the bills], but getting legislation through the US Congress, I don't see that happening.'
One remaining aspect of the Voting Rights Act that enables such litigation is under threat, as the Supreme Court is considering whether to review the provision prohibiting laws with discriminatory effects.
Corporate responsibility
In the absence of federal legislation, pressure is mounting on corporate America to defend voters from suppression.
Jeffrey M Siminoff is Senior Vice President at Robert F Kennedy Human Rights in the US, heading up the organisation's Workplace Dignity programme. He says that for companies who avoid getting involved, 'there may be financial costs in terms of brand value, given that the majority of Americans believe that the right to vote is a fundamental right'.
Recent surveys have shown that American businesses – the most trusted institution in the US, ahead of non-governmental organisations, media and government – are expected to take a stand. Edelman's Trust Barometer for 2021 found that 78 per cent of US respondents expect business leaders to publicly speak out, and 63 per cent believe they should step in when the government does not fix societal problems.
Singer tells Global Insight that 'what we see repeatedly in surveys and in the marketplace itself is that companies who are speaking up, who are standing up for democracy and who are standing up for access for voters and for civic engagement, are better able to attract and retain great employees. They are more popular with consumers. This is an easy fight to pick if that's what you want. On the flip side, there is a genuine risk of doing nothing'.
In Georgia, major companies faced serious criticism for being too slow to intervene.
Black Voters Matter was among groups involved in voter drives ahead of the Georgia elections, and used targeted advertising and protests to highlight the need for companies to take action recently.
Co-founder LaTosha Brown told The Financial Times, 'many of these same companies […] made bold statements around racial equity. They had a commitment to racial equity, and healing a nation beyond racism. Now it makes me wonder: were their statements disingenuous? Were their statements just a marketing ploy?'
While some companies may deem this a political issue and avoid engagement, Siminoff argues 'most organisations are already involved in the political process in other ways, whether through trying to influence tax policy or another issue that affects their business. Here there's an opportunity to influence legislation that has a material impact on the rights of the people who are working for you and who are helping to make your business successful'.
'Organisations need to solve for stated values and commitments made, not would-be backlashers', he emphasises.
It certainly appears that there's this sinister systemic racism that went into doing this and the way they wrote these new bills
Kermit Lowery
Secretary-Treasurer, IBA Poverty and Social Development Committee
In late March, 72 of America's senior Black corporate executives published an open letter through the Black Economic Alliance, urging businesses to 'move past indecision to action'. 'When it comes to protecting the rights of all Americans to vote, there can be no middle ground', they wrote.
After that prompt, more than 170 US corporate executives signed a statement coordinated by Civic Alliance, a business coalition focused on voting access. The letter criticised state legislators who 'impose barriers that result in longer lines at the polls or that reduce access to secure ballot drop boxes'.
Singer, who advises Civic Alliance, says 'since then, what we've seen is a massive shift in the conversation inside state houses where we are seeing lawmakers who are mindful that this is an agenda item that businesses do care about'.
But corporate America was too late for Georgia, where bills had already passed.
Siminoff says, 'it is meaningful to speak out against the Georgia legislation now, but it's a bit belated. Belated action can sometimes mean ineffectual action. Given Georgia is not the only state of concern, other organisations may take their lead from the Georgia experience and recognise that you can use the influence you have as an economic power to meet with legislators earlier on, and influence the policy just as you would on any other issues'.
He suggests companies consider defunding politicians who receive political contributions from the organisation if they have supported the voter suppression efforts. 'We all have a choice about where our dollars go, whether it's organisations supporting politicians or whether it's consumer spending dollars. There's power in that choice', he argues.
For Singer, 'the range of ways that companies can engage right now is nearly infinite'. He suggests organisations look at charitable giving, working with local clerks and election administrators, even getting involved in or supporting litigation efforts to overturn these rules, or just supporting voter education.
Siminoff suggests that 'to enhance the credibility of stated values among employees, organisations can think about ways to make voting easier for their own staff, which can include getting time off for voting, supporting volunteering and so on. Recognise that those employees under some of these new legislations could be put in a really difficult position', he says.
Although some advocates urge companies to put their weight behind federal legislation, Singer warns, 'the details of these bills change all the time. So going on the record, in favour or against a specific piece of legislation, there's a reason why we don't see a ton of that, either at state or federal level. The companies leading with values and talking about what is it that we hold dear as a country is actually, in a lot of ways, far more powerful'.
Siminoff believes that the insurrection at the Capitol on 6 January, and 2020's Black Lives Matter protests, have generated more willingness among some companies to be explicitly engaged and taking action in regard to restrictions on fundamental rights.
He highlights, 'a healthy democracy is crucial for business success, and businesses, especially public companies, rely on stability and a lack of chaos in the markets in the democracy itself. We all know that democracy is a fragile thing. If January sixth taught us anything, it's that democracy can be volatile and it can be tenuous, and it's precious'.
'Ultimately, think about what is just and what is right, and how many moments in time you'll have that are so crucial to speak up and speak out about something that's so fundamental to the very existence of the democracy that we live in.'
Jennifer Venis is a freelance journalist and can be contacted at jennifer@jennifervenis.co.uk