The IBA uses cookies to provide you with a better website experience. By continuing to use our site, you are agreeing to the use of cookies.
Already an IBA member? Sign in for a better website experience
The IBA's response to the situation in Ukraine  
Battling the kleptocrats
Jonathan Watson, IBA Finance CorrespondentWednesday 1 June 2022

Following Russia's invasion of Ukraine, questions are being asked about Russian wealth in the UK and how it got there. Global Insight assesses how enforcement and lawyers can tackle the problem.
Following Russia's invasion of Ukraine in February, lawyers' connections to powerful, wealthy businessmen and women close to the Kremlin, known as oligarchs, have been under the spotlight.
This is especially true in the UK. In a debate about Ukraine in the House of Lords, Lord Carlile QC said it was 'probably fair to say that there is a host of law firms that have been involved' in helping Russians launder money.
In the House of Commons, MP Bob Seely alleged that whistleblowers working for big law firms had told him that they do not do proper client checks and that 'know your client' systems were 'non-existent'. He added: 'Some actually have a list of people that they specifically do not do those checks on because they know that they are inherently corrupt and inherently criminal.'
A spokesperson for the Solicitors Regulation Authority (SRA) of England and Wales told Global Insight that the authority had contacted MPs and members of the UK's House of Lords – including Bob Seely MP – who raised specific concerns about the conduct of law firms. 'If they provide us with evidence of misconduct, we will take action', the spokesperson said.
The SRA has also begun spot checks on firms named in Parliament as working for Russian oligarch clients. There's no suggestion that any wrongdoing has been found, however.
Punishing Russia
As governments rushed to punish the Russian regime following the start of the invasion, UK Foreign Secretary Liz Truss reportedly briefed MPs that the government's bid to sanction Russian oligarchs was being 'held up' by London law firms. Ben Bradshaw MP said in response that these firms should be 'named and shamed'. Some legal commentators responded to dispute the claims, however.
Even before the invasion started, there were allegations that close associates of Russian President Vladimir Putin were using the UK judicial system to launder dirty money and settle old scores. A report from the Henry Jackson Society, published in 2020, accused 'pin-striped enablers' in law firms of assisting Russians in exploiting European courts to launder money out of Russia.
'Enablers' is a popular term. 'The UK has become one of the global jurisdictions of choice for money laundering', writes UK MP Dame Margaret Hodge in a report for the King's College London Policy Institute, published in March. One of the key reasons for this, she argues, is that 'there are scores of enablers who are willing to advise and support the crooked and the kleptocratic to stash their dirty money here'.
There are scores of enablers who are willing to advise and support the crooked and the kleptocratic to stash their dirty money in the UK
Dame Margaret Hodge
UK Member of Parliament
In a debate on the UK government's latest proposals to crack down on money laundering in the House of Commons, Chris Bryant MP said: 'We have world-beating lawyers, accountants and others who facilitate the hiding of all these assets. Do we not need to put on them the onus of having to report their dealings with Putin's cronies, and should it not be a criminal offence if they do not do so?'
Many law firms have taken robust responses to Russia's actions. Some have made efforts to cut ties. Freshfields, for example, will close its Moscow office and clarified in early March that it will not 'act for companies or individuals with close ties to the Russian state, with connections to the wider leadership regime, and/or who play a role in supporting or facilitating the current Russian military action'.
Slaughter and May, meanwhile, say they have 'done very little work for Russian clients' in the first place due to longstanding policies outlining the sorts of clients they are prepared to take on.
Criticism of law firms is not confined to the UK. Moneyval, the Council of Europe's financial crime research arm, used its most recent annual report – published in early May – to issue a scathing rebuke to jurisdictions across Europe for failing to tackle illicit money flows.
The Pandora Papers leak of 2021 showed that specialised professionals, including lawyers and accountants, 'can be complicit in the large-scale transnational money laundering schemes involving corrupt politicians and high-net-worth individuals seeking to evade taxes, often using offshore jurisdictions and complex corporate structures', says Moneyval's Chair, Elżbieta Frankow-Jaśkiewicz.
Moneyval claims that no European government effectively punishes lawyers, accountants and other 'gatekeeping professionals' who break the law in facilitating financial crime. Further, it states that only three countries have effective policing mechanisms to deter big banks from moving dirty money.
Taking action
Underlying all this is a presumption that law firms are in a better position to investigate potential cases of money laundering than the authorities, says Neil Swift, a partner at Peters & Peters in London. 'If you've got money that someone in law enforcement suspects might be the proceeds of crime, then they are the ones in the best position to trace it back', he says.
'Yes, lawyers have obligations to know their clients, to understand the source of money being used in a transaction and in the case of politically exposed persons to understand the source of that person's wealth, but we do not have investigative obligations', Swift adds. 'All a lawyer can do is receive documents and receive information and if it all looks like it stacks up, then that's the end of their obligations.'
If you've got money that someone in law enforcement suspects might be the proceeds of crime, then they are the ones in the best position to trace it back
Neil Swift
Partner, Peters & Peters
There's a need then for governments to step in. 'We are all aware that London has been washing dirty money from kleptocrats and oligarchs – with strong connections to Putin and his regime – in the hundreds of millions of pounds and, frankly, the government have gazed on it with a fairly lax eye, promising action, but very little has actually taken place', says Baroness Susan Kramer, a member of the UK House of Lords.
The UK has been more than lax – it has actively solicited Russian wealth. 'Throughout the 2000s, successive governments welcomed all manner of wealthy immigrants, particularly Russians, to London', says Peter Binning, a Member of the IBA Anti-Money Laundering Legislation Implementation Group and a former Senior Vice-Chair of the IBA Regulation of Lawyers' Compliance Committee, as well as a partner at Corker Binning, London. 'Although some of those immigrants were kleptocrats, it's easy to blame the lawyers and the accountants, but the reality is all of these individuals were welcomed by governments.'
Jonathan Goldsmith, Council member for the European Union and International at the Law Society of England & Wales, says lawyers need to do more to counter the growing tendency to blame lawyers for the activities of their clients. He has suggested that the profession develops new guidance on its existing code of ethics – guidance that would deal with modern problems facing the profession and amount to a new solicitors' ethical charter.
'Reviewing old concepts through the lenses of our times is a good exercise to stay tuned with reality, which lawyers risk losing touch with sometimes', says Leopoldo Pagotto, Co-Chair of the IBA Anti-Corruption Committee and a partner with Brazilian firm Freitas Leite Advogados. 'However, there is a reason why lawyers' codes of ethics have been stable and to a certain extent similar in most jurisdictions. It's because they consist of a minimum core around which there is widespread consensus. Expanding their scope could lead them into issues on which there is no consensus inside national borders, let alone in all countries.'
A question of resources
Recent arguments about the amount of Russian money in London has obscured the fact that the UK 'has one of the most robust (if not the most robust) anti-money laundering systems in the world', says Binning.
He highlights the intergovernmental Financial Action Task Force's (FATF) April publication, Report on the State of Effectiveness and Compliance with the FATF Standards, which notes that 'investigations and prosecutions of money laundering and terrorist financing remain rare in most countries and convictions for money laundering are often not in line with the major risks identified within each country'.
While prosecutions for these offences in the UK are infrequent, Binning adds, they do happen. 'Investigations into money laundering and terrorist financing offences are common, although are in most cases not reported, for obvious reasons.'
A lack of resources seems to be the key problem. Unexplained wealth orders (UWOs), which generated a lot of excitement when they were introduced in the UK a few years ago, seem to illustrate this. They place the burden on the individual, rather than an enforcement agency, to prove how they have accumulated their wealth and to produce evidence to verify the sources of the wealth. If they won't, then the property may be recoverable by civil forfeiture. Freezing orders may be made, and penal sanctions may be imposed.
Suspicious activity reports (SARs)
Suspicious activity reports (SARs) provide another vivid illustration of the difficulties faced by those with the job of implementing the UK's anti-money laundering regulations.
An SAR is a piece of information that alerts law enforcement that certain client or customer activity is in some way suspicious and might indicate money laundering or terrorist financing.
The UK Financial Intelligence Unit (UKFIU), part of the NCA, said it 'once again' saw a record number of SARs during 2019/20, with more recent figures not yet available. It received and processed well over half a million of them (573,085). Just over 3,000 (0.52 per cent) of these were submitted by 'independent legal professionals'.
According to Tom Burgis, author of the book Kleptopia, the UKFIU does not have nearly enough staff to deal with this (there are 150). 'It's an impossible task', he says. 'It also suggests that the purpose of that system, deliberately or not, is to allow the impression of probity to be given to a system that is freely used by dirty money.'
The UK has a creaking SAR system that is clearly under-resourced and receives thousands upon thousands of reports of varying levels of usefulness from the regulated sector, says Swift. 'It's all very well increasing the amount of information we get, but we then have to do something with it.'
If there were to be more resources assigned to the NCA, one obvious place to look would be investment in automation. 'It would be interesting if artificial intelligence were able to assimilate all these reports and look for patterns in a way that doesn't involve having manual reviews with officers sat in front of screens the whole time', says Burgis.
The UK's National Crime Agency (NCA) has only deployed UWOs four times. One of these cases, involving a member of Kazakhstan's political elite, fell apart quite spectacularly and resulted in the individuals involved being vindicated. 'The NCA's case was fatally flawed in law', says Binning. 'If the government does not properly fund its agencies, it can only expect poor results, such as this one, where the wrong cases are brought before the court.'
Agencies such as the NCA have been starved of funding for so long, says the journalist Oliver Bullough in his 2022 book Butler to the World, that they are demoralised by defeat and 'hollowed out' by the steady departure of their officers to higher-paid positions elsewhere. It has now been over three years since the then-head of the NCA, Lynne Owens, called for the agency's budget to be more than doubled, from £424m to more than £1.1bn.
While UWOs may in theory be a powerful weapon, they are in reality 'a dud', Bullough says. 'It's like giving a hospital a powerful new scanner but not enough money to employ technicians, or like giving the navy a pair of aircraft carriers but not enough money to buy any planes.'
Binning believes it's too early to dismiss UWOs altogether. 'This is especially true with regards to the most recent reforms which were only implemented on 15 March 2022 via the [UK] Economic Crime (Transparency and Enforcement) Act', he says. 'We will need to wait and see whether these reforms make any difference.'
He's concerned, however, 'that they will lead to further completely unjustified orders being made and situations in which innocent foreign residents of the UK will find it much harder to overturn these draconian orders which may not be based on reliable evidence'.
The UK's latest reforms expand the scope of persons and property subject to a UWO in a bid to ensure that targets cannot hide behind complex ownership structures. They also establish a lower test for the grant of a UWO, allow for a longer extension for interim freezing orders and limit an enforcement authority's liability for costs in UWO proceedings or interim freezing orders. This last point should protect the NCA if it brings a reasonable case that's ultimately unsuccessful.
One should not focus exclusively on UWOs, however, as they are still in their early stages and just one tool among many available to the NCA. Account freezing orders, which don't seem to attract the same amount of attention, have been a success. They allow UK law enforcement bodies to freeze the contents of a bank account if they can show reasonable grounds to suspect that money in an account was obtained through unlawful conduct or is intended for unlawful use.
In January, for example, millions of pounds derived from the Azerbaijan laundromat – an international money laundering scheme – were seized following an NCA investigation into money held in bank accounts linked to an Azeri politician. Six account freezing orders were obtained, which led to a Forfeiture Order for £5.6m.
Further measures
The UK's Economic Crime (Transparency and Enforcement) Act 2022 also establishes a long-promised, publicly accessible register of foreign legal entities – including companies – that own UK land and property. 'That is something that's been missing for a long time, but of course even that doesn't get to the heart of the problem', says Swift. 'I'm pretty sure that Vladimir Putin doesn't have many assets in his own name. If people are powerful enough, they will have a network of people who will act on their behalf.'
Binning says the new measures look promising. He notes that a further economic crime bill, entitled the Economic Crime and Corporate Transparency Bill, was referenced in the Queen's Speech in May, which identifies the government's priorities for the coming months. The Bill is intended to 'strengthen powers to tackle illicit finance, reduce economic crime and help business grow', he says. 'This will hopefully build upon the Economic Crime (Transparency and Enforcement) Act, which represents the biggest upgrade to the Companies House register in 170 years.'
However, one can have the best plan in the world, but if it's not effectively implemented and enforced by the appropriate parties, it will make little difference in tackling economic crime. 'Sadly, this does all come down to enforcement resources and there is no sign of these being increased to help implement this new legislation', Binning says.
When contacted by Global Insight, a spokesperson for the UK government said that 'The Government moved quickly in light of Russia's invasion of Ukraine to bring forward the Economic Crime (Transparency and Enforcement) Bill, which will allow us to move more quickly with sanctions, prevent criminals from laundering their money in UK property and strengthen unexplained wealth orders'.
'This is part of wider package of legislative proposals to tackle illicit finance which will be introduced to Parliament in the coming months, including reform of Companies House and new powers to seize crypto assets', said the spokesperson, adding that the UK will 'continue to lead the way in our fight against corruption, working closely with the private sector, international partners and the Crown Dependencies and Overseas Territories to ensure there are no safe havens for criminals to hide their dirty money. UK law enforcement has good existing information sharing mechanisms with the Crown Dependencies and Overseas Territories, including on beneficial ownership information'.
This does all come down to enforcement resources and there is no sign of these being increased to help implement the new legislation
Peter Binning
Member, IBA Anti-Money Laundering Legislation Implementation Group
The UK is not the only jurisdiction with problems to deal with. The EU, for example, has unified financial regulations that allow money to flow easily across borders but lacks any unified anti-money laundering authority. 'This combination fosters a vicious circle of erosion' around policing dirty money, says a 2018 paper by researchers Joshua Kirschenbaum and Nicolas Véron. The result of uneven enforcement means that havens for financial crime continuously emerge across Europe, which 'undermines the integrity of the entire European system', the paper's authors claim.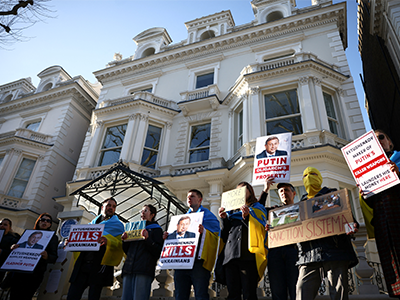 Pro-Ukraine protesters demonstrate outside a property believed to belong to Russian oligarch Vladimir Yevtushenkov in London, 19 March, 2022. REUTERS/Henry Nicholls
In response, the European Commission proposed creating a new EU-wide anti-money laundering authority in July 2021. However, if this goes ahead, it won't be created until 2023 and won't be fully operational until 2026.
'One has to wonder whether this is a proportionate response to the acknowledged problems in the current supervisory regime – or whether, to address the deficiencies in some Member States, an expensive structure is being adopted that, in better regulated Member States, risks leading to a potentially unhelpful rigidity in their regulators' approach to supervision', said law firm Herbert Smith Freehills in its briefing on the proposal.
In the US in March, Attorney General Merrick Garland launched Task Force KleptoCapture, an interagency law enforcement task force led by Justice Department prosecutors that's dedicated to enforcing the sanctions, export restrictions and economic countermeasures that the US has imposed on Russia.
US legislators adopted the Anti-Money Laundering Act (AMLA) in 2020. But implementation seems to be lagging. A bipartisan group of senators recently urged the Treasury Department and Financial Crimes Enforcement Network (FinCEN) to implement the Corporate Transparency Act (CTA), which is part of the AMLA, more quickly.
In a letter addressed to Treasury Secretary Janet Yellen and the Acting Director of FinCEN, Himamauli Das, the lawmakers demanded that the Biden administration provide a timeline for the implementation of the CTA, which cracks down on the use of anonymous shell companies in the US.
Will any of these measures really help in the fight against money laundering? To a certain extent, yes. But the real answer to busting corruption consists of well-resourced prosecutors with the time, money and inclination to use their talents to crack it open. And if governments continue to deprive these people of the tools they need, the so-called 'London Laundromat' – and other places like it – will never be short of customers.
Jonathan Watson is a journalist specialising in European business, legal and regulatory developments. He can be contacted at jonathan.watson@yahoo.co.uk