The IBA uses cookies to provide you with a better website experience. By continuing to use our site, you are agreeing to the use of cookies.
Already an IBA member? Sign in for a better website experience
The IBA's response to the situation in Ukraine  
China's ever-growing role in the world
Stephen Mulrenan, IBA Asia Correspondent

From Afghanistan to Africa, Covid-19 to the climate crisis, China is set to play an ever-greater role. Global Insight assesses China's direction of travel – and the responses of its rivals.
The countdown to the 20th National Congress of the Chinese Communist Party (CCP) is underway. The agenda is clear. First, it will determine who leads China for the next five to ten years. Second, it will reveal how much power and influence is held by Chinese President Xi Jinping. And third, the Congress will outline the country's policy trajectory for the next five years.
Xi was supposed to step down this year. But his intention to continue became evident at the 19th CCP Congress in 2017, when he defied the Party tradition of designating an heir-apparent to be appointed to China's top decision-making body, the Politburo Standing Committee (PSC).
Xi's name and political ideology were later enshrined in the Party charter and constitution, elevating his status to that of Party founder, Chairman Mao.
But while Xi remaining as undisputed leader is the most likely outcome from the Congress, it's not guaranteed. Xi derives his power from the consent of the broader Party leadership, which is earned through a combination of performance, manoeuvring and compromise.
While he has enjoyed considerable success in building consensus around his policy platform and placing allies in key leadership positions, his second term has been characterised by a deteriorating relationship with the West and by the Covid-19 pandemic.
Andrew Gilholm, Principal and Director of Analysis for Greater China and North Asia at the global risk consultancy Control Risks, who is based in Seoul, says that some people in the leadership believe that China's zero-Covid policy – which aims to eradicate all outbreaks at just about any cost – is proving too damaging for the economy. 'They think that the economic costs of maintaining [zero-Covid] outweigh the risk of exiting', says Gilholm. 'So, that has maybe given some momentum to people within the Party who are concerned that Xi is too dominant, and they perhaps want to push back on that.'
Gilholm says the assumption should be that Xi will remain in power. 'To the extent that there is discontent with Xi among the senior ranks of the Party – and there have been some credible rumours, as well as less credible – those people would have to be so careful about voicing it that you wouldn't see it coming anyway', he says.
Questions around China's leadership will only be fully resolved on the Congress' last day, when the seven men who will make up the 20th PSC walk out on stage in order of rank. 'There won't be any open opposition to Xi but certain policy issues will be contentious, such as those around [Covid-19], the economy and relations with the US and the world', says Gilholm. He adds that a factional challenge to Xi's actual position is unlikely, however.
Policy trajectory
During the Congress, Xi will deliver the Party's key policy priorities through a work report – the most authoritative statement of the Party's priorities up to 2027, though only consisting of broad guidelines. The report's focus is expected to distil China's '2035 vision' into more specific priority areas. While this vision includes few specific targets, it assumes that China will continue its growth trajectory to become the world's largest economy. And that such enhanced economic power will generate greater 'soft power', helping China to exert influence abroad.
The World Bank currently categorises China as an 'upper middle-income' economy. In 2020, Xi articulated the goal of doubling China's $14.3bn economy by 2035, with the country reaching 'high-income' status by 2025. Doubling gross domestic product would mean an annual growth rate of nearly 4.7 per cent.
Beijing has been receiving a lot of domestic pushback on why they're building roads in faraway places when there's so many issues to address at home
Yuka Kobayashi
Chair, China and International Politics, School of Oriental and African Studies, London
China's current five-year economic plan, which runs from 2021 to 2025, includes promoting yuan internationalisation in a 'steady and prudent' manner; boosting 'strategic technologies' such as artificial intelligence (AI), quantum computing and semiconductor manufacturing; and strengthening domestic oil and gas production while also promoting clean energy.
Yuka Kobayashi, Professor of China and International Politics at the School of Oriental and African Studies at the University of London, believes these goals will be difficult to achieve in a global economy reeling from the pandemic as well as a geopolitical environment that's become more hostile to China's ambitions. 'There are not a lot of surprises in the five-year economic plan, and it might have seemed achievable under normal circumstances', she says. 'But the key difficulty for China now in achieving these stated goals is its very rigid zero-Covid strategy and, specifically, how they are implementing it. And this is happening at a time when we're seeing, geopolitically-speaking, a decoupling with China by the West.'
Domestic repression
July marks the fourth anniversary of the tit-for-tat trade war between China and the US, with US President Joe Biden reportedly under pressure to deal with his predecessor's legacy: whether and how to remove punitive tariffs on China for the sake of the US economy. But while a tariff review is legally mandated, any removal is likely to be partial and exclude products that are strategically important for the US.
The US continues to pressure China on trade and technology, leading Beijing to double down on its pursuit of indigenous development of key technologies. And relations between the world's two-largest economies haven't improved in recent months. In addition to urging Beijing to follow international rules for fair trade, the US has condemned China's actions in Hong Kong, the South China Sea and its treatment of the Uyghur Muslims in Xinjiang.
In China's economic capital Shanghai, meanwhile, spring saw a 65-day city-wide Covid-19 lockdown. The city's residents were subjected to draconian measures that kept many sealed inside their homes and struggling to reliably access food and medical care. This led to some of the strongest anti-government sentiment in years – Beijing's biggest fear.

Russian President Vladimir Putin attends a meeting with Chinese President Xi Jinping in Beijing, China, 4 February 2022. Sputnik/Aleksey Druzhinin/Kremlin via REUTERS
While China's no-tolerance Covid-19 policy was initially viewed as a success story of the early pandemic, the BA.5 variant is spreading rapidly worldwide and is seen as a grave threat by Chinese authorities. Kobayashi says that the CCP has staked its political legitimacy on its approach to Covid-19. 'This is where the test is going to be with Xi's leadership. How pragmatic will he be given the very ideologically charged statements that he's made throughout his tenure?'
She adds that the Party's legitimacy is a very sensitive topic for China due to there being so many unique conditions around Xi's leadership. 'Xi is going for an unprecedented third term, you see very severe restrictive measures under [Covid-19], and the US trade dispute is causing a very hostile environment for China', she says. 'This has morphed into some kind of world-order dispute between democratic nations and authoritarian regimes.'
As special administrative regions (SARs) of China, Hong Kong and Macau have had to adhere strictly to the zero-Covid policy. In Macau, a small number of locally transmitted cases in July saw the territory go into a full lockdown. The more densely populated Hong Kong's worst outbreak came in December. Since then, thousands of unvaccinated seniors have died and researchers estimate that well over half of the population will eventually contract the virus.
There's still a question mark as to whether the large part of the international community that has imposed sanctions on Russia would be willing to impose those kinds of sanctions on China
Bonnie S Glaser
Director, Asia Program, German Marshall Fund
With Xi expressing his dissatisfaction with Hong Kong's handling of the outbreak, there was hope that its new Chief Executive, John Lee, may initiate a change in fortune. Lee has vowed to strengthen the city's standing as a key international financial hub. But news that Hong Kong will introduce a China-style electronic health code system – via mandated tracking bracelets – has fuelled criticism, as Beijing uses the data collected to control freedoms. Hong Kong's Health Secretary described the technology as ensuring that 'home isolation is more precise while being humane'.
Kobayashi says that Beijing's approach to Covid-19 has significantly undermined Hong Kong's ability to remain a global financial hub. 'How do you have consistency in "one country, two systems" when you're trying to implement very strict measures towards Covid that are more about the legitimacy of the CCP?' she says.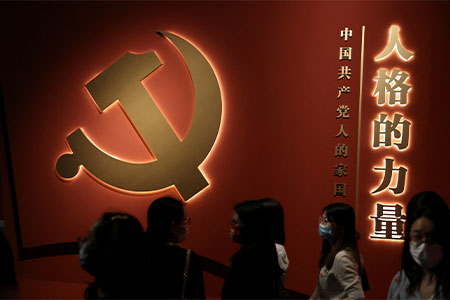 Visitors stand near the party emblem at an exhibition on the Chinese Communist Party ahead of its 101st founding anniversary, at the National Museum in Beijing, China, 30 June 2022. REUTERS/Tingshu Wang
Party legitimacy – and that of Xi's leadership – also played a significant role in the introduction of the National Security Law (NSL) in Hong Kong in 2020. A year earlier, Beijing's proposal of an extradition bill to potentially allow Hong Kong suspects to face trial in China led to widespread protests.
When these protests morphed into a broader anti-China, pro-democracy movement, Beijing stepped in. The NSL criminalises any act of secession, subversion, terrorism and collusion with foreign or external forces. There haven't been any significant protests in Hong Kong since its introduction.
While some of the broad language of the NSL initially concerned the business community, Winnie Tam SC, Litigation Liaison Officer of the IBA Asia Pacific Regional Forum and Head of Chambers at Des Voeux Chambers, says Hong Kong's judges are used to interpreting law in language that has shades of meaning. 'Because it is a national security law and China has imposed it, people tend […] to worry if they're going to get into trouble. But I have every confidence.'
The CCP has argued that its policies in Xinjiang – where the US has accused it of committing genocide through the repression of the Uyghur people – are also part of broader efforts to control and combat terrorism, extremism and separatism. It accuses the US of interfering in its domestic affairs and undermining global stability with its various alliances, such as the Quadrilateral Security Dialogue (commonly known as the Quad), a strategic security dialogue with Australia, India and Japan.
In response, the US enacted the Uyghur Forced Labor Prevention Act in December 2021, with the goal of ensuring that US entities are not funding forced labour among ethnic minorities in the region.
Finally, Xi has railed against the 'disorderly expansion of capital' by driving regulatory crackdowns in sectors such as real estate and technology. This followed volatility in Chinese stocks and shares, the threat of financial disruption from tech tycoons and concerns that offshore listings could breach data security.
But Gilholm says there's huge misunderstanding about the nature of the tech 'crackdown'. 'There are multiple regulators going at multiple issues in different sectors under different regulations', he says. 'And they've been doing this for years.'
Gilholm says it's no different from many of the antitrust concerns visible around big tech in the West, though they may be pursued differently. 'The regulators are getting more resources and mandates to enforce the regulations, some of which are quite new and some of which involve new regulators', he explains.
Foreign aggression
There's speculation that this year's work report will include more on foreign policy, given the intensified geopolitical opposition to China.
Mainstream global views of China have deteriorated during Xi's second term, and China's aggressive diplomatic style has only exacerbated the problem. Today's assessment by Xi and the CCP is that the Party is now strong enough to demonstrate its strength abroad through so-called 'wolf warrior' diplomacy.
This has manifested itself through China's expansion in the South China Sea, which houses an abundance of oil and natural gas resources and through which more than $5tn in trade passes annually. Here, China has initiated various land reclamation projects as well as constructed artificial islands in the Spratly Islands archipelago.
Other flashpoints include with India in the Himalayas, and Japan near a small group of islands in the East China Sea.
More recently, China has pursued Afghanistan's mineral wealth, which consists primarily of copper and lithium, following the US exit from the country in August 2021.
However, 'given the Taliban regime and general instability, I think China will be very cautious in Afghanistan', says Kobayashi. 'Beijing has been receiving a lot of domestic pushback on why they're building roads in faraway places when there's so many issues to address at home.'
In a move seen as countering China's aggression with many of its neighbours, the leaders of Australia, the UK and the US announced a historic security pact in the Indo-Pacific region in September 2021, known as Aukus. Although China was not explicitly named in the pact, the 'permanent military alliance' covers many key areas of competition with Beijing, such as cyber warfare, space (see box: The geopolitics of space) and the development of AI and quantum computing for defence and security.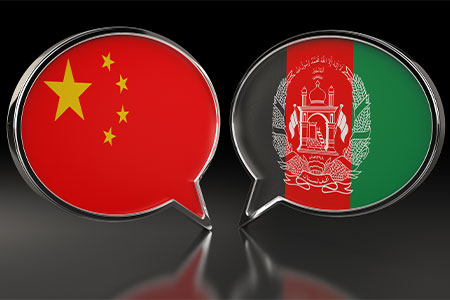 'It's very clear this was targeted towards China', says Kobayashi. 'It sent a clear message that there is this unity in the Indo-Pacific tilt in sectors where the economy is very much entangled with defence, signalling a decoupling from China.'
In a similar vein, in June G7 leaders announced the Partnership for Global Infrastructure and Investment, which will mobilise $600bn in funding for the developing world as an alternative to China's Belt and Road initiative.
Tension continues between the US and China over Taiwan, which regards itself as a sovereign state. Beijing sees the island as part of China, with an official articulating in early July that 'reunification' is the 'main goal' of Beijing's Taiwan strategy, contributing to fears of an invasion. The US supplies arms to Taiwan but insists there should be no change to the status quo.
The ongoing Russia-Ukraine war may be affecting China's calculations over Taiwan. Bonnie S Glaser, Director of the Asia Program at the German Marshall Fund in Washington, DC, says China will be studying the conflict from many different perspectives. 'The fact that Europe has become more united, and NATO has been strengthened, obviously doesn't bode well for China in the event that it invades Taiwan', she says.
The geopolitics of space
The ideological divisions between China and the US over Covid-19 and the war in Ukraine are also being mirrored in space. Grace Nacimiento, Chair of the IBA Space Law Committee and a partner at GvW Graf von Westphalen in Dusseldorf, talks to Global Insight about the space race.
Stephen Mulrenan (SM): China's space programme has made significant advances in recent years, from completing its own global satellite navigation system to sending astronauts to its own space station. To what extent, if at all, is China now ahead in the space race?
Grace Nacimiento (GN): I would not consider China to be ahead in the space race. In my view it is and will remain a close race between the big space nations. Depending on the specific aspect you look at, one or the other may seem ahead. China may be catching up regarding developments where the US and the international space community already have achieved major progress/successes.
China seems eager to catch up, but is not ahead of the US, at least not where space launches, satellites and space funding is concerned. On the other hand, the roles may be reversed when it comes to the development of lunar capacities where China is moving strongly to advance on space exploitation, specifically asteroid mining.
SM: The geopolitics of space is now mirroring competition on Earth. To what extent is the US-drafted Artemis Accords – a non-legally binding set of principles governing exploration on the Moon, Mars and beyond, from which China is excluded – the root cause of the dispute with China?
When it comes to the development of lunar capacities, China is moving strongly to advance on space exploitation, specifically asteroid mining
Grace Nacimiento
Chair, IBA Space Law Committee
GN: The Artemis Accords may have fuelled an already existing strong rivalry between the US and China. While the US is trying to set up a US-led international code of conduct for Moon-related activities, China's ambitions for the Moon date back about 20 years. As a response to the Artemis Accords, China has expressed its opposition stating that the Accords are outside the Outer Space Treaty and has teamed up with Russia [which has] also expressed their opposition to the Artemis Accords, especially to any private commercial activities as encouraged or even anticipated in the Artemis Accords.
SM: In June 2021, China and Russia unveiled a roadmap for a joint International Lunar Research Station to be developed concurrently but separately to the US' Artemis lunar exploration programme. To what extent does this signal the progressive bifurcation of the international space community around two contending – and potentially conflicting – pathways for future lunar exploration activities?
GN: I believe the Chinese-Russian partnership is indeed a signal of divergent and competing tracks in lunar exploration and exploitation. If [it's] formalised into an agreement in the foreseeable future […] and possibly opened for signature by other states, this will also be a first formal step by way of a binding international treaty towards splitting the international space community.
SM: The inability of China and the US to cooperate on space risks not only an arms race but also clashes over extracting potentially hundreds of billions of dollars' worth of resources on the Moon and elsewhere. How can this be resolved?
GN: The only way would be for China and the US to agree on principles for the exploitation of space resources, avoiding or clearly banning any national appropriation in this respect. This would be in line with the Outer Space Treaty. Since the Artemis Accords allows for so-called 'safety zones' on the Moon or other celestial bodies when being explored, and also leaves room for national appropriation of space resources, the US would have to take some steps back from the principles laid down in the Artemis Accords. It is not only China saying that the Artemis Accords are not in line with international space law. China, in turn, would have to give up any ambitions to claim ownership or national appropriation of resources extracted on celestial bodies.
'Europe's interest is far deeper in Ukraine than it is in Taiwan', she adds, 'and there's still a question mark as to whether the large part of the international community that has imposed sanctions on Russia would be willing to impose those kinds of sanctions on China.'
Ultimately, Glaser believes that China doesn't want to have a major deterioration in its relations with the West, particularly the US and Europe, because it still needs access to technology, 'which it cannot get if it has a truly hostile relationship with the West'.
To that end, China needs to continue to have students trained abroad. And it wants to continue to purchase some Western companies and have Western investment in China, Glaser adds. 'All of this is essential for Xi Jinping's ambition to put the country on a path toward national rejuvenation by the middle of the century', she says.
China is unlikely to substantially change course following the forthcoming 20th National Congress. Xi has staked his future, and the legitimacy of the CCP, on continuing to play an ever-growing role in the world. And while China's world view is equally unlikely to revert to its pre-2018 position, this is simply the cost of what one prominent Chinese scholar has described as the 'rise dilemma': the stronger China becomes on the world stage, the more likely it'll face determined opposition from the international community.
Stephen Mulrenan is a freelance writer and can be contacted at smulrenan@lextelpartners.com
Top image: www.stock.adobe.com/uk/klenger