Covid-19: UK pandemic inquiry set to be most expensive in history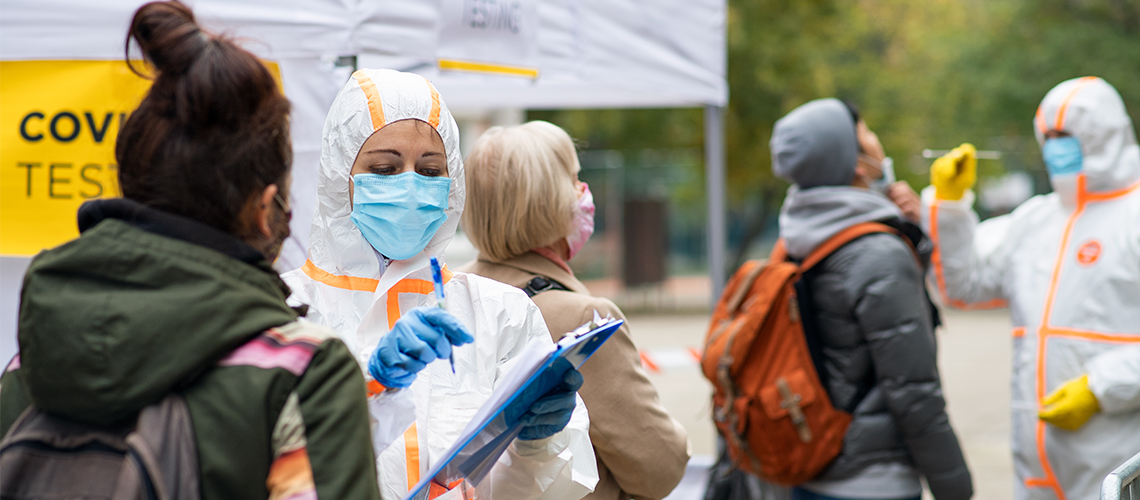 In March 2020, then UK Prime Minister Boris Johnson announced the country's first lockdown, limiting social contact to stop the spread of Covid-19. This came a few weeks after the World Health Organisation declared the outbreak of a global pandemic. In the UK, more than 228,000 people have since died with Covid-19 listed on their death certificate. In June 2023, the Inquiry into the government's handling of the pandemic began, with bereaved families hoping to get answers.
Months before the hearings began, it was reported that the Inquiry could become the most expensive in UK history, with spending now already topping £100m. These numbers are based on data by Tussell, a company that monitors government contracts, and indicate that a number of law firms have been contracted to various government departments for large sums of money in connection to the Inquiry.
Gustaf Duhs is a partner at Stevens & Bolton in the UK. 'It is not surprising that this has led to criticism from some, particularly as inquiries have been seen by some as a way for government to outsource problems, or "kick them into the long grass"', he says. 'On the other hand, the eventual cost of the Inquiry is likely to be a fraction of the estimated cost of [the UK government's] Covid measures.' Those latter costs are estimated to range between £310bn and £410bn.
Among the law firms instructed by the government are Burges Salmon, contracted to the Cabinet Office to provide support for the Inquiry on a contract worth close to £10m, and Pinsent Masons, provider of legal support to both the Cabinet Office and the Department of Health and Social Care. Other government departments have also engaged law firms on multi-million-pound contracts, including Education and International Trade, who have hired DWF and Gowling WLG respectively.
A spokesperson for the Government Legal Department has stated that 'all appointments represent value for money and ensure that the Inquiry can fulfil its remit.' Burges Salmon and Pinsent Masons advised they could not comment, when contacted by Global Insight, while DWF and Gowlings did not respond to requests for comment.
'The UK government's handling of Covid-19 has already seen some high-profile controversies, including our current and former Prime Minister [Boris Johnson] being found liable and fined for breaching the lockdown laws and a ruling that the government's policy on discharge to care homes was unlawful on the grounds of "irrationality"', says Duhs. 'So there are likely to be plenty of questions, lessons to be learnt and the Inquiry could lead to repercussions. It is also an opportunity for the bereaved to be heard. It is likely to be clearer when it is over whether it was worth it.'
There is the possibility of separate legal action, whether civil or criminal, in relation to the subject matter of the Inquiry. So, there is certainly the potential for consequences
Gustaf Duhs
Partner, Stevens & Bolton
A spokesperson for the Inquiry told Global Insight that 'The Inquiry Chair, Baroness Hallett, set out in her opening statement the substantial task faced by the Inquiry to consider and report on the preparations and the response to the pandemic in England, Scotland, Wales and Northern Ireland. She made clear that, to do this properly, it will take time and have a significant cost'. The spokesperson added that 'We will regularly publish our financial information and have rigorous governance processes in place to make sure we are delivering value for money when fulfilling the Inquiry's Terms of Reference'.
A major influence on the costs will be the duration of the Inquiry, for which no end date has been given. Despite the extensive remit that the Inquiry is expected to cover, Baroness Hallett has said that she would like the Inquiry to go as 'speedily as possible so lessons are learned before another pandemic strikes'.
An inquiry is not a court of law and while its recommendations will be non-binding and the process is due only to finish after the next general election – when a new government may be in power – it could nonetheless lead to repercussions, says Duhs. 'Adverse developments or findings can have a significant impact to reputations and there is the possibility of separate legal action, whether civil or criminal, in relation to the subject matter of the Inquiry', adds Duhs.
Rosanna Ellul is Senior Policy and Parliamentary Officer at INQUEST, a charity working with bereaved families that is advocating for more accountability following inquiries into state-related deaths. 'Investigation, public inquiries, inquests and official reviews following state-related deaths, such as the Covid-19 inquiry, have an important function to prevent future deaths', she says. 'However, the possibility for prevention is undermined by the lack of a framework to monitor compliance with, and/or actions taken in response to, the findings and recommendations that emerge from post-death investigations.'
INQUEST believes a 'national oversight mechanism' would provide better learning, prevention and accountability for bereaved families following a state-related death 'by increasing transparency of the action, or inaction, of state and corporate bodies in response to life-saving recommendations', explains Ellul.
Image credit: Halfpoint/AdobeStock.com