The IBA's response to the war in Ukraine  
Donald Trump becomes first former US president to face criminal charges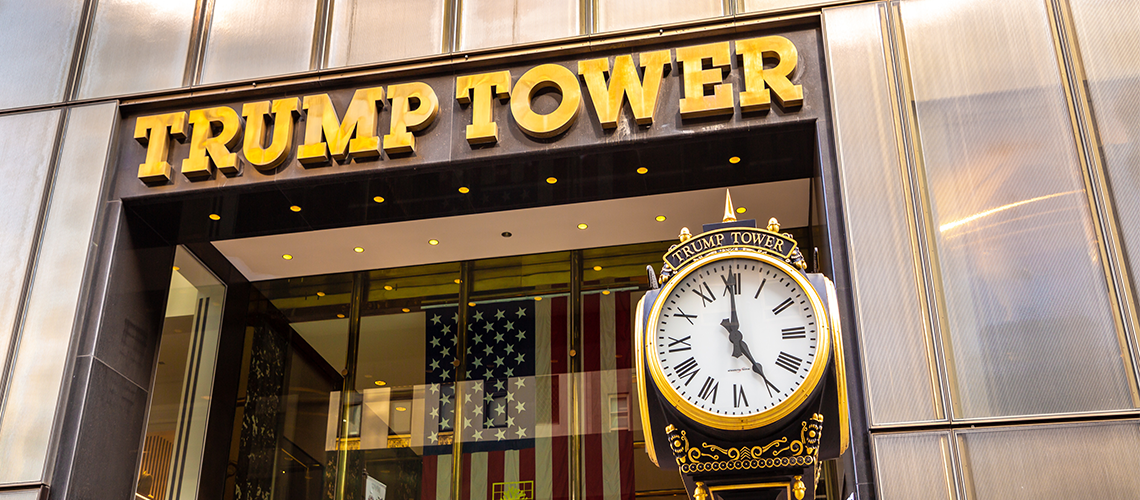 On 30 March, a grand jury meeting behind closed doors in New York City made history by voting to indict former US president Donald Trump. It's the first time a former president has been criminally charged and moves the US into uncharted legal territory.
The felony indictment on more than two dozen counts involves alleged hush money paid by Trump's lawyer Michael Cohen to adult film star Stormy Daniels in the run up to the 2016 presidential election. Trump was scheduled for arraignment in a Manhattan courtroom on 4 April. He issued a statement after the grand jury voted to indict him, calling it a 'political persecution' and a 'witch hunt'. He has denied any relationship with Daniels and disavowed knowledge of the hush money scheme.
'This is the most current test of a first principle for a free society, whether any person is above the law, and that includes presidents,' says Tom Devine, Legal Director at the Government Accountability Project, a whistleblower advocacy group in Washington, DC. 'The trials [in the Daniels case and relating to any other charges against Trump] themselves will determine guilt or innocence but in a democracy, there's no excuse for trying to stop the fact-finding about crimes just because someone used to be the president.'
This is the most current test of a first principle for a free society, whether any person is above the law, and that includes presidents
Tom Devine
Legal Director, Government Accountability Project
Amid political outcry from Trump's supporters, legal experts and former prosecutors say his arrest and the prospect of even more serious indictments to come will be a major test for the US court system. Trump is not just the former president. He is the leading contender for the Republican nomination for president in 2024. 'Law and politics are intersecting in a very sort of unique way,' says Neama Rahmani, a former government ethics watchdog for the City of Los Angeles and federal prosecutor who is now President of West Coast Trial Lawyers, a personal injury firm. Rahmani is worried the US may be 'opening up a political Pandora's box.'
Ronna McDaniel, Chairwoman of the Republican National Committee, called the New York charges a 'blatant abuse of power' and 'political vengeance'. House of Representatives Speaker Kevin McCarthy warned the action had 'irreparably damaged our country in an attempt to interfere in our presidential election'. Simultaneously, Trump and allies heaped abuse on the Manhattan District Attorney Alvin Bragg. The former president had also warned of 'potential death and destruction' if arrested.
Trump faces a host of other legal challenges. A US Department of Justice special counsel is investigating Trump's role in the 6 January insurrection at the US Capitol and the former president's removal of top-secret White House documents to his home at Mar-a-Lago. Both situations could generate federal criminal charges.
FBI agents raided Trump's home at Mar-a-Lago in August and recovered some 20 boxes of files, including classified documents, Trump had removed from the White House when he left office in January 2021. Jason Linder, Secretary of the IBA Business Crime Committee and co-chair of the global investigations and white-collar defence practice at law firm Mayer Brown in Washington, DC, says the documents are likely to be the bigger risk to Trump. 'Based on what's publicly known about the Trump documents, I would be in jail if I had done anything like that,' says Linder, before adding that 'the president obviously has more authority with respect to the documents.'
Investigators are looking at whether Trump lied to his lawyers when he represented that all classified materials had been returned to the government. A judge in Washington ordered Trump's attorney Evan Corcoran to turn over notes and voice memos and testify before a grand jury on 24 March. 'The charge that has the most legs and is likely to result in a federal indictment is the Mar-a-Lago one,' says Gene Rossi, a former federal prosecutor and a shareholder at law firm Carlton Fields in Washington, DC. Trump, in an interview in late March, called the classified documents case a 'hoax' and said he had been transparent and cooperative with the FBI. 'This is election interference,' Trump said.
Meanwhile, New York State Attorney General Letitia James has brought a $250m civil lawsuit against Trump and his adult children for allegedly inflating the value of his real estate properties. Trump refers to the lawsuit, as with the Daniels case, as a 'witch hunt'. The trial is scheduled to begin in October.
Trump also faces a defamation claim by writer E Jean Carroll, who alleges Trump sexually assaulted her in the dressing room of a Bergdorf Goodman department store in the mid-1990s, an accusation Trump denies. That case is due to go to trial in April.
In Georgia, Fulton County District Attorney Fani T Willis has been investigating Trump's efforts to overturn the results of the 2020 presidential election in the state, which Joe Biden won. Again, Trump denies wrongdoing. Indictments against several unnamed people have been recommended by a special grand jury but Willis has yet to bring charges. Republicans in the state legislature have passed legislation threatening to remove her if she does.
Image credit: Sergii Figurnyi/AdobeStock.com