In memoriam – Glower Jones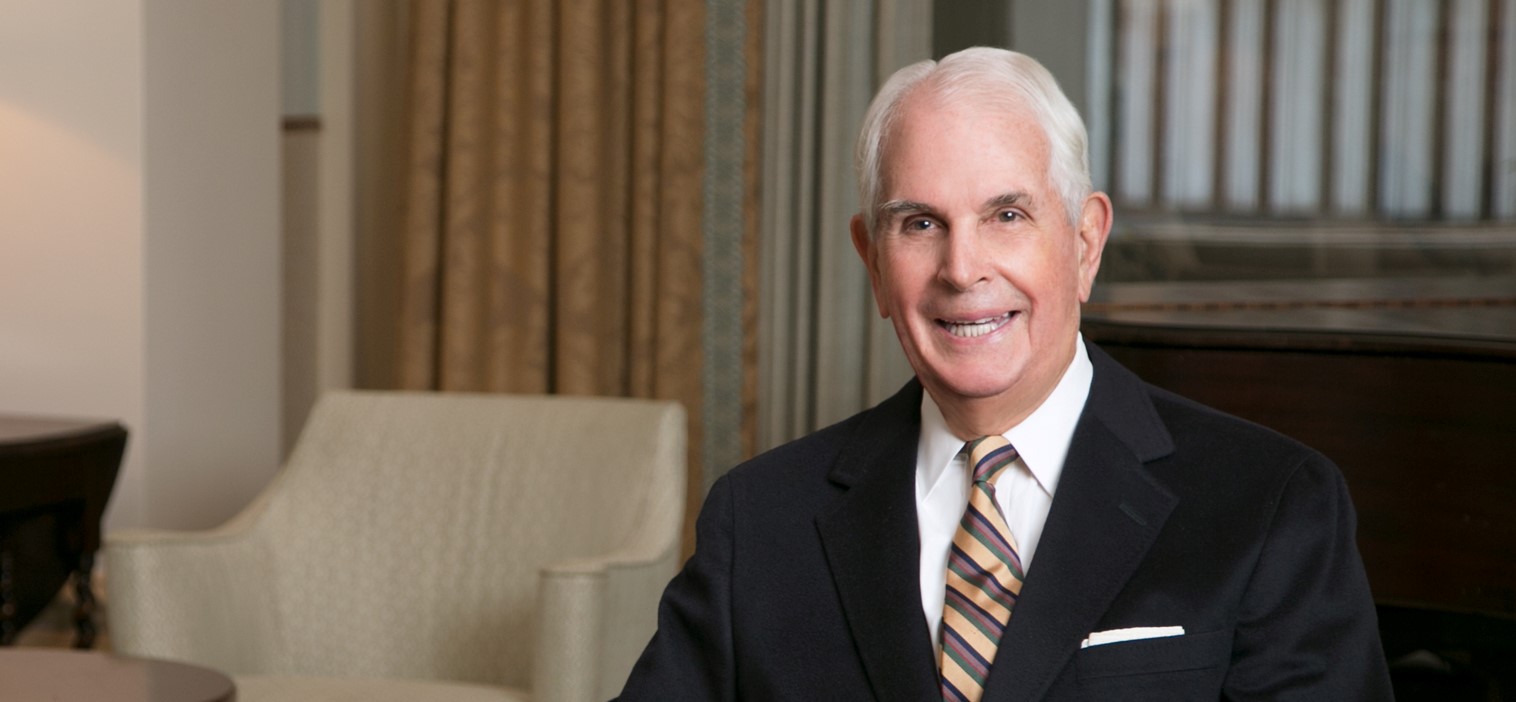 The IBA was saddened to learn that one of our longest-standing and most revered members, Glower Jones, passed away on 27 January.
During his remarkable relationship with the IBA, Glower held numerous key positions. He was a Trustee of the IBA Foundation from its inception in 1986 and in 2016 was awarded a Certificate of Outstanding Achievement for 30 years of tireless dedication to the Foundation. He was also Chair of the International Sales Committee and a Member of the Section on Business Law's Council.
He remained an active IBA member into 2021.
Fellow Trustee of the IBA Foundation, Tim Powers, describes Glower as 'the consummate Southern gentleman – gracious, encouraging, always impeccably dressed and always willing to help.'
'He was a founding Trustee of the IBA Foundation who was distraught if he ever missed a meeting. I believe he recently told Hansel Pham – the current Foundation President – that he had only missed two meetings during his entire term,' recounts Powers. 'In the Foundation reorganisation in 2016 we moved Glower (with John Morrison and Ed Morgan) to Emeritus Trustees and recognised them with an IBA Certificate of Outstanding Achievement for their 30 years of service on the Foundation's 30th anniversary.'
'He was an exceptional lawyer and he and [his wife] Joanna always seemed to be the life of each party that we attended,' says Powers.
Glower actively practised law for nearly 40 years, first with Smith, Swift, Currie, McGhee & Hancock (1962 – 1965), then with Smith, Currie & Hancock (1965 – 2001). He became partner in 1967, practising in the newly developing area of construction law and became one of the most respected practitioners in his field. For many years, Glower edited the leading treatise on American construction contract forms, and authored dozens of legal articles regarding construction and arbitration issues.
Glower served as a member of UNCITRAL (United Nations Commission on International Trade Law) and was a Fellow of the Chartered Institute of Arbitrators, member of the Vienna Arbitral Center and the American Arbitration Association.
He loved his hometown of Atlanta, Georgia, and gave back to his community as an active member of the Board of Directors of the Carrie Steele-Pitts Home for abused and neglected children. Additionally, Glower served as Board President of the Metro Atlanta Boys and Girls Clubs, Florence Crittenton Home, Families First, and Gate City Day Nursery.
Honorary Life Member of the IBA, Ben Greer, says 'Glower was a good friend and for many years a neighbour of ours in Atlanta.'
'Before retirement from his firm, we often saw him and Joanna in familiar places and professional events in our hometown. But the place where we were guaranteed to see him at least once every year was at meetings of the IBA,' Greer continues. 'Glower had a distinguished career in the IBA, serving in positions of leadership in the old Section on Business Law, notably as a Committee Chair and as a member of its Council. He was also perhaps the longest serving member of the Board of Trustees of the IBA Foundation. And he certainly held the record for consecutive attendance at IBA meetings.'
Greer adds, 'Perhaps less familiar to IBA members is his career as a practitioner of construction law. A graduate of Dartmouth College and Emory University Law School in Atlanta, he was a partner of his firm for more than forty years. In that time, he became one of the most respected practitioners in his field, with a national clientele and an international reputation for excellence. He wrote prolifically for professional journals, served as mentor for younger lawyers in his firm and, in all his endeavours, he was known for his courtesy and collegiality.'
'Glower will be missed,' says Greer. 'Perhaps his obituary in the Blue Ridge newspaper said it best: "The entire world has lost a dear friend."'
'When I think of my time at the IBA, it is measured by the people I meet - people who transcend the average, who show compassion towards others and touch, with humility and grace, people around them,' says Mark Ellis, the IBA's Executive Director. 'If I listed these very special people on a page, Glower would top that list. That is how important he was to me.'
The IBA extends its sincere condolences to Glower's colleagues, friends and family.