Football's World Cup and human rights

Awarding Qatar the right to host the tournament has proven highly controversial, attracting considerable attention for the Gulf state. Global Insight assesses whether the resulting change has been fast enough or gone far enough.
As football fans worldwide anticipate the 2022 World Cup, the Fédération internationale de Football Association (FIFA) – the sport's governing body – and the host country, Qatar, are facing reputational risks and criticism for poor labour conditions. Both FIFA and Qatar say the tournament has brought about the most sweeping labour reforms the Arab Gulf has seen.
Roberto Randazzo is the Newsletter Officer of the IBA Business Human Rights Committee. 'Major international events such as the Olympic Games and the FIFA World Cup generate tremendous media attention and', he says, 'can catalyze enormous public interest in human rights and sustainability issues. Indeed, the media are increasingly looking at and facilitating the emergence of the impacts of these major events on workers, communities and the environment, contributing to raise awareness of such impacts among a very wide audience'.
FIFA […] knew or should have known that the migrant workers building the massive infrastructure would face grave risks to their human rights
FairSquare
Not-for-profit human rights organisation
The choice of the small Gulf country of Qatar as a host for the event garnered international attention, raising concerns about the country's scorching desert summer heat and lack of previous football credentials. However, the most lingering criticism has been over the country's labour rights and, by extension, those of neighbouring oil-rich sheikhdoms and emirates whose fossil fuel windfalls in the last century attracted millions of migrant workers, mostly low-skilled, to help with petrodollar-fuelled development.
In August, former Germany captain Philipp Lahm said he was staying away from the quadrennial games to protest rights abuses in the host country. Prior to that, France's captain Hugo Lloris, England's captain Harry Kane and the world-renowned Manchester United and Denmark player, Christian Eriksen, said they were starting discussions on a potential collective position to highlight human rights issues.
Rights groups, however, said the event was an opportunity to help bring about change. Several groups have issued reports and statements that said that rights should come under scrutiny during the World Cup, which will enjoy unprecedented global and regional attention.
Global spotlight
There are indications that the spotlight will be intense. Qatar 2022 will be the first FIFA World Cup tournament to feature more than one team from the Middle East. Rights groups say that if their campaign to improve labour conditions as a result of the tournament bears fruit, the success story is likely to reverberate across the Gulf region, where even larger populations of expat workers live.
Of course, the World Cup, which will kick off on 20 November 2022, is expected to be followed much more widely beyond the Middle East. Gianni Infantino, the President of FIFA, estimates that the tournament this year will be watched by at least five billion people around the world, nearly a 50 per cent increase from the 3.5 billion who watched during the 2018 World Cup in Russia. Qatar, with a population of only 2.6 million, expects at least one million visitors during the four-week event.
Qatar won the bid to host the event 12 years ago. Since then, it has used its huge revenues from natural gas sales to build new palm tree-lined promenades, modern sports complexes, a new metro in Doha, some 1,000 kilometres of highways and several luxury hotels – all in record time. Qatar's official figures show that at least 30,000 workers, mostly men from poorer Middle East countries, Africa and Southwest Asia, helped construct World Cup-related complexes.

Foreign workers wait for their bus at a construction site in Doha, Qatar. 10 May 2012. REUTERS/Fadi Al-Assaad.
The cost of World Cup-related projects is estimated to have reached $220bn. Qatar's Ministry of Foreign Affairs promises that the small peninsula nation, one of the world's top ten richest countries, will offer 'an unprecedent historic event' and a particularly 'electrifying' atmosphere during the finals on 18 December. Local media says the country hopes to exceed the elite quality standards people associate with the World Cup.
In addition to the typical hotel stays, visitors will have accommodation choices ranging from lavish cruise boats anchored in the Gulf, to air-conditioned tents in the desert designed in the traditional Arabian style. Fans will be able to attend more than one game a day through free stadium-to-stadium shuttles. For tickets as cheap as 50 cents, and free transportation on match days, the new metro system in Doha will give fans flexible access by connecting five of the tournament's eight stadiums.
In addition, Qatar says the construction in question has already served a social duty. World Cup compounds were used to temporarily house Afghan refugees who fled the Taliban takeover of Kabul in 2021. After the end of the event, Doha has pledged to donate thousands of seats and other sports equipment to poor nations who may still be developing their own sports infrastructure.
Cup of shame
However, rights groups remain unimpressed. They point to the same buildings Qatar is taking such pride in as the main venues for labour mistreatment. In July, Human Rights Watch (HRW) said thousands of those migrant workers – such as security guards, daily labourers, hotel staff and tourism workers – have not been compensated for serious labour abuses endured while building and servicing those multi-billion-dollar infrastructure projects. Amnesty International says that there were deaths of workers and that they remain uninvestigated. Some put labour deaths throughout the past decade of World Cup preparations at nearly 6,500 people.
The lightning rod for most of the uproar has been an employment system popular in the oil producing Gulf countries called kafala or sponsorship. Critics say the system is so restrictive that it, by granting lots of power to the employers, gives rise to conditions of near-forced labour and exploitation.
FIFA should immediately set aside the funds needed to provide an adequate remedy and avoid the legacy of a 'World Cup of Shame'
Minky Worden
Director of Global Initiatives, Human Rights Watch
FairSquare, a London-based group that advocates for the rule of law, joined a global coalition of migrant rights groups and labour unions to launch the #PayUpFIFA campaign, urging FIFA and the Qatari government to provide real compensation for labour abuses. 'When FIFA, the global football governing body, awarded the 2022 tournament to Qatar, it knew or should have known that the migrant workers building the massive infrastructure would face grave risks to their human rights', the groups said in a statement. 'Yet FIFA neither imposed labour rights conditions nor undertook effective human rights due diligence.'
The groups specifically suggested FIFA set aside at least $440m, equivalent to the prize money provided to the 2022 teams, to invest in funds to reimburse migrant workers and improve their protections. 'FIFA should immediately set aside the funds needed to provide an adequate remedy and avoid the legacy of a "World Cup of Shame"', said Minky Worden, Director of Global Initiatives at HRW.
Sweeping reforms
Since the news broke that it would host the 2022 World Cup, the Qatari government, which is heavily reliant on foreign labour, said it was responding immediately to concerns about their rights. They say they have taken steps to either reorganise or scrutinise its labour laws and conditions, marking a new era that could lead the way for improved labour conditions in the Gulf. The most problematic and restrictive elements of the notorious kafala system were dismantled in 2020, including removing the requirements for workers to obtain exit permits to leave the country or change jobs.
Ghada Darwish Karbon, Treasurer of the IBA Arab Regional Forum, says Qatar took various measures to address grievances around labour conditions. 'There have been certain reforms undertaken, new laws passed and ministerial decisions made in this regard', she says. She refers to a new legislation to better protect workers from heat stress during the boiling summer months, that expanded on an existing ban on summertime working hours during peak heat. From 1 June to 15 September, workers are restricted from working outdoors from 1000–1500 in order to protect them from the summer heat and avoid heat stress. 'There is also a threshold for stopping outdoor work, regardless of the time of day or year', she says.
Darwish, who is based in Doha, said the government opened a project office for the International Labour Organization (ILO) to ensure constant labour rights monitoring, rolled-out wage protection systems to monitor salary payment and ensure compliance by employers and introduced compulsory provisions for health insurance.
According to the ILO, some 280,000 workers, or 13 per cent of the workforce, saw a basic wage increase after Qatar passed a non-discriminatory minimum wage in March 2021. The Qataris also say they went as far as to pay QAR 103m (or $30m) to compensate workers who had paid recruitment fees to recruiters in their native countries.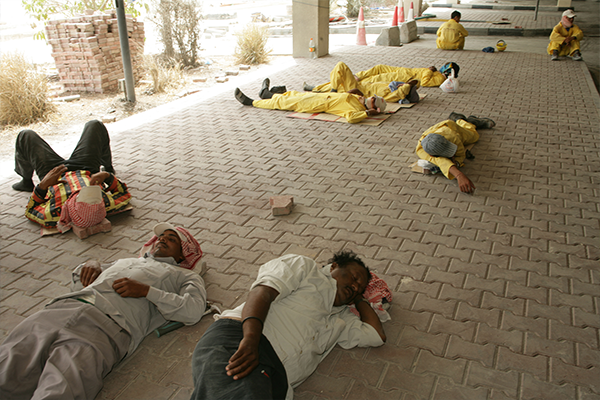 Migrant construction workers taking an afternoon nap, Doha, Qatar. www.alamy/Alan Gignoux
While recognising such progress, the ILO says more is still needed. 'The measures taken have already improved the working and living conditions for hundreds of thousands of workers, and additional efforts are needed to ensure that all workers can benefit', the ILO says.
The organisation also says that despite dismantling the kafala system, employers became creative at retaliating against workers wishing to change jobs. Many companies have not paid their workers for months either, ILO notes. 'There is also a need to communicate how the kafala reforms are also beneficial for enterprises and the economy as a whole', they say.
Perhaps more serious, though, was the ILO's criticism of access to justice for workers in Qatar even after the introduction of the new reforms. 'The time it takes for a worker to receive a court date and to enforce a court ruling can be several months', the ILO says. 'This is in part due to the large backlog that was created when the courts did not meet due to COVID-19 restrictions. It is imperative to reduce the time from when a worker lodges a complaint until they receive their due wages and benefits.'
Darwish says that from her viewpoint on the ground, labour disputes have recently taken on a special urgency. 'Labour disputes are treated urgently and this is the main reason the Labour Dispute Resolution Committee and the labour court was set up to ensure that hearings and court rulings in labour cases are expedited', she says. 'The labour court timings are even extended to late evenings in order to make timings convenient for an aggrieved worker to attend to both his day job and court hearings.'
The recently launched online labour complaints platform shows that workers are making use of the service. The number of complaints in 2021 was nearly 25,000, compared to 11,000 complaints in the previous year. As of March 2022, 228 workers' representatives were elected to represent almost 40,000 employees involved in 37 projects.
Qatar and FIFA respond
Neither Qatar's foreign ministry nor FIFA responded to Global Insight's requests for comment. But Qatar – through officials talking to the local press – had previously said that there was an overreaction to the 'democratisation' of football that brought the tournament to Qatar in the first place.
The clearest defence came from the country's ruler, Sheikh Tamim Bin Hamad Al Thani, in May. Speaking at the World Economic Forum in Davos, Switzerland, Sheikh Tamim said there were still those who were unable to 'accept the idea that an Arab, Muslim country would host a tournament like the World Cup'. He defended workers' rights in his emirate saying that the country has made headway already. 'We are so proud of the development reform and progress we have made and we are grateful for the spotlight that the World Cup provided, which inspired us to make these changes at a lightning speed', he said.
When asked about how FIFA was responding to claims of workers dying in Qatar while involved with World Cup construction, Infantino said his organisation never dropped the ball on the issue. 'Of course, FIFA is not the police of the world or responsible for everything that happens around the world', he told the Milken Institute Global Conference in Los Angeles in May. 'But thanks to FIFA, thanks to football we have been able to address the status of all the 1.5 million workers working in Qatar.'
FIFA, which found itself on the defensive over the location and early criticism that Qatar itself had never even played in a World Cup, still maintained the decision was part of its push to spread the sport throughout the world.
Rights groups applauded the reforms, but many – HRW for one – say they found them too little, too late. 'Qatar's worker's rights reforms came very late in the World Cup preparation, are woefully inadequate, and are poorly enforced', says Worden. 'Large numbers of migrant workers died because Qatar lacked a human rights framework that protected workers and allowed them to report dangerous working conditions, wage cheating, and forced labour. Workers do not need to die to deliver the World Cup or any mega-sporting event.' The group also says that while Qatar prohibits charging migrant workers recruitment fees and related costs, the government rarely enforces this regulation.
Justice will be served
Officers of the IBA Business Human Rights (BHR) Committee say that there were no legal provisions to hold FIFA liable for labour conditions in a foreign country, but they expected the global body to adhere to related international standards and principles. 'In this sense – based on sports law – FIFA could only issue recommendations to the host country for that country to ensure that labour relations are carried out according to minimum international standards in labour and human rights', the BHR Committee officers said in a joint statement.
'Therefore, there are no rules in sports law that regulate labour or human rights issues. However, we understand that FIFA would be obliged to act in accordance with the UN Guiding Principles on Business and Human Rights, ensuring respect for human rights in the organization and throughout the celebration of the World Cup, which should include carrying out its own regular and independent monitoring of the projects and venues of the championship, and exercising due diligence to identify and prevent human rights abuses related to this sporting event.'
We understand that FIFA would be obliged to act in accordance with the UN Guiding Principles on Business and Human Rights
IBA Business and Human Rights Committee

An organising entity, the BHR Committee says, should require assurances from the host country to comply with international employment standards, especially when the country – as in this case – has assumed international commitments to guarantee the respect for human rights.
'It is therefore evident that, regardless of the responsibility that may be borne by those who carried out the acts that resulted in abuses of the employees' human rights, a degree of responsibility is also borne by those who had or should have had knowledge of what was happening, especially when they also directly benefited from the services rendered by the workers.'
Randazzo says that regardless of the type and location of the event organised, there are specific international conventions that elevate and protect human rights that can be used as legal standards and mechanisms to protect workers.
'It is worth mentioning the declaration on Fundamental Principles and Rights at Work of the ILO, the eight fundamental conventions of the ILO and the International Bill of Human Rights which define human and labour rights that any organization can use as a reference to avoid negative impacts on workers', Randazzo says. 'Similarly, FIFA has defined the "FIFA World Cup Qatar 2022 Sustainability strategy" based on 5 pillars – human, social, economic, environmental, governance – in order to align the organization of the event with the UN Sustainable Development Goals. To be noted, these voluntary initiatives require adequate measurement tools to prove their effectiveness and their positive impact.'
Darwish explains that independent of international laws, the current legal system in Qatar should address labour issues, including the possibility of compensation. 'Labour matters have a time lapse of 3 years from the date of the occurrence of the event. Aggrieved parties are expected to bring or file complaints or claims before the appropriate court or committee as soon as they are aware of such event. The courts or committees would treat every case on its own merit and give a ruling. In the event that the party is not satisfied by the ruling, he may proceed to file an appeal against the ruling. Should the party obtain good judgment, he shall proceed with filing an execution case to claim judgment sum or enforce judgment', she says. 'It is important to note that for every wrong proved, there shall be compensation as the court is there to ensure justice is served.'
Emad Mekay is the IBA's Middle East Correspondent and can be contacted at emad.mekay@int-bar.org
Image credit: A construction worker at the Lusail Stadium in Lusail, Qatar www.alamy.com/Adam Davy