Guests or refugees, and why it matters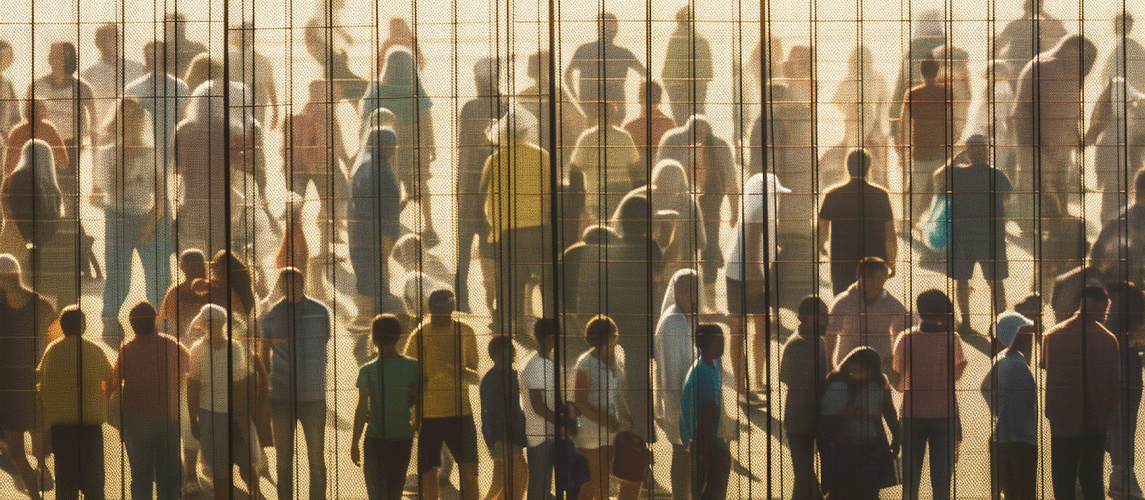 As the UK government passes its Illegal Migration Bill, Global Insight considers why technical definitions have major consequences for migrants and why the bill breaches international law.
When thousands of Ukrainians fled their country following Russia's full-scale invasion, it took only days for European nations to invoke the Temporary Protection Directive. Adopted after the conflicts in the Balkans, this was the first time the directive was used to respond to a situation of mass displacement. Even countries that for years argued against a fair distribution of refugees across the European Union welcomed large numbers of Ukrainians, with well over a million staying in Poland.
Years earlier, when thousands of Syrians sought protection, Turkey offered temporary protection – as it did recently again for Ukrainians – but Europe did not. Turkey has taken in 3.7 million refugees – most of them from Syria – the highest number of any country in the world. The government refers to them as 'guests', rather than refugees, because through a geographical limitation on the Refugee Convention (the UN treaty of 1951) by the Turkish government, it only grants full refugee status to those fleeing Europe.
Jacqueline Broadhead is Director of the Global Exchange on Migration and Diversity at the University of Oxford. 'The broad principle is that these protection regimes have been set up as bespoke nationality-based schemes that are defined by the government that has set them up, who is able to entirely set the terms', she says. 'This is very different from people coming through the asylum system, which is governed by international ideas of what constitutes a protection need under the Refugee Convention. I think political drivers for these kinds of bespoke schemes is the level of control that you have over them as a national government.'
To be granted temporary protection comes with uncertainty about when that will end, and what will happen if returning home remains unsafe when it does. Ukrainians have been granted the right to stay in Europe until 2025, but it is yet to be decided what happens after that. And while people under protection have access to benefits and services, they do not have the right to family unification or an internationally recognised refugee travel document like registered refugees do. 'It's a technical definition, but one with big consequences', says Broadhead.
Europe does not apply blanket protection measures for people fleeing Afghanistan or Syria. 'Temporary protection means that people don't have to go through individual processes – simply coming from a place of conflict is enough for states to provide protection', says Derya Ozkul, Senior Research Fellow at the Refugee Studies Centre, University of Oxford. 'Obviously, this could be the case for a lot of refugees', she says. 
'Right now, what we're seeing in Europe, is a very narrow interpretation of the definition of refugee. The way they decide whether a person is a refugee or not is through a very individual process in which a person is interrogated. It's really up to how decision makers want to interpret the definition', says Ozkul.
Right now, what we're seeing in Europe, is a very narrow interpretation of the definition of refugee
Derya Ozkul
Senior Research Fellow, Refugee Studies Centre, University of Oxford
While people under temporary protection may not have refugee status under the Convention, they are mostly regarded as refugees. 'Refugee is used legally to mean somebody who is granted refugee status under the 1951 Convention. But it is also just used colloquially for a much broader group of people. Regarding Ukrainian refugees, it feels slightly churlish to say, well, they're not refugees. In the colloquial sense they are, there are people who are fleeing war and violence and claiming a form of protection in a third country. But in the legal sense, no, they aren't. I think there's constantly that tension', says Broadhead.
There are several terms that are used to describe the movement of people across international borders that are similarly contentious. Many of these, such as migrant, economic migrant and asylum seeker, have gained a political meaning that does not align with their legal purpose.
'Migrant is not a legal definition, it's a neutral word', says Phoebe Warren of Laura Devine Immigration. 'Economic migrant is an imprecise term, and it ranges from young, low-income people seeking a better life to [chief executive officers] of large multinationals. Asylum seeker is also not necessarily a legal term, though it is once people have applied formally to be recognised as a refugee that domestic legal rights commence.'
All these definitions come with their own protections, or lack thereof. An asylum seeker does not yet enjoy the protections that a refugee does and, because of overburdened asylum systems across Europe, some find themselves in legal limbo for an extended period of time.
By far the least rights and services are available to those who arrive in 'irregular' ways, such as by boat. 'Ultimately, it makes a legal difference but it also makes a huge difference in terms of access to services. If you're an irregular migrant, your access to a welfare safety net and your access to protection from crime get diminished because you're not visible', says Broadhead.
The UK Parliament has now passed the 'Illegal Immigration Bill', disqualifying anyone arriving irregularly on the island from applying for asylum. While dubbed 'illegal' in the new bill, irregular is simply to be 'without immigration permission', says Warren. 'Illegal gives the impression that there will be criminal consequences, which constitutes a violation of their right.'
Following the passing of the bill, UN High Commissioner for Human Rights Volker Türk said that 'Most people fleeing war and persecution either do not have or are unable to access formal documents such as passports and visas. Safe and "legal" routes are rarely available to them. The 1951 Refugee Convention, for its part, explicitly recognises that refugees may be compelled to enter a country of asylum irregularly'.
He emphasised his fear that the UK bill might set a 'precedent for dismantling asylum-related obligations' elsewhere, including in Europe.
'States won't be formally sanctioned if they don't adhere to it. Adherence comes primarily out of moral obligation to follow legal norms', says Warren.
Yola Verbruggen is a freelance journalist and can be contacted at yolav@protonmail.com
Image credit:wetzkaz/AdobeStock.com