Leadership Training Programme

#IBALFMC
Leadership Training Programme
27 APR - 21 MAY 2021
The IBA Law Firm Management Committee will be hosting its inaugural Leadership Training Programme from 27 April to 21 May 2021. This online leadership training programme will consist of nine executive education-style interactive training sessions of two to three hours each. All sessions will be conducted by senior professors and heads of leadership training programmes from the world's leading universities. The programme has been specially curated for IBA members with a view to specifically train lawyers and law firm managers for leadership roles. The programme will expose participants to world-class leadership training and will ingrain in them essential modern skill sets which will help them excel as successful and impactful organisation and team leaders.
As part of this virtual training experience, there will also be an online networking event on Friday 21 May 2021, where participants will have the opportunity to further build their network and share thoughts and experiences on leadership with the speakers and other participants.
The IBA, in its effort to encourage education and training, and improve diversity and inclusion in law firms, will be offering this programme at a minimal fee. As there are limited spaces available, we encourage all members who, in their professional practice, hold a leadership role, aspire to hold a leadership role or are otherwise interested in improving their leadership skills, to register for the programme early. You can also share this invite with colleagues within your organisation who you think would benefit from the programme.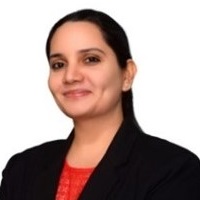 Tahera Mandviwala

TDT Legal, Mumbai; Strategy Officer, IBA Law Firm Management Committee
Programme sessions
From legal expert to orchestrator - managing your transition into leadership
This highly interactive session will focus on the mindset shift from being a legal 'expert' to 'orchestrator', as professionals transition into leadership positions. It will outline an integrated framework for personal leadership development centred on the metaphor of leadership as orchestration.
Know your leadership quotient: with a personality test we will help you analyse your leadership abilities and guide you on how to lead more effectively
The session will be focused on self-awareness, ie understanding yourself better to become a better leader. By the end of this session, we expect you to:
develop an awareness of the knowledge, skills and attributes necessary to succeed as a leader in the global business environment; and
identify key interpersonal and teamwork skills for successful law firm management
Everyday leadership: unleashing the potential of others
An interactive session that will invite you to expand your thinking around the importance and practice of unleashing the potential of those you manage. How can we call forth and inspire the best from others? What norms and everyday behaviours foster our ability to be human well in the pursuit of excellence? In this experiential session you will have the opportunity to think about the application of these lessons in your own context.
Understanding and managing your leadership challenges: using influence psychology
This will be a two-part session. In the first 90-minute segment, we will use a case study that participants must pre-read and prepare in order to have an interactive session that explores the leadership challenges that lawyers and their clients face as they become more senior and take on increasingly complex management and leadership roles. In the second session, we will explore the fundamentals of the psychology behind influence and persuasion and how they can be leveraged by law firm and in-house leaders.
Participants will gain insight into leadership in the professional context and how to manage across many, sometimes competing, responsibilities more effectively. They will also learn specific tactics for getting buy-in within relatively flat leadership structures such as law firms.
Leading during crisis and change management
A training in the practices for leading self and leading others through challenging and uncertain times and across changing mediums. This session will focus on approaching crises as opportunities for adaptive change and innovative leadership.
Lead like your business is on fire: the Phoenix Encounter Method
Professor Ian C Woodward, Director of INSEAD's Advanced Management programme and co-author of the book 'Phoenix Encounter Method: Lead Like Your Business is on Fire!', will explore the tools and habits which can be used by leaders to completely reimagine their organisation through the 'Phoenix Encounter' method; a radical new approach to leadership strategic thinking.
Smart collaboration within and outside your organisation
Our goal for this interactive session is to spark a discussion and drive people's interest in adopting a more collaborative way of working so that they can provide higher value service to clients. We will introduce the business and talent case for enhancing 'smart collaboration' and also discuss why clients value collaboration.
Leading with resilience and preventing burnout: strategies for you and your team
Participants will learn and practice individual, leader and team-based strategies to build resilience and prevent burnout in the legal profession.
Communicate like a leader: maximising your influence and impact
This talk will be a precursor to the programme networking and will discuss how to communicate like a leader: the importance of listening, putting yourself in the shoes of others, crafting stories for change and moving from storytelling to story being; building resilient brands and creating fruitful relationships. In addition to exploring the different communication approaches and techniques that contribute to becoming an effective communicator, the session will examine how communication can be used to influence change, drive innovation, infuse confidence and overcome barriers.
Zoë Arden

Fellow at Cambridge University's Institute for Sustainability Leadership, Cambridge
Post-programme networking
Fees
| Prices in GBP + UK VAT @20%, where applicable | |
| --- | --- |
| IBA members | £80 |
| Non-members | £100 |
Certificate of Attendance
Certificates of attendance for this webinar will be provided to all participants who have attended the live broadcast for a minimum of 30 minutes based on verified sign-in and sign-out times. Certificates can only be issued to the name provided at the time of registration.
IBA members should use the email address you have on file with the IBA to register for this webinar if you require a certificate of attendance, please make enquiries at webinars@int-bar.org.