IBAHRI calls for the immediate release of women imprisoned in Saudi Arabia for social media posts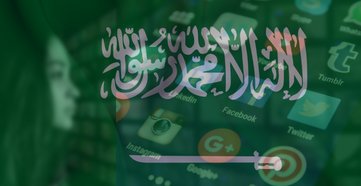 The International Bar Association's Human Rights Institute (IBAHRI) calls for the immediate release of Nourah al-Qahtani and Salma al-Shehab who have been sentenced to 45 and 34 years in prison, respectively, in the Kingdom of Saudi Arabia, for allegedly posting comments on social media that were critical of the Saudi government inter alia.
The sentencing represents further repression of the fundamental right to freedom of expression in Saudi Arabia. Since 2021, several other female activists have reportedly been detained for social media posts and are also at risk of facing exorbitant prison sentences.
IBAHRI Co-chair and Immediate Past Secretary General of the Swedish Bar Association, Anne Ramberg Dr Jur hc, commented: 'The IBAHRI calls on the Saudi government to quash the sentences against Nourah al-Qahtani and Salma al-Shehab with immediate effect. The international community is witnessing blatant violations of the fundamental rights to liberty,  freedom of expression and a fair trial, all rights that  are  enshrined in the Universal Declaration on Human Rights. The IBAHRI condemns the abuses being perpetrated by the Saudi authorities against their citizens through the opaque work of the Specialised Criminal Court, and we further call on the government to halt the detention of, and release, all those being detained for holding and expressing political viewpoints opposite to those of the ruling authorities.'
On 4 July 2021, Qahtani was arrested and convicted of 'using the Internet to tear the [country's] social fabric' and 'violating public order by using social media' following the publication of anonymous Twitter posts criticising the Saudi government and supporting the rights of political prisoners. Reports state that Qahtani was sentenced by a Saudi Specialised Criminal Court of Appeal to 45 years in prison with a 45-year travel ban once freed. A mother of five daughters, including one with a disability, Qahtani will be almost 100 years of age at the end of her imprisonment.
A few weeks prior to Qahtani's sentencing, Shehab, a mother of two, was sentenced to a 34-year jail term for 'providing succour to those seeking to disrupt public order' and 'publishing false and tendentious rumours' after sharing Twitter posts calling for reforms and the release of activists detained for criticising Saudi Arabia's Crown Prince Mohammed bin Salman.
The charges against Qahtani are based on the Saudi Counter-Terrorism Law and the Anti-Cybercrime Law. The Saudi Specialised Criminal Court has been widely criticised for using these counterterrorism laws to target activists and human rights lawyers, for disregarding fair trial standards by limiting the work of lawyers and the independence of the judiciary, and for issuing politically motivated sentences that are far harsher than those issued by other Saudi courts.
IBAHRI Co-Chair Mark Stephens CBE stated: 'Saudi Arabia's counterterrorism legislation is so vague that it fails in respect of being proscribed by law, in that an ordinary citizen properly directing themselves could not reasonably be able to direct themselves as to what is lawful and what is not lawful. This vagueness is being abused to criminalise speech in the context of social media publications that are viewed as being critical of the government. The Saudi government has a duty in international law, under the Convention on the Elimination of All Forms of Discrimination against Women, to guarantee free speech and to not discriminate based on gender – even where speech is uncomfortable to the government. The failure of the legislation to be precise is being abused by the Specialised Criminal Court to target human rights defenders with opinions critical of the government and those that advocate for the rights of women and gender equality. This can only be described as an abuse of power.'
He continued: 'It is utterly unconscionable that anyone should be subjected to decades in gaol for merely expressing their honestly held opinions. This is compounded by the fact that imprisonment was imposed after procedurally, grossly unfair trials. Clearly, the aim is to chill and to deter citizens from voicing concerns, calling for reform and reporting human rights violations. The IBAHRI urges the Saudi authorities to release, without delay, the unjustly imprisoned Nourah al-Qahtani, Salma al-Shehab and all others detained for such activities, reverse the travel ban decisions, and cease the systemic criminalisation of citizens for exercising their right to freedom of expression.'
ENDS
For further information/interview requests, please send an email to: IBAHRI@int-bar.org
Notes to the Editor
Related material:
The International Bar Association's Human Rights Institute (IBAHRI), established in 1995 under Founding Honorary President Nelson Mandela, is an autonomous and financially independent entity, working to promote, protect and enforce human rights under a just rule of law, and to preserve the independence of the judiciary and the legal profession worldwide. ​​​​​​​
Find the IBAHRI (@IBAHRI) on social media here: 
The International Bar Association (IBA), the global voice of the legal profession, is the foremost organisation for international legal practitioners, bar associations and law societies. Established in 1947, shortly after the creation of the United Nations, it was born out of the conviction that an organisation made up of the world's bar associations could contribute to global stability and peace through the administration of justice.

The IBA acts as a connector, enabler, and influencer, for the administration of justice, fair practice, and accountability worldwide. The IBA has collaborated on a broad range of ground-breaking, international projects with the United Nations, the European Parliament, the Council of Europe, The Commonwealth, the Organisation for Economic Co-operation and Development (OECD), the World Trade Organization, the International Monetary Fund and the World Bank, among others.
​​​​​​​
Find the IBA(@IBAnews) on social media here: