Whistleblower Protection Report
---
Are Whistleblowing Laws Working? A Global Study of Whistleblower Protection Litigation
A new report, Are Whistleblowing Laws Working? A Global Study of Whistleblower Protection Litigation, tracks the records of whistleblower laws in 38 countries and provides an unprecedented effort to understand the successes and shortcomings of whistleblower protection legislation worldwide, following a proliferation of laws in recent decades. Co-published by the International Bar Association (IBA) Legal Policy & Research Unit (LPRU) and Government Accountability Project, the report aims to support legislators, policy-makers and regulators in designing and developing normative, institutional and judicial frameworks that effectively protect whistleblowers in law – and in reality.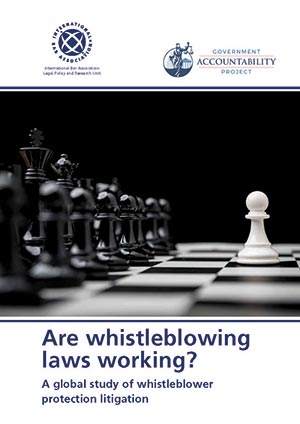 Whistleblower Protections: A Guide
There has been growing recognition in recent years of the public importance of whistleblowers and the misconduct they reveal. In response, several jurisdictions have developed comprehensive regulatory schemes aimed at protecting and even incentivising such individuals. Yet there remain many countries that afford little or no protection to whistleblowers and continue to perpetuate a culture of distrust and retaliation. Moreover, in those states that do afford legal protections to whistleblowers, there are often large gaps in the scope and application of the law that adversely limit their effective operation. Even in jurisdictions with robust whistleblower protection laws, lack of cultural acceptance can render the formal rights ineffective.
This report addresses these limitations, identifies the fundamental principles underpinning effective whistleblower regulations, and highlights the important role played by governments and organisations in protecting whistleblowers. In doing so, this report provides a commentary and offers guidance to: jurisdictions, on the elements necessary to develop and improve legislative frameworks on whistleblower protection to make them more comprehensive, effective and robust; and organisations, on the elements relevant to developing and implementing internal whistleblower protection policies and procedures. Prepared by some of the world's leading authorities on whistleblower protection, this report – coordinated by the International Bar Association's Legal Practice Division and Legal Policy and Research Unit – offers timely guidance on a topic of international importance.
---
Films
Launch event panel discussion
Panel discussion launching the IBA Whistleblower Protections Guide, hosted at the Guardian in London on 7 June 2018.
Whistleblowing and whistleblower protections in the Covid-19 era
Webinar held on 28 May 2020.
Articles
Blowing the whistle in the Balkans
Kristina Zivkovic, Intern at the Legal Policy and Research Unit of the International Bar Association, analyses the current situation in Balkan countries regarding whistleblowing and the degree to which domestic politics impede the implementation of whistleblower protections. She also demonstrates the potential effect of the future EU Directive on whistleblowing regulations in these countries, especially those that are EU Member States, but also those that are candidates for joining the EU.
Whistleblowing: The Position of Nigerian Legislation
Whistleblowing can be a highly instrumental tool in curtailing corruption in the banking industry.  However, the act of whistleblowing in Nigeria is not common practice…