Lawyers against the climate crisis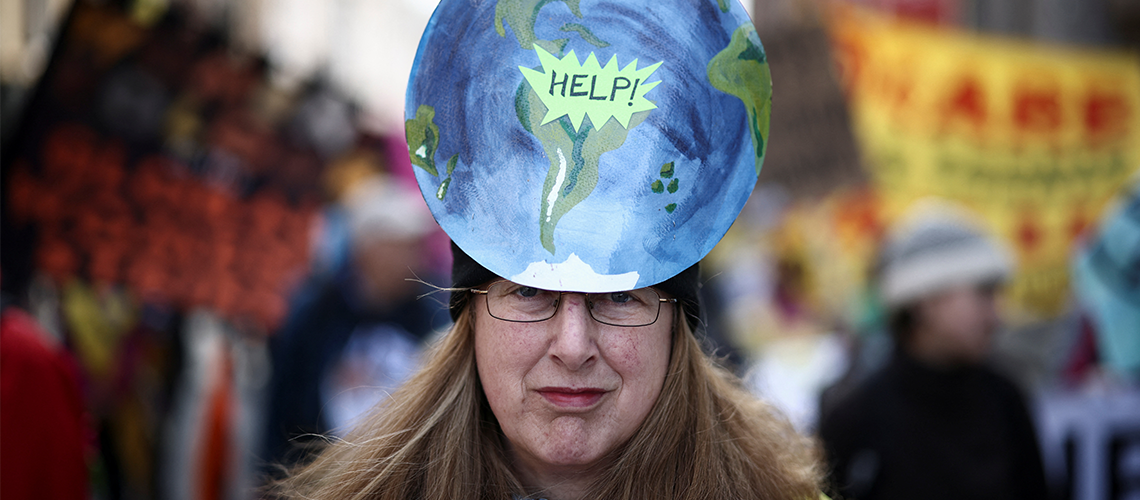 Image credit: A woman poses as activists from the Extinction Rebellion demonstrate as a part of 'The Big One' event in London, 24 April 2023. REUTERS/Henry Nicholls
The movement known as Lawyers Are Responsible is challenging the profession to place the public interest above narrow definitions of professional ethics, particularly when it comes to important issues like environmental degradation.
When a group of UK lawyers publicly stated that they would withhold their services in support of new fossil fuel projects and action against climate protesters, a fierce debate about whether barristers are allowed morals ensued.
The signatories of the declaration drafted by Lawyers Are Responsible believe that they have a role to play in averting the potential breach of commitments made in the Paris Agreement. 'The notion that the cab-rank rule gives us moral protection, a moral shield against criticism for our participation I would say is bananas, but undoubtedly it is a question that requires thought and analysis. You cannot just say there are no questions here to answer because that's just not good enough. It's not good enough', Jolyon Maugham, founder of the Good Law Project and signatory to the declaration, tells Global Insight.
Despite the fairly inconsequential nature of the declaration, considering that not all signatories are practising lawyers – and indeed not all lawyers, by any means, are signatories – it caused quite a stir. 'Refusing to undertake work which a person finds morally repugnant is not to be condemned although it may suggest that conscience requires employment of a different sort', says John Gould, a senior partner at Russell-Cooke and author of The Law of Legal Services and Practice. Employment not as a barrister, that is, because the 'cab-rank rule' obliges UK barristers to accept work regardless of whether they agree with the actions or views of those acquiring their services – much as a taxi driver is obliged to take the next person waiting in line at a cab rank – at a 'proper fee'.
If you are so afflicted by conscience that you cannot do your job as an advocate, then you do not have to accept the instructions
Stephen Kenny KC
Chair, Bar Council of England and Wales Ethics Committee
But, says Maugham, lawyers have been on the wrong side of history before, when they defended and prosecuted under laws that were wrong, such as slavery laws and laws that permitted marital rape. 'It's not enough to say that [these laws] are wrong with the benefit of hindsight', he says. 'They were always wrong and lawyers were wrong then to uphold them. We all have a responsibility as lawyers to exist in the world in ways that are in the public interest. That obligation is not discharged by simply following our professional obligations.'
The laws prosecuting climate protestors, Maugham argues, are not correct, because they let off the companies they are protesting against, whose businesses kill or will kill masses of people in the future, as the climate crisis worsens.
A group of students under the name of Law Students for Climate Accountability recently revealed the involvement of UK law firms in fossil fuel deals: 'From 2018 to 2022, 55 firms facilitated £1.48tn in fossil fuel projects, more than 2.5 times the amount these firms facilitated for the renewable energy industry (£546bn)'.
Public interest versus professional ethics
In the UK, the cab-rank rule is seen by some as the equivalent of the 'Hippocratic Oath' for doctors. It exists to shield lawyers from criticism for defending clients perceived by some as morally abhorrent and to guarantee legal representation for all. 'The negative side of it is that it gives a pretext to barristers that they can take any old case for money, whether it's prosecution or defence, regardless of the morals of it. And they hold that out as a plus, whereas it's not. It's a horrendous concept. I would no more take a case that I disagreed with morally than I would slash my own wrists', Clive Stafford Smith, founder of Reprieve, who has defended murderers on death row, tells Global Insight.
This is at odds with the Bar Council of England and Wales. 'There is no get-out from the cab rank rule along the lines of conscientious objection', says Bar Council Chair Nick Vineall KC.
But, in an apparent victory for the signatories of the declaration, Chair of the Bar Council's Ethics Committee Stephen Kenny KC has said that there is an exception to the cab-rank rule. 'If you are so afflicted by conscience that you cannot do your job as an advocate, then you do not have to accept the instructions – we have this safety valve in our rules in extreme circumstance.'
New Law Society guidance for solicitors – who are exempt from the cab-rank rule – has said climate goals are a ground for turning down clients. 'Some solicitors may also choose to decline to advise on matters that are incompatible with the 1.5C goal, or for clients actively working against that goal if it conflicts with your values or your firm's stated objectives', say the guidelines.
Ten years ago, in 2013, the Legal Services Board – the oversight regulator of legal services in England and Wales – commissioned research into the meaning and purpose of the cab-rank rule. 'The logic of our report argues that the rule serves no clear purpose. The reasons for this view are that it is not really a rule but more a principle masquerading as one […] While it can be lauded as a professional principle enshrining virtuous values, as a rule it is redundant', the writers of the report found.
But a report commissioned in response by the Bar Standards Board finds the opposite: that abolishing the rule would be 'a major threat to justice'.
Barristers don't actually have to take any case, however, as their fees might be too high for some, and their schedules might not permit them taking on other cases. 'Observance of this rule has always been optional. All a barrister need say to evade it is that they are too busy', says Alasdair Darroch, a retired circuit judge.
Most of the discussion around the cab-rank rule is about morals – linked to independence of barristers and their protection for defending those who hold views that the public might disagree with – not about access to justice for people who cannot afford it, as the rule specifies that barristers can charge a 'proper fee'.
Access to legal representation is, however, not a guarantee in the UK, despite what the rule might imply. Legal aid funded by the government should cover the costs of legal services by those who cannot afford to cover those costs themselves, but severe cuts since 2012 have put justice out of reach for many. According to Amnesty International, this has led to 'a two-tier justice system: open to those who can afford it, but increasingly closed to the poorest, most vulnerable and most in need of its protection'.
Yola Verbruggen is a freelance journalist and can be contacted at yolav@protonmail.com