Out of the shadows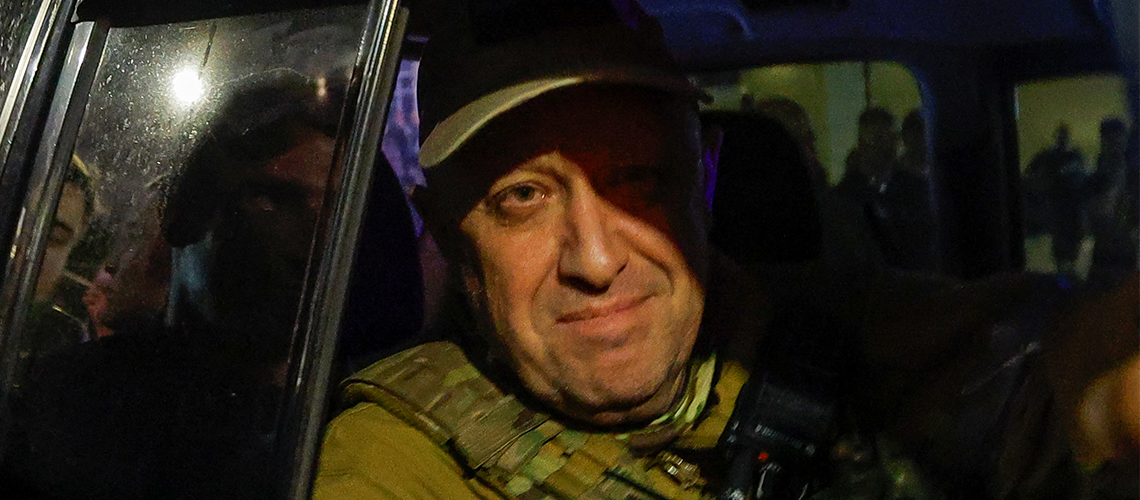 Image caption: Wagner mercenary chief Yevgeny Prigozhin leaves the headquarters of the Southern Military District amid the group's pullout from the city of Rostov-on-Don, Russia, June 24, 2023. REUTERS/Alexander Ermochenko.
Despite the dramatic demise of its leader, Wagner Group remains active in many of the world's conflict zones, attracting accusations of atrocity crimes. But holding the outfit and its operatives to account is proving difficult.
The death of the enigmatic Russian oligarch Yevgeny Prigozhin, leader of the Wagner Group, made many headlines and garnered widespread media coverage – incongruous given what had previously been a remarkably secretive existence. It was only a year ago that Prigozhin announced that, despite his earlier denials, he did indeed found and lead the Wagner Group.
Prior to his death, Prigozhin and Wagner had captured the world's attention by marching on Moscow in a 24-hour rebellion, challenging the Kremlin, having openly criticised Russia's military operations in Ukraine – where Wagner troops were fighting on the frontlines. Prigozhin was forced into exile in Belarus and given amnesty by Putin for his betrayal, together with his troops. Two months later to the day, a plane carrying Prigozhin and two of Wagner's top operatives crashed between Moscow and St Petersburg, killing all ten people on board.
Some of the difficulties in imposing the Foreign Terrorist Organization designation […] are that it is not purely a non-state actor; its interests are pecuniary, not necessarily political
Sara Elizabeth Dill
Treasurer, IBA War Crimes Committee
Prighozin's death has done nothing to change the perception of Wagner Group as a serious threat. In September, for example, the UK designated the Wagner Group a terrorist organisation, putting it on par with ISIS and Boko Haram. The announcement came after months of pressure following a critical parliamentary report accusing the government of having 'under-played and under-estimated the Wagner Network's activities'. In 2022, the UK government was criticised for aiding lawyers supporting Prigozhin as he brought a lawsuit against Eliot Higgins, journalist and founder of Bellingcat – a Netherlands-based investigative journalism group – despite sanctions. The government issued licences that granted him access to British lawyers to bring the suit.
'They are terrorists, plain and simple – and this proscription order makes that clear in UK law', UK Home Secretary Suella Braverman said as she announced the new approach.
The terrorist label will make any kind of support or services – recruitment, financial, logistical or other – to the group punishable by law. And on top of freezing the organisation's assets, the state will now be able to seize any of its properties, which could be used in legal cases around compensation for crimes committed by its operatives. One such case has been brought by Ukrainians in a UK court.
In Europe, Estonia and Lithuania already have Wagner on their terror lists. The European Union imposed sanctions following Wagner's involvement in Libya, but has stopped short of labelling them as terrorists.
The Biden administration designated Wagner a 'transnational criminal organization' in January 2023. Reports of discussions around designating the group as a terrorist organisation have thus far not led to the government doing so, amid concerns that this would endanger the country's relationship with African nations in which Wagner is active.
Jason Blazakis is the Executive Director of the Center on Terrorism, Extremism, and Counterterrorism at the Middlebury Institute of International Studies in Monterey, California. He recognises states' concerns but dismisses their validity. 'Governments are reluctant because they worry that a terrorist designation would have unintended negative consequences related to interactions with government and civilian personnel in several African countries where the Wagner Group operates', he says. 'No, the cause for concern is not warranted. Governments have a lot of flexibility in how [when and who] to leverage any prosecutorial benefits to a terrorist designation.'
Terrorists?
Built initially on a close relationship between Putin and Prigozhin – nicknamed Putin's chef due to his catering contracts with the Kremlin – Wagner does not just fight foreign wars but also generates a huge amount of income for Russia through natural resources extraction.
The group has been involved in military operations in several countries, including the Central African Republic (CAR), Libya, Mali, Sudan, Syria and Ukraine. In Africa, Wagner has been offered lucrative natural resource extraction concessions – including for gold mining - in exchange for helping struggling authoritarian regimes retain power. Wherever Wagner operatives go, they are followed by accusations of atrocities committed against civilians including extrajudicial killings, torture and rape.
While Russia first denied any connection, in June 2022 Putin declared that the group had received significant amounts of state funding.
The difficulty around designating Wagner a terrorist group is the lack of a universally accepted definition of terrorism, as well as questions around Wagner's ideology. 'Some of the difficulties in imposing the Foreign Terrorist Organization [FTO] designation on the Wagner Group are that it is not purely a non-state actor; its interests are pecuniary, not necessarily political – thus calling into question whether it is engaging in terrorism, as traditionally understood', says Sara Elizabeth Dill, Treasurer of the IBA War Crimes Committee and a partner at Anethum Global in London.
Matt Herbert is a senior expert for North Africa and the Sahel region at the Global Initiative Against Transnational Organized Crime. 'At a definitional level, Wagner operates far more like a criminal organisation than a terrorist organisation. Yes, they use transgressive violence, but they don't seek via their operations to advance a distinct ideology. Rather, the main goal of its rank and file is financial', says Herbert. 'At a practical level [...] There are few benefits to the US in Mali, Burkina Faso and CAR being defined as state sponsors of terrorism due to their affiliation with Wagner.'
At a definitional level, Wagner operates far more like a criminal organisation than a terrorist organisation
Matt Herbert
Senior expert, Global Initiative Against Transnational Organized Crime
Terrorist designations can frustrate humanitarian aid delivery and aggravate human suffering. In the CAR, Mali and Sudan, hunger levels are high and exacerbated by the ongoing fighting. Large numbers of people in these countries are in need of humanitarian aid, according to numbers from the United Nations World Food Programme (WFP).
In the CAR, 'an FTO designation would have a devastating impact on providing aid, even if humanitarian exemptions were allowed, as often NGOs [non-governmental organisations] and other organisations do not have the capacity to navigate the landscape, and many banks and companies simply impose blanket restrictions or prohibitions out of an abundance of caution', says Dill.
In the past, Médecins Sans Frontières found that under counterterrorism laws 'the act of providing humanitarian relief to people living in disputed territories or under the control of groups designated as terrorists or criminals may be considered a form of material support for terrorists'.
One of former US President Donald Trump's last acts before leaving office was to designate Yemen's Houthis as a terrorist group – a decision reversed by Biden in January 2023, citing the move's potential damage to aid deliveries in the country at a time when it faces a humanitarian crisis. The WFP says levels of hunger in the country are 'unprecedented', with millions of people affected.
Humanitarian aid delivery to people living in areas under the control of groups designated as terrorists may become 'impossible', says Dill.
For the EU, the fact that some Member States still have boots on the ground in Mali, where Wagner is aiding the government, may influence their decisions around adding the group to their terrorist list, says Jens Dieckmann, a Member of the IBA War Crimes Committee Advisory Board. 'I think the European Union will be politically careful about what they are doing with Wagner. I think it could provoke the Mali government and the Wagner troops to be even less cooperative than they already are', he says.
French troops have withdrawn from Mali, a former colony, after the government that seized power in a 2021 coup requested an end to the UN's peacekeeping mission. Other European countries are still in the process of recalling their troops, which will end the decade-long mission.
France's parliament has passed a resolution calling on the EU to declare Wagner a terrorist group, moving beyond the sanctions regime currently in place. France has seen a steep decline in its influence in Africa, where some former colonies have engaged the Wagner Group for security purposes. In the CAR, despite UN allegations of atrocities, a statue depicting Russian fighters has been erected in the capital city of Bangui.
Wagner: where in the world?
Africa
Central African Republic: Serving on President's security detail and providing training to the army to fight Islamist insurgents in return for extraction of diamonds, gold and timber.
Mali: Hired by Mali's rulers after the 2021 coup to help fight Islamist groups. Involved in gold and diamond mining.
Mozambique: Hired to support counter-insurgency operations in 2019 but withdrew soon after, when some of their own and Mozambican forces died in a friendly fire exchange.
Sudan: Working together with the Rapid Support Forces in the recent conflict and involved in gold mining, including providing security.
Elsewhere in Africa: Unconfirmed rumours of presence in Burkina Faso, Chad and Democratic Republic of the Congo.
Asia
Sri Lanka: Wagner has a presence in the country according to a Ukrainian consultancy.
Europe
Belarus: Invited to base itself in the country after the failed attack on Moscow. The defence ministry says Wagner operatives are providing training.
Ukraine: Operatives claimed responsibility for capturing Bakhmut in May. A US military spokesman has reportedly said the group is no longer fighting in Ukraine.
Latin America
Venezuela: Providing security for Venezuelan President Nicolás Maduro and training elite combat units.
Middle East
Libya: Supporting General Khalifa Haftar with training and security, and guarding oil fields.
Syria: Supporting fighting on the side of Bashar Assad and protection of gas and oil fields. Recruitment of Syrian fighters, including for Wagner operations in Libya.
Mercenaries?
In May 2023 in a court in Kyrgyzstan, a member of the Wagner Group was sentenced to ten years in prison for his involvement with the group in Ukraine. The crime he was charged with was mercenarism, which is illegal under Kyrgyzstan's laws.
Mercenary groups are also illegal in Russia, but the unwillingness of the judiciary to hear a case brought by the family of a Syrian national allegedly killed by a Wagner operative shows the government's reluctance to hold any members of the group to account.
While Wagner was initially composed mainly of ex-military and security services personnel, 'predatory recruitment' drives from Syria and parts of the former Soviet Union, as well as Russian prisons, have since swelled the ranks, says Sorcha MacLeod, an associate professor at the University of Copenhagen and former chair – and current member – of the UN Working Group on the use of mercenaries.
'The Wagner Group has taken the mercenary model and really enlarged it. Before, you had small groups, specialised, highly trained ex-military people. Now, you've got hundreds, if not thousands, in different countries', says MacLeod.
The information we receive [is] that they are engaged in atrocities, international humanitarian law violations and violations of human rights
Sorcha MacLeod
Former chair and current member, UN Working Group on the use of mercenaries
Russia denies responsibility for the group, saying its fighters are not part of the state army and are instead sent to Africa as 'trainers' through bilateral agreements. 'There's a pattern of bilateral agreements, sending instructors or trainers, but the information we receive officially in our capacity as special procedures is that they're involved in the fighting and that they are engaged in atrocities, international humanitarian law violations and violations of human rights', says MacLeod.
According to the Geneva Convention, a mercenary is someone who has been specifically recruited to fight in an armed conflict and is motivated by financial gain, which should be substantially more than earners of a similar ranking member of the regular armed forces. Yet, if you are a national of one of the parties to the armed conflict, are a member of the regular armed forces or if you have been sent on official duty, then you are not a mercenary.
So, while a Kyrgyz court convicted a Wagner operative for mercenarism for his part in the Ukraine war, most Wagner fighters are from a country party to the conflict – Russia – and therefore not considered mercenaries.
The UN reported receiving accusations of 'private military personnel' committing 'grave human rights abuses' including mass killings and torture in the CAR. While the CAR government set up a commission of inquiry to hear those accusations, a group of UN experts found that people were too afraid to make claims, considering the Wagner Group's close cooperation with the government.
'The government said that they didn't get any complaints, and that therefore meant there wasn't a problem. But there had been threats against human rights defenders, against journalists, against NGOs, against the families of the disappeared or victims themselves, and the Wagner Group was so integrated into the fabric of society that there was no way that this mechanism was ever going to be used', says MacLeod.
Countries party to the UN Mercenary Convention or the African Convention for the Elimination of Mercenarism are obliged to criminalise the recruitment, training and financing of mercenaries. But in Africa, similar to Russia, prosecutions are rare.
Mali has ratified the African Convention. A UN Human Rights Office report found 'strong indications that more than 500 people were killed – the vast majority summarily executed – by Malian troops and foreign military personnel during a five-day military operation in the village of Moura' in Mali in 2022. Witnesses reported seeing 'armed white men', presumed to belong to Wagner. At least 58 women and girls were subjected to sexual violence, including rape.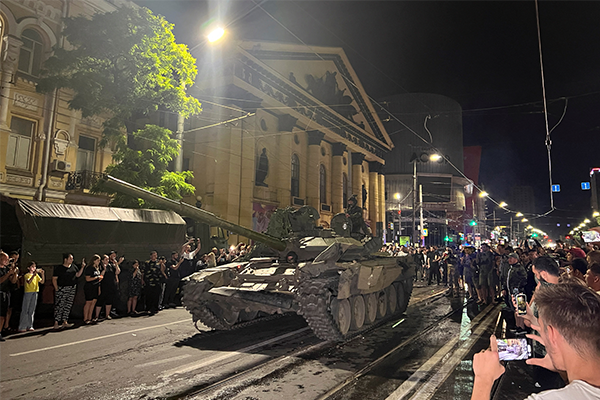 Members of the Wagner private mercenary group pull out of the headquarters of the Southern Military District to return to base, in Rostov-on-Don, Russia, 24 June 2023. REUTERS/Stringer
'Mali, in its response to our allegation letters, would say that the Wagner Group is not a mercenary group. That's Mali's official position to us. They say, "We have instructors and trainers from Russia that are here to train the Malian military"', says MacLeod.
Libya is also party to the Convention. Human Rights Watch has urged the International Criminal Court to open an investigation into the use of unlawful landmines by Wagner operatives in Libya, but thus far no investigation involving the group is taking place at the Court.
'When it comes to victims, access to justice is almost completely absent. I would go so far as to say it is absent', says MacLeod.
Only 37 countries are party to the UN Mercenary Convention. The UK is not one of them, which means that a national-level criminal investigation into this crime is not possible. Terrorism and mercenary labels will give prosecutors another set of tools, if international criminal law violations are hard to prove.
'Counter-terrorism laws offer the prosecution a plan B, a net, if international criminal law issues are quite complex and difficult to prove. Yet proving terrorism might be difficult', says Dieckmann.
Wagner is often described as a private military company, but this is not a legal definition and therefore carries no legal consequences under international criminal law.
Repercussions for financial crimes
The use of various front companies has made it difficult for governments to target Wagner's financial interests. A Financial Times investigation revealed that between 2018 and 2022 the Wagner company made about $250m from natural resource extraction, despite Western sanctions. There are plenty of countries that still want to do business with the group.
'At this juncture, it is difficult to ascertain whether the sanctions are having any impact on the Wagner Group's operations, but based on historical analysis of other sanctions regimes, it is unlikely that the sanctions are having a significant impact, primarily due to the unilateral or bilateral nature, and the number of countries still engaging in trade and financial transactions with Russia and Russian entities', says Dill.
The group's myriad business dealings are complex and there is a lack of knowledge around ownership, which makes sanctions regimes less effective. 'The Wagner Group has been crafty in creating scores of front companies to obfuscate the fact that they are behind resource exploitation in places like Africa. In creating these types of companies, it becomes difficult for governments to trace the financial dealings of the Wagner Group', says Blazakis. 'What can be done about it? Governments need to prioritise the collection of information regarding Wagner and its front companies. Then, they need to share that information with relevant stakeholders so they can take action against Wagner's assets.'
Janusz Tomczak is Co-Chair of the IBA Criminal Law Committee and Head of Business Crime, Compliance and Investigations Practice at Raczkowski in Warsaw. He suggests that assigning a terrorist label could aid in pursuing the organisation's financial interests as it allows for individuals to be prosecuted for their personal involvement. 'Recognising [the Wagner Group] as a terrorist organisation may allow its members to be treated as persons conducting terrorist activities', he says. 'This means the possibility of prosecuting them for crimes committed, as well as the possibility of reaching for the organisation's assets as the proceeds of crime […] the possibility of using coercive measures and instruments provided by criminal proceedings may be more effective than the sanctions system.'
With the death of Prigozhin, the future of Wagner and the income it generates for the Kremlin appear uncertain, but the high stakes make it unlikely that the empire he created will crumble. 'I think it is very likely that the Wagner Group will continue to remain effective in Africa. They'll probably have new leadership that is more submissive to the Kremlin. Make no mistake, the Kremlin remains intent upon harvesting the wealth of several African countries', says Blazakis.
Yola Verbruggen is a freelance journalist and can be contacted at yolav@protonmail.com
Image credit: HJBC/AdobeStock.com