The IBA's response to the war in Ukraine  
Sudan conflict creates another major migration crisis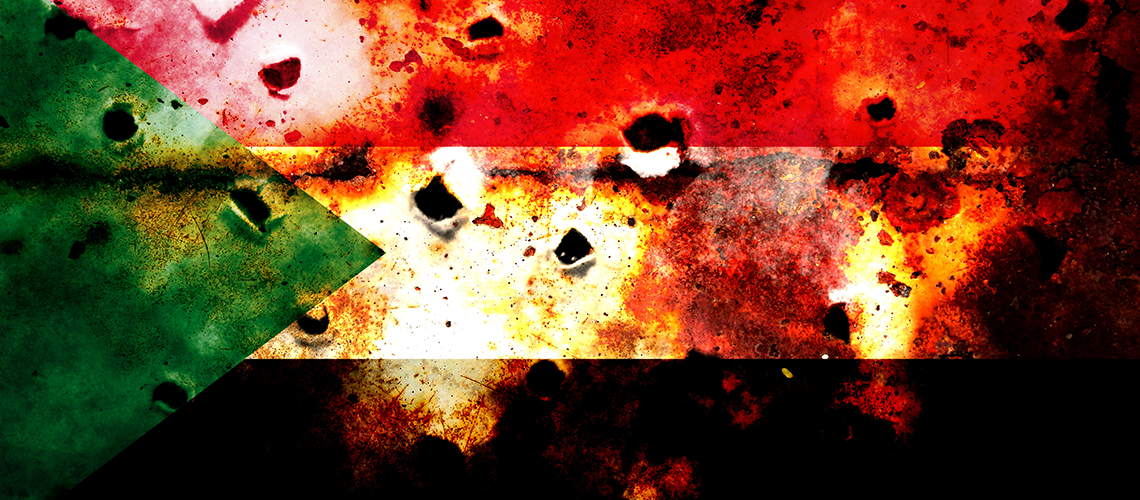 Violence in Sudan between the national army and a powerful paramilitary group is displacing hundreds of thousands of people, forcing them to seek protection in neighbouring countries such as Egypt. An increasingly dire situation looks likely to escalate into a major migration crisis, requiring an emergency response from the international community.
The current fighting, which erupted between two rival generals in mid-April has killed nearly 1000 people including at least 200 children. The number of refugees has gone up to one million and the effort to support them with water, sanitation, food, shelter and cash assistance will require a total of $3bn, according to UN High Commissioner for Refugees (UNHCR) Filippo Grandi.
Desperate desert detours
Refugees are facing serious threats in the country, particularly in the capital Khartoum where there are heavy street battles and the paramilitary group has barricaded in residential areas. At the Egyptian–Sudanese border crossing of Arqeen, which most of the arrivals come through, many spoke of narrow escapes as the country's security disintegrated overnight and gave way to lawlessness. Refugee families told Egyptian TV that their homes were ransacked, women forced to give up their jewellery and many kidnapped or killed if they ventured out.
On 16 May, Sudan Doctors Union reported cases of rape as victims sought medical help in and around Khartoum. The medical group has recorded the number of deaths at a minimum of 863 and injuries among civilians at 3531 but said the numbers are probably much higher due to the lack of movement. 'There are many other deaths and injuries that we couldn't record in this survey,' the group says. 'We are unable to reach hospitals due to the security situation and the difficulty of movement in the country.' The organisation says that some 20 hospitals have been raided and were forcefully evacuated.
Raouf Mazou, UNHCR Assistant High Commissioner for Operations, describes the humanitarian situation in and around Sudan as tragic. 'There are food, water and fuel shortages, limited access to transport, communications and electricity, and skyrocketing prices of basic items,' he says.
The trip to cross the southern border of Egypt has taken some refugees 10 days, mostly with little food and water. Many spoke of spiralling land transport costs because desperate refugees were out-bidding each other to try to flee the violence. Bus rates to the borders with Egypt have gone from a typical $40 to $300 per person within three days. One Sudanese family spent seven days in a rickety microbus on a trip from Khartoum to Dongola, where they had to take unprepared trucks to the Arqeen crossing on the Egyptian border.
An Egyptian woman identified as Om Ali and her son, who happened to be in Khartoum when the fighting unexpectedly broke out, fled with no food or money. She travelled with a Sudanese family whose 18-month-old baby couldn't be fed as they couldn't find milk. They were rescued by Egyptian truck drivers who were fleeing the clashes. Bridges have been blocked and many say that their trip can take up to 10 days by land via long and little-known desert detours to avoid attacks by robbers and militias. The Arqeen crossing, about 1000km north of Khartoum, became the point of choice because it had relatively better facilities as it has an office for the Egyptian immigration that gave entry visas.
The clashes began when two military generals fell out over power-sharing arrangements. On one side, Mohammed Hamdan Dagalo (Hemedti), the head of the Wagner-linked guerrilla forces, Rapid Support Forces (RSF); on the other side, the military headed by General Abdel Fattah al-Burhan, who is now the de facto head of state. Both Burhan and Hemedti joined forces in 2021 to launch a coup against a civilian transitional government in Khartoum brought about by civilian public protests against the corruption and mismanagement of former President Omar Bashir.
Emergency evacuation visas
Legal experts cite several international accords to allow refugees in similar situations to cross borders into other countries, sometimes without permission. International law expert Cristiano d'Orsi tells Global Insight that in Sudan's circumstances, international law makes it imperative for neighbouring countries – Egypt, South Sudan, Central African Republic, Ethiopia and Chad – to offer visas and safe refuge for those fleeing before they can eventually go to a final destination host country, for example in Europe.
'Neighbouring states must advocate for the principle of non-refoulement (non-rejection) in all circumstances,' says d'Orsi, who specialises in migration law in Africa and teaches at the University of Johannesburg. 'This implies that people fleeing the unrest in Sudan and seeking safe haven in the neighbouring countries must not be returned to Sudan or, in the case of people who were refugees in Sudan, they should not be returned to their country of origin without a prior individual assessment of the risks upon return.'
Many Sudanese refugees say they may eventually head to European Union countries. 'In terms of Sudanese who arrive in Europe as refugees, claims must be processed. This is an obligation that much of the European Union has signed up to under international law,' said Aleksandar Stojicevic of the IBA Immigration and Nationality Law Committee. 'This would be an ideal situation for the use of emergency evacuation visas,' he continues.
Greg Siskind, Vice-Chair of the IBA Immigration and Nationality Law Committee, says that how countries deal with refugees is often based on the UN. 'I can tell you that a lot is based on UN treaty obligations and if a country has not signed the UN Convention on Refugees and does not have an established refugee programme, a lot of what happens is based on the realities on the ground and the goodwill of the neighbour country. Many times, a country that is receiving a lot of refugees over their borders will work with non-government organisations and establish camps for those fleeing,' he says.
Dire straits
In Cairo, Egyptian officials say some 110,000 Sudanese had crossed the land border by mid-May. This makes Egypt the largest recipient of Sudanese refugees, many of whom say they do not plan to return to their poverty-stricken homeland as they expect the security situation to get even worse. Egypt now receives around 5,000 people a day at its southern borders. 'Most new arrivals are women and children, a number of whom are unaccompanied or separated,' said the UNHCR in a press release.
The epicentre of the fighting was initially Khartoum but fighting has quickly spread to other parts including Darfur, making it more likely that the number of refugees will increase. Aid agencies say there is a humanitarian crisis in the making in the area particularly in the desert stretch between the Egyptian and Sudanese borders, considered a no man's land and where armed robbers attack buses going north.
Cairo says it will not turn back the refugees and considers them 'guests', a label that has, since the outbreak of the Arab Spring, allowed thousands of other refugees from Syria, Iraq and elsewhere to live in Egyptian cities and seek jobs rather than keeping them locked in refugee camps. Egyptian officials say they will offer services such as increasing enrollment quotas at local universities and schools to allow Sudanese students to continue their studies. Cairo has also run extra trains and buses from Aswan, the nearest major city to the southern borders, to take the newcomers into the country. Humanitarian organisations have worked with the Egyptian Red Crescent offering sanitary kits, wheelchairs and food. Many local residents in Aswan took to social media to announce their homes open as temporary shelter.
UNHCR, however, says that, while the Egyptian authorities reaffirm that the border with Sudan will remain open, it has major concerns about delays at the border. It is not clear how the Egyptian economy can continue as 'a host country of first asylum' or receive larger numbers as the country itself suffers from runaway inflation and economic stagnation on top of deep political divisions. Pro-military ultranationalists blame refugees for the strain on public services and the economic meltdown and want to see a rollback of the nation's humanitarian obligation. They often call for the expulsion of current refugees and for turning away fresh arrivals. In May, the country's military rulers arrested a refugee from Chad allegedly for organising a small protest outside the UNHCR office in Cairo against conditions of African refugees in Egypt and the slow processing of their papers.
The conflict between the two factions in Sudan has so far displayed all the ingredients of a bitter and prolonged fight. Despite the rampant poverty plaguing the Sudanese population, both warring leaders have amassed enough wealth to keep funding their fight for years to come. Hemedti has turned himself into the country's richest man after seizing control of Sudan's lucrative mineral resources including gold mines and developed ties with traders in Russia and the UAE through massive smuggling operations. Some two million Sudanese work in the country's mining industry, including children, ensuring a steady supply of soldiers when needed. Burhan controls all of the non-oil sectors and has warm ties with Cairo and Saudi Arabia.
If the conflict is prolonged further, as expected, regional actors like Egypt and South Sudan will not be the only ones who come under border pressure from waves of refugees but the consequences could engulf the entire Horn of Africa and even reach the shores of the more affluent Europe. 'As for fleeing to Europe by boat, I would expect to see this and I would expect it to go in a similar way to past crises with reactions differing from country to country and tragedies to regularly make the news,' says Siskind.
Sudan's exports have stalled because of the war; meaning there will be less liquidity to import necessities such as fuel, wheat or food, further driving the exodus. Aid agencies expect the soon-to-come rainy season to limit access and delivery of whatever aid finally arrives, prompting the escape of even more Sudanese for neighbouring safe havens and Europe.
'Today, 25 million people – more than half the population of Sudan – need humanitarian aid and protection,' said Ramesh Rajasingham, head of the Geneva bureau of UN Office for the Coordination of Humanitarian Affairs. 'That is the highest number we have ever seen in the country.' Rajasingham warned that there are strong indications the humanitarian situation could soon evolve into a regional emergency. At a time when the world is already suffering from instability and conflicts in different parts of the globe, the ripples of further forced migration and chaos in Sudan are likely to be felt worldwide before too long.
Image credit: andy/AdobeStock.com