Ten years after the Arab Spring

Tunisian protestors call for political change during a demonstration outside the Prime Minister's office in Tunis, Tunisia, 23 January 2011. REUTERS/Zohra Bensemra
The uprisings across the Middle East were heralded as a bright new dawn for the region. Global Insight focuses on Tunisia, where it all started, to assess what's happened since.
When news broke in October 2019 that law professor Kais Saied was the new Tunisian President, pundits in the country swarmed Arab TV stations boasting that their nation was now the only Arab democracy, with a freely elected leader. Two years into Saied's tenure, and the country is in crisis mode as the once-celebrated man grabs power and threatens to send the small country on a path towards autocracy.
Tunisia, a Mediterranean country of 12 million people, carries little geopolitical influence in the larger Middle East, an area with a total population of 440 million. It, unexpectedly, acquired moral weight after it was the first country where the Arab Spring took off in 2011. The country won independence from French colonial rule in 1956, but was plunged into the throes of autocracy for 55 years until public protests unseated then-dictator Zein al-Abidine Ben Ali.
Until then, many Arabs believed that the main reason for the corruption and economic hardships was simply lack of representative democracy. The assumption was that once dictators fell and democratic government was elected, the new system would root out graft and institute freedoms and liberties. However, attempts to remove dictators in Libya, Syria and Yemen resulted in intervention from countries fearful of a democratic Middle East. Civil war and far worse conditions ensued. In Egypt, which had a brief brush with democracy but a weak elected government, easily gave way to a brutal military takeover. The country that kept the hope in democracy alive was Tunisia – at least until 25 July this year when the 63-year-old Saied showed his true colours.
Rule by law
Riding a wave of deep public mistrust in politicians, discontent at government incompetence and impatience to reap the economic benefits of democracy, Saied announced a series of measures that granted him dictator-like powers. And he did it all in the name of law.
The law professor, who ceremoniously swore to 'respect the constitution', used his own interpretation of a provision, Article 80, in the constitution to upturn the fledgling democracy. He then disbanded the elected parliament and deployed the military around the office of Prime Minister Hichem Mechichi, who came to office in September 2020, before he dismissed him as well. Saied, whose five-year term would expire in 2024, then appointed himself as the sole head of the executive branch.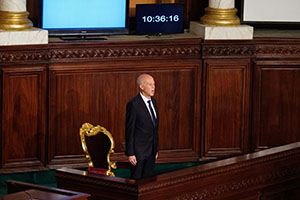 Tunisia's President-elect Kais Saied takes the oath of office at the National Assembly in Tunis, Tunisia, 23 October 2019. Shutterstock.com/Noureddine Ahmed
And, like clockwork, as established by regional strongmen, Saied issued three consecutive presidential decrees casting aside three-quarters of the 2014 constitution – all the time boasting his legal expertise allowed him to interpret the law correctly.
Saied and his supporters argued that Article 80 justifies extraordinary powers and legitimately gives the president extra powers in case of an 'imminent threat jeopardizing the nation, and the country's security and independence'.
But a review of the wording of Article 80 shows that the provision clearly requires parliament to be in a state of 'continuous session throughout such a period'. The Arabic text explicitly states that the president may do so only following consultation with the prime minister, head of parliament and after informing the head of the constitutional court – all measures that Saied simply brushed aside.
The provision in question states that those 'exceptional measures' could be in place no longer than 30 days and were only to be renewed by the head of the constitutional court after a request from the head of parliament or, alternatively, 30 members.
Encouraged by international tacit support, backing from regional dictators and tepid reactions at home, Saied resumed his unilateral measures mostly without recourse to any due process. On 22 September, he issued Decree 117 to revoke an interim legal committee whose mission was to monitor the constitutionality of laws. This time the former legal expert gave himself the role of 'amending' laws relating to his planned 'future political reforms'.
In reaction to his legal arguments, 18 international rights organisations called on Saied to uphold the rule of law and criticised measures to grant himself unjustified broad authority. 'International law requires that emergency situations be dealt with within the framework of the rule of law', said rights groups, which included Human Rights Watch and Amnesty International Tunisia. 'Any change in the political or constitutional framework must happen within the framework provided by the Constitution, which foresees the conditions for its own modification in full respect of the democratic process.'
Enlisting the judiciary
However, Saied stepped further into prompting the judiciary to join his crusade. Critics saw this as a calculated campaign to undermine public trust in the judiciary branch of government, in anticipation of any further control he was expecting to exert.
All this came to a head when former Tunisian President Moncef Marzouki, who was in office from 2011–2014, condemned the recent measures as a coup. Saied publicly called on his newly appointed Minister of Justice, Leïla Jaffel, to immediately 'open an investigation into those who conspire against Tunisia from abroad' in reference to Marzouki, who was in Paris at the time.
Marzouki responded by saying it was Saied who should be tried in a court of justice for 'upending the constitution and legitimacy'. Marzouki urged the French government 'not to endorse a totalitarian system', and Saied retaliated further by revoking his predecessor's passport. On 4 November, the justice ministry finally acted upon Saied's orders and issued an international arrest warrant against the former President.
'The judiciary's independence risks being undermined', the Geneva-based International Commission of Jurists said. 'By designating himself as the Chief Prosecutor, and by adopting other sweeping, exceptional measures without any judicial oversight, the President impairs the judiciary's ability to carry out its functions independently. Ending such measures is the sine qua non condition for ensuring the integrity of the judicial process.'
Paul Usoro, an officer of the IBA's Rule of Law Forum, explains that there is no circumstance that justifies jeopardising the independence of the judiciary – not even in emergencies. 'In a democratic set-up, the independence of the judiciary should not be jeopardized howsoever, not even in a state of emergency, particularly, if such independence is guaranteed by the country's constitution', he says. 'It is, however, known that in countries with undemocratic bent, the declaration of state of emergency provides the cover for rulers with dictatorial tendencies to subvert the judiciary and tamper with its independence.'
Tunisian Prime Minister Hichem Mechichi speaks at a news conference with the French Prime Minister in Tunis, Tunisia. 3 June 2021. REUTERS/Zoubeir Souissi
Within Tunisia, however, there was a legal debate over the measures. Mouna Krayyem, a constitutional law professor, says the President's measures ran afoul of the 2014 Constitution and did not pass constitutional muster. She argued that Saied has used 'lexical' gimmicks to manipulate the law to serve his one-man rule tendencies. 'All power is in his hands now', Krayyem says. 'What's strange and unfortunate is that this way, he is not under any form of checks and balances, not even by an administrative judge, particularly after he revoked the constitutionality of the Laws Committee.'
By designating himself as the Chief Prosecutor, and by adopting other sweeping, exceptional measures without any judicial oversight, the President impairs the judiciary's ability to carry out its functions independently
International Commission of Jurists, Geneva
On the other hand, some of Saied's apologists said his decrees were in themselves 'a mini-constitution' that suits the current transitional period. Some went as far as to argue that 'the law doesn't really exist' in exceptional circumstances. 'We live an emergency situation where the president takes all branches of law in hand and under such a necessity even the law itself ceases to function', Al-Saghir al-Zekrawi, Head of the Faculty of Law and Political Science at Tunis University, told the local Diwan FM radio station. Zekrawi, who speaks and writes widely in support of Saied, denies that the President has granted himself near-dictatorial power. 'I don't look at this as fascism. I see it as an exceptional time situation […] In exceptional times, what doesn't pass in normal times can pass now.'
Saied has maintained that his decisions were designed to build a new, more efficient and wider democratic system. The country will replace 'representative democracy' with a model of 'direct democracy' where citizens will choose their legislators to serve on local and municipal committees, he said. The last time such a rule was adopted in the Middle East was by the late Muammar Gaddafi. It didn't end well.
A faltering economy
According to the International Monetary Fund (IMF), the Covid-19 pandemic hit Tunisia hard and led to an unprecedented economic downturn. GDP contracted by 8.2 per cent in 2020, the largest slump since the country's independence from France in 1956.
Increasing numbers of Tunisia's 12 million citizens were reporting that they were no longer sure they could afford to put food on the table for their families for much longer. In July, six out of every ten Tunisians told the Arab Barometer that they were worried about losing their main source of income within a year.
The survey, which came out a day after Saied's initial round of decisions, found that, in the last year, 27 per cent of Tunisians were worried that their supply of food would run out before they could afford more. Some 25 per cent said that this had happened in the past month.
Meanwhile, 40 per cent said they resorted to less desired or less expensive foods in the last week to try to make ends meet. An extra 22 per cent said they needed financial support to be able to pay for food over the same period.
The unemployment rate jumped to 16.2 per cent at the end of September last year, disproportionally affecting low-skilled workers, youth and women and therefore breeding the social discontent that Saied exploited to pass his controversial decisions. 'As a result of the increase in the fiscal deficit and contraction in GDP, central government debt is estimated to have increased to nearly 87 per cent of GDP', the IMF said. The IMF forecasts recovery in Tunisia 'could take years' before activity returns to pre-crisis levels.
International experts and rule of law advocates see the measures as legally groundless. 'It is extremely difficult to conceive of any circumstances that would justify the suspension of a Constitution', says Justice Richard Goldstone, Honorary President of the IBA's Human Rights Institute. 'I should point out that, unlike other human rights conventions, there is no provision for derogations in the African Convention on Human and People's Rights. Presumably international law provisions would be applicable. The action of the Tunisian President is contradictory of all accepted international law provisions.'
Goldstone says that the International Covenant on Civil and Political Rights is now accepted as reflecting customary international law. Under the Convention, 'at a time of public emergency', a state may derogate from some obligations. He adds that there can be no derogation from the rights to life and protection from torture, cruel and inhumane or degrading punishment. 'With regard to other protected rights, any measures derogating from them must be only to the extent required by the exigencies of the situation and must be announced by the State Party to the Secretary-General of the United Nations', he told Global Insight in a message 'Similar provisions are to be found in regional human rights conventions such as the African Convention on Human and Peoples Rights, The European Convention on Human Rights and the American Convention on Human Rights.' 
Usoro says that what's happening in Tunisia runs contrary to claims by Saied and, he says, it is unlikely to benefit the country. 'Without a doubt, that runs contrary to democratic principles and the doctrine of separation of powers', he says. 'The ultimate outcome cannot possibly be in the interest of the society. History indeed shows time and time again that power corrupts and absolute power corrupts absolutely, to the detriment of the Rule of Law and society at large.'
If it talks like a duck
But, while Saied may be hiding behind legal jargon and promises of a new form of democracy, his political goals are easily recognisable, particularly by many Tunisians who, like most Arabs in neighbouring countries, have developed a knack for recognising the language of autocrats when they hear it.
Former Egyptian dictator Hosni Mubarak called his opponents 'traitors' and said that they were 'in the pay of foreign powers'. Saied has done this too. Even when he promised a public debate to reshape the country's future, Saied says he will exclude 'those who stole the people's money and traitors'. Libya's Gaddafi was notorious for constantly dehumanising his opponents as 'rats' before cracking down on them. Saied called his critics 'thieves' and 'insects'.
In a democratic set-up, the independence of the judiciary should not be jeopardized
Paul Usoro
Officer, IBA Rule of Law Forum
Immediately after Saied took control of the office of the public prosecutor, he placed several of his outspoken critics under house arrest. Rights groups estimate that at least 50 Tunisians have been placed under arbitrary house arrests, including a judge, three lawmakers and some former officials in the first few days after he announced his decisions.
At least three members of parliament were sent to jail for speaking out. Prominent Tunisians say they cannot rule out further detentions in the near future. Saied's moves to strip lawmakers of their immunity opened the door for the military, who appear to be backing him in his campaign. The military executed a two-month prison term meted out by a military court against member of parliament Yassine Ayari, who is a civilian, and was accused of defaming the military.
Ayari was arrested by plain-clothed security forces, typically an indication of secret police forces that often operate away from public scrutiny. Similar apparatus operates in Egypt and Saudi Arabia. Both are called the 'National Security Authority'.
Ayari was moved to the Mornaguia prison where, through messages to his wife, he complained of surveillance cameras in his cell. Once in jail, the military moved to bring new charges against him, based on a critical Facebook post dating back to 2018. Ayari was only released in September after starting a hunger strike.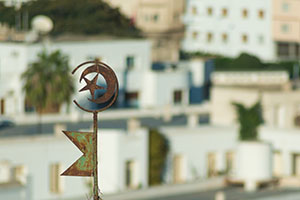 Several MPs who Saied placed under house arrest weren't served a court order or legal justification for the move. Others saw their assets frozen and were prevented from travel. Rights groups have reported that people are often physically searched when visiting those MPs under house arrest. One MP says that his wife and sisters were searched every time they visited him after he was confined to his mother's house,
'Tunisians who spoke out risked occasional criminal prosecutions for "defamation" and other speech offenses, and those who demonstrated sometimes faced excessive force from the police', says Human Rights Watch. 'Dozens of other Tunisians have faced arbitrary travel bans, violating their freedom of movement.'
Media crackdown
Saied used the pretext of the law to silence critical media voices. Three TV channels – Hannibal, Nesma and Zaytouna – have been ordered to shut down and their broadcast equipment confiscated for operating without a licence. All three channels have hosted critics of Saied's latest measures, which they described as a 'coup'. Zaytouna now airs from an unknown location overseas. In October, Al-Karama MP Abdellatif Aloui, along with TV presenter Amer Ayed, appeared in court for the second time under accusations of criticising the President on air.
'President Saied's reassurances on human rights sound hollow when he concentrates power in his own hands, parliamentarians and other Tunisians suddenly start facing arbitrary restrictions on their freedom, and some are packed off to prison', says Eric Goldstein, acting Middle East and North Africa Director at Human Rights Watch.
But, if Saied is moving towards authoritarianism, why are street protests so limited in number and why have there been so many demonstrations of support? This may be due to several factors, including how Saied's opponents, mainly the Islamists as embodied in the democratic Ennahdha, were in disarray.
The group, which had held the most seats in the Tunisian parliament before Saied shut it down, had been boxed in a cycle of docile opposition. Fearing the fate of the Muslim Brotherhood in Egypt, the group has adopted a new doctrine of leniency and pragmatism.
The group's leader, 80-year-old Rached Ghannouchi, back-pedalled on fighting corruption. His MPs went along with a law that overlooked elite corruption cases by officials in the former regime, which the revolution had stood against. This further confused ordinary Tunisians who felt betrayed after they had risked their lives in street protests and were expecting accountability.
More recently, the group called Saied's measures 'a coup' that runs counter to the separation of powers outlined in Tunisia's 2014 Constitution, but apart from press releases and photo-ops, the group put up little resistance, prompting more than 130 members of the Ennahdha party to resign to protest Ghannouchi's failure to stand up to Saied.
It is extremely difficult to conceive of any circumstances that would justify the suspension of a Constitution […] the action of the Tunisian President is contradictory of all accepted international law provisions
Justice Richard Goldstone
Honorary President, IBA's Human Rights Institute
This political ineptitude made increasingly more Tunisians realise that Tunisia was slowly falling into the hands of former regime sympathisers, corrupt business elites and politicians who were either decadent or squeamish. Other opposition to Saied hasn't fared much better either, with dithering by secular and liberal political parties commonplace.
The one million-member Tunisian General Labour Union, who won a Nobel Peace Prize, initially sided with Saied. They only recently grew frustrated with the measures after it became apparent that the country was indeed sliding towards autocracy. Other centrist and leftist groups had also backed Saied in the hope that his measures would help them gain grounds at the expense of the Islamists.
On top of this, the country was experiencing the most profound economic crisis in decades, compounded by Covid-19, long lockdowns and the negative impact on trade and poverty. Everything combined further affected public trust in government. Just before the decisions on 25 July, the country saw several nationwide protests over the paralysed institutions and a deteriorating economy.
In early November, the Arab Barometer, a research network based at Princeton and the University of Michigan, issued the Tunisia 2021 report that found 'Tunisians have low approval ratings towards their national education and healthcare systems, and the ratings went down as the pandemic reached its peak'. The survey found that nine out of every ten Tunisians say that 'corruption is prevalent to a large or medium extent within state institutions and national agencies'.
Saied has been testing how much he can push before he gets a serious local or international rebuke. If the region's recent developments are a guide, the likely outcomes of his moves in Tunisia are bleak. One of them is that violations tend to get much worse with time, often leading to mass violations such as arrests, killings and even downright government violence. Worse, they could attract pro-democracy revolutionaries and activists into counter violence. The revolutionaries of the initial phase of the Arab Spring didn't take up arms until regimes did, as happened in Syria.
This time around, the story may be different as more and more people, especially the young, are convinced that old regimes and ruling classes should not be tolerated any longer. The cycle of violence could be self-perpetuating. That realisation is already pushing elites towards pre-emptive measures. As Tunisia risks falling into chaos, Saied may be, inadvertently or deliberately, setting the stage for the military to justify an intervention. Arab militaries have traditionally viewed themselves as the last guarantors of statehood and have often used that to seize power in times of political turmoil.
Directly before the military ended Egypt's brief brush with democratic rule in 2013, prominent media figures were nodding to the military and asking how nobody spoke for the Egyptian people amid political turbulence. Now, against the backdrop of Saied's authoritarianism, the same is happening in Tunisia. And, based on the deadlocked situation in Tunisia and his moves towards authoritarianism, the military may soon turn into the real power broker in that country.
Emad Mekay is the IBA's Middle East Correspondent. He can be contacted at emad.mekay@int-bar.org