The IBA uses cookies to provide you with a better website experience. By continuing to use our site, you are agreeing to the use of cookies.
Testing the power of regulators in the age of tech
Polly BotsfordMonday 23 January 2023

Last autumn, US antitrust agencies blocked a proposed deal between two major book publishers. Global Insight examines the case in the context of the activist approach being taken by regulators, especially towards Big Tech.
It's not every day that Stephen King appears as a witness in a civil trial. The novelist, who has scared millions of readers with stories such as Carrie and The Shining, made the case for the protection of authors in the world of book publishing, an industry worth $11.5bn in the US alone. King was a witness for the US government in a recent lawsuit brought by the Department of Justice (DoJ) against the proposed $2.175bn acquisition by Penguin Random House of another major publisher, Simon & Schuster.
King's testimony in the witness box in August focused on how historic consolidation in the publishing market had led to lower pay for authors. According to press reports, he told the Court, 'I came because I think consolidation is bad for competition'. The emergence of a 'Big Five' of publishers – a group consisting of HarperCollins, Hachette Book Group and Macmillan, as well as Penguin Random House and Simon & Schuster – has, he argued, led to independent sellers going out of business, and it's the authors that have suffered. 'It becomes tougher and tougher for writers to find enough money to live on', he said.
The proposed deal, involving two of the Big Five, looked set to make that situation worse. According to the US government's statistical analysis, if the merger were to go ahead, the remaining 'Big Four' would have a 91 per cent market share of anticipated bestsellers. Ultimately, the DoJ won the case, with Judge Florence Pan concluding that the proposed merger would cause substantial harm to competition in the anticipated bestseller rights market.
Following the decision, Bertelsmann, which owns Penguin Random House, reiterated that it was the best 'creative home' for Simon & Schuster where the latter could operate 'independently'. In response to a request for comment, Simon & Schuster directed Global Insight to a statement from November 2022 outlining that Paramount, which owns Simon & Schuster, has terminated its agreement to sell the company to Penguin Random House, and that there will be no appeal of the Court's decision.
Deliberate policy
The trial was not only remarkable for its star witness but also for its representation as a more activist approach being taken by regulators – not only in the US but also in the UK and EU – with much talk of, and some action towards, cracking down on mergers in the name of fair and open competition. Daniel Swanson, Co-Chair of the IBA Antitrust Section and a partner at Gibson Dunn in Los Angeles, says 'we have not seen this level of activity from the government agencies in many years, perhaps decades. Even though these things tend to go in cycles, this feels like a multi-decade high point in terms of the level of civil cases, investigations and policy initiatives over the past one or two years'.
This feels like a multi-decade high point in terms of the level of civil cases, investigations and policy initiatives over the past one or two years
Daniel Swanson
Co-Chair, IBA Antitrust Section
This is deliberate policy. In July 2021, US President Joe Biden issued an executive order that had anti-competitive practices in its sights, stating that 'Capitalism without compensation isn't capitalism. It's exploitation'. The order lists a number of actions aimed at 'enforcing the antitrust laws to meet the challenges posed by new industries and technologies'.
The Biden administration has also laid its cards on the table with two key appointments. Firstly, Lina Khan was given the chairmanship of the Federal Trade Commission (FTC) in June 2021. She gained recognition after authoring a paper in 2017 on Amazon and market power called Amazon's Antitrust Paradox. In the paper, Khan, a Yale law student at the time, argued that though no one disputes Amazon's unrelenting dominance, it has escaped scrutiny from antitrust agencies. This is because, she argued, antitrust laws have been wrongly harnessed: there has been too much focus on the prices paid by consumers. 'The current framework in antitrust – specifically its equating competition with "consumer welfare," typically measured through short-term effects on price and output – fails to capture the architecture of market power in the twenty-first century marketplace', she wrote.
Khan represents new thinking that is critical of the dominance of Big Tech and is increasingly becoming concerned about these companies' powerful grip on their markets. A few months after Khan's appointment, Jonathan Kanter, who has been involved in cases against Google, became Assistant Attorney General of the DoJ's Antitrust Division.
Renewed interest from the US agencies has yet to be borne out by the statistics because official data is not yet available. In 2020, there were around 28 challenges to mergers from the FTC, and 15 challenges by the DoJ, among over 1,600 total transactions notified. Data on antitrust cases for 2021 onwards has not yet been published. Anecdotally, practitioners say that the number of investigations and cases is increasing.
The rise of the worker
But it's not only about absolute numbers. Some commentators argue that the shift is also about emphasis and outcomes. This can be seen from the Penguin Random House case. In it, the US government didn't argue that the merger would make books more expensive, but instead argued that authors would be paid less. The trial focused on the bidding wars for the rights to bestsellers, which drive publishing businesses, with the top four per cent of bestsellers accounting for 60 per cent of profitability. Put simply, the DoJ successfully persuaded the Court that further consolidation in publishing would reduce those competition auctions for the bestsellers and – the key point here – authors would subsequently lose out.
'This is a fundamental shift of enforcement focus', says Don Baker, co-founder and senior council at Baker & Miller, based in Washington, DC. 'For the past 40 years we have been talking about consumers in the marketplace. Now we are talking about employees in that marketplace, the supply side of the market.' He explains: 'It's addressing the buying power of large corporations and the distortion that this buying power can have on the market. We used to talk about buying power leading to "efficiencies," so it was seen as delivering a better price for the consumer. But now those same "efficiencies" are being interpreted sceptically'.
Indeed, President Biden's executive order had already signposted the direction of travel. In a speech, Biden highlighted the negative impact of corporate power on workers. 'Rather than competing for workers they are finding ways to gain the upper hand on labour', he said. The defeat of the proposed Penguin Random House/Simon & Schuster merger is, therefore, 'a huge victory for the Biden team', says Baker.
There's a wider debate to be had about whether or not antitrust is the best channel through which we should consider non-competition policy objectives – there are consequences in doing that, argues Christina Ma, a partner at Wachtell, Lipton, Rosen & Katz in New York. 'In the Penguin Random House case, by focusing on harm to certain authors, did we lose sight of potential benefits to consumers? Would the merger have led to better books, cheaper books, more books?' Antitrust may be ill-equipped to balance these varied effects, hence the historical focus on consumer harm. 'Compare this to the EU, for instance, where labour concerns are addressed through other mechanisms such as local labour laws, works councils and, more recently, foreign direct investment reviews', adds Ma.
Nascent competition
Another aspect of the new antitrust activity is its expansion into 'nascent competition', whereby the agency investigates proposed mergers that may have anti-competitive effects far into the future in a particular marketplace. As the FTC's Khan has put it, 'we need to be forward looking in anticipating problems and taking swift action, especially as it concerns next-generation technologies and nascent markets across sectors'.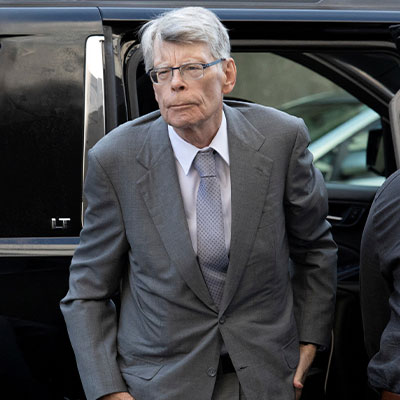 Novelist Stephen King outside US District Court in Washington, US, 2 August 2022. REUTERS/Tom Brenner
In July, the FTC brought a case against Meta for its proposed purchase of Within Unlimited, a small virtual reality (VR) maker that designed the VR-based fitness app, Supernatural. The complaint was later updated in October. The FTC's move is unprecedented in antitrust circles because it explores competition in a market in which Meta is not yet well-established – though the tech giant has ambitions to be, with the development of its 'metaverse'. The FTC argues the deal would 'substantially lessen competition or tend to create a monopoly' in the VR dedicated exercise app market. Meta says that the FTC's suit is 'based on ideology, not evidence'. A spokesperson tells Global Insight that, 'in reality, a partnership between Meta and Within will be good for people, developers and the VR space'.
Merger control cases have always contained some element of crystal-ball gazing because they're addressing the future – and hypothetical – implications of a deal going through. But what's new, observers say, is just how anticipatory the agencies may want to be. Sharis Pozen, a partner at Clifford Chance and co-chair of its Global Antitrust Practice, believes the pendulum has swung too far the other way. 'I worry that the agencies' current approach could stifle innovation', she says. 'If you have a new digital product and know that an acquisition of that business would allow the product to reach its full potential as a real disruptor but are deterred from an acquisition due to heightened merger enforcement, then innovation could be stifled. And that's not in the consumer's interest. The agencies need to find the right balance.'
Though neither the DoJ nor the FTC wished to comment specifically, in recent testimony on competition policy in the US Senate, the DoJ's Jonathan Kanter has argued that innovation is exactly what the DoJ is fighting for. 'Through acquisition of nascent competitors, [companies] can create kill zones around their core monopolies, suppressing innovation, preventing the emergence of new business models and new competition', he said.
Much of the fear among agencies about where these future acquisitions could end up comes back to the 'purchase history' of Big Tech that, the argument goes, has contributed to their dominance now. Amazon bought up competitors such as Zappos, in 2009, and Quidsi, in 2010. Google purchased YouTube in 2006, and Facebook swallowed up Instagram in 2012 and WhatsApp in 2014.
All these deals went through unchallenged. 'It's true that these are difficult cases to run, but it's also true that the enforcers abdicated their regulatory responsibilities', says Tommaso Valletti, Professor of Economics at Imperial College Business School in London, and Head of its Department of Economics and Public Policy. The numbers speak for themselves. 'There have been around 1,000 mergers in digital in the last twenty or so years globally involving the five Big Tech companies [Amazon, Apple, Google, Meta and Microsoft], and only one has been blocked by a regulator', he says.
The DoJ argues that the regulators are 'fighting back'. In testimony before the Senate in September, Kanter stated that the DoJ has 'seven pending civil antitrust lawsuits, the largest number of civil cases in litigation in decades. We will litigate more merger trials this year than in any fiscal year on record'.
Instead of simply acquiring smaller companies and their new ideas and innovations, Big Tech can do their own investment internally. They should make rather than buy
Tommaso Valletti
Head of Department of Economics and Public Policy, Imperial College Business School
For those who agree with Valletti, who believes it's the lack of competition that's so damaging for innovation, this is welcome news indeed. In the digital space in particular, he argues we have become completely dependent on Big Tech. 'If you want to advertise digitally, the fact is you will hit one of the Big Four, probably Google', he explains. And there's no reason to let the situation continue. 'Instead of simply acquiring smaller companies and their new ideas and innovations, Big Tech can do their own investment internally', says Valletti. 'They should make rather than buy. As a society we will be better off if there are alternatives.' He says that blocking deals doesn't mean that potential disruptors can't get their investment at all, but rather, 'they just can't get it from the dominant digital players'.
Such is the concern about the past and the corporate trajectories that have led to Big Tech that the FTC is even revisiting these done deals. In late 2020, the FTC brought a complaint against Meta's alleged historical anti-competitive actions going back more than a decade, which it claims were designed to 'entrench and maintain its monopoly'. These include its acquisition of what the FTC describes as Meta's social networking 'rivals': Instagram and WhatsApp.
Meta stands by its acquisitions. 'We're confident the evidence will reveal the fundamental weakness of the claims. Our investments in Instagram and WhatsApp transformed them into what they are today', says a spokesperson. 'They have been good for competition, and good for the people and businesses that choose to use our products.'
Though antitrust agencies have always had this retrospective power to 'unscramble the egg', as practitioners refer to it, the difference here is that the Instagram and WhatsApp deals were, in commercial terms, a long time ago. There's a debate about whether or not it's even feasible to undo deals that were completed a decade ago. On this point, Pozen is pragmatic. 'WhatsApp and Instagram have very much kept quite distinct and separate so there are arguments that it wouldn't be so difficult to do', she says. The case is ongoing and not likely to be heard until 2024.
A transatlantic concern
The US agencies are not alone in their thinking on what Lina Khan calls 'missed opportunities' – the UK and EU authorities are taking a keen interest too. As Philipp Girardet, Chair of the European Competition Practice Group at Willkie Farr & Gallagher in the UK, says: 'There is a general sense that, historically, they have allowed too many deals to go through because either their thresholds did not catch these deals or because they were too cautious about intervening in fast-moving tech markets. Essentially, the concern is that the "benefit of uncertainty" has been in the merging parties' favour.'
Authorities in the UK and the EU have become more active in challenging – and potentially, blocking or remedying – proposed mergers. Activity has, says Thomas Janssens, Co-Chair of the IBA Antitrust Section and a partner at Freshfields in Brussels, 'moved up a gear'. Although in the UK, the total number of merger control decisions in 2022, as of 31 October 2022, is less than in 2021 (26 compared to 55), the number of what Janssens refers to as 'significant interventions', where deals are prohibited or remedies are agreed, is greater (up from 11 in 2021 to 15 in 2022). And these numbers are not yet at year-end.
Five recent merger cases
US Department of Justice v Penguin Random House/Simon & Schuster
The first worker-focused antitrust case involving two of the 'Big Five' in book publishing. The case was won by the DoJ in October 2022. Judge Florence Pan's written decision makes for literary reading. She begins her reasoning with a quote from John Steinbeck, heavyweight of American literature, who once said (speaking figuratively): 'I guess there are never enough books'. Bertelsmann, the company that owns Penguin Random House, has confirmed that it will not appeal the decision.
European Commission decision in Illumina/Grail acquisition
Illumina is a DNA sequencing company. It created a subsidiary, Grail, which owns Galleri, a test for the early detection of cancer. Grail was then spun off. But in 2020 Illumina proposed to buy it back, for $8bn. In September 2022, the European Commission blocked the deal. The case is important because the European Commission used special powers – under Article 22 of the EU Merger Regulation – to accept a review of the acquisition in the first place, even though the proposed deal didn't meet EU notification thresholds.
US Federal Trade Commission v Meta (then Facebook)
The FTC is looking to unstitch historic deals made by what was then Facebook when it bought Instagram and WhatsApp in 2012 and 2014 respectively, even though the deals were passed by the antitrust agencies at the time. The FTC argues that Facebook has a monopoly power in the personal social networking market. When it identified 'two significant threats to its dominant position […] [it] moved to squelch those threats by buying the companies', the complaint states. Meta is confident 'the evidence will reveal the fundamental weakness of the claims'. The trial is likely to be heard in 2024.
FTC v Meta Platforms Inc, and Within
In July 2022 (and amended in October 2022) the FTC brought another case against Meta for its proposed purchase of virtual reality (VR) makers, Within Unlimited, creators of the fitness app Supernatural. The agency alleges that Meta's proposed acquisition of Within would stifle competition and dampen innovation in the dynamic, rapidly growing US markets for fitness and dedicated-fitness VR apps. Meta accuses the FTC of 'sending a chilling message to anyone who wishes to innovate in VR'.
Court of Justice of the European Union in Hutchison/Telefonica
A proposed acquisition by CK Hutchison, owner of the mobile phone company Three, of Telefonica UK, owner of O2, was blocked by the European Commission in 2016. The deal would have represented a merger of two of only four phone companies in the UK, with a combined 40 per cent market share. On appeal in 2020, the Commission's decision was overturned.
But that was not the end of the story. The case went to the Court of Justice of the European Union (CJEU). It turns on the standard of proof needed when considering harm: whether or not the Commission must be able to demonstrate a 'strong' probability of harm or harm 'on the balance of probabilities'. The non-binding opinion of the CJEU's Attorney-General was published in October 2022 and indicated that the lower burden of proof was sufficient. A CJEU decision often follows the Attorney-General's opinion. Commentators say a victory in the case will give the Commission confidence to enforce merger control.
Likewise for the European Commission, though the total number of merger notifications has actually dropped from 405 in 2021 to 318 as of 31 October 2022, the nature and outcomes of those notifications has changed; there have been more remedies and more deals blocked. Indeed, in 2021, there were no prohibited mergers, but in 2022 the Commission had blocked two as of late October.
The issue of 'harm' in competition law is being more expansively addressed, says Janssens. 'The authorities are using all the tools at their disposal: not only looking at the risks to consumers, but also at where the harm is (taking a cross-jurisdictional approach). There are different theories of harm, such as the acquisition of data that could increase market power.' He adds that the authorities will look at 'the whole ecosystem in which companies are operating'.
Commentators in the EU and the UK echo Pozen's observations in the US. 'There is a more muscular culture of enforcement now', says Girardet. 'But there is also a concern that the pendulum is swinging too far towards intervening in cases where the theories of harm are pretty speculative.' This has led, he adds, to 'a perception by some that the UK authority and US agencies have to a certain extent "politicised" antitrust'.
The definite article
One example of the European Commission moving up a gear can be found in its acceptance of jurisdiction to review cases even though a notification threshold hasn't been met. This happened in 2022 during the proposed acquisition of Grail by Illumina (see: Five recent merger cases). The Commission took up the case using the powers set out in Article 22 of the EU's Merger Regulation. These powers enable the Commission to invite national competition authorities to request a referral of a deal being proposed in a Member State, regardless of the national competition position.
This has significant implications, particularly for companies whose markets are across several EU jurisdictions. 'This is bad for companies which are trying to assess – before doing a deal – which authorities may review their deal, and whether these reviews may delay or complicate the closing of the transaction', says Girardet.
Antitrust authorities are sharing information and know-how at an unprecedented level
Sharis Pozen
Co-Chair of Global Antitrust Practice, Clifford Chance
Indeed, jurisdictional expansion is now a significant theme. Companies may find that a proposed deal is challenged in several countries, each in slightly different ways. 'There is a domino effect here as authorities in different jurisdictions talk to each other so a merger may be challenged in many different markets', says Pozen. Though antitrust authorities have always cooperated, she observes that the level of cooperation and liaison has reached new heights. 'They are sharing information and know-how at an unprecedented level, and not only between the CMA [the UK's Competition and Markets Authority], European Commission, the FTC and DoJ, but also with authorities in China, Brazil and India for instance', she explains. 'Corporates find themselves investigated on many different fronts.'
Valletti warns against over-stating greater activism among authorities. The number of mergers being blocked is still extremely low when compared with the numbers getting through. 'The authorities don't have the resources to challenge enough deals even if the will is there', he says. 'There is such a resistance to deals being blocked, so at best one can find some remedies that hardly work and are difficult to enforce.' It also takes a certain level of determination among the competition authorities. 'It takes courage and an appetite for risk', he concludes.
Polly Botsford is a law and current affairs writer and can be contacted at polly@pollybotsford.com