The criminalisation of migration

As states seek to deter the ever-increasing influx of desperate people from Afghanistan, Syria, Ukraine and elsewhere, Global Insight considers whether we're seeing a refugee crisis or refugee policy crisis.
There's one thing that Sascha Girke, currently on trial in Italy for saving refugees with rescue ship Iuventa, wants to emphasise about his ordeal: 'Most people persecuted for aiding and abetting are the people on the move themselves, for steering the boat they arrived on', he says. There is a big difference in how he or accused migrants are being treated. 'I'm on a nice island, they are in jail', Girke, who was head of mission on the ship when it was seized in 2017, tells Global Insight by phone from the island of Sicily where his trial is taking place. 'What we are seeing is the criminalisation of migration.'
There is a complete lack of solidarity among EU Member States when it comes to welcoming persons arriving in the bloc to seek international protection
Mary Lawlor
UN Special Rapporteur on the situation of human rights defenders
In the absence of schemes that would allow them access to Europe, large numbers of people arrived via treacherous land or sea routes after the start of the war in Syria in 2015. Countries on Europe's borders were soon overwhelmed and many people have been stranded for years awaiting their asylum applications in abysmally equipped reception centres. The unwillingness of other European states to receive refugees and the rise of populist rhetoric against migration resulted in a costly drive to keep new arrivals out. Within years, kilometres of fencing were erected around Europe's external borders. When, in 2021, the Taliban took over Afghanistan and many more people fled to safety in Europe, they found the doors closed.
In 2022, Russia's invasion of Ukraine sent millions more seeking protection in other European nations. Contrary to the 'refugee crises' of 2015 and 2021, European leaders showed solidarity with neighbouring countries where most refugees arrived and opened schemes that granted residency permits, housing and the right to work.
This begs the question whether Europe is facing a 'refugee crisis', or a 'refugee policy crisis'.
Lack of solidarity
With the arrival of millions of Ukrainians in European nations through government schemes, refugees who had for years been waiting for support were now pushed to the back of the queue. For refugees fleeing less publicised conflicts or crises in, for example, Myanmar or Yemen, the situation is even more desperate. Responsibility sharing for refugees from countries other than Ukraine is still not on the agenda for most of Europe.
'There is a complete lack of solidarity among EU Member States when it comes to welcoming persons arriving in the bloc to seek international protection. This has created unnecessary pressure on asylum systems in Member States at the EU's borders, such as Italy and Greece. These states have placed migration, including the migration of people seeking asylum, within a paradigm of security and control that has led to the violation of human rights on a massive scale', says Mary Lawlor, UN Special Rapporteur on the situation of human rights defenders.
Poland, which took in the largest number of refugees from Ukraine, is one of the countries against the redistribution of refugees and has quite literally beaten back refugees at its borders. Many had no choice but to sleep in the cold on the Poland–Belarus border, including children. Some people have died during the pushbacks, non-governmental organisations (NGOs) reported. 'The government claims these people are economic migrants, which they use as a shield to absolve themselves from obligations under international law', says Karolina Schiffter, Website Officer of the IBA Immigration and Nationality Law Committee.
The government claims these people are economic migrants, which they use as a shield to absolve themselves from obligations under international law
Karolina Schiffter
Website Officer, IBA Immigration and Nationality Law Committee
Redistribution has been a stumbling block for a more comprehensive European policy on migration. In September 2020, European Commission President Ursula von der Leyen announced a new Pact on Migration and Asylum that focused on solidarity and stepped away from redistribution, to appease Member States. But the EU has failed to reach consensus over the content of the pact – the current Swedish leadership is not expected to either, backed, as the Swedish government is, by the far-right Sweden Democrats. 'We still have the situation that migration is an issue where you can win or lose elections in virtually every Member State', Lars Danielsson, Swedish Ambassador to the EU, said earlier this year.
A revision of the Schengen Border Code, which would allow for extra checks at the EU's internal and external borders – including through surveillance technology – with the aim of stopping migrants from entering, is also on the table. 'We've seen for some years now a chaotic and unpredictable response when it comes to EU migration and asylum policies and practices. This has led to a breakdown in trust across countries, while people fleeing war, conflict and persecution are suffering as a result. The draft EU Pact on Migration and Asylum as a whole represents an opportunity to move away from an ad hoc crisis-driven approach to asylum and migration towards one that is comprehensive, well-managed and predictable', says Maeve Patterson, a spokesperson in Brussels for the United Nations High Commissioner for Refugees (UNHCR).

Coffins containing people who died in a migrant shipwreck, lie in state at Palasport in Crotone, Italy, 28 February 2023. REUTERS/Remo Casilli
The numbers of refugees that have arrived in Europe are low compared to those in countries neighbouring conflicts such as those in Afghanistan and Syria. Three quarters of the world's refugees and other people in need of international protection are living in low- and middle-income countries, not in Europe.
'Stop the boats'
Standing behind a lectern with the text 'Stop the boats', Rishi Sunak, Prime Minister of the UK – where elections will be held in 2024 – laid out his strategy to stop migrants coming to the island. Proposed legislation would immediately invalidate any claims to asylum by migrants entering the country via 'irregular routes' and see them deported. 'Like in so many EU countries with quasi-populist governments, immigration has become one of these subjects used as a flag for election politics', says Baroness Helena Kennedy, Director of the IBA's Human Rights Institute.
The largest number of refugees reaching the UK by boat are from Albania; the second-largest group is from Afghanistan. There are not many 'regular' routes to the UK for people fleeing Afghanistan. The Afghan Citizens Resettlement Scheme, for example, had reportedly not evacuated anyone to the UK by December 2022, well over a year after the Taliban takeover of the country.
In another attempt to deter migrants from coming to the UK, Sunak is threatening to leave the European Court of Human Rights after it grounded a flight to Rwanda carrying refugees. The UK had previously struck a deal to send refugees to the African nation to be processed. There is also, experts suggest, too much focus on pull factors while it is more about push factors. The number of boats arriving shows a failing of the system, rather than the attractiveness of the UK. 'We need safer legal routes', says Nicolas Rollason, Chair of the IBA Immigration and Nationality Law Committee.
Denmark, Germany and the Netherlands, meanwhile, are considering outsourcing their asylum procedure to third countries. 'Parliament accepted a motion that would see the government discuss with Denmark ideas around offshore asylum proceedings. It is election time, which is why this motion was approved. Yet, the Secretary of State has said that the Netherlands will comply with international conventions, therefore the proposal is not feasible', says Sander Laban, Senior Public Affairs Coordinator at VluchtelingenWerk Nederland, the Dutch Council for Refugees.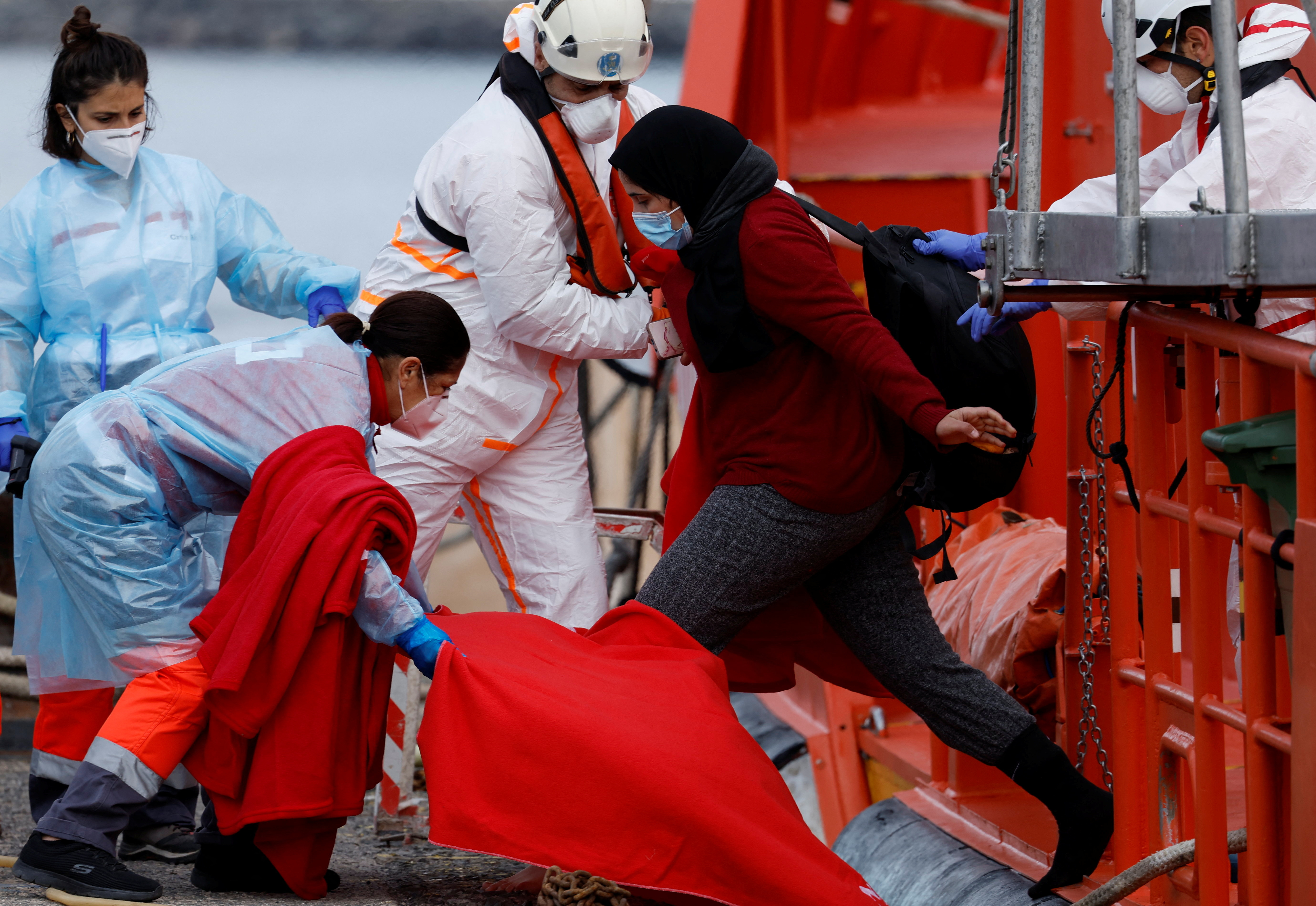 EUROPE-MIGRANTS/SPAIN. www.reuters.com
In various European countries, including Belgium, the Netherlands and the UK, budget cuts for immigration services caused a huge backlog of asylum applications, contributing to the current crisis in refugee management. 'We've had 13 years of austerity policies so each government department has faced cuts. There has been a reduction in departments and in the civil service, including in the number of people in the Home Office who assess asylum claims in the first instance', says Kennedy about the UK.
To clear the backlog of about 166,000 claims, the UK is now sending questionnaires to about 12,000 applicants from Afghanistan, Eritrea, Libya, Syria and Yemen – instead of arranging face-to-face interviews – as people fleeing these countries usually have their claims accepted.
In the Netherlands, the death of a three-month-old baby in a reception centre for asylum seekers focused attention on the fate of hundreds of people sleeping outside of the centre in Ter Apel, a village in the country's north-east, as a large backlog of claims and a housing shortage saw people staying in temporary accommodation for prolonged periods of time. 'The situation in Ter Apel was the result of decisions made much earlier, when budget cuts were made to the services that deal with asylum applications and with shelter. These cuts were a reflection of the fall of asylum applications following the influx of refugees from Syria in 2015 and 2016, but tight budgets also played a role. As a result, the services weren't equipped to deal with the average amount of asylum requests each year', says Laban. Some people had to wait two to three years for proceedings to start, while in a regular situation the entire process would only take about two months, he adds.
A task force was set up to deal with the backlog of applications, but no measures were put in place that would avoid the same situation in the case of another humanitarian disaster. At the moment, people are again waiting up to a year for their claims to be processed.
Fortress Europe
Migrants arriving in Europe by boat have become the main target for nationalist rhetoric, with the UK's Home Secretary even speaking of an 'invasion' of the country's coast. On top of the over 2,000 kilometres of fencing built on Europe's borders between 2014 and 2022, stricter measures are also imposed at sea – with disastrous results.
With additional, steady commitment from EU states to resettlement and other safe and legal options, fewer people will be forced to undertake dangerous journeys to seek safety in Europe
Maeve Patterson
Spokesperson, UNHCR
Facilitated by European institutions like Frontex, information about the whereabouts of migrant boats in the Mediterranean is now shared with the Libyan Coast Guard, which aims to intercept boats on their way to Europe and return them to Libya – where they face well-documented human rights abuses. Europe no longer conducts rescue operations. 'They give information exclusively to the Libyan Coast Guard. There is no longer any coordination with rescue vessels. Now it's a race between the Libyan Coast Guard and NGO ships to reach the boats', says Girke.
The consequences of changes in national policies around search and rescue at sea are huge. In Italy, coastguards and navy boats are no longer present in the search and rescue zone, Girke says. Instead, they are at least a day's journey away from the zone – an obstacle when swift action is needed to help a boat in distress.
The day before the Iuventa was seized, the real-life results of these changes became clear. The Iuventa, a relatively small boat, found itself alongside 13 boats, all carrying around 120 people, on which people were injured and without food or water and life jackets. Among them were children and pregnant women. 'We took over 250 people on board and were handing over life jackets and water, but we didn't have enough. We were going between the boats treating injured people while we waited for a bigger boat', says Girke.
NGOs are also increasingly monitored and controlled, and in Italy it is now illegal to transfer people from smaller boats onto bigger boats. This is an obstacle for smaller rescue boats, as they would have to sail potentially for days to get back to the shore to drop people off instead of transferring them onto bigger boats, meaning longer periods of time out of the search and rescue zone and fewer people rescued. The 2023 'Piantedosi Decree' requires ships to immediately bring people to shore after a rescue operation, forbidding them to stay out for subsequent missions.
'In the end we will win. This is an unlawful violation of international agreements, not to mention the ethical concerns. But it will reduce the rescue capacity for some months and it will be challenging for the people out at sea and those needing rescue', says Girke.
In the latest of the ongoing tragedy playing out in the Mediterranean, on 23 February over 60 migrants were found dead off the Italian coast. 'Last year, over 2,000 people died or went missing in the Mediterranean. This year, almost 300 men, women and children have already perished in the waters. With more state-led and better coordinated search and rescue efforts, predictable solidarity measures and disembarkation in places of safety, and expedited access to screening and asylum procedures, this can change. With additional, steady commitment from EU states to resettlement and other safe and legal options, fewer people will be forced to undertake dangerous journeys to seek safety in Europe', says Patterson.
For Girke, the solution is clear: 'Ferries not Frontex. Legal and secure pathways for people trying to leave Libya, to stop people dying at sea.'
Criminalisation
With policies in Europe leaving gaps in the rights of migrants, human rights defenders step up to insist respect for international and European human rights law, as well as refugee law, says Lawlor. 'When they do they face retaliation designed to silence them and ensure that these violations can go unchallenged and rest in impunity', says Lawlor.
Jose Aguilera, 22, a Venezuelan migrant seeking asylum in the US, and awaiting the end of Title 42, stands at the border between Mexico and the United States, in Ciudad Juarez, Mexico, 27 December 2022. REUTERS/Jose Luis Gonzalez
Girke, who was head of mission on the Iuventa, faces up to a 20-year prison sentence if convicted, and fines for costs incurred by the Italian state for processing the persons he brought to the shore and the guarding of the ship.
The seizure of the Iuventa came against a backdrop of increased government restrictions for rescue boats, a precursor to current Italian legislation that criminalises the saving of migrants in distress at sea. NGOs were increasingly monitored and controlled, and it became illegal to transfer people from smaller boats onto bigger boats – this is still the case today. 'We had to sign a document to state that we would comply with this, but we didn't and, a day later, our ship was seized amidst a staged media spectacle', says Girke. 'The root cause of the retaliation lies in states' migration policy. In order for these kinds of attacks to end, states need to start seeing defenders as allies in constructing a rights-based approach to migration, one that guarantees the right to seek asylum, ensures non-discrimination and non-refoulement, and encourages solidarity', says Lawlor.
Refugees are also persecuted. On 6 March, Egyptian fisherman H Elfallah was sentenced to 280 years in a Greek prison for steering the boat that took him and 476 others to Europe, and to safety.
In 2022, three Eritrean men who had been granted asylum in Italy were acquitted of trafficking charges. They had faced these accusations after helping other Eritreans navigate public transport, buy food and find a place to stay. By the time of their acquittal, they had already spent two years in prison.
In Greece, Syrian refugee and competitive swimmer Sarah Mardini, the inspiration for the Netflix film The Swimmers, is on trial together with 23 others for saving refugees from drowning off the island of Lesbos. If convicted, they could face 20 years in prison.
UNHCR predicts that 'if ongoing conflicts remain unresolved and the risks of new ones erupting are not reined in', the 21st century will see growing numbers of people forced to flee. The few options for safe refuge in Europe will continue to leave them no alternative than to embark on dangerous and potentially deadly journeys to the continent – and they will depend on human rights defenders for support while doing so.
'As conflict and insecurity persist and climate change worsens, the numbers of people forcibly displaced continues to grow. Renewed cooperation across regions and further innovations and investments are crucial to help states manage complex mixed movements and protect people in need (in Europe and in other host countries). Further investment in countries of origin [is] urgently needed to address underlying causes of displacement', says Patterson from the UNHCR.
Yola Verbruggen is a freelance journalist and can be contacted at yolav@protonmail.com