The IBA uses cookies to provide you with a better website experience. By continuing to use our site, you are agreeing to the use of cookies.
The great M&A bounce back
Tom WickerFriday 24 September 2021

In 2020, the Covid-19 pandemic hit corporate activity hard, but, in the first half of this year, mergers and acquisitions hit record highs. Global Insight assesses how the pandemic and other factors are shaping the market.
Throughout 2020, as travel virtually disappeared and companies went into damage limitation, deal volume dropped. However, acquisitions in the first half of 2021 didn't just rebound, they hit record levels as buyers announced $2.5tn of deals.
'Initially, in 2020 as the pandemic unfolded, a lot of deals paused', says Gary McSharry, Chair of the IBA's Private Equity Subcommittee and partner at Irish law firm McCann FitzGerald. 'There was no real clarity around the impact on the global or Irish economy and then, from September 2020, a lot of those deals restarted. With growing global economic sentiment in a number of sectors', he continues, 'private equity funds became more active and CEOs got more confident'.
First, however, it's worth noting that one key factor contributing to the recent growth in M&A activity isn't directly tied to the pandemic. Special acquisition companies (SPACs) are shell companies that list on a stock exchange to acquire a private company and then make it public without having to go through the standard initial public offering. SPACs have proven popular with investors, particularly private equity sponsors.
SPACs account for a healthy chunk of recent M&A activity. 'We're talking trillions of dollars', says Nanette Heide, a partner at leading US law firm Duane Morris and Vice Chair of the IBA's Corporate and M&A Law Committee. She has noted 'increased scrutiny' of SPACs by the US Securities and Exchange Commission. 'But it doesn't seem to be slowing down that activity.'
Renewed confidence
Nevertheless, the increased volume of dealmaking is substantially due to renewed market confidence as we edge, albeit cautiously, out of the pandemic. In embattled sectors – such as retail, leisure and travel – quintessentially opportunistic funds have banked on future growth to make a series of distressed-asset acquisitions.
Marco Rizzi is chair of the IBA's Closely Held and Growing Business Enterprises Committee, and a partner at Swiss law firm Bratschi Ltd. In 2020, while his colleagues continued to advise on domestic acquisitions, his international transactional practice – which emphasises venture capital – significantly slowed down as deals were put on hold.
But that was then. That backlog has broken down. 'What I've seen is these deals really coming through', he says, 'in the summer, even in jurisdictions traditionally on holiday, like France, Spain or Italy'.
McSharry cites President Kennedy's infamous, and incorrect, assertion that the Chinese word for crisis was made up of two components: danger and opportunity. 'You've got to recognise the danger but be alive to the opportunities of the crisis', he says. 'That's really what we're seeing now.' And private equity funds have 'huge amounts of dry powder sheets seeking out assets and corporates in a number of sectors have strong cash reserves to do deals'.
You've got to recognise the danger but be alive to the opportunities of the crisis
Gary McSharry
Chair, IBA Private Equity Subcommittee
'Even through the pandemic, private equity funds were still raising money', Nanette Heide observes. 'There are billions of dollars out there to be spent. They're still looking for targets. It's still a pretty "frothy" market, as the bankers would describe it', she says. Heide points to the US's historically low interest rates as one reason for the M&A boom stateside. 'And, as far as every private equity deal, you have debt, a cash element and then you sometimes have a rollover component, which is really popular and good for business owners', she continues. 'They can get a piece of the bigger platform and continue to participate.'
When it comes to the future, Heide describes what she views as the current US government's unfavourable view of private equity as 'unfortunate'. People don't 'recognise that private equity is private capital', she says, 'and that without that, there are so many businesses in the US – from small to midsize – that wouldn't be able to expand and grow'. Loans 'are fine', she continues, 'but at a certain point, you'll have debt versus investment'.
In the short term, though, global markets are seeing a surge in M&A activity in deals of every size. 'And businesses need to survive', says Hanim Hamzah, Co-Chair of the IBA's Law Firm Management Committee and Singapore-based Regional Manager of the ZICO Law network. Importantly, M&A, capital shares and strategic partnerships are all ways of raising capital, she says, 'without having to go to debt or capital markets'.
But the recent M&A activity hasn't been driven purely by companies in crisis. 'Covid-proof' sectors such as logistics – which have proven vital – have boomed. Marco Rizzi, for example, has seen 'a lot of the big players going into logistics and acquiring small targets'.
Among the biggest growth areas are technology and consumer finance. Their innovations have been both accelerated and foregrounded by lockdown. Investments in 'unicorn' technology start-ups continue to be immensely popular as the world has watched companies like Zoom dominate remote-working environments.
This is likely to prove advantageous for particular jurisdictions, too. For example, Gary McSharry points to Ireland's combination of 'competitive tax rates' and 'many decades of big US technology companies setting up their European headquarters in Ireland. Irish entrepreneurs have cut their teeth at a lot of those companies and have established their own start-ups, some of which have become hugely successful'.
He continues: 'In Ireland, in the first half of this year, we've had over 106 deals, which is a 33 per cent rise over the same period last year.' As the 'only English-speaking common law member of the European Union with a highly educated and tech savvy workforce, Ireland has proven itself to offer real returns to buyers and as a jurisdiction of choice to access EU markets'.
In the Baltics, Roland Valiunas – Managing Partner of Lithuania-based Ellex Valiunas and Co-Chair of the IBA's Law Firm Management Committee – has seen the FinTech sector boom in recent months. He attributes this, in Lithuania, to 'favourable conditions created by the Central Bank' and 'the number of financial and technology specialists in those markets'.
Covid-induced innovation
The transformative impact of digital technology on people's lives since early 2020 is likely to remain influential in international dealmaking in the longer term. Across the board, says Marco Rizzi, 'we're going to see a huge leap in innovation caused by Covid'. He points to the rapid growth of the e-health sector and intensified interest in the life sciences industry. He's currently advising an early-stage life sciences company that is already 'pursuing an IPO with a high degree of confidence'.
Since last year, a notable amount of M&A work has stemmed from the 'spill-over' from the technology industry into other sectors. Nanette Heide points to the retail sector. 'They were wedded to their bricks-and-mortar model for so long.' When Covid-19 hit, 'they had to pivot. If you want to survive as a consumer products company, your website has to be better; your e-commerce platform has to be better'. This has led to 'waves of consolidations and divestitures'.
But it's not all pandemic related. As climate change climbs up the agenda, several commentators point to what Hanim Hamzah calls 'the big push on Environmental, Social and Governance issues'. Companies are looking at supply chain reorganisations, impact analyses and environmental technologies. 'There's money coming in for that focus.'
For Rizzi, disruptive variables like Covid-19 and concerns around the environment are teaching businesses in every sector the value of being able to adapt to 'radical change'. It's a 'question of survival', he says. 'You need to become more adventurous in this new world.' Hamzah echoes this. 'There's a need for continuous improvement', she says. Companies will have to be nimbler. 'Plans are one-to-three years, gone are the days of five-year plans', and faster approval processes will be key.
We're going to see a huge leap in innovation caused by Covid
Marco Rizzi
Chair, IBA Closely Held and Growing Business Enterprises Committee
And these significant shifts in the legal landscape apply equally to the firms representing these companies. From remote-working, to signing deals digitally, to conducting high-level client meetings via video conferencing, nimbleness has also been required of the legal sector.
'Overnight, we went from four offices to 650, as all of our colleagues went into their individual home offices', Gary McSharry says. Like others in the market, his firm, McCann FitzGerald, had already put in place more flexible, agile working – including implementing a 'day a week working from home' scheme – before the pandemic-related lockdowns made this a necessity.
But having to abandon a conventional, office-based model of working over the past year hasn't simply resulted in firms trying to replicate this at home. It's also made many look differently at productivity and employees' needs.
As Regional Manager of the ZICO Law network of independent firms, a network that is present in all ten Association of Southeast Asian Nations (ASEAN) member countries, Hamzah regularly speaks with her managing partners in the region. Because of agile working, aided by technology, 'it's more efficient and easier to tap on another resource that's less utilised', she says – and often beyond geography as a restriction.
'With data intelligence on workload, efficient deployment of resources for busier practice areas can be made', Hamzah says, 'if it's a corporate transaction that isn't jurisdiction bound or based'. As a result, 'virtual agility has been made possible'. 'Agile working' is founded on the belief that effective workflow and resources don't have to be rigidly determined by location. Over the past year of remote working, she says, 'it has made us realise that so long as you are licensed, you can work from anywhere'.
A greater openness to moving staff between projects quickly and efficiently, sometimes irrespective of location, is one major shift intensified in the crucible of the pandemic over the past 18 months. The legal sector has seen another in the hiring and retention of younger lawyers and the impact of their job expectations on some long-held assumptions about firm culture and life.
Marco Monaco Sorge is corporate and finance of counsel at Italian law firm Tonucci & Partners. In his role as the Co-Chair of the IBA Young Lawyers' Committee, he observed that, in spite of the plunge in deals and the prospect of reduced revenues at the height of the pandemic in 2020, many law firms chose to keep their young lawyers instead of making them redundant. The firms that 'adopted this difficult decision at the time', he says, have benefited from it.
Value of youth
While the final signing of a deal need only involve a handful of partners, the preceding due diligence necessary to a transaction is both time-intensive and usually depends on the efforts of a wider legal team that also comprises young lawyers. But that's always been the case. What has changed since the pandemic, believes Monaco Sorge, is 'the senior partners of law firms have understood the real value of young lawyers, in particular when you have to work remotely'.
Where some older partners may have more difficulty adapting to, for example, video-conferencing technology, 'a good team of young lawyers skilled in this […] who are able not only to work together in a meeting room but also at home, using the software, computers and communications systems in which their law firms have invested a lot' are commercially key.
In recent months, there have been many headlines in the legal press about associates receiving pay rises. This is no surprise to many commentators. As levels of corporate and M&A work have risen, 'it's become a very competitive market for resources', says McSharry. 'There hasn't really been a pause in terms of our hiring, which really heated up from the start of this year.'
And pay rises are only part of the story. 'Work-life balance and agile working are really coming to the fore, as people have spent less time commuting and more time with family during the pandemic.'
The senior partners of law firms have understood the real value of young lawyers, in particular when you have to work remotely
Marco Monaco Sorge
Co-Chair, IBA Young Lawyers Committee
As several commentators testify, younger lawyers have been well aware of their value in the past year, particularly when it comes to negotiating their contracts or new jobs.
The past 18 months have shown that working remotely hasn't harmed productivity, and that there are alternatives to traditional timekeeping in achieving objectives, like closing a deal. At the same time, wellbeing has become a priority in the face of isolation and screen fatigue stemming from too much computer time. These are all elements that younger lawyers increasingly expect firm management to consider.
From his experience of managing Ellex Valiunas, to Co-Chairing the IBA's Law Firm Management Committee, Roland Valiunas knows better than many that hiring the right lawyers can be a challenging task – particularly now. 'You need to be on track to get the best people to you', he says. 'You need to explore all of the possibilities. You need to be the most attractive firm in the market.'
Increasingly central to this is the option of flexible working, even after firms eventually open their offices. This is highlighted by Marco Rizzi. 'Going forward, we need to deal with people wanting to have some time working from home', he says. 'If you don't give it to them, that will be affecting your attractiveness as an employer.' This also entails continuing to give them 'more responsibility and trust them to do their work'.
Hanim Hamzah still sees face-to-face time as essential to 'smart, permanent hiring' and induction processes, particularly in the current climate as work continues to increase. 'It's not so easy to culturally train someone otherwise.'
Full-time remote working is unlikely. 'You will always need a hybrid model in professional services', says McSharry. 'The reasons for that are culture, collaboration, training and building networks. In normal times, I have a trainee that sits in my office shadowing me, attending meetings and listening in on calls. It's difficult to replicate that level of training remotely.' He continues: 'it's also difficult to build networks or impart culture remotely, and collaboration also has its challenges in a remote environment. Culture and collaboration with colleagues are very much the glue that keeps a firm together and helps with recruitment and retention.'
Nevertheless, all interviewees agree that flexible working – and an accompanying focus on wellbeing – is now a reality in the legal sector. They acknowledge the importance of this when seeking to attract the lawyers needed to handle high-volume work. There appears to be a genuine recognition among law firms that times have changed since Covid-19 first appeared on the scene.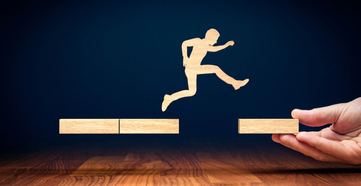 Jirsak C / Shutterstock.com
Besides, much of the technology fast-tracked by necessity during the pandemic was already changing the way deals were being done before. One area of practice focus for Rizzi is small-to-mid-cap international transactions. 'Physical meetings were rare', he says. 'We'd moved from phone calls to video calls.' He discovered that 'you manage to have closer relationships with the clients because you see them early on'.
In fact, says Hamzah, law firms have found themselves running up against national regulators, 'who took a while to keep up' with the legal exemptions necessary to keep transactions going digitally in lockdown. Innovations like DocuSign and other substitutes for in-person deal processes have pushed the law forwards.
And will the trends we've seen during the pandemic hold up? When it comes to the buzz surrounding vehicles such as SPACs, not everyone is sure. Some expect a regulatory crackdown. Rizzi doubts whether SPACs will be long-lasting. 'It's often just a way to park money', he says. 'Which is going to be unsatisfactory on its own. You still need to put that money into the right target.'
In general, though, there's optimism that the high levels of M&A activity will continue. Delayed transactions are still being worked through, private equity funds still have money to spend, there's investment in start-ups, companies are selling or consolidating and the technology sector is booming.
Tom Wicker is a freelance journalist and can be contacted at tomw@tomwicker.org
Header pic: Shutterstock.com/Dmitry Rukhlenko