Turkey: IBAHRI welcomes Council of Europe vote for infringement proceedings over failure to release Osman Kavala

The International Bar Association's Human Rights Institute (IBAHRI) welcomes the Council of Europe (CoE)'s vote in favour of launching infringement proceedings against Turkey over its failure to release human rights defender Osman Kavala from arbitrary detention, in compliance with a 2019 ruling by the European Court of Human Rights (ECtHR). The ECtHR ruling is binding as Turkey is a member state of the CoE, and the country's failure to abide by the Court's final judgment has brought it to a diplomatic crisis.
IBAHRI Co-Chair and immediate past Secretary-General of the Swedish Bar Association, Anne Ramberg Dr Jur hc, commented: 'Osman Kavala has been behind bars, deprived of his liberty for four long years without a criminal conviction. The detention of Mr Kavala is not connected to any criminal activity. He faces charges without any evidential basis. This is a great injustice and clearly aimed at dissuading him, and other human rights defenders, from their work. Through judicial harassment and manipulation of the justice system public dissent is being silenced. Through their actions of curtailing Mr Kavala's freedom and disregarding the ECtHR ruling, the Turkish authorities are making a mockery of the rule of law, both at the domestic and international level. The IBAHRI welcomes the CoE's vote in favour of launching infringement proceedings against Turkey'.
On 3 December 2021, the CoE's Committee of Ministers formally notified Turkey of its intention to launch infringement proceedings following a two-thirds majority vote. These proceedings are provided for under Article 46/4 of the European Convention on Human Rights as a final measure to ensure that guarantees under the Convention and decisions by the ECtHR are enforced. The issue of Turkey's failure to release Mr Kavala will now be referred back to the ECtHR, which will then determine whether Turkey's non-compliance with its ruling is a further violation of the Convention.
If the ECtHR confirms that Turkey has failed to implement the ruling, the Committee of Ministers may then take additional measures, including suspending Turkey's voting rights or membership from the CoE, further escalating the diplomatic crisis. The Committee of Ministers has requested that the Turkish government submit a response by 19 January 2022, two days after Mr Kavala's next hearing.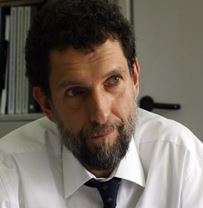 Mr Kavala, a philanthropist, businessman and activist set up numerous non-governmental organisations and civil society movements committed to protecting and promoting human rights. He was initially arrested in October 2017 on charges of 'attempting to overthrow the government or to prevent it from exercising its functions' (Article 312 of the Turkish Criminal Code) in relation to his participation in the Gezi Park protests. He was acquitted but immediately re-arrested for allegedly supporting the 2016 coup attempt and charged with 'attempting to overthrow the constitutional order through force and violence' (Article 309 of the Turkish Criminal Code).
More recently, with the aim of furthering Mr Kavala's arbitrary detention, the Turkish authorities have merged his case with an unrelated mass trial involving demonstrations by football fans near Gezi Park. If convicted, Mr Kavala could face life imprisonment without possibility of parole.
On 10 December 2019, the ECtHR ruled that Mr Kavala's detention took place in the absence of sufficient evidence and that it had been a violation of Article 5(1) (right to liberty and security) and of Article 5(4) (right to a speedy decision on the lawfulness of detention) of the European Convention on Human Rights. In conclusion, the Court said that the government's continued detention of Mr Kavala 'pursued an ulterior purpose, namely, to silence him as a human rights defender', and demanded his immediate release.
IBAHRI Co-Chair, Mark Stephens CBE, stated: 'As a member state of the CoE, primarily mandated to uphold human rights, democracy and the rule of law, Turkey has a legally binding obligation to comply with the ruling of the ECtHR. We welcome these infringement proceedings because without such a mechanism implemented at this stage, there would be no legal or political repercussions for member states' non-compliance with human rights, which is unacceptable. The crackdown facing Turkey's civil society and judiciary is deplorable. It requires strong measures to protect the rule of law which includes the release of Osman Kavala and other human rights defenders'.
ENDS
Notes to the Editor​​​​​​​
The infringement procedure has only been used once before in the Council's history, in 2017 against Azerbaijan over its refusal to comply with the 2014 ECtHR judgement of Ilgar Mammadov v. Azerbaijan. Following years of arbitrary detention, Mammadov was eventually released from jail following infringement proceedings, reflecting the enforcement capabilities of the mechanism.
​​​​​​​
Turkey ranks second for non-implementation of ECtHR rulings amongst CoE member states and was similarly criticised for its refusal to implement a 2018 ECtHR ruling ordering the immediate release of the Kurdish politician, Selahattin Demirtas.
 
Related material:
The International Bar Association's Human Rights Institute (IBAHRI), established in 1995 under Founding Honorary President Nelson Mandela, is an autonomous and financially independent entity, working to promote, protect and enforce human rights under a just rule of law, and to preserve the independence of the judiciary and the legal profession worldwide.
​​​​​​​
Find the IBAHRI (@IBAHRI) on social media here:
The International Bar Association (IBA), the global voice of the legal profession, is the foremost organisation for international legal practitioners, bar associations and law societies. Established in 1947, shortly after the creation of the United Nations, it was born out of the conviction that an organisation made up of the world's bar associations could contribute to global stability and peace through the administration of justice.

The IBA acts as a connector, enabler, and influencer, for the administration of justice, fair practice, and accountability worldwide. The IBA has collaborated on a broad range of ground-breaking, international projects with the United Nations, the European Parliament, the Council of Europe, The Commonwealth, the Organisation for Economic Co-operation and Development (OECD), the World Trade Organization, the International Monetary Fund and the World Bank, among others.
​​​​​​​
Find the IBA (@IBAnews) on social media here: