Egypt: West backs Sisi despite atrocities

Governments in the West appear to believe security can be separated from democracy and human rights. Global Insight reports.
The leaked videos were reminiscent of the Abu Ghraib prison scandal. Two inmates were hung by the arms from an iron cage in stress positions while stripped down to their underpants. In the background, the voices of other inmates watching the torture were crying for outside help. 'Rescue us! Rescue us!' one inmate is heard crying from a cell at Cairo's el-Salam police station. Others were saying that police officers had told them that they were next.
But as the news of the abuses broke, some Western countries were racing to supply the military regime of Egypt with arms, diplomatic support and financial aid despite impassioned calls from rights advocates to turn the tide of abuses in that country of 100 million people. US President Joe Biden once called Egyptian President Abdel Fattah al-Sisi 'Trump's favorite dictator', and campaigned on a promise to take a stronger stance on human rights – as opposed to the Trump approach in Egypt and elsewhere. Nevertheless, on 25 January Biden approved a whopping $2.5bn in arms sales to Egypt.
'This proposed sale will support the foreign policy and national security of the United States by helping to improve the security of a major non-NATO ally that continues to be an important strategic partner in the Middle East', the US State Department said in a statement. But, after a major outcry from shocked rights advocates, the Department said it was now blocking $130m in military aid, only a fraction of the direct US aid Egypt's military rulers receive annually ever since Cairo signed a peace deal with Israel in 1978.
In Europe, too, rights groups were aghast to learn that the European Union was about to present a joint bid with Egypt to co-lead the so-called Global Counterterrorism Forum, 'a multilateral platform with far-reaching influence on global counterterrorism policy', according to a Human Rights Watch article. This is despite the fact that Egypt uses terrorism charges to penalise political opponents and has arrested or charged at least 60,000 of them.
Record high arms sales
Additionally, in Germany, government figures show that air defence and maritime weapons worth about €4.3bn were exported to Egypt under former Chancellor Angela Merkel by the end of 2021, lifting German arms exports to a record high.
Late last year, a report by the French investigative website Disclose revealed that officers from French military intelligence were involved in a clandestine operation that targeted and killed civilians suspected of smuggling on the vast desert borders between Libya and Egypt. Egyptian officials had bragged on public TV that in the French-aided operation, they managed to destroy 10,000 cars suspected of smuggling in the country's Western Desert. This prompted speculation that the number of those killed was in the hundreds, if not in the thousands.
Those incidents, and others, have shed uncomfortable light on how Western powers have moved to sweep rights under the carpet and side with Sisi's increasingly violent regime to the point where they risk appearing to reward, rather than censure, it.
Despite repeated evidence to the contrary, governments – European and US – persist in believing that you can separate security from respect for democracy and human rights
Elisa Massimino
Executive Director, Human Rights Institute, Georgetown University
On the eve of the US decision to provide aid, the Working Group on Egypt, a Washington-based gathering of experts, wrote a letter to US Secretary of State Antony Blinken. 'Egypt's broader human rights crisis has worsened since mid-September, despite the government's claims to the contrary', the group said. 'The regime is playing a game, betting that it does not need to do anything more because the Biden administration simply will backtrack on the conditions and release the Foreign Military Financing.' The group even suggested that the Biden Administration now has 'a notably weaker position than that taken by the Trump administration in the same situation in August 2017'.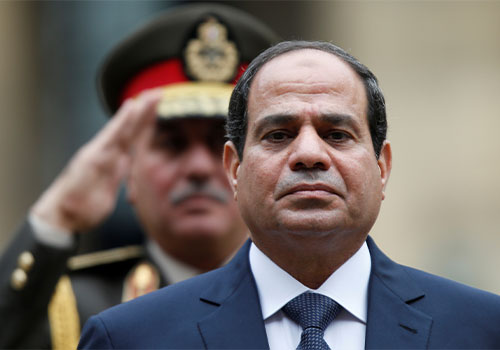 Egyptian President Abdel Fattah al-Sisi attends a military ceremony in the courtyard of the Hotel des Invalides in Paris, France, 26 November 2014. REUTERS/Charles Platiau
After the news broke that Washington nevertheless went ahead with the aid package, Elisa Massimino, Executive Director of the Human Rights Institute at Georgetown University Law Center and one of the signatories of the letter, told Global Insight that Washington's premise of assuming Sisi served US security interests was in fact erroneous.
'Despite repeated evidence to the contrary, governments – European and US – persist in believing that you can separate security from respect for democracy and human rights', Massimino told Global Insight. 'A government that is afraid of its own people, that tortures and imprisons its critics, is inherently unstable and can never truly be a reliable security partner. Strengthening such a government and lending it legitimacy will, inevitably, increase instability and undermine security.'
Scott Randall Williamson is Professor of Political Science at Università Bocconi, Milan, and often writes about how authoritarian rulers avoid blame. He says US and European governments have just decided to look the other way because they see it as more important to maintain 'a politically stable Egypt' that generally aligns itself with their foreign policy objectives. Williamson tells Global Insight that the West had in fact decided 'to make peace with Sisi's new and extremely violent military regime'.
'This approach reflects a long history of Western governments backing Egyptian dictators to protect what they see as their strategic interests in the Middle East, even if it means overlooking human rights abuses', he says. 'Political science research indicates that international pressure can be an important contributor to democratisation, and authoritarian regimes that avoid this pressure tend to last longer. Western financial support for the Egyptian armed forces also matters because the military's political involvement has been the single biggest contributor to the decades-long persistence of authoritarian rule in Egypt.'
A human rights black hole
That the rule of law is not a priority for Western countries is not lost on the now emboldened Egyptian government, who have unleashed a new wave of abuse. Egyptian-Palestinian activist Ramy Shaath, who had been in prison for two and a half years, was forced to renounce his Egyptian citizenship before his release early in January. His French wife had lobbied Paris for his release.
Shaath says that, during his detention, security officers were telling inmates that they shouldn't expect help from 'the law' because they were the law themselves. Shaath speaks of abysmal conditions in Egyptian prisons, including overcrowded cells where political prisoners have to take turns to sleep on concrete floors. A tiny 1.75 square metre bathroom doubled as a kitchen. His country under Sisi's military regime has turned into 'a republic of fear', he says.
In January, Cairo prosecutors renewed the detention of three Al Jazeera journalists – Hisham Abdelaziz, Bahaa Eldin Neamatalla and Mohamed Said Fahmy – for spreading fake information about the country. They were detained at Cairo Airport during their return from Doha to Egypt for annual holidays.
This month, veteran human rights campaigner Gamal Eid announced he was indefinitely suspending his work and that of his organisation, the Arab Network for Human Rights Information. His main reason: the rule of law no longer exists in Egypt.
The family of 61-year-old Egyptian lawyer Hoda Abdel Moneim, who was imprisoned for defending political prisoners, said they now feared for her life after her health deteriorated rapidly because of a blood clot. The London-based Arab Organization for Human Rights said that since Sisi's take-over in June 2013, some 914 political prisoners have died behind bars due to appalling conditions and medical neglect.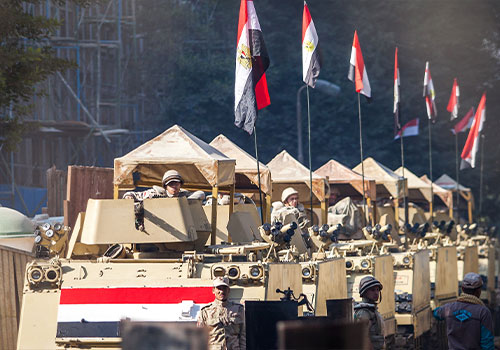 A blogger who advocated for greater freedoms, popularly known as Mohamed Oxygen, as well as another blogger called Alaa Abdel Fattah, and his lawyer Mohamed El-Baqer, were all sentenced to five years in prison in addition to their previous time behind bars. The sentence came despite public calls for their release. They were charged with spreading fake news against national security and using social media to violate publishing laws.
This follows a spate of even more cases of enforced disappearances, unfounded investigations for national security and counter-terrorism-related charges and mass death sentences. That partly explains why rights advocates are now starting to question how far Western powers may be abetting the atrocities.
Claudio Francavilla, EU Advocate with Human Rights Watch, says the European bid to give Sisi some power over counter-terrorism operations 'goes beyond the usual mere hypocrisy and dodgy backdoor deals' and that they were giving 'unconditional military, political, and economic support to Egypt's abusive government'.
'It would be an open affront to the peaceful Egyptian critics who have paid a high price for their efforts to secure human rights and a democratic future for their country, and whom the state has labelled as "terrorists" for daring to do so', Francavilla says. 'Egypt has become a human rights black hole.'
Image: A convoy of tanks move through Cairo, Egypt, 29 December 2014. Photo Spirit/Shutterstock.com