China's Belt and Road Initiative faces major challenges

Pic: The new silk road in Sost, Pakistan, November 2014
China's transformation from developing economy to powerhouse status ranks among the most dramatic stories of the 21st century, with the Belt and Road Initiative its latest chapter. But serious concerns over the government's treatment of the Uighurs and human rights, and the devastating outbreak of Covid-19, threaten to derail the country's ambitious project.
King & Wood Mallesons is among China's biggest and most established law firms. Accompanied by many offices across China, it was one of the first to break free of the country's historical introspection to look beyond its borders and form an international network. Ariel Ye is a senior partner at the firm, with 25 years of experience in cross-border dispute resolution, based in the firm's Shenzhen office. She chairs the recently formed One Belt One Road Subcommittee of the IBA Asia Pacific Regional Forum.
Ye is very well-placed to shed light on China's approach to the Belt and Road Initiaitve (BRI), which many in the West find anathema. The BRI has been underway for nearly seven years, yet for many it remains unclear whether it is a specific set of coordinated policies or a blanket term for all Chinese overseas economic, social and political activities. A 2017 report from global law firm Baker McKenzie notes that, 'BRI is better understood as a mission statement, rather than a policy document, as it lacks a list of member countries and a precise definition of what a BRI project is.'
This was addressed to some degree in 2019, when the National Development and Reform Commission compiled an official list of participating BRI nations and approved projects. But there remains much speculation on the extent to which the lack of transparent bidding and procurement processes prevents other countries and international firms from fully investing.
'The BRI is notorious for being ill-defined and amorphous in terms of sector scope and geographical applicability,' says Adrian Wong, a Singapore-based partner at CMS specialising in international infrastructure and construction projects. 'Additionally, the Chinese government's trademark opacity on matters ranging from procurements and proposals to environmental and labour standards does little to assuage an existing climate of suspicion and scepticism.'
Ye explains that the country's approach to BRI is related to the Chinese way of thinking and she refers to Deng Xiaoping's adage, 'cross the river by feeling the stones', which conveys the former Paramount Leader of the People's Republic of China's strategy of moving ahead with economic reforms slowly and pragmatically. Now, some of those stones are proving somewhat sharp, and the river is suddenly far more tricky to traverse.
The Xinjiang question
As the gateway to Central Asia and to key BRI partner Pakistan, the northwestern region of Xinjiang is crucial. Three of the six BRI 'corridors' run through this autonomous region. Among the numerous transportation and energy infrastructure projects is the Almaty-Khorgos Road, which is located along the New Eurasian Land Bridge Corridor that connects China with Europe via Kazakhstan, then Russia and Belarus. With trade volumes expected to increase dramatically across the region over the next few years, the strategic value of Xinjiang to the BRI inevitably raises questions about the motives behind China's reported 'war on terror' there.
The Chinese government's policies in Xinjiang are more akin to collective punishment through mass arbitrary detention rather than a targeted, law-based effort
Dr Sophie Richardson
China Director, Human Rights Watch
Xinjiang has a history of rebellion and resistance to Chinese rule. Housing more than ten million Uighurs, whose mother tongue is a Turkic language and who resemble the peoples of Central Asia as much as Han Chinese, the region is almost five times the size of Germany. Having enjoyed brief periods of independence before Communist rule, Xinjiang and its mineral wealth – mainly oil and gas – attracted investment and economic growth. But it also brought resentment among Uighurs over the uneven distribution of the proceeds of that growth.
Uighurs learning ceramic painting at a reeducation centre in Xinjiang, April 2019
This escalated in recent years through a series of riots, bombings and stabbings in the region. The slaughter of 31 people at a train station in Kunming by knife-wielding attackers – who China claims were Uighur – in March 2014 prompted the authorities to consider various counter-terror operations.
As reported by Sophia Yan in the February/March edition of Global Insight, millions of people in Xinjiang are estimated by the US and the United Nations to have been detained in chilling 're-education' camps, where they're made to renounce the Islamic faith and pledge loyalty to China's ruling Communist Party. The Chinese government has described these programmes as 're-education' and 'vocational' training, to better equip and assimilate Uighurs in Xinjiang by giving them skills to support themselves. The Executive also says this is all part of broader efforts to combat terrorism.
China justifies its development of vocational training centres in Xinjiang by arguing that the most effective way to tackle unrest is to focus on nurturing economic prosperity. China's UK ambassador, Liu Xiaoming, has cited the lack of a single terrorist attack in the region over the past three years as proof of the success of these safeguarding measures.
Late last year, the International Consortium of Investigative Journalists obtained and verified classified Chinese government documents provided by some exiled Uighurs. The documents depict an Orwellian system of ethnic cleansing of non-Han Chinese in Xinjiang, documenting China's extrajudicial internment and compulsory indoctrination of Turkic Muslims as part of a sweeping programme of mass surveillance and population control.
A vocational skills centre in Wensu, April 2019.
Beijing dismissed suggestions that the estimated 1,000 camps – whose very existence it once disputed – were involuntary indoctrination centres. Xiaoming described such reports as 'fake news', while the Chinese Embassy in the UK said that 'vocational education and training centres have been established for the prevention of terrorism'.
But is China's repression of Uighur Muslims in Xinjiang a necessary counter-terror operation or an initiative to protect the country's BRI projects? Can there be any justification for its approach to battling terrorism, extremism and separatism?
Dr Sophie Richardson, the China Director at Human Rights Watch, says that all governments have an obligation to provide public order, but not at the expense of human rights. 'Those obligations have to be fulfilled in a manner that is targeted and proportionate; the Chinese government's policies in Xinjiang are more akin to collective punishment through mass arbitrary detention rather than a targeted, law-based effort.'
'Authorities in the region have plenty of tools to prosecute those responsible for criminal and/or violent acts,' she adds. 'Instead they have resorted to an utterly unlawful – and potentially counterproductive – approach for which they should be held accountable.'
Richardson says that all governments need to recognise the dangers inherent in allowing Chinese authorities impunity for their conduct in Xinjiang. 'After all, if Beijing can get away with that, what can't it get away with? If a BRI-related investment goes dreadfully wrong in another country, what if any recourse will the government or people of that country have?' she questions.
Although there is no legal basis for China's detainment of Uighurs in Xinjiang, and despite allegations of both physical and psychological torture being inflicted on detainees, Richardson says the challenge is a political one, given that many countries look at China through a different lens.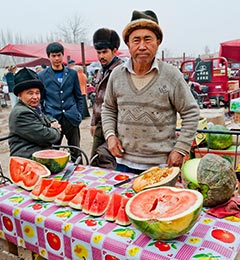 Uighurs at a traditional market in Turpan Xianjang, March 2011
'To date most of the cases actually prosecuted as crimes against humanity involve large-scale killings, rapes, mass starvation, or other overt violence,' she says. 'We have no trouble characterising what's happening to arbitrarily detained Uighurs as a kind of violence, but it's not clear that the kinds of institutions that would prosecute such a case would see it the same way.'
Working in a cloth factory in Hotan, April 2019.
A report by the Australian Strategic Policy Institute (ASPI) in March 2020, estimated that more than 80,000 Uighur Muslims were transferred out of the far-western Xinjiang region between 2017 and 2019 to work in factories across in China that form part of the supply chain for major brands. ASPI says these labour transfer schemes operate under a central government policy known as Xinjiang Aid.
Although Chinese government officials have denied any commercial use of forced labour from Xinjiang, with state media stating that participation in Xinjiang Aid is voluntary, the success of the BRI looks increasingly dependent on Beijing's ability to resolve its 'Xinjiang question'.
Targeting social success
Beijing has claimed that its Xinjiang camps are in 'complete alignment with UN policies on preemptively combatting terrorism and protecting primary human rights'. It also continues to argue that the most effective way of tackling extremism is to focus on nurturing economic prosperity.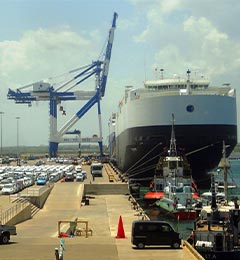 Hambantota Harbour, Sri Lanka, January 2010, Dinesh De Alwis/ CC BY-SA
The former Hu–Wen administration (consisting of President Hu Jintao and Premier Wen Jiabao) previously tried a 'development first' strategy to improve economic conditions and stability in Xinjiang. This involved a portion of all revenue generated by Xinjiang's businesses being reinvested in local development. But efforts to decrease poverty just increased inequality; development projects depended heavily on large-scale state-owned enterprises that preferred to hire Han Chinese workers for their language and technical skills.
China has since poured huge amounts of investment into Xinjiang, encouraging its rapid development – such as a $50bn grant for Korla, the second-largest city in the region. 'Economically, the BRI is already faring better than its predecessor schemes, with over 80 per cent of Xinjiang's total trade now with BRI countries,' says Wong. 'But growth, as rightly pointed out, does not always equate to development.'
'The socio-economic marginalisation of minority groups, such as the Uighurs, often entrench inequality and limit the benefits that could have been reaped as a result of the BRI,' adds Wong. 'The state acts in its own best interests, and given Xinjiang's strategic value and role in the BRI, containing the situation at hand is decidedly in the state's best interests.'
'An economically stable Xinjiang may give way to a more socially stable Xinjiang; perhaps a Xinjiang that no longer hints at independence, and a Xinjiang that no longer inconveniences the regime,' concludes Wong.

Khorgos customs point, December 2017.
'Win-win' strategy or debt trap?
While acknowledging that China's total investment in BRI-related infrastructure projects will amount to approximately $4tn, the Chinese government has been at pains to stress the inclusiveness and 'win-win' character of its BRI strategy.
Some argue that China's willingness to channel large amounts of money into countries ill-equipped to navigate what critics call huge 'debt traps', is for the purposes of obtaining economic and political leverage. Such commentators cite Sri Lanka's experiences.

A rail mounted gantry crane at the Khorogs Eastern Gateway in Khorgos, Kazakhstan, 17 May 2017. REUTERS/ Sue-Lin Wong.
In August 2016, the Sri Lankan government signed an agreement with China Harbour Engineering Company to resume work on a $1.4bn 'port city' – the Hambantota Port Development Project – in the capital, Colombo. The former Sri Lankan President, Maithripala Sirisena, had suspended the project in early 2015 following unannounced visits by a Chinese submarine and warship to a Colombo container terminal owned by a Chinese state company – examples of what Sirisena saw as China's growing influence.
Using Sri Lanka's $8bn of Chinese debt as leverage, Beijing threatened to abandon the island country altogether unless the project got back on track. The Sri Lankan government subsequently agreed to convert its debt into equity, which ultimately led to Chinese ownership of the projects.
China is quickly becoming a leader of tech in many fields, and the government wants to see China taking that tech out to rest of the world
Nick Beckett
Managing Partner, CMS
The Chinese foreign ministry has described the BRI as the main line of cooperation between Central Asian countries and China. While a generous interpretation of this might focus on the need for international investors to work closely with Chinese partners, if only to provide an extra layer of security for a deal, others believe that China is, to some extent, relying on its economic dominance to consolidate its position in the region.
'The strategy looks to be based on securing long-term energy supplies from Central Asia, as well as Middle Eastern states such as Iraq and Syria, to ensure that its burgeoning demand for energy commodities does not outpace supply and thus constrain future growth,' says Wong.
Wong adds that boosting the wealth of Central Asian countries via the BRI makes them more favourably disposed to China, further propelling China's ascent on the international stage. 'For several of these Central Asian nations who are often politically and culturally dissimilar to China, the BRI could be seen as a 'main' mutual tie – and a rather strong one at that,' he highlights.
Many BRI recipient states have refrained from publicly criticising China's approach to Xinjiang, despite discontent within their own countries. Some commentators have even suggested that such states are 'aiding and abetting' China through their silence.
'Aiding and abetting has a very specific meaning in international law,' says Federica D'Alessandra, Co-Chair of the IBA Human Rights Law Committee. 'It requires a substantial contribution to the commission of a crime, so I think this language is misplaced to describe the role of anyone in this situation other than those who have the ability to make that substantial contribution.'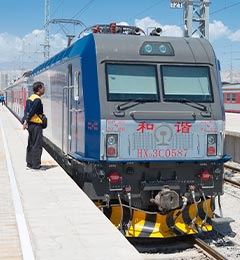 Korla railway station, May 2015.
D'Alessandra, who is also the Executive Director of the Oxford Programme on International Peace and Security, Oxford Institute for Ethics, Law, and Armed Conflict, adds that, 'these leaders have a moral, if not legal, responsibility to raise the issue. States should always call out violations of international human rights law wherever they occur. The selective application of human rights law is very detrimental to the universal value of the norm.'
Coronavirus curveball
In late February, Apple warned investors that it will miss its revenue forecast for the quarter ending in June 2020 due to the impact of Covid-19 on the Chinese economy. The announcement was the second time in just over a year that the iPhone-maker has cut its forecasts due to problems in China, where it manufactures most of its products and derives more than one-tenth of its global revenues.
At the time of writing, the coronavirus has infected an estimated 1,018,948 people worldwide and killed more than 53,000 since it began spreading in the Chinese province of Hubei. The World Health Organization declared it a pandemic on 11 March. A key cause of the rapid global escalation in infections is that China in 2020 is much more deeply connected to the rest of the world than in 2003, when severe acute respiratory syndrome (SARS) infected more than 8,000 people and led to just under 800 deaths.
These deeper ties can be partly attributed, at least for the past seven years, to the Belt and Road Initiative (BRI): China's massive loan project that includes land and maritime infrastructure covering 70 core countries. The BRI will eventually reach two-thirds of the world's population.
Critics of Beijing have argued that by making the BRI the centrepiece of his foreign and economic policy, Chinese President Xi Jinping has made it possible for a local disease in Wuhan to evolve into a global pandemic (although such inter-connectivity should also make it quicker to deliver global solutions).
Regardless, the coronavirus outbreak is having a very real and detrimental impact on BRI activity. For example, work has stopped on the $46bn of Chinese investment and the construction of roads, rail and power plants along the China-Pakistan Economic Corridor (CPEC) has halted. Other projects in BRI recipient countries, such as Bangladesh, Cambodia, Indonesia, Malaysia and Myanmar, are either delayed or have come to a standstill.
Adrian Wong, a Singapore-based partner at CMS specialising in international infrastructure and construction projects, says it's not surprising that several Chinese-sponsored infrastructure projects source a large proportion of their construction labour and machinery from China. 'We understand that construction at certain sites has come to a standstill, equipment sits unfinished in idle Chinese factories and workers remain immobilised by cumbersome travel restrictions.'
'These supply chain disruptions are manifesting rather prominently in Asia, where major BRI undertakings such as the CPEC and Jakarta-Bandung high-speed railway now face lengthy and costly delays,' adds Wong. 'This unintended consequence, though unfortunate, is not unprecedented. Rather analogously, just as the ancient Silk Road was rife with the trade of epidemics and disease and not just silk and jade, so too is the BRI a potential passage for pathogenic woes.'
Keith Brandt, Managing Partner of Dentons Hong Kong, says that the last few months have clearly had a profound impact on those state owned enterprises that are in the vanguard of driving growth and investment in connection with China's BRI. 'With the delay to the country's ability to fully return to work after the Spring Festival celebrating the Year of the Rat, it is all too evident that new initiatives led from the headquarters of the leading SOEs involved in pursuit of BRI opportunities has stalled, with planning and progress towards new projects being delayed and momentum otherwise being lost.'
Successes and failures
The dramatic transformation of the land port of Horgos, which sits on the Chinese side of the China-Kazakhstan border, is one of the great success stories of the BRI. Re-emerging out of the Gobi Desert in only five years, Horgos is cited by many BRI commentators as the first new city of the New Silk Road and is an important part of a broader vision to develop a 'west coast' industrial counterweight to the booming cities of China's east coast.
The new land port is a strategically vital component of the 5,250-mile transcontinental expressway linking Lianyungang in East China's Jiangsu province to St Petersburg in Russia. Since the port and expressway opened in September 2018, transport time from Horgos to Almaty, Kazakhstan, has reduced from eight-and-a-half to four-and-a-half hours, with the cost of transport cut from $2,000 per container truck to $1,300.
Chinese truck used for construction of Kakoram Highway, April 2014.
But for every successful Horgos there is a Kyrgyz free trade zone lying in tatters. Conceived during Chinese President Xi Jinping's visit to Kyrgyzstan last year for a Shanghai Cooperation Organization Summit, the $275m joint venture between the Central Asian state and China would have seen a giant logistics zone, a warehousing area, hotels and shopping malls being built on 200 hectares of land leased to a Chinese firm for 49 years.
That was until the Kyrgyz people decided that the joint venture was actually a land grab and not a means of boosting the local economy and creating job opportunities: the Kyrgyz free trade zone joined a growing list of abandoned or downsized BRI projects, such as Melaka Gateway in Malaysia.
Shape-shifting
Increasingly aware of the growing levels of corruption and related scepticism around the benefits of BRI, Beijing has sought to reboot the BRI since its second Belt and Road Forum in April 2019. However, the BRI's ability to 'shape-shift' to meet the needs of some recipient countries is also a key attribute, adds Wong. 'This high degree of flexibility may sometimes appeal to some countries that see an opportunity to procure much needed investment in infrastructure and development for their economies.'
Perhaps inevitably, such flexibility has led in some cases to abuse and corruption. Before Beijing's 2019 launch of a plan to prevent firms using the Belt and Road label for unsanctioned endeavours, there were numerous examples of infrastructure projects proudly proclaiming themselves to be 'Belt and Road' despite having no Chinese participation (such as Anaklia Port in Georgia).
A signpost of the co-operation between China and Pakistan in the construction of the new silk road, 2014.
Nick Beckett is Managing Partner of the Beijing Office at CMS. He says that in one example of China's efforts to improve governance of the initiative, 'China is taking measures to expedite the dispute resolution process, having established a new international commercial court, and is seeking to bring together litigation, mediation and arbitration into one platform. Although as yet untested, it may make the litigation process quicker, easier and more accessible for numerous investors, including multinationals.'
Just as the ancient Silk Road was rife with the trade of epidemics and disease, not just silk and jade, so is the Belt and Road Initiative a potential passage for pathogenic woes
Adrian Wong
Partner, CMS
Beijing's rebranding efforts have since focused on growth sectors that might entice greater foreign participation, such as IT and tech projects connected to the Digital Silk Road, a subset of the BRI dedicated to technology. 'China is quickly becoming a leader of tech in many fields, and the government wants to see China taking that tech out to the rest of the world,' says Beckett. 'Often they may partner with multinationals who could also benefit from new market opportunities.'
Nevertheless, the ratings agency Moody's suggests that it is an increased awareness of the risks inherent in major BRI projects that has led to the sharp decline in overseas investment growth over the past three years. For instance, Malaysia and Pakistan are carefully scrutinising existing projects, while Myanmar is combining cautious engagement with slow agreement. When the world emerges from the financial crisis prompted by the coronavirus pandemic (see box: Coronavirus curveball), these issues will remain as major stumbling blocks as China's government renews its attempt to press forward pragmatically with its remarkable economic growth story.
Stephen Mulrenan is a freelance journalist and can be contacted at stephen@prospect-media.net