Iran: Human rights organisations call for release of human rights lawyer, Nasrin Sotoudeh
Case is emblematic of assault on rights and freedoms protected by Iran's Constitution
Wednesday, 2 December - In an open letter to the Supreme Leader of Iran Ali Hosseini Khamenei, the International Bar Association's Human Rights Institute (IBAHRI), the Raoul Wallenberg Centre for Human Rights (RWCHR),the Center for Human Rights in Iran (CHRI), and PEN America called for the immediate quashing of the cruel and unjust sentence of 38 years in prison and 148-lashes meted out against Iran's leading women's and human rights lawyer, Nasrin Sotoudeh, as well as the six-year prison sentence and two-year travel ban against her husband, Reza Khandan. Ms Sotoudeh has received notice and is expected to be returned to prison this Thursday, 3 December 2020.

Ali Hosseini Khamenei
Photo: Tasnim News Agency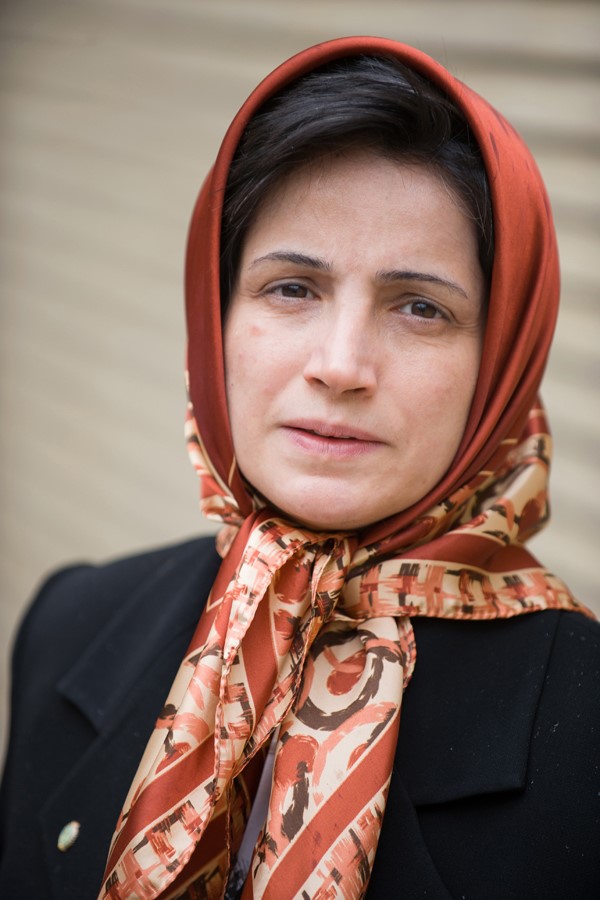 Nasrin Sotoudeh
The open letter documents how the egregious convictions and sentences clearly violate Iran's Constitution and obligations under international law.
In 2019, Ms Sotoudeh was convicted on fabricated charges related to 'national security' threats and 'encouraging corruption and prostitution', because of her peaceful advocacy, including representing women who removed their headscarves in public, giving interviews, and distributing pins and flowers in support of women's rights. The sentence against Ms Sotoudeh is the longest imposed on anyone in recent years, simply for advancing the very goals listed in Article 3 of Iran's Constitution, including 'the abolition of all forms of undesirable discrimination… [and] securing the multifarious rights of all citizens, both women and men, and providing legal protection for all, as well as equality of all before the law.'
In August 2020, Ms Sotoudeh began a 46-day hunger strike to protest the situation of Iran's political prisoners, especially their exclusion from prisoner release programmes aimed at stemming the tide of COVID-19 in the country's overcrowded and unhygienic prisons. During her strike action, Iranian authorities continued to harass her family; after freezing Ms Sotoudeh's bank account earlier this year, a team of Intelligence agents briefly arrested her 20-year-old daughter, Mehraveh. Following the end of her hunger strike and transfer to the hospital, she was detained and abused,and returned to Evin prison without having received the medical treatment she required. Prison officials then breached their promise to provide her urgent medical care only to transfer Ms Sotoudeh to a ward experiencing a COVID-19 outbreak in the notorious Qarchak desert prison, widely recognised for having the worst prison conditions in Iran. As a result, on 10 November, Ms Sotoudeh tested positive for COVID-19, now compounded by her pre-existing health complications arising from her cruel mistreatment in prison.
IBAHRI Co-Chairs the Hon Michael Kirby AC CMG and Anne Ramberg Dr Jur hc, in a joint statement commented: 'Having now contracted COVID-19, the serious deterioration of Nasrin Sotoudeh's health is a direct result of the maltreatment she has received while in custody. The manifestly inapplicable and disproportionate charges brought against Ms Sotoudeh that have resulted in a predetermined and discriminatory presumption of guilt and her continued detention, must be quashed. The charges are directly linked to the exercising of her rights protected under the International Covenant on Civil and Political Rights, as well as her role as a lawyer. We echo the call of United Nations experts who have urged Iran to release Ms Sotoudeh forthwith, and ensure her release is permanent.'
'Nasrin Sotoudeh's persecution and prosecution is emblematic of the Iranian authorities' assault on the rule of law and fundamental freedoms protected under its own legal system,' said RWCHR Chair, Irwin Cotler.'Our open letter documents how the authorities have made a mockery of their own domestic law and international obligations, including any notion of the right to the presumption of innocence and a fair trial.'
'Ms Sotoudeh should have never been prosecuted and imprisoned in the first place, said Hadi Ghaemi, Executive Director of the Center for Human Rights in Iran. 'She was imprisoned for performing her duties as a lawyer and insisting on the rule of law. She should not be taken back to prison and the State's constant harassment of her and her family must stop.'
'We welcome Ms Sotoudeh's temporary release from prison on medical grounds so that she is able to receive urgent treatment,said Dr Karin Karlekar, Director of PEN America's Free Expression at Risk Programs.'As her health remains fragile, we urge Iranian authorities to quash her unjust sentence and allow her to recuperate at home with access to necessary medical care. She and her family have already paid a steep price for her free expression, activism, and legal work, and we call for an end to the judicial harassment of Ms Sotoudeh and her family.'
ENDS
Notes to the Editor
Click here to download a copy of the open letter.
www.ibanet.org/MediaHandler?id=92722b13-8e65-4441-bf8a-8104fe349df6
The International Bar Association (IBA), the global voice of the legal profession, is the foremost organisation for international legal practitioners, bar associations and law societies. Established in 1947, shortly after the creation of the United Nations, it was born out of the conviction that an organisation made up of the world's bar associations could contribute to global stability and peace through the administration of justice. The International Bar Association's Human Rights Institute (IBAHRI), an autonomous and financially independent entity, works to promote, protect and enforce human rights under a just rule of law, and to preserve the independence of the judiciary and the legal profession worldwide.
The Raoul Wallenberg Centre for Human Rights (RWCHR) is a unique international NGO that unites parliamentarians, scholars, jurists, human rights defenders, NGOs, and students in the pursuit of justice, inspired by and anchored in Raoul Wallenberg's humanitarian legacy – how one person with the compassion to care and the courage to act can confront evil, prevail, and transform history.
Founded in 2008 and headquartered in New York, the Center for Human Rights in Iran (CHRI) is an independent, nonpartisan, nonprofit organisation dedicated to the protection and promotion of basic civil and political rights and liberties in Iran. CHRI undertakes extensive and original research based on primary sources in Iran, provides detailed documentation and analysis that is disseminated via articles, briefings, in-depth reports and videos, and engages in global media outreach and high-level advocacy with policymakers worldwide.
PEN America stands at the intersection of literature and human rights to protect free expression in the United States and worldwide. We champion the freedom to write, recognising the power of the word to transform the world. Our mission is to unite writers and their allies to celebrate creative expression and defend the liberties that make it possible. Founded in 1922, PEN America is the largest of the more than 100 centres worldwide that make up the PEN International network. PEN America works to ensure that people everywhere have the freedom to create literature, to convey information and ideas, to express their views, and to access the views, ideas, and literatures of others. Our strength is our Membership—a nationwide community of more than 7,200 novelists, journalists, nonfiction writers, editors, poets, essayists, playwrights, publishers, translators, agents, and other writing professionals, as well as devoted readers and supporters who join with them to carry out PEN America's mission.
For further information, please contact:
Romana St. Matthew - Daniel
Press Office
International Bar Association
4th Floor, 10 St Bride Street,
London EC4A 4AD,
United Kingdom
Mobile: +44 (0)7940 731 915
Direct Line: +44 (0)20 7842 0094
Main Office: +44 (0)20 7842 0090
Fax: +44 (0)20 7842 0091
Email: romana.daniel@int-bar.org
Website: www.ibanet.org
IBAHRI website page link for this news release:
Short link: tinyurl.com/y23teje7