Legal and business news from the IBA - Oct/Nov 2016
IMF Managing Director Christine Lagarde: 'Corruption undercuts sustainable and inclusive growth'
Ruth Green
The staggering macroeconomic consequences of corruption are hampering global economic development, according to Christine Lagarde, the Managing Director of the International Monetary Fund.
'If you define corruption as the abuse of public office for private gain, well it afflicts economies at all stages of development and all economies,' she told a packed auditorium during her keynote speech at the IBA Annual Conference in Washington, DC. 'It is hard to measure, yet its economic and social costs are phenomenal. The annual cost of bribery alone – which is a subset of corruption – is estimated at no less than $1.5-2tn – roughly two per cent of global GDP. And the impact goes well beyond these direct costs. Corruption undercuts countries' efforts to deliver sustainable and inclusive growth.'
Lagarde highlighted the work by the IMF and its member countries to strengthen the rule of law, increase fiscal transparency and develop initiatives to combat money laundering. She also said the Panama Papers leaks had underlined the need for greater transparency around beneficial ownership. 'These leaks gave us a window into the scale of global financial secrecy and the opportunities for illicit behaviour. They also reinforce the need to follow through on international initiatives to ensure adequate transparency on the beneficial ownership of accounts held in offshore jurisdictions. We have been recommending greater transparency in this area in a wide range of countries – including Belize, Cyprus and the US.'
The rule of law is not just well-designed legislation; it requires institutions that are credible and independent in enforcing it
Sean Hagan
General Counsel and Director of the legal department at the IMF
Robert Stack, Deputy Assistant Secretary (International Tax Affairs) at the US Department of the Treasury told Global Insight that the Panama Papers also provided the perfect opportunity for the US and other countries to strengthen in this area. 'The Panama Papers… really brought to the fore a focus on efforts that have been ongoing for a very long time in a lot of different spaces in tax,' he said.
Stack highlighted a series of proposed rules put forward by the US Treasury earlier this year, including a new regulation on foreign-owned, single-member limited liability companies – which currently have no obligation to report information to the Internal Revenue Service (IRS) or get a tax identification number – which aims to clamp down on the huge number of anonymous entities that have proliferated in states such as Delaware. 'It's a huge step; I don't know that it's a complete cure, but it's a huge step in ending the anonymity of those entities,' said Stack. 'Now when another country comes to the IRS under one of our treaties or tax information exchange agreements and says, "Do you have any information on John Doe's ownership of an entity in Delaware?" the IRS will have records it never had before.'
Judicial integrity
Lagarde highlighted the role of legal professionals in the Panama Papers debate and their responsibility to ensure transparency. 'Clearly, the private sector plays an important role in public sector corruption,' said Lagarde. 'After all, for every bribe taken by a public official, there is a bribe given by the private sector.'
Lagarde commended the IBA for its interest in the issue of corruption. 'The standing Anti-Corruption Committee and the Judicial Integrity Initiative are critical in upholding integrity within the legal profession.'She also applauded the IBA for issuing in 2011 its International Principles on Conduct for the Legal Profession. 'It is these kinds of codes that can help instil individual accountability, and the culture of virtue and integrity that I have discussed,' she said.
During the opening ceremony, IBA President David W Rivkin highlighted the IBA's ongoing work in this area. 'The law does not give us an excuse to turn a blind eye to what we know is right or wrong,' he said. 'In this respect, we will soon announce an important project to explore the proper ethical rules for lawyers in light of the disclosures of the Panama Papers, and also how governments should properly fight corruption without infringing on the attorney-client privilege and professional secrecy that are vital to our serving our clients.'
Sean Hagan, General Counsel and Director of the Legal Department at the IMF, told Global Insightlater in the week that the IBA's efforts to promote judicial integrity were fundamental to upholding the rule of law. 'The rule of law is not just well-designed legislation; it requires institutions that are credible and independent in enforcing it,' he said. 'The problem is that in many corrupt societies those institutions have been compromised themselves, whether it be the judiciary, the public prosecutor's office or the police. So I applaud what the IBA is doing in terms of its efforts in promoting judicial integrity because we think that's critical. The difficulty is that strengthening institutions is a process that requires a much longer lead time and is much more complicated to do, but it's something that needs to be done.'
Consequently, the IMF's legal department has been working to build up the capacity of such institutions, Hagan said. 'What's also important is that we strengthen the institutions that are charged with analysing the information and making an assessment as to whether or not it's criminal activity. Unless you have capacity in those areas it's very difficult for the authorities to really create a credible threat of prosecution. So one of the things that we spend a lot of time on is not only strengthening the legal frameworks, but providing technical assistance to countries. We have training and we have officials come over and train them in how to detect crime; how to connect the dots; how to do forensic investigations, and so our team consists of people that have expertise in that area.'
Rebuilding the integrity of institutions worldwide will be vital to reversing the 'growing gap' in public trust in institutions, concluded Lagarde: 'The task before us is clear. Enhancing integrity in public and private sector governance is critical in mending the trust divide we see in societies today. Only then can we have enough confidence in the very institutions that are essential for sustained and inclusive growth.'
---
IBA Annual Conference Washington, DC - 18–23 September 2016
Washington 2016 was yet another remarkable Annual Conference with over 6,000 delegates and an impressive range of committee sessions and outstanding speakers and interviewees. The IBA's online coverage features films of highlights including:
Opening speech by Christine Lagarde, Managing Director of the IMF
Sessions with US Attorney General, Loretta Lynch and Former FBI Director, Robert S Mueller
Interviews with Colin Powell, US Secretary of State (2001–2005); Ben Bernanke, Chair of the Federal Reserve (2006 –2014); Jack Straw, British Foreign Secretary (2001–2006)
The conference's showcase sessions; and
You can also find various sessions, addresses, photographs and the IBA Daily News conference newspaper on the IBA website at tinyurl.com/WashingtonCoverage.
---
Odette Geldenhuys, Founder of probono.org.za, wins 2016 Pro Bono Award
The winner of this year's Pro Bono Award is Odette Geldenhuys, founder of probono.org, the first pro bono clearing house in South Africa. With no pro bono culture in the country prior to this, the firm focuses on helping marginalised and underprivileged people.
As part of this, Geldenhuys has created the first housing cooperation, the Seven Buildings Project, as a way of securing black property ownership. She was also the first director of Access to Justice of the statutory Legal Aid South Africa and in every strand of her work recognises the important role the private profession has to play in ensuring access to justice for all.
The judging panel cited her clear interest in, passion for, and track record of contributing to the area of pro bono and her resilience in getting probono.org off the ground despite some local resistance.
Her nominators were also impressed by other public leadership roles she's held at different times, including deputy national director of the Legal Resources Centre and as the first director of Legal Aid. Case work has also not been overlooked, for example, her outstanding work on behalf of 16 workers against a micro lending credit provider.
The six other nominees shortlisted for the reward were Alan Wright, Cristina Puigdengolas, Katrina Crossley, Mandy Manda, Pooja Dela and Robert Reed. Brief summaries of their work can be read on the IBA website.
---
#IBASydney
The 2017 IBA Annual Conference will be held in Sydney, Australia's leading global city. Recognised internationally as a future-focused and innovative business centre, Sydney provides headquarters for almost 40 per cent of the top 500 Australian corporations. As one of the world's most multicultural and connected cities, Sydney will be an ideal location for the largest and most prestigious event for international lawyers.
By registering your interest for this event you will receive full conference details as soon as registration opens in April 2017 and when the preliminary programme becomes available.
Find out more about the 2017 Annual Conference at www.ibanet.org/Conferences/Sydney2017.
---
Keep up to date with the IBA on Twitter
The IBA @ibanews Twitter account continues to grow in both content and popularity, bringing you articles of interest from IBA Global Insight, information and news from our many events, links to our news releases, IBA initiatives
and much more. Take a look at this year's popular Annual Conference hashtag, #ibawashington to see highlights, photos and videos from conference week.
You don't need to be a Twitter user – visit twitter.com and search for the #ibawashington.
---
Final 2016 IBA Fellowship for Innovation articles
The IBA Fellowship for Innovation, launched last year, identified three talented individuals to bring fresh insight on key issues. During their one-year term, each fellow will contribute three articles to be published online or in Global Insight. Mark V Vlasic's article 'The Long Arm of Justice: from Africa to The Hague and the SDGs' can be found in this edition. It focuses on the important role Africa has played in the development of international judicial history in 2016 and highlights a series of significant firsts.
The other two articles are Swithin Munyantwali's article about whether there is potential for African-led legal solutions to the migrant crisis; and Kelly Askin's article on North Korea's unchecked nuclear threat and human rights catastrophe. These can be read online at ibanet.org.
---
New IBA GEI report reveals conflict between business and employees' rights
The Fifth Annual IBA Global Employment Institute Annual Global Report, based on research carried out by lawyers from 58 countries, focusses on privacy rights and the shortage of highly skilled workers. The report shows that employers are constantly weighing up their employees' rights to freedom of expression and privacy against their own rights to protect the business from the effect of adverse comment and improper disclosure by employees with whom they are in dispute, with particular regard to social media platforms.
The report also shows that in 30 out of 52 countries, there is a shortage of highly skilled workers. In an attempt to rectify the situation, many countries are issuing work permits to attract highly skilled foreign workers; while others have taken measures to make immigration more flexible. However, there is much competition for those in a globally-diminishing talent pool, with employers finding it more difficult to recruit both domestically and internationally for reasons such as the growing 'war for talent' and government restrictions on immigration.
To download the report, see tinyurl.com/IBAGEI-five.
---
Remy Choo Zheng Xi named IBA Outstanding Young Lawyer 2016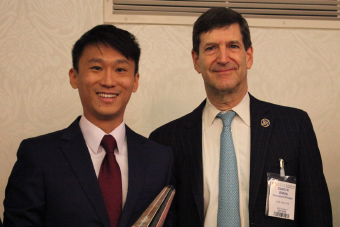 Remy Choo Zheng Xi has been named as the IBA Outstanding Young Lawyer of the Year, awarded in recognition of former IBA President William Reece Smith Jr (1988-1990). Peers describe Choo as an example of how 'doing well' and 'doing good' do not have to be mutually exclusive. From the judge's perspective, he stood out for his work in Singapore in the very 'unpopular and challenging area of human rights litigation, being an advocate for free speech and leading significant public interest cases'.
---
Bar Issues Commission launches IBA Legal Regulators Directory
The Bar Issues Commission has compiled a list of organisations responsible for regulating the legal profession around the world. The directory is useful for bars wishing to check the qualifications or disciplinary records of lawyers from other countries, as well as those interested in cross-border working. It will identify those who regulate the major stages in the 'life cycle' of a lawyer, from qualification/entry to the profession, through to ethics/conduct rules as well as being a record of disciplinary matters.
For more information, see tinyurl.com/LegalRegulatorsDirectory.
---
Business of Law book series: new titles on business development and partner remuneration
Since The Business of Lawin 2012, the IBA has published a series of law firm management books in association with Globe Law and Business.
The latest series of titles include a practical guide to the tools and skills needed for implementing effective business development, such as the importance of good communications and public relations. It addresses the prominence of the client perspective, regulation and ethics behind business development.
Partner Remuneration in Law Firms: A Guide to Reward Structures, Performance Management and Decision-Makingis a practical book which looks at partner remuneration in the context of strategy implementation, the firm's organisational design, governance and culture. The chapters cover all topical issues on partner remuneration systems from lock-steps to 'eat-what-you-kill' meritocracies, performance management and remuneration-related decision making. This volume also covers some special issues and provides a perspective of how the law firm of the future will view partner compensation.
For more information about these titles, see www.globelawandbusiness.com.