The IBA's response to the war in Ukraine  
Ruggie report calls on FIFA to up its game on human rights ahead of Qatar World Cup
RUTH GREEN
A landmark human rights report by Professor John Ruggie has put greater pressure on FIFA to clean up its act ahead of the 2022 World Cup in Qatar.
The independent report by the former UN Secretary-General's Special Representative for Business and Human Rights was commissioned by FIFA in December 2015 amid allegations that the football governing body was contributing to a range of adverse human rights impacts across its global operations, including the death of migrant construction workers in Qatar.
'For my report to have the necessary impact,' Ruggie said at its launch, 'FIFA's top leaders need to follow through on its recommendations. That means resourcing the administration adequately for the task and integrating the results of their work into political decision-making.'
Six key recommendations are set out in the report: adopt a clear and coherent human rights policy; embed respect for human rights; identify and evaluate human rights risks; address human rights risks; track and report on implementation; and enable access to remedy. It calls for FIFA's commitment to human rights to be translated into its daily actions and decisions, along with stronger internal systems and transparency to support the institutional change required.
Mark Pieth, who served as chairman of FIFA's Independent Governance Committee from 2011-2013, welcomes the report and agrees that implementation will be vital in demonstrating the body's commitment to human rights.
'Ruggie is tough on one point by suggesting that if Qatar, for instance, doesn't understand about labour laws and so on, FIFA should still think of stripping them of hosting the World Cup,' he says. 'The report indicates we can't just tell them what to do, we should also consider what we should do if it's not translated into practice.'
Hans Corell
Hans Corell is Co-Chair of the IBA Human Rights Institute. 'These recommendations mean that FIFA should include human rights within its criteria for evaluating bids to host tournaments and should make them a substantive factor in host selection,' he says.
'It is said this is about making decisions based on evidence of how effectively bidders intend to address human rights risks connected with the tournament,' he adds. 'It is not about pre-emptively excluding countries based on their general human rights context. Nevertheless, I take it for granted that there will be much more focus on the manner in which host states protect human rights. The question is whether notorious human rights violators should be accepted as hosts for tournaments.'
Profound impact
''

What is required from business should certainly be expected from organisations engaged in sports, where fair play should be an obvious lodestar

Hans Corell, Co-Chair of the IBA Human Rights Institute
John Sherman is former Chair of the IBA Corporate Social Responsibility Committee and general counsel at Shift, which assists governments, businesses and their stakeholders to put the UN Guiding Principles on Business and Human Rights into practice and helped draft the report. He believes the recommendations will have a profound impact on FIFA.
'What is really interesting about the FIFA example is that here you have an organisation that touches hundreds of millions of people all around the world and has had its share of terrible corruption scandals,' he says. 'It has a commitment now to adhere to the UN Guiding Principles and equally significantly to require all of its contractual partners to also adhere to these Principles, which is really going to have far-reaching consequences.'
The report also comes as the National Contact Point (NCP) in Switzerland is looking into a request from Building and Wood Workers' International regarding alleged human rights violations of migrant workers relating to construction work for the 2022 World Cup. NCPs are agencies set up by governments to promote and implement the OECD Guidelines for Multinational Enterprises. The Swiss NCP, which is handling this particular case as FIFA is headquartered in Zurich, expects to conclude the mediation process in the second half of 2016.
Sherman says Ruggie's report will further support the OECD's NCP system, which provides a forum for remedy for corporate human rights abuses in 46 countries worldwide.
'I call this a sort of new lex mercatoria (merchant law) or a new private law of contracts for human rights,' notes Sherman. 'During the Middle Ages, a lex mercatoria was developed for merchants in the absence of a strong central legal system, to enable them to buy and sell goods. I think the incorporation of human rights provisions and contracts, such as this example with FIFA, is a similar development. This now provides other contractual forums of dispute resolution vehicles other than the OECD for the resolution of human rights-related disputes involving businesses – it's reinforcing the OECD-NCP process.'
FIFA isn't the first sporting body to come under the scrutiny of the NCP system. In 2014, civil society organisation Americans for Democracy and Human Rights in Bahrain submitted a complaint to the NCP in the United Kingdom alleging that from 2012 to 2014, the Formula One Grand Prix in Bahrain led to an increase in human rights abuses in the country. Following a mediated agreement, the Formula One Group made its first public commitment to respect human rights across its operations, pledging to develop a designated human rights due diligence policy.
Top management
Whether FIFA will follow Formula One's strong stance on human rights issues is yet to be seen. FIFA's new president Gianni Infantino welcomed Ruggie's report and said it would help the football body build on its ongoing work in this area, including the development of a fully-fledged FIFA Human Rights Policy.
Corell agrees with Ruggie that real change must come from the top. 'Obviously, FIFA has come to understand that it must repair its damaged reputation,' he says. 'I believe many people around the world were shocked to learn about how FIFA and its officials had acted over the years. What I think is particularly important to point out is that, as Ruggie says in the report: "embedding the organisation's commitment to respect human rights requires proactive engagement by the top management and FIFA's political levels where critical decisions are made". I recognise this from other areas, in particular efforts focusing on anti-corruption.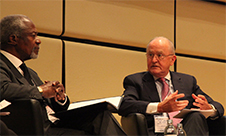 Kofi Annan and John Ruggie
'The recommendations, which are based on the Guiding Principles on Business and Human Rights – also authored by John Ruggie and endorsed by the UN in June 2011 – will be of great importance,' adds Correll. 'The Guiding Principles, which were discussed by Kofi Annan and John Ruggie at the IBA Annual Conference in Vienna in 2015, are very much in the IBA focus at present. What is required from business should certainly be expected from organisations engaged in sports, where fair play should be an obvious lodestar.'
Michael Beloff QC, who chairs the International Association of Athletics Federations' Ethics Board, commented that human rights could soon become as much of a priority for sports organisations as they are in the corporate world.
'It's obviously important that those kinds of considerations – human rights considerations, environmental considerations, and others – are taken into account in the future,' he says.
'One has seen this in ordinary corporate governance. It used to be, 20 years ago, that the obligations of directors were to maximise the money paid to shareholders. But now there are statutory obligations to take account of the workforce, the interests of the environment and matters of that kind. It's a spreading out of the considerations that in a modern society we ought to take into account.'
Practical solutions
Akira Kawamura, former IBA President and member of the IAAF Ethics Board, says there are considerable challenges in getting international sports governing bodies to take action on human rights issues.
'Sports should not be a part of such human rights problems, directly or indirectly, and should voluntarily decline from having international competitions in a host country that raises serious human rights concerns,' he says. 'However, it is technically very hard to define what and how bad the human rights problems must be to prevent FIFA – or the IAAF for that matter – from having the world games in that country. Once it is raised as an issue, it becomes a serious international political or diplomatic dispute and is very difficult to determine. Labour law problems, for example, could be more difficult to determine than human rights issues. An independent body to determine these kinds of issues, like the IAAF Ethics Board, may be a practical solution to this question.'
Pieth, who has already grappled with the challenge of supervising FIFA's reform, says ultimately actions from FIFA will speak louder than words. 'Intellectually it's not difficult, but the question is will they muster the clout to actually do it and enforce these good ideas.'