The IBA's response to the war in Ukraine  
Laboratory of autocracy

Pic: A placard stating 'VOTE HERE TODAY' outside the Cowpens Depo Center polling location as a man departs after casting his ballot on the day of the South Carolina Presidential Primary in Cowpens, South Carolina. 29 February 2020. REUTERS/Mark Makela
With the 2020 Presidential election fast approaching, Global Insight assesses the precarious state of democracy in the US, where aggressive tactics to gain and retain power abound, from redistricting to voter suppression.
Louis Brandeis, who served as Associate Justice of the US Supreme Court from 1916 to 1939, described the US states as 'laboratories of democracy'. In their 2018 book How Democracies Die, renowned Harvard academics and professors of government Daniel Ziblatt and Steven Levitsky wrote that, in recent years, 'laboratories of autocracy' might be considered more apt. Their foremost example was North Carolina.
The State has a population and economy equivalent to Sweden, but to say the similarities don't extend to electoral best practice would be an understatement. In 1988, state Democrats disempowered Lieutenant Governor Robert B Jordan so a Republican, James G Martin, could enter office for a second term, and in 2007, former Democratic Speaker of the House Michael P Decker went to prison for campaign fraud. 'Republicans were oppressed around here for a long time,' says North Carolina General Assembly Representative Chuck McGrady, who is the leading Republican reformer.
In 2010, the Republicans won the state legislature of North Carolina for the first time in 120 years. Since then, 'they have used every aggressive tactic imaginable to make their power more permanent' says Bob Hall, former Executive Director of a non-partisan group Democracy North Carolina.
Bob Phillips has been Executive Director of Common Cause North Carolina – a nonprofit and nonpartisan organisation that aims to encourage citizen participation in democracy – since 2001. He says 'both parties are guilty of gerrymandering' – the act of altering an electoral constituency's boundaries to favour a certain party or class.
But in recent years, the major issue has been voter suppression say non-partisan reformer groups. After a series of landmark trials culminating this autumn, 'North Carolina Republicans have ultimately lost on every issue of voter rights,' says Phillips. This is the story of how lawyers and judges saved representational democracy in the State where it has been most blatantly attacked.
A laboratory for expanding democracy
From the Reconstruction era that followed the American Civil War until the Voting Rights Act 1965, Southern Democrats enforced a one-party rule by suppressing the black vote through lynch mobs, poll taxes and literacy tests, while also barring ex-felons from voting. 'These regimes were oligarchies,' Hall says frankly. And because of their legacy, voter participation in the South has long lagged behind the rest of the US.
Civil society in North Carolina mobilised in the late 1990s and 2000s to push through effective reforms. New laws which allow early voting and same-day registration – along with church moves to drive 'souls to the polls' on Sundays – boosted North Carolina voter participation from being 43rd to 11th in the nation. Black voter participation neared the level of white voter participation.
Shelby County v Holder (2013) gutter our systems to monitor voter rights, detect violations early, and fic them swiftly before a tainted election can be held
Justin Levitt
Deputy Assistant Attorney General, US Department of Justice Civil Rights Division, 2015-2017
In a model for the nation, reformers won public financing for all judicial election campaigns – with bipartisan support from the last 12 heads of the North Carolina Bar Association. In a similar spirit, the legislature removed partisan labels from ballots when electing appellate judges. Unsurprisingly, judges elected with public financing became more independent and moderate. These were the types of experiments Justice Brandeis had in mind.

Voters wait in line at night for a polling station to open in Durham, North Carolina, October 2016. REUTERS/Jonathan Drake
In 2008, a Democratic presidential candidate – Barack Obama, later the US President – won North Carolina for only the second time for the past half century, by 0.3 per cent. Obama drove record turnout among African-Americans, who approach 40 per cent of the State's Democratic electorate, and the diverse educated elites of the Research Triangle and Charlotte's banking centre all surged to the polls. Then came the backlash. 'You've got a large and closely divided place with changing demographics,' says Tomas Lopez, a Yale Law School graduate who relocated to take the reins of Democracy North Carolina from Hall. 'That has raised the stakes for holding onto power by any possible means.' The State's story is vital to tell because the same holds true for the US as a whole.
A laboratory for eroding democracy
North Carolina is an epicentre of voter rights disputes because the power structure sees itself as threatened, argues Justin Levitt, who served as Deputy Assistant Attorney General in the US Department of Justice Civil Rights Division from 2015 to 2017. '"Uppity minorities" clamouring for deserved representation' is how he describes it. 'Some of it is partisan, some it is racial and some of it is both.'
By winning in 2010, Republicans were able to draw voter maps for the next decade with the benefit of modern software. The US' system of single-member winner-take-all districts makes the lines between districts all-important. The goal is to pack enemy voters into a handful of districts (so as to 'waste' their votes), while spreading your own partisans efficiently (so as to deliver many small safe victories). Maps that ghettoised black people and Democrats have enabled Raleigh Republicans to convert a slim popular majority into a state legislative supermajority (as in 2012) and a solid majority (as in 2018). In Congress they gave a purple state a deep red delegation.
But North Carolina legislators had bigger ideas, and the US Supreme Court unleashed them. Shelby County v Holder (2013) struck down the part of the Voting Rights Act requiring federal pre-clearance of electoral rules in states with a history of suppressing black voters. 'Our country has changed,' Chief Justice John Roberts serenely proclaimed. In dissent, Associate Justice Ruth Bader Ginsburg argued that the abeyance of electoral racism proved the effectiveness of the Voting Rights Act, rather than the end of racism. 'Throwing out preclearance because it has worked,' she wrote, 'is like throwing away your umbrella in a rainstorm because you are not getting wet.'
As a blow to democracy, experts regard Shelby County v Holder on a par with the infamous Citizens United v Federal Election Commission case on campaign finance. Nationally, Levitt says, 'it gutted our systems to monitor voter rights, detect violations early, and fix them swiftly before a tainted election can be held.' Locally, Phillips says, 'it gave lawmakers a free pass to do bad things. They went about suppressing voter rights in ways we'd never seen, and they did it without shame.' Levitt thinks 'Shelby aged badly from the second it was written.'
It was almost a feeling of helplessness to see everything we had accomplished on voting rights and getting big money out of politics totally demolished
Bob Phillips
Executive Director, Common Cause North Carolina
While Shelby was still pending, North Carolina legislative aides secretly researched the racial breakdown of early voters, voters who lack drivers' licences, and voters with student ID cards. The day after the Shelby ruling, the Republican caucus announced an omnibus voting bill, HB 589, which Hall lastingly dubbed the 'Monster Law.'
The 'Monster Law' passed on straight party and racial lines. Among many other things, it ended same-day voter registration and out-of-precinct voting. It cut early voting by half and removed preregistration for teens in civics classes. It forbade keeping polls open late if lines were long. Most importantly, it required forms of voter ID that black people often lacked (such as drivers' licences), while rejecting forms of ID that they often had (such as student ID and welfare cards). Perversely, it required no voter ID for absentee ballots, which were favoured by Republicans and prone to fraud.
Reverend William Barber, Chair of the Legislative Political Action Committee of the National Association of the Advancement of Coloured People (NAACP), called it 'the worst attack on voting rights we've seen since Jim Crow'. 'It was almost a feeling of helplessness to see everything we had accomplished on voting rights and getting big money out of politics totally demolished,' says Phillips. 'I wasn't sure there were brighter days ahead.'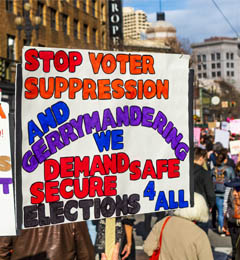 Women's March event on Market Street in downtown San Francisco, California, January 2019
The skies briefly cleared on the eve of the 2016 election, when the courts thwarted a brazen voting purge. Republican operatives tried to strike about 4,500 mostly black voters in three counties from the rolls, simply because they had moved, and their mail was returned as undeliverable. This move was justified as preventing voter fraud, even though a report by the state election board found only two cases of in-person fraud out of 40 million votes cast. 'You didn't hear about fraud in North Carolina until black people started voting in large numbers,' Barber says. The NAACP sued, and the federal district judge said it 'sounds like something that was put together in 1901.' On 4 November the judge ordered the restoration of voting rights to the purged citizens.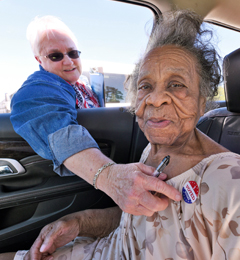 Grace Bell Hardison, a 100-year-old woman mentioned by Barack Obama after attempts were made to remove her from the voter list, is seen with an election official after casting her ballot from a car in Belhaven, North Carolina, 2016. REUTERS/Jonathan Drake
But dark days followed in the weeks ahead, as the state legislature made a sweeping power grab. On Election Day 2016, North Carolina voters restored a Democrat to the Governor's mansion, and a Democrat majority to the State Supreme Court. Fearful of the electorate, the legislature called a special session in December, and passed a law before the Governor could take office and veto it. The legislature re-introduced partisan labels on the ballot for the State Supreme Court and stripped the Governor of the right to name over 1,000 office holders. Most importantly, they removed the State Board of Elections from the Governor's control and installed a Republican Chair during election years. In a charade of neutrality, the new law let a Democrat chair the board in odd-numbered years when no important elections are held. In practice, Democrats couldn't oversee the vote and election procedures are the tools of voter suppression.
Republican county election boards proceeded to limit Sunday voting and cut the number of precincts in counties with a large percentage of black people. A 2019 report by the Leadership Conference of Civil and Human Rights found that Republican officials secretly pressured county election boards to shorten early voter hours and close early voter sites. When a Republican county election chair opened a Sunday voting site convenient to black churchgoers, other Republican county election chairs emailed to denounce him as a 'traitor.'
Over time, the North Carolina Republican party mounted a multipronged assault on representational democracy. It rigged control of the legislature by diluting the representation of rival voters through gerrymandering. This enabled it to suppress rival votes through laws that make it harder to vote, like the Voter ID bill. It also seized control of electoral boards by overhauling their structure and giving Republicans the chair in voting years, enabling suppression of rival votes through short voting hours and other practices.
Civil rights groups at a news conference outside the National Headquarters of the Republican National Committee, called to stop 'voter suppression and intimidation activities directed against minority voters', Washington, 2004. REUTERS/Larry Downing
Finally, North Carolina Republicans tried to give themselves an advantage in judicial elections, by eliminating public campaign funding and putting partisan labels on the ballot for all judges. This didn't work as the State Supreme Court tended to remain Democratic. More importantly, both state and federal courts in North Carolina stayed relatively unpoliticised. 'We're fortunate to have a tradition of collegial courts,' says Phillips. Unlike the legislators, 'the justices will still eat lunch together at a restaurant in downtown Raleigh.' It also helped that State and federal courts could serve as mutual backstops if one or the other grew timid. In the end, an independent two-level judiciary would foil the assault on voting integrity.
A laboratory for preserving democracy
Protesters hold signs saying that Trump lied and failed to uphold the Constitution during a March For Truth at Asheville, North Carolina, June 2017.
In packing black voters together, the Republican maps of 2011 were easily challenged as a racial gerrymander. During 2013--2015, that argument failed repeatedly at every tier of the North Carolina courts. But the federal case law on racial redistricting was stronger. In 2016 and 2017, the federal courts found both the State and congressional maps were racially tainted and sent the legislature back to the drawing boards. That's when things started to get interesting.
During the new map debate, Republican leaders were only concerned about appearing racist. North Carolina General Assembly Representative David Lewis made a fateful confession when he said, 'I think electing Republicans is better than electing Democrats' and also 'so I drew this map to help foster what I think is better for the country.' And why would his map result in an evenly split State sending ten Republicans and three Democrats to Congress? Sadly, he explained, the software was simply unable 'to draw a map with 11 Republicans and two Democrats.' Lewis, who didn't respond to the IBA's inquiries, has always maintained that his map nonetheless honoured traditional redistricting criteria.
Voting reformers argued in Rucho v Common Cause that a gerrymander is unconstitutional even if it's strictly designed for partisan (rather than racial) advantage. But this was a novel legal theory. Associate Justice of the Supreme Court Anthony Kennedy, who'd long hinted he might support the theory, retired with the case on appeal. In June 2019, the US Supreme Court broke the reformers' hearts, and ruled that a partisan gerrymander 'presents political questions beyond the reach of the federal courts.'
Some reformers had not placed excessive faith in the Supreme Court. Law firm Arnold & Porter saw state law as more promising given that 30 state constitutions guarantee free elections. The firm's Stanton Jones and Daniel Jacobson persuaded the Pennsylvania Supreme Court to kill a partisan gerrymander in 2018. 'Our team always anticipated state court would be key,' says Jacobson. That's why they also sued Lewis in North Carolina, on behalf of Common Cause. Common Cause v Lewis was always bound to be a colourful trial due to Lewis's gaffe; then Common Cause got a call from Stephanie Hofeller.
Voters stand in line during early voting at the Beatties Ford Library in Charlotte, North Carolina, 20 October 2016. REUTERS/Chris Keane
The Michelangelo or Machiavelli of mapmakers?
Stephanie Hofeller was a progressive drifter and blogger, as well as the estranged daughter of the nation's leading Republican map guru. The New York Times hailed Tom Hofeller as 'the Michelangelo of the modern gerrymander.' Stephanie thought 'Machiavelli' was more like it. After her father died, she found four hard drives in his Raleigh home and 18 USB flash drives, including one labelled 'NC Data'. 'How could I proceed?' she later mused, 'I was an ordinary citizen – free from the naïveté that Tom Hofeller had ever been an honest man.' Stephanie needed estate advice and, distrusting any local lawyer friendly with her father, she telephoned Bob Phillips at Common Cause for North Carolina. 'I figured she was calling to vent,' says Phillips. 'I remember her saying something along the lines that she didn't agree with her father's work. I don't know if my head was spinning but I had enough sense not to hang up.'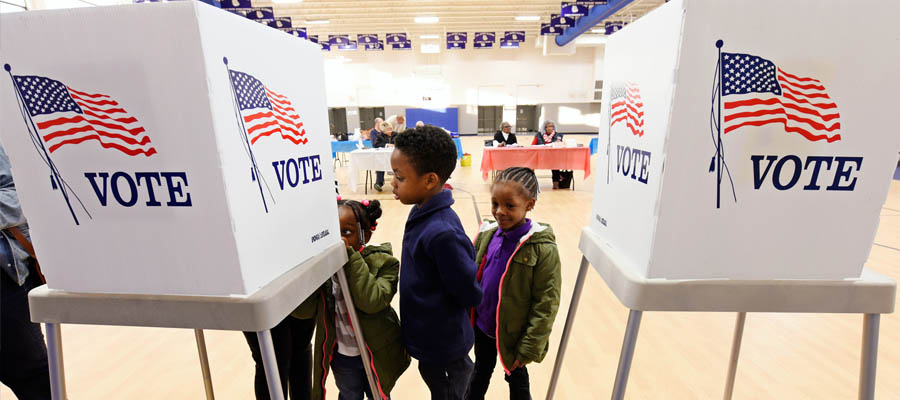 Children watch their mother vote during the US General Election in Greenville, North Carolina, 8 November 2016. REUTERS/Jonathan Drake
Within a week, Common Cause subpoenaed Tom Hofeller's old hard drives. Caught by surprise, Lewis' lawyers missed their chance for a timely objection. Once they got a glimpse of the files, the lawyers labelled them all 'highly confidential,' called Stephanie a thief, and impugned Arnold & Porter's ethics. The Court shrugged, and admitted many Hofeller files into evidence. 'The trial,' says Phillips, gave 'a view behind the curtain of a master gerrymanderer.'
The defendants were caught in several big lies; in 2017 they'd delayed a special election on the pretext of needing time to draw new maps, when Hofeller's maps were already complete. They claimed they had never had racial data on the new districts, yet Hofeller had racial data on all of them.
I think electing Republicans is better than electing Democrats, so I drew this map to help foster what I think is better for the country
David Lewis
Republican Representative of the North Carolina General Assembly
Arnold & Porter's Jones argued that Hofeller's files proved 'that partisan gain was his singular objective.' The mapmaker colour-coded the partisan leaning of every area down to the neighbourhood level. He was constantly calculating partisanship scores for each district, and weighing the favourability of each scenario for Republicans. Mathematicians asserted that only one out of every 100,000 maps would be better for Republicans than the final version.
At the trial's conclusion, Common Cause and common sense prevailed. The State Court found a partisan gerrymander of the State legislature, and ruled it unconstitutional The judges ordered the legislators to re-draw their map publicly as a result of their lies.
Meanwhile, a congressional partisan gerrymander claim was refiled in state court under Harper v Lewis. The judges said they were likely to find the map unconstitutional, and invited legislators to quickly re-draw it.
By the time Arnold & Porter had finished Stephanie Hofeller's digital discovery, they realised the biggest bombshell in the Hofeller files had little to do with North Carolina. Arnold & Porter was also coincidentally co-counsel in the Supreme Court when the Secretary of Commerce reinstated the question of citizenship in the 2020 national census, and Tom Hofeller advised the Trump administration to put this question on the census form.
Voters queue on the first day of early voting at a community centre in Raleigh, North Carolina, October 2018
Experts from the Census Bureau projected it would deter nine million, mostly Latino, residents from filling out forms for fear that they, or their relatives, might be deported. Among other malign effects, nine million vanished souls could wildly distort US electoral maps.
For eighteen months the Trump administration proclaimed that the citizenship question was designed to promote enforcement of the Voting Rights Act. This was an entertaining contention as President Trump has currently brought no new cases on voting rights. Despite this, a majority of the Supreme Court nonetheless showed every sign of accepting the pretext until the Hofeller files were uncovered. Hofeller recommended that the Census Bureau ask about citizenship, with the aim of drawing congressional districts based on the number of each state's citizens, as opposed to residents. The beauty of this approach, he wrote, is that it 'would be advantageous to Republicans and non-hispanic whites.'
In a single breath, Hofeller had admitted to plotting a gerrymander on both partisan and racial grounds, while exposing the Trump administration's proffered rationale. The files also showed that Hofeller had helped ghostwrite a letter from the Justice Department to the Commerce Department, pretending that a citizenship question would promote voting rights.
The next month, Chief Justice Roberts surprised court watchers by ruling against the Trump administration in the census case. Jacobson thinks the opinion reads as if it were written to reach the opposite conclusion and was changed at the last moment. Phillips concurs: 'I absolutely think the citizenship question case flipped because of Stephanie.'
Slaying the Monster Law
North Carolina's adventures in voter suppression fared no better than its gerrymanders. In both sets of litigation, the State found trouble by saying the unsayable out loud. In the Monster Law case, its lawyers told the trial court that North Carolina cut Sunday voting because 'counties with Sunday voting in 2014 were disproportionately black' and 'disproportionately Democratic.' As a violation of equal protection, the US Court of Appeals for the Fourth Circuit (Fourth Circuit) called this 'as close to a smoking gun as we are likely to see in modern times.'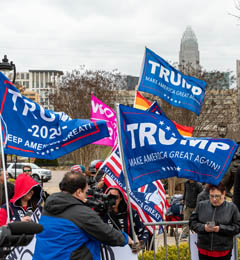 Trump supporters wait alongside protesters for his visit to Charlotte, North Carolina on 7 February 2020
The decision in North Carolina State Conference of the NAACP v McCrory (2016) was direct and forceful as the Fourth Circuit denigrated HB 589 as 'the most restrictive voting law North Carolina has seen since the era of Jim Crow.' No state legislature, it reckoned, 'has ever done so much, so fast, to restrict voter access.' Five provisions of the law 'target African-Americans with almost surgical precision,' the Court concluded, and 'impose cures for problems that did not exist.' It was no coincidence that 'the General Assembly enacted them in the immediate aftermath of unprecedented African American voter participation in a state with a troubled racial history.'
Specifically, the Court removed the State's requirement that voters present photo ID, restored voters' ability to vote early, and to register on Election Day or as teenagers. Finally, it re-enfranchised voters who mistakenly wander into the wrong polling station.
But if the Monster Law was a vampire, the Fourth Circuit ruling was not a stake through the heart. In November 2018, voters approved a ballot measure in favour of the Voter ID bill. Though Republicans lost their veto-proof supermajority in the same election, they quickly passed the Voter ID law and overrode the Democratic Governor's veto before the end of the lame duck session.
With the 2020 vote looming, the Southern Coalition for Social Justice has challenged the new Voter ID law in federal and State court, and it has won a pair of injunctions pending trial. Federal district judge Loretta Biggs reasoned that 'racial discrimination and racial polarisation have historically pervaded North Carolina's political climate -- and still do.'
Undoing the 'Power Grab'
In Cooper v Berger (2018), the North Carolina Supreme Court struck down the 2016 law that restructured election boards in order to strip the incoming Democratic governor of his ability to regulate elections. The Court held that the power-stripping law violated the constitutional separation of powers. The ruling ensured that partisan electoral boards can't suppress the vote through manufacturing long lines of voters by creating a scarcity of polls and voting booths in black areas.
North Carolina's boundary-pushing, racial and political gerrymanders, the 'Monster Law' and the 'Power Grab' did not survive court scrutiny. However, champions of democracy have mixed reactions. 'The sad news is all this is still happening,' says Levitt, 'the good news is the lawyers and courts eventually did what they're supposed to do, tremendously bolstered by civil society. Our systems to protect voting rights are still working.' At the same time, anti-democratic forces are legally creative, and politically persistent.
Will North Carolina's norm-breaking be regarded as an outlier or a model? It's not a good sign that the Michigan and Wisconsin legislatures tried their own power grabs in 2018, and that the national Republican Party has picked North Carolina as the site for this summer's convention to re-nominate President Trump.
On the frontlines of democracy
Ziblatt and Levitsky identify the top two warning signs of democratic decline as a disdain for the contending party's legitimacy, and a disrespect for moderating norms. In interviews with Global Insight, Representative Chuck McGrady and Democratic State Representative Graig Meyer say these attitudes are rampant in the North Carolina General Assembly.
On 11 September 2019, Republican lawmakers assured their colleagues they wouldn't miss any votes while attending a ceremony for the victims of 9/11. Republicans then held a surprise vote to override the Governor's veto of a budget bill that didn't expand Medicaid. One of the few Democrats in attendance cried, 'this is a travesty of the process,' only to have her microphone cut off. 'That broke trust in a way that felt like a new level,' Meyer recalls.
Both legislators think it all comes back to the gerrymander. 'In a gerrymandered seat,' explains McGrady, 'you're not worried about November, but you are worried about the primary. You play to your base which is extreme. So there are no moderate legislators left in either party. That makes it very difficult for us to compromise or move incrementally in terms of public policy on every issue.'
Each is pushing bills for independent redistricting. McGrady believes there is a bipartisan majority in favour – but the Republican leadership is blocking his bill from coming to a vote. It's exactly the sort of norm-breaking that Ziblatt and Levitsky find so concerning. However, McGrady may not be the best bellwether of the Republican party as he is retiring and he says his children probably voted in the Democratic primary. But McGrady hasn't given up on democracy. The redistricting committee promised to mark up his bill in the spring, and he plans to hold them to it.
Michael Goldhaber is the IBA US Correspondent and can be contacted at Michael.Goldhaber@int-bar.org