Human rights news from the IBA - June/July 2016
Ruggie report calls on FIFA to up its game on human rights ahead of Qatar World Cup
Ruth Green
A landmark human rights report by Professor John Ruggie has put greater pressure on FIFA to clean up its act ahead of the 2022 World Cup in Qatar.
The independent report by the former UN Secretary-General's Special Representative for Business and Human Rights was commissioned by FIFA in December 2015 amid allegations that the football governing body was contributing to a range of adverse human rights impacts across its global operations, including the death of migrant construction workers in Qatar.
'For my report to have the necessary impact,' Ruggie said at its launch, 'FIFA's top leaders need to follow through on its recommendations. That means resourcing the administration adequately for the task and integrating the results of their work into political decision-making.'
Six key recommendations are set out in the report: adopt a clear and coherent human rights policy; embed respect for human rights; identify and evaluate human rights risks; address human rights risks; track and report on implementation; and enable access to remedy. It calls for FIFA's commitment to human rights to be translated into its daily actions and decisions, along with stronger internal systems and transparency to support the institutional change required.
Mark Pieth, who served as chairman of FIFA's Independent Governance Committee from 2011–2013, welcomes the report and agrees that implementation will be vital in demonstrating the body's commitment to human rights.
'Ruggie is tough on one point by suggesting that if Qatar, for instance, doesn't understand about labour laws and so on, FIFA should still think of stripping them of hosting the World Cup,' he says. 'The report indicates we can't just tell them what to do, we should also consider what we should do if it's not translated into practice.'
Hans Corell is Co-Chair of the IBA Human Rights Institute. 'These recommendations mean that FIFA should include human rights within its criteria for evaluating bids to host tournaments and should make them a substantive factor in host selection,' he says.
'It is said this is about making decisions based on evidence of how effectively bidders intend to address human rights risks connected with the tournament,' he adds. 'It is not about pre-emptively excluding countries based on their general human rights context. Nevertheless, I take it for granted that there will be much more focus on the manner in which host states protect human rights. The question is whether notorious human rights violators should be accepted as hosts for tournaments.'
Profound impact
John Sherman is former Chair of the IBA Corporate Social Responsibility Committee and general counsel at Shift, which assists governments, businesses and their stakeholders to put the UN Guiding Principles on Business and Human Rights into practice and helped draft the report. He believes the recommendations will have a profound impact on FIFA.
'What is really interesting about the FIFA example is that here you have an organisation that touches hundreds of millions of people all around the world and has had its share of terrible corruption scandals,' he says. 'It has a commitment now to adhere to the UN Guiding Principles and equally significantly to require all of its contractual partners to also adhere to these Principles, which is really going to have far-reaching consequences.'
The report also comes as the National Contact Point (NCP) in Switzerland is looking into a request from Building and Wood Workers' International regarding alleged human rights violations of migrant workers relating to construction work for the 2022 World Cup. NCPs are agencies set up by governments to promote and implement the OECD Guidelines for Multinational Enterprises.
Top management
Whether FIFA will follow Formula One's strong stance on human rights issues is yet to be seen. FIFA's new president Gianni Infantino welcomed Ruggie's report and said it would help the football body build on its ongoing work in this area, including the development of a fully fledged FIFA Human Rights Policy.
Corell agrees with Ruggie that real change must come from the top. 'Obviously, FIFA has come to understand that it must repair its damaged reputation,' he says. 'I believe many people around the world were shocked to learn about how FIFA and its officials had acted over the years. What I think is particularly important to point out is that, as Ruggie says in the report: "embedding the organisation's commitment to respect human rights requires proactive engagement by the top management and FIFA's political levels where critical decisions are made". I recognise this from other areas, in particular efforts focusing on anti-corruption.
What is required from business should certainly be expected from organisations engaged in sports, where fair play should be an obvious lodestar
Hans Corell
Co-Chair, IBA Human Rights Institute
'The recommendations, which are based on the Guiding Principles on Business and Human Rights – also authored by John Ruggie and endorsed by the UN in June 2011 – will be of great importance,' adds Correll. 'The Guiding Principles, which were discussed by Kofi Annan and John Ruggie at the IBA Annual Conference in Vienna in 2015, are very much in the IBA focus at present. What is required from business should certainly be expected from organisations engaged in sports, where fair play should be an obvious lodestar.'
Michael Beloff QC, who chairs the International Association of Athletics Federations' Ethics Board, commented that human rights could soon become as much of a priority for sports organisations as they are in the corporate world.
'It used to be, 20 years ago, that the obligations of directors were to maximise the money paid to shareholders,' he says. 'But now there are statutory obligations to take account of the workforce, the interests of the environment and matters of that kind. It's a spreading out of the considerations that in a modern society we ought to take into account.'
---
Forced to Kill: The IBAHRI calls for an end to mandatory death penalty
In partnership with the Geneva Academy, the IBAHRI has published a new report that questions the justifiability of the mandatory death penalty under international law.
The report, Forced to Kill: The Mandatory Death Penalty and its Incompatibility with Fair Trial Standards, calls on all states to support a moratorium on death sentences when the issue is voted on at the UN General Assembly in September 2016.
It is estimated that at least 29 countries continue to impose the automatic death sentence for certain crimes, including drug trafficking, blasphemy, sodomy and adultery. In carrying out this sentence without trial or judicial discretion, punishment is applied without temperance by mercy or reason. Systematically imposing an absolute punishment makes the sentence arbitrary, and robs the victim of any voice in the process.
While capital punishment has been abolished in two thirds of the world and the number of countries enforcing it continues to fall, the report considers the arguments by which countries still enforce certain death as a punishment for particular crimes.
In a number of African, Asian and the Caribbean countries, the death penalty is part of British colonialism's legal legacy that remained after former colonies gained their independence. Additionally, modern political factors play a part in a state's use of automatic death sentences, as countries employ the strict punishment in response to political instability. For instance, Pakistan reinstated the punishment in the wake of the 2014 Taliban school shooting.
A disproportionate number of Muslim countries also enforce the mandatory death penalty, claiming that Islam stipulates the use of such punishment for specified crimes. However, the IBAHRI report refutes this, arguing instead that Islamic law condemns the mandatory death penalty and that the principles of Islam endorse a more sophisticated and nuanced justice system.
The report concludes that both Islamic and international law in fact value evidence, penitence, mercy and the opportunity for redemption above the reductive absolutism of capital punishment. In highlighting the underlying principles of various legal frameworks, the report aims to foster a global consensus on the mandatory death penalty to ensure that the 2016 meeting of the UN General Assembly enacts a global moratorium.
To read Forced to Kill: The Mandatory Death Penalty and its Incompatibility with Fair Trial Standards, visit: tinyurl.com/ForcedToKill.
---
In memoriam John RWD Jones QC
The IBA was deeply saddened to learn of the death of John RWD Jones QC on 18 April.
Jones made an indelible mark on international justice, having been one of the first legal officers at the International Criminal Tribunal for the former Yugoslavia.
He subsequently earned the distinction of becoming one of the very few individuals to have worked at every international criminal court and tribunal.
Jones was closely involved in the work of the IBA through the Human Rights Institute. Together with his wife, Miša, he authored the IBA's Criminal Law Manual, which he also launched – along with training provided to Rwandan lawyers – in Kigali in 2011. His clear thinking and fearless defence of his clients' rights to a fair trial inspired many in the profession to follow in his footsteps.
Educated at Oxford University, City University and George Washington University, Jones was a member of the Bar in England and Wales, as well as being admitted to practise law in The District of Columbia, USA, the Kingdom of Cambodia, Kosovo, Rwanda and Gibraltar. He joined Doughty Street Chambers in 2005 and was the first head of Doughty Street International in 2014.
A highly respected prosecutor, he was admired for his professionalism, simplicity and humility. He was also a dedicated defence counsel, tirelessly defending the right to a free trial – as demonstrated in his work on the Saif al Islam Gaddafi case.
Mark Ellis, the IBA's Executive Director, knew John Jones well. 'It was impossible to discuss international criminal law without referencing John Jones. Not only was John an eminent scholar, but his prolific practice made him a singular voice for accountability through a fair trial process.'
The IBA extends its sincerest condolences to his family, friends and colleagues.
---
Legal standoff over controversial North Carolina 'bathroom' law
Ruth Green
A new law discriminating against transgender people in North Carolina has sparked a legal spat with the US Department of Justice that has quickly transformed the issue into a national and international debate.
On 23 March North Carolina's Governor Pat McCrory signed into law House Bill 2 (HB2), the Public Facilities Privacy & Security Act, which imposes restrictions on civil rights, including requiring people to use public toilets that correspond to the sex listed on their birth certificate – a move that has been labelled as discriminatory towards transgender people.
In early May the US DoJ issued a letter to McCrory and other public officials in North Carolina asking them to abandon the law, saying it violated federal civil rights statutes. McCrory responded by filing a law suit, accusing the DoJ of 'baseless and blatant overreach'.
Within days US Attorney General Loretta Lynch, who will be a keynote speaker at the IBA Annual Conference in Washington, DC in September 2016, had condemned the law as 'state-sponsored discrimination' and filed a federal complaint against HB2.
The legal spat comes amid a groundswell of public and corporate support to overturn the law. Several high-profile musicians have pulled out of concerts in North Carolina in protest. Large businesses such as Bank of America and Apple condemned the law, while PayPal and Deutsche Bank both announced they were cancelling plans to expand in the State.
However, Katherine Franke, a law professor and director of the Center for Gender and Sexuality Law at Columbia, says such headline-grabbing boycotts fail to address some of the other discriminatory aspects of the legislation.
'It's important to recognise that HB2 certainly contains very offensive language around transgender peoples' rights, but it does much, much more than that,' she says. 'The law also eliminates any possibility for municipal governments to enact laws creating a living wage, protect domestic workers or provide partnership laws. Any law that has to do with employment now must be handled by the State – it can no longer to be handled by local government.
'In the US we're seeing really interesting innovation on the municipal level around expanding workers' rights and HB2 has stopped that in its tracks in North Carolina. So it's interesting to me that the companies that are boycotting are only focusing on the transgender issue. It's an easy case for them to sign up for when the issue is only transgender people using bathrooms as it doesn't affect their bottom line and they can have a reputational bump for standing on the right side of the civil rights issue, but the larger issues in this law are much more extensive and sweeping.'
Eventually we will look back on this era with a mixture of astonishment and shame. Meantime the law and lawyers have a role to play in protecting these minorities and upholding their rights
Michael Kirby
Vice-Chairman of the IBAHRI Council
Although the Federal Government stressed it will not withdraw funding to the State, the North Carolina Department of Public Safety or the University of North Carolina – which are also named on the complaint – while the law is being reviewed, it wouldn't be the first time federal funding has been withheld on civil rights grounds notes Hansel Pham, co-chair of the IBA North America Regional Forum and partner at White & Case in Washington, DC.
'In the 1960s, for example, the Federal Government denied funds to more than 100 school districts in the South that refused to integrate black and white students,' he says. 'This denial of funds worked dramatically well: all of those districts eventually adopted integration plans.'
Timothy Wilson, an associate at White & Case in DC, adds that it's difficult to predict whether mounting corporate pressure or the pending litigation is more likely to force a rethink in the law: 'Should the Federal district court in North Carolina agree with the Justice Department's interpretation of the Civil Rights Act as including transgender individuals, then it is likely that the court would preliminarily enjoin the enforcement of the law and ultimately strike it down,' he says. 'However, the corporate boycott could outpace the Federal litigation because Governor McCrory is up for re-election in November.'
The DoJ complaint also comes as the Obama Administration makes increasing moves towards protecting and promoting transgender rights. The US Departments of Education and Justice recently issued a letter to high schools across the country asking them to guarantee transgender students access to bathrooms that match their gender identity. This followed a decision in April in the Fourth Circuit Court of Appeals – the same federal appeals court where North Carolina sits – which ruled in favour of allowing bathroom access for a transgender student who was born female and wished to use the boys' facilities at a high school in Virginia.
Michael Kirby, Vice-Chairman of the IBAHRI Council, hopes HB2 will soon be a thing of the past. 'It is astonishing to most people who stop and think about it that the legislature in North Carolina should have nothing better to do than to try to enforce on the tiny minority of transgender people the use of toilets by reference to the users' birth certificates,' he says. 'As if there were not multiple problems more deserving of such legislative priority.
'Eventually we will look back on this era with a mixture of astonishment and shame. Meantime the law and lawyers have a role to play in protecting these minorities and upholding their rights. And not just in North Carolina.'
Indeed, Franke says HB2 is in keeping with a growing tide of state-wide legislative suppression of transgender rights across the US.
'There are at least 27 other legislatures with similar bills pending, so this is a concerted effort across the country to attack transgender rights as part of a larger backlash against the victories of same-sex couples to marry in the Supreme Court,' she says. 'Those opponents realise they've lost that battle so they've shifted their tactics to what is an allied movement against a more vulnerable party – the transgender movement.'
---
IBA Human Rights Award 2015 winner released from prison
The IBAHRI has welcomed the release from prison of prominent human rights lawyer Intigam Aliyev. The Azerbaijan's Supreme Court also decided on 28 March 2016 to convert the sentence from seven-and-a-half years' imprisonment to a five-year suspended sentence. However, the criminal convictions remain, under conditional release. The IBAHRI calls on Azerbaijan's authorities to drop all charges against him.
Aliyev, the head of the Legal Education Society, an Azerbaijani civil society organisation, was arrested in August 2014 and charged with tax evasion, 'illegal entrepreneurship', and abuse of authority. In December 2014, the prosecution brought additional charges of misappropriation and services forgery. He was pronounced guilty on 22 April 2015 by the Baku Grave Crimes Court and was sentenced to seven-and-a-half years' imprisonment and a three-year ban from holding public office leadership positions.
A prominent human rights lawyer in Azerbaijan for many years, heading the Legal Education Society – an organisation providing legal support to non-governmental organisations, Azerbaijani civil society and low-income individuals – Aliyev has represented more than 100 victims of alleged human rights violations at the European Court of Human Rights.
Last year Aliyev was the recipient of the IBA Human Rights Award for his outstanding contribution to human rights. Unable to receive the Award in person, due to his unlawful imprisonment, his son and daughter travelled to the IBA Annual Conference in Vienna on their father's behalf. Aliyev dedicated his award to 'friends, colleagues, conscientious people' in Azerbaijan who 'are facing prosecutions, pressures, and imprisonments.'
A Double-Edged Sword: Judicial Independence and Accountability in Latin America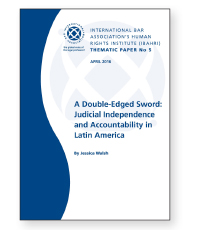 At the start of what is turning out to be a season of change for Latin America, the IBAHRI has published a thematic paper highlighting the challenges and threats faced by the region's judiciary.
A Double-Edged Sword: Judicial Independence and Accountability in Latin America analyses data from a survey asking the general public in Latin American how much trust they have in the judiciary. The survey found that two-thirds of respondents have little or no trust in judges and, as a result, the judiciary have become vulnerable to attempts to disempower them and restrict their independence. The report's author, Jessica Walsh, examines what can be done to stabilise the knife-edge balance of judicial independence and judicial accountability.
A widespread perception throughout the region that the judiciary is corrupt undermines its ability to hold politicians to account, therefore weakening a vital safeguard of modern democracies. For the judiciary to be effective independence and accountability are essential. This requires a solid legal framework to define standards of judicial conduct, and a credible disciplinary procedure for holding judges to account when cases of corruption arise.
However, this report notes the erosion of these processes and the increase in political attacks on the Latin American judiciary. Judges across the region have experienced intimidation, violence, undue sanctioning and removal from office – all aimed at undermining their credibility and influence. Additionally, statements discrediting the judiciary, political interference and lack of due process in disciplinary proceedings have contributed to an undermining of the judiciary which threatens its independence and consequently, the democratic process.
The paper makes four recommendations to improve public perception of the judiciary and safeguard it from political attacks. Through promoting integrity and transparency in the judiciary it is hoped that this institution will become more accountable without being vulnerable to political abuses. The other two recommendations relate to disciplinary procedures and urge full clarification on what these procedures involve, and full transparency and impartiality in their application. By implementing these measures it is hoped that judges will be able to fulfil their critical role safely as cornerstones of democratic systems throughout Latin America.
To read A Double-Edged Sword: Judicial Independence and Accountability in Latin America in full, see tinyurl.com/DoubleEdgedSwordLA.
---
IBAHRI urges review of China's new law for foreign NGOs
China's new law for foreign NGOs, enacted on 28 April 2016, is of grave concern to the IBAHRI. The Law on the Administration of Activities by Foreign Non-Governmental Organisations within the People's Republic of China (the 'Foreign NGO Law') introduces onerous regulatory requirements on overseas not-for-profit organisations wishing to operate in China and brings their activities under the control of the Ministry of Public Security.
The Foreign NGO Law, which will come into force on 1 January 2017, requires foreign NGOs to be sponsored by a government-approved Chinese partner and to register with the Public Security Bureau. The law significantly increases police control over NGO activity, granting the police extensive powers to enter the domestic premises of overseas-based NGOs, seize documents and scrutinise finances without judicial oversight. It further empowers the police to detain office personnel for up to 15 days if activities are perceived to threaten national security or national interests.