Bringing ISIS to justice

As the United Nations finalises its agreement with the Iraqi authorities to collect evidence of crimes committed by ISIS, it's time to consider ways of bringing ISIS militants to justice.
Official documents providing guidelines on the treatment of slaves; accounts of rape and abuse; mass graves; testimonies of innocent children forced onto battlefields. These are just some of the harrowing details emerging from reports of allegations against ISIS in Iraq. Now, there is hope for justice for its victims. A United Nations-mandated team will start gathering evidence of these crimes as soon as an agreement with the Iraqi government is reached.
International human rights lawyer Amal Clooney is legal counsel to Yazidi victims of ISIS' crimes, including Nadia Murad and victims represented by the non-profit organisation Yazda. 'Finally, we have a coordinated effort to bring ISIS to justice,' Clooney said after the Security Council approved Resolution 2379 – which mandated the investigation – unanimously in September 2017.
An Iraqi Yazidi refugee girl attends a commemoration of the third anniversary of the Yazidi genocide in Sinjar region, in the village of Nea Apollonia. More than 400 Yazidis live here, in apartments provided by a UNHCR-sponsored housing scheme, near Thessaloniki, Greece, 3 August 2017 © REUTERS/Alexandros Avramidis
Fight terrorism: kill the idea
Matthew Nelson is Legal Assistant to Amal Clooney. 'Putting ISIS militants on trial and exposing the brutality of the crimes they committed can go a long way not only to deliver justice to victims,' he tells Global Insight, speaking in his personal capacity, 'but it also serves as a disincentive to people considering joining a terrorist organisation. Instead of killing militants on the battlefield – or after unfair trials – we can kill the idea.'
While myriad due process violations are reported within the country's legal system –eliciting confessions under torture, no access to legal representation, no access to family members – Iraq's use of the death penalty is the main obstacle to the terms of reference for the investigative team.
Instead of killing militants on the battlefield – or after unfair trials – we can kill the idea
Matthew Nelson
Legal Assistant to Amal Clooney
The Special Rapporteur on extrajudicial, summary or arbitrary executions, Agnes Callamard, has warned against the use of evidence collected by the independent investigators in trials that could result in the death penalty in circumstances where it will amount to arbitrary killings. 'Given the reported shortcomings of the Iraqi justice system in relation to the death penalty, such a risk runs very high,' says Callamard.
In a letter to the President of the Security Council sent in December, the UN Secretary General asked for more time to negotiate with the Iraqi government, '… in particular to resolve the issue concerning the sharing of evidence by the team in respect of any criminal proceedings in which capital punishment could be imposed or carried out'. The deadline was extended to 19 January.
The urgent need for the investigative team to start is clear, as experts worry that evidence will disappear. Between June 2014 and November 2017, 94 mass graves, thought to contain people executed by ISIS, were discovered and all of them need to be exhumed. Experts have calculated that, 'at the current pace, it would take over 800 years to complete their task,' according to a statement by Callamard. 'Families cannot wait that long for the identification of their missing relatives, and neither can accountability for the violations committed, which may include war crimes and crimes against humanity,' she says
The arbitrary use of counter-terrorism laws and access to legal representation also pose substantial challenges to ISIS trials in Iraq. Several lawyers who had worked in ISIS courts and were representing ISIS fighters in Iraqi courts were arrested in July last year, which raised concerns that the move was intended to intimidate lawyers representing ISIS suspects, according to Human Rights Watch.
Justice sends a message to other radical and extremist groups that their actions never go without punishment
Ahmed Khudida Burjus
Director, Yazda UK
'There can be no real access to justice without access to robust legal representation. Those regimes that seek to limit that representation cannot hide behind the façade of regime change in an attempt to justify any curtailment of this basic human right,' says Mark Woods, Co-Chair of the IBA's Access to Justice and Legal Aid Committee, and Chair of the Law Council of Australia's Access to Justice Committee. 'Lawyers are often called upon to represent persons when doing so may be unpopular or even against some laws. The legal profession's proud history of such representation is a foundation of the rule of law.'
Nelson says that the 'myriad due process violations' in the Iraqi legal system might jeopardise the credibility of trials against ISIS militants in Iraqi courts. In Iraq, militants are tried mainly under counter-terrorism legislation. Crimes against humanity and war crimes are not criminalised under Iraq's domestic law. The authorities could amend the national legislation to allow domestic courts to have jurisdiction over these kinds of crimes, but, given all the shortcomings of the Iraqi legal system, a thorough review would also be needed.
Because Iraq is not party to the Rome Statute, the International Criminal Court (ICC) has no jurisdiction in Iraq. It does have jurisdiction over ISIS fighters who are nationals of any Member States, which could refer particular cases to the ICC.
Witness protection
Experts suggest that concerns for witness protection at trials in Iraq, combined with the scope of the threat posed by ISIS, make a convincing argument for the use of international tribunals. 'An international court would be the most suitable place to try ISIS. The group presents a threat to the stability of Iraq and to individuals. It would be difficult for witnesses and lawyers to take a position in an Iraqi court that might put them or their families in jeopardy,' says Lamia Matta, legal counsel with Miller & Chevalier and Co-Chair of the IBA's Arab Regional Forum.
Jens Dieckmann, Co-Vice Chair of the IBA's War Crimes Committee, says that it would be desirable to try ISIS leaders at the ICC, but that there might be an argument for trying suspects in national courts outside of Iraq rather than the ICC because of the difficulties in gathering evidence for allegations of atrocity crimes. National courts, in a case that lacks sufficient evidence to pursue genocide or crimes against humanity charges, could try the perpetrators for other crimes covered under counter-terrorism laws.
International commitment to this genocide sets a precedent for the future. This is about more than killings; this is about the extermination of a people
Baroness Helena Kennedy QC
Past Co-Chair, IBA's Human Rights Institute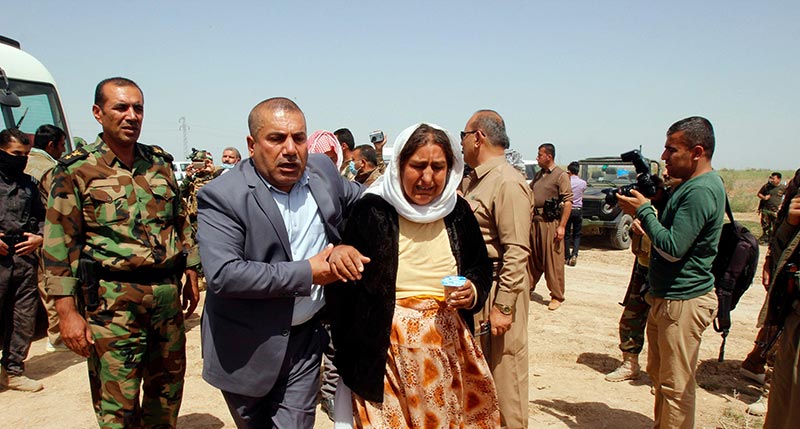 Iraqi Yazidi minority people released by ISIS arrive at the outskirts of Kirkuk, Iraq, 8 April 2015. © Xinhua/Ako Zanagen/lmz/Alamy
Many countries outside Iraq use counter-terrorism laws to prosecute members of ISIS, rather than charging them with crimes against humanity. 'A key problem is that, on a national level, the focus is mainly on counter-terrorism law,' says Dieckmann, Founding and Senior Partner of Becher & Dieckmann - Rechtsanwälte in Bonn, Germany. 'Victims expect – for good reasons – genocide and crimes against humanity charges but, in most cases, they will be disappointed. On the other hand, it is effective. These cases can destroy the structure of ISIS even by prosecuting only low-level members.'
Dieckmann has his doubts about the suitability of an ad-hoc tribunal, because of the transnational nature of ISIS. 'There would possibly not be the necessary support from countries in the region. On top of that, the trial of Saddam Hussein shows that Iraq's justice system leaves much to be desired,' he says. The trial and subsequent execution of the former Iraqi President was widely criticised by human rights groups as unfair and 'a significant step away from respect for human rights'.
To Yazda, the non-profit that has been helping the Yazidi community since the genocide began in August of 2014, justice for the Yazidi victims of ISIS' crimes is 'crucial'. 'Justice is important for the whole world, not just the Yazidi. It sends a message to other radical and extremist groups that their actions never go without punishment,' says Ahmed Khudida Burjus, one of the directors of Yazda UK.
Thousands of Yazidi women, girls and children who were taken by ISIS remain missing and thousands of men have been executed. 'We just need justice,' says Burjus.
As well as accountability, and aid to victims and the displaced, it is important to consider the future of the country. 'Accountability is only one piece of the puzzle. There is a crucial need for humanitarian assistance and, possibly, truth and reconciliation processes down the track,' says Nelson.
Baroness Helena Kennedy QC, who has been a vocal advocate for the Yazidi cause, says that a strong international response is important. 'International commitment to this genocide sets a precedent for the future. This is about more than killings; this is about the extermination of a people,' says Kennedy, Past Co-Chair of the IBA's Human Rights Institute.