Belt and Road: China's global expansion

China's $3tn Belt and Road initiative to bridge the infrastructure gap along trade routes to Africa, Asia and Europe signals its ambitions for maritime dominance and its more assertive and prominent role in global affairs.
'Today, we celebrate laying one of the key cornerstones to Kenya's transformation to an industrialised, prosperous, middle-income country,' said Kenyan President Uhuru Kenyatta at the inauguration of the African nation's Standard Gauge Railway (SGR) on 31 May 2017. Dubbed by Kenyatta as the 'Freedom Express' in honour of the day the country won self-governance from Britain, the $3.2bn railway is Kenya's largest infrastructure project since securing independence more than 50 years ago.
Linking the capital Nairobi to the port of Mombasa, the railway will replace the so-called 'Lunatic Express', built by colonial Britain to open East Africa to imperial control in 1901. Like its predecessor, the Freedom Express has been criticised for being a huge waste of money. However, it may prove to be even more important as a strategic, long-term investment for its sponsor than the Lunatic Express was for Britain.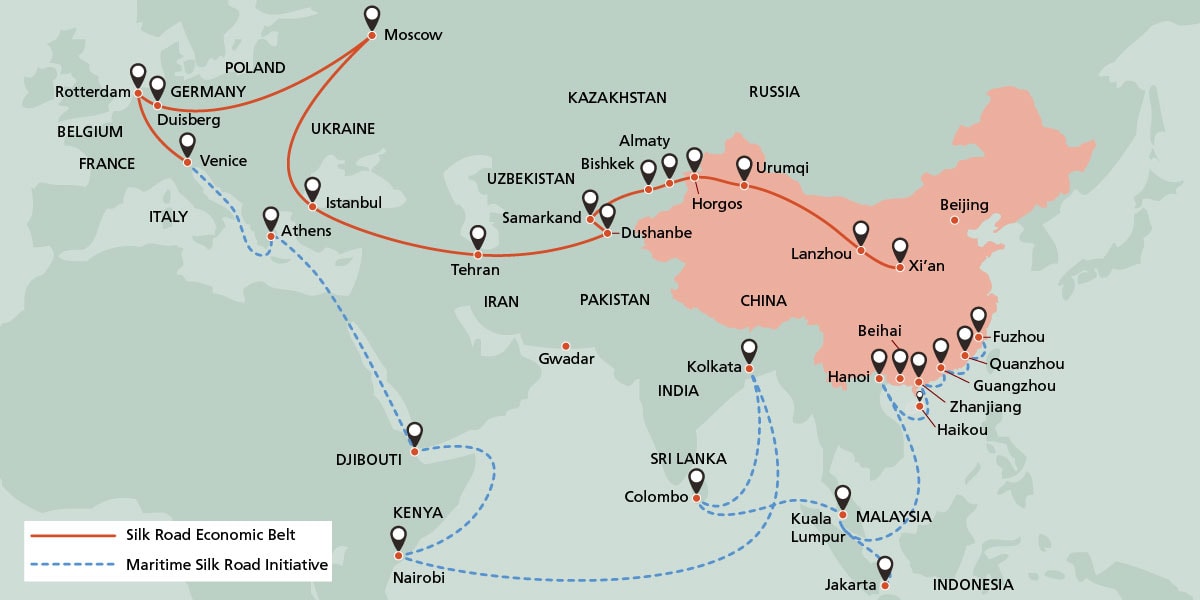 The Export-Import Bank of China financed 90 per cent of the new railway, which was constructed and, over the next decade, will be maintained and operated by China Road and Bridge Corporation. Despite the Kenyan government emphasising the numerous benefits of the Freedom Express – such as reducing transport costs and times by more than 60 per cent – the project underlines the country's growing indebtedness to China.
China's bill for the SGR represents the largest loan that Kenya has ever received: the equivalent to approximately six per cent of its gross domestic product. For President Kenyatta – seeking re-election this year – the unveiling of the SGR ties in with the narrative of improving Kenya's infrastructure and economy. The railway will eventually connect Burundi, Ethiopia, the Democratic Republic of Congo, Rwanda, South Sudan and Uganda to the port of Mombasa, as Kenya tries to reposition itself as the strategic gateway to East Africa for trade with China and other nations.
For China, meanwhile, the investment represents an important component of its Belt and Road Initiative – a development strategy proposed by Chinese President Xi Jinping in 2013 to bridge the infrastructure gap along the land and maritime trade routes connecting China with Africa, Asia and Europe.
The new railway in Kenya is, in many ways, symbolic of China's ability and desire to assume a more prominent role in global affairs. Under President Xi, the country is pursuing a significantly more assertive foreign policy to those of recent Beijing administrations. Its longstanding aversion to traditional realpolitik – whether that be building foreign bases, engaging in military matters overseas or securing alliances – is being reconsidered under Xi, as he continues to strengthen his grip on all aspects of Chinese policy.
We will not retread the old path of games between foes. Instead, we will create a new model of cooperation and mutual benefit
Xi Jinping
President of China
One previously prohibited foreign policy was broken last year with the opening of a naval base in Djibouti in the Horn of Africa. Despite protestations that the base was simply a 'logistics centre', Beijing's announcement that up to 10,000 military personnel will be stationed in the region until at least 2026 concerned many international observers. This was due to the manner in which the base was established and the potential implications of other Chinese port investments around the globe.
State-owned China Merchants Group initially took a stake in the Port of Djibouti's container terminal in 2012, which subsequently led to a $9bn investment that included a liquefied natural gas terminal, a trade logistics park and a wharf for livestock. In 2016, Beijing finally confirmed what many had long suspected: that its Djibouti investment was for both commercial and military purposes.
Graham Wladimiroff, Legal Executive, Director and Compliance Business Partner at AkzoNobel and a former officer of the IBA Asia Pacific Regional Forum, says it is a characteristic of China that any initiative or action will almost always represent a number of wins, not just one.
'The question of whether China is seeking economic, political or military power is probably best answered with "all of the above". However, the degree will vary, and it is important to note that the primary motivator will typically be about safeguarding economic interest,' he explains.
'China's setting up of a base in Djibouti may mainly be about securing economic interest in a part of the world where piracy, for instance, has been an issue. You need the military to fight piracy. I personally do not believe China has aspirations the way European colonial powers used to have, namely to "control" parts of the world.' President Xi addressed this very concern at a two-day summit of world leaders in Beijing in May 2017, at which he presented his Belt and Road vision to drive trade and prosperity through Chinese-built infrastructure. 'In advancing the Belt and Road, we will not retread the old path of games between foes. Instead, we will create a new model of cooperation and mutual benefit,' he said.
While President Putin of Russia and President Erdogan of Turkey were among those in attendance at the summit, leaders from India, Japan, much of the European Union and the United States declined the invitation. They remain suspicious that Belt and Road has an ulterior motive, namely the acquisition of strategic assets and the fulfilment of geopolitical ambitions.
Pieter Steyn, a partner with Werksmans Attorneys and Vice-Chair of the IBA African Regional Forum, says that Belt and Road is clearly not a purely commercial programme. 'It has a strong geopolitical motivation and raises questions in India, Europe, Japan and the US, as well as African countries and others. China is a world power and has legitimate global interests like any other.'
Maritime ambitions
Belt and Road is often cited by China to justify its investments in various strategic ports around the world, although the maritime route, or 'Road', is expected to develop later than the overland 'Belt', in part because the country has a limited comparative advantage in establishing sea routes.
This limitation was recognised in a 2015 official white paper on China's military strategy, which offered an insight into the country's changing maritime objectives. 'The traditional mentality that land outweighs sea must be abandoned, and great importance has to be attached to managing the seas and oceans and protecting maritime rights and interests,' the paper stated.
In fact, China set about protecting its maritime rights and interests long before the 2015 white paper. The country's investments across a vast network of ports in recent years have made Chinese port operators such as Hutchison Ports, China Merchants Port, China Ocean Shipping Company and China Shipping Terminal Development world leaders. Moreover, according to Lloyd's List Intelligence, China has the world's fastest-growing navy among major powers, its shipping companies carry more cargo than any other nation, while its fishing armada is now 200,000 vessels strong.
The question of whether China is seeking economic, political or military power is probably best answered with "all of the above"
Graham Wladimiroff
Legal Executive, Director and Compliance Business Partner, AkzoNobel; Former officer, IBA Asia Pacific Regional Forum
China's strategic interest in East Africa is illustrative of the country's maritime ambitions. In addition to financing, maintaining and operating Kenya's newest railway, China is playing a prominent role in developing the country's ports. While the Kenya Ports Authority continues to own and manage most of the established port at Mombasa, Chinese construction firm China Communication Construction Company is on course to complete the first berth of a huge new port at Lamu by mid-2018.
It's a similar story in neighbouring Tanzania, where the container terminal at the Port of Dar es Salaam is operated by an offshoot of Hong Kong's Hutchison Whampoa. And, in addition to its stake in Djibouti, China Merchants Group has been involved in the financing of Bagamoyo Port (and will be involved in its operation), which Tanzanian authorities anticipate will handle 25 times the container load of Dar es Salaam.
Construction of the $10bn Bagamoyo Port was suspended last year after opposition politicians and the private sector in Tanzania argued that it was a waste of resources, and such concerns have been a consistent obstacle for China to overcome. Not long after the Belt and Road summit in Beijing in May, the United Nations published a report that was highly critical of the financial risks in countries in South and Central Asia, where
China's announced investment value under Belt and Road is high compared to the relative size of the economy of the recipient country. Question marks also persist over Belt and Road project fundamentals. For example, a 170-mile canal running through Nicaragua was conceived by China, and approved by the Nicaraguan Assembly in June 2013, to compete with the Panama Canal. Although the Chinese government has stated it is not involved with the new canal – which, if completed, will be more than twice the length of its rival and wide enough for the new generation of 400,000-tonne container ships – facilitating the movement of goods from the Pacific to the Atlantic certainly aligns with Chinese interests.
Belt and Road has a strong geopolitical motivation. China is a world power and has legitimate global interests like any other"
Pieter Steyn
Partner, Werksmans Attorneys; Vice-Chair, IBA African Regional Forum
But, work on the Nicaragua Canal by Chinese developer Hong Kong Nicaragua Canal Development has been delayed for reasons including funding problems, local opposition and environmental concerns. Executives at the Panama Canal Authority believe that the Nicaragua project is not being driven by a viable business plan and has estimated that the cost could reach $100bn.
David Gutierrez is a partner with BLP and Co-Chair of the IBA Latin American Regional Forum. He says that, when the Nicaragua Canal was first conceived, most people saw it as a geopolitical move by China – similar to those of France and the US with the Panama Canal more than 100 years ago. 'However, considering that nothing has been done other than expanding six kilometres of a gravel road, it seems that either the Chinese government pulled out of the deal or the sponsor, Chinese billionaire Wang Jing, ran out of financial resources,' he says.
'As a geopolitical decision,' Gutierrez says, 'the Nicaragua Canal made a lot of sense for the Chinese, as they will have full control over the crossing of goods between the Atlantic and the Pacific. Diplomatic relations between Panama and China should not impact that decision, as it does not mean that the Chinese will have control over the Panama Canal. However, financially and environmentally, the Nicaragua Canal does not make sense.'
Global expansion, domestic security
China's expansion of its ports network in recent years has left many global powers concerned about the country's maritime ambitions. However, the single most important fact about China is that it cannot feed itself – an issue that is becoming more pronounced as its youth flock to cities and away from the countryside.
Wladimiroff says that, despite recently adopting a more assertive approach to realpolitik, China continues to feel uncomfortable with international politics. 'The reality is that China is still learning and can be clumsy about it, much in the way other very large, inward-looking countries can be clumsy at times. I do not think this will change soon. They will continue to set conditions for receiving money and use their leverage in the short term, and perhaps not make friends for the long term.'
The number one state interest in China is to stay in power, and to do that the government needs to maintain the Chinese social contract, adds Wladimiroff. 'The Chinese social contract is one of power to the [ruling Communist] Party and harmony to the people – and harmony means food supplies from, among other places, Africa, as well as security and a better future.'
Stephen Mulrenan is a freelance journalist formerly based in Hong Kong and can contacted at stephen@prospect-media.net
---
'Win-win' strategy or debt trap?
Although Belt and Road has been described as the Chinese version of the Marshall Plan – the US initiative to rebuild Western European economies after the Second World War – China has been at pains to stress the inclusiveness and 'win-win' character of its strategy. For example, despite Kenya's mounting indebtedness to China, its SGR railway deal could be viewed as a useful 'win-win' case study for partnering countries.
The economic and environmental benefits to Kenya of the SGR deal include:
Kenyan businesses supplying all of the cement;
all of the railway cars being made in the country;
more than 25,000 Kenyans being employed and trained; and the addition of 33 crossing stations, as well as bridges and tunnels (to reduce the impact on wildlife).
The financing of Belt and Road-related infrastructure projects requires large-scale capital investment, and the Chinese government has estimated that total investment by China will amount to approximately $4tn.
However, those who argue that China's willingness to channel exorbitant amounts of money into countries ill-equipped to navigate such a huge debt trap for the purposes of obtaining economic and political leverage are quick to cite Sri Lanka's recent experiences.
In August 2016, the Sri Lankan government signed an agreement with China Harbour Engineering Company to resume work on a $1.4bn 'port city' in the capital, Colombo. Sri Lankan President Maithripala Sirisena suspended the project in early 2015 following unannounced visits by a Chinese submarine and warship to a Colombo container terminal owned by a Chinese state company – examples of what he saw as China's 'growing influence'.
Using Sri Lanka's $8bn of Chinese debt as leverage, Beijing threatened to abandon the island country altogether unless the project got back on track. The Sri Lankan government subsequently agreed to convert its debt into equity, which may ultimately lead to Chinese ownership of the projects.
While acknowledging that Chinese help and money will come with its own set of conditions, Caroline Berube, a partner with HJM Asia Law & Co and Senior Co-Chair of the IBA Asia Pacific Regional Forum, says that a country's decision to borrow money from Chinese state banks is made at its own discretion.
'Contract spirit, which is always advocated by Western countries, is the foundation of the market economy, and adherence to international treaties is one of the basic norms of international law,' she says. 'It is reasonable and normal that an observant party – China – uses legal means to make a default party – Sri Lanka – abide by and comply with a contract that was agreed upon by the two parties bilaterally and voluntarily.'
Pieter Steyn, a partner with Werksmans Attorneys and Vice-Chair of the IBA African Regional Forum, agrees: 'Conditionality with regard to aid, infrastructural and other projects and financing generally is the norm and not limited to Chinese projects. The Sri Lanka project is not unique in this regard.'