NDAs under fire as 'weaponising' mechanism to silence victims of sexual crimes

In October the UK government revealed plans to limit the use of gagging orders after a series of high-profile scandals exposed how wealthy employers continue to use such legal agreements to silence victims of sexual crimes.
The announcement comes a year after the revelations regarding film producer Harvey Weinstein, which sparked the #MeToo movement against sexual harassment and assault. The Weinstein case prompted considerable focus on the use of non-disclosure agreements (NDAs), which are understood to have been used to prevent his victims from speaking out, for at least 20 years.
Growing concern that there could be thousands of similar cases in the UK, prompted the House of Commons Women and Equalities Select Committee to conduct an inquiry into sexual harassment in the workplace earlier this year. It published a report in July which called for new measures to tackle sexual harassment at work.
The government is expected to publish a formal response to the report in the coming weeks. Under the proposals so far, it has outlined plans to: ban the use of NDAs to conceal a criminal act; impose a legal duty on employers to take effective measures to prevent sexual harassment; and launch a national database for reporting sexual harassment incidents.
Clare Murray, managing partner at employment and partnership specialists CM Murray, says shifting the onus of responsibility onto employers is particularly significant. 'This will mean that employers will have to take proactive steps to protect the workforce from sexual harassment,' she says. 'Legislation currently is much more reactive, and apart from the general obligation to protect the health and safety of workers, there is no positive obligation currently on employers to prevent sexual harassment at work. This should cause a seismic shift in the way employers seek to eradicate sexual harassment at work.'
This should cause a seismic shift in the way employers seek to eradicate sexual harassment at work
Clare Murray
Managing partner, CM Murray
Zelda Perkins, Weinstein's former assistant, is among those calling for the burden to be shifted away from victims and onto employers. She is one of several former Miramax employees who came forward in November 2017 two decades after signing a NDA in exchange for a financial settlement that prevented her from reporting allegations that Weinstein had attempted to rape another employee.
Perkins describes the government's proposals as 'hugely positive' as she continues to ask questions of the legal profession regarding NDAs as well as the environment and culture that enabled behaviour like Weinstein's to go unchecked. 'I think as a layperson you know we all have a duty,' she told Global Insight in an exclusive interview. 'If you find there's an issue we have a duty to highlight this so that the law can be made more impeccable…this isn't about my individual agreement. It's about the weaponising of NDAs, and maybe they shouldn't ever be available for use in these sorts of circumstances.'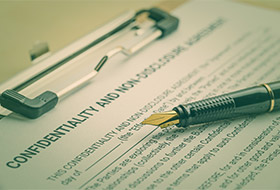 Iain Miller is a partner specialising in regulation and public law at Kingsley Napley. He agrees that employers have a responsibility to use NDAs ethically. 'There's one school of thought that says all NDAs should be banned, but there's also an accepted view that organisations can enter into NDAs for commercial purposes,' he says. 'My feeling is that NDAs should exist, but there should be much greater care over their use in an employment landscape.'
Elise Groulx Diggs, an international human rights lawyer, an Associate Tenant at Doughty Street Chambers and Vice-Chair of the IBA Business Human Rights Committee, says the issue of NDAs overshadows a broader cultural threat of abuse of power. 'To me the failure is really about the wider issue of due process,' she says. 'There have been many institutional failures and disincentives, including threats that put pressure on women and other victims not to complain, to remain silent about cases of abuse and harassment. This remains a really big cultural issue that has been going on for so long and NDAs were just one of a number of tools that were "slapped on top" of workplace cultures to enforce silence. It's about the domination of one group by another, just in this case it's men dominating women in the workplace or men dominating people lower down on the totem pole.'
Regulatory challenge
The UK's government's proposals move it closer to the US, where six states have already passed laws to impose limits on private companies using NDAs in sexual harassment cases. At least 10 other states are considering similar legislation.
A week after the UK announced its plans, a MP in the House of Lords exercised parliamentary privilege to name Topshop owner Sir Philip Green as the businessman who obtained a privacy injunction to prevent UK media from publishing allegations made against him by former employees. Dubbed the British #MeToo scandal, this and other cases have prompted renewed questions about the role of lawyers in preventing allegations being reported to the appropriate authorities.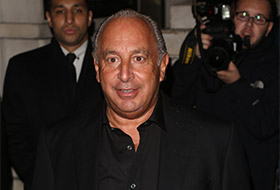 Sir Phillip Green
The Solicitors Regulation Authority (SRA) issued a notice in March 2018 warning lawyers about the risks posed by NDAs. This move was commended by the Select Committee in its July report. However, it noted legal regulators could still do more to advise lawyers on the repercussions 'if they sexually harass clients or colleagues or if they misuse NDAs to silence victims of sexual harassment.'
The notice prompted a steady rise in reported incidents of sexual harassment or misconduct within law firms. The SRA received 19 reports of cases in the six months from 1 November 2017 and 1 June 2018, compared with 12 cases for the whole of the previous 12-month period. The regulator is currently investigating more than 50 ongoing cases related to sexual misconduct. Eight of these involve NDAs being used to conceal sexual harassment.
It's unknown when the SRA will report its findings, but Miller is encouraged that so many lawyers are coming forward. 'What would have previously been seen as an HR issue is now a regulatory issue and as well as HR consequences there are also reporting obligations to the SRA,' he says. 'The level of tolerance has definitely reduced and now it's about encouraging an environment where these acts can't take place and an environment where people feel they can speak out.'