Cambodia: confusion and fear as voters head to the polls

When a relative asked Vicheika Kann about compulsory voting in Cambodia, she was taken aback. 'I was shock[ed] when my relative asked me, "Is it illegal if I don't go to vote?",' Kann, a journalist with radio network Voice of America, said in early July 2018.
Cambodia does not have a law prohibiting voter abstention, but it's hardly surprising that many citizens are confused. In the run-up to national elections on 29 July, government officials have been railing against those calling for a vote boycott, threatening them with fines and prison. People who don't vote, say some officials, might be considered treasonous.
It's the sixth time the country has held national elections since becoming a nominal democracy in the early 1990s. Twenty parties are contesting this year's election, but the government's main opposition was dissolved last year and its seats redistributed, leaving the ruling Cambodian People's Party (CPP) with no true competition.
While the government has pointed to the 19 other parties as proof of a vigorous democracy, the bulk of them are in fact miniscule and recently formed. Some are widely derided as little more than CPP puppets.
Supporters of the small Grassroots Democratic Party take part in a rally on the outskirts of Phnom Penh.
Members of the former opposition, the now-defunct Cambodia National Rescue Party (CNRP) – which garnered 44 per cent of the popular vote at the last election in 2013 – have urged would-be supporters to stay home on election day.
'Boycotting that fake and dangerous election means that we uphold our ideals by remaining loyal to our people and determined to rescue our Motherland,' opposition leader Sam Rainsy, who currently lives in self-exile in France, wrote on social media.
Speaking at a press conference two weeks before polling day, National Election Commission Secretary-General Tep Nytha reportedly said such calls could be viewed as criminal activity. 'In a democratic country, the election is very important, so the campaign against the election or to disrupt people from going to vote is a crime,' AFP quoted him as saying.
In the week prior to the election, CPP officials filed a complaint against dozens of former CNRP members who have called for a voter boycott as part of its 'clean fingers' campaign – a reference to the indelible ink voters use, which shows they have cast their ballots. The ruling party has called these efforts tantamount to incitement, a crime punishable by up to two years in prison in Cambodia, and said they will fine offenders. Already, five former members have reportedly been found guilty by the Election Commission and fined $2,500 each.
I don't think they can call it a 'crime' for not voting or promoting a boycott in Cambodia, especially because no compulsory voting laws exist there
Felix Ng
Asia Pacific Regional Representative, IBA Criminal Law Committee
The government appears to be taking a broad interpretation of Cambodia's election law, whereby fines of up to $5,000 can be levied on any person who prevents voters from casting a ballot, or 'creates confusion resulting in the loss of confidence in the election'.
Those proscriptions fall under Article 142 of Cambodia's criminal code, one of dozens of controversial legislative amendments made in 2015, which were passed by both the ruling and opposition parties in spite of criticism.
Rights monitors at the time warned that the vaguely worded laws – which also ban non-governmental organisations from critiquing parties during the three-week campaign period, and permit security forces to campaign – would likely undermine any future election.
Felix Ng, Asia Pacific Regional Representative of the IBA's Criminal Law Committee, told Global Insight the legal argument against a boycott campaign appeared to be exaggerated. 'I don't think they can call it a "crime" for not voting or promoting a boycott in Cambodia, especially because no compulsory voting laws exist there,' he said.
'With an election in place, Cambodia is (supposedly) a democratic country with freedom of choice, so if the opposition party calls for a boycott, citizens could exercise their independent judgment to follow or not follow. There's no suggestion of coercion here – it's simply going too far by calling it a "crime" under these circumstances.'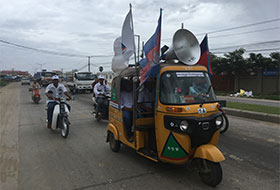 Motorbikes, cars and tuktuks joined the Grassroots Democratic Party rally. The party has virtually no funds for campaigning.
But, for voters, the boycott-related threats have hit their mark. Many Cambodians are afraid to return to work or be spotted by their local authorities without the stained finger showing they have voted. While some have planned trips to coincide with election day, and others never registered in the first place, many voters privately say they intend to spoil their ballot.
Meanwhile, supporters of the Grassroots Democratic Party (GDP) – perhaps the sole legitimate contender among the small parties – hope the right to vote trumps the right to boycott. 'CNRP was broken, and now we have a new choice for our Cambodians,' says GDP supporter Chuent Pich.
Asked his thoughts on the 'clean fingers' campaign, Pich replied: 'I want to raise up my rights in order to vote for the good leader for my country.'
---
(Header image: Ruling party supporters drive past ruling party billboards in central Phnom Penh as part of a large and highly organised campaign rally in late July.