Hong Kong: extradition bill 'dead' but not withdrawn despite outcry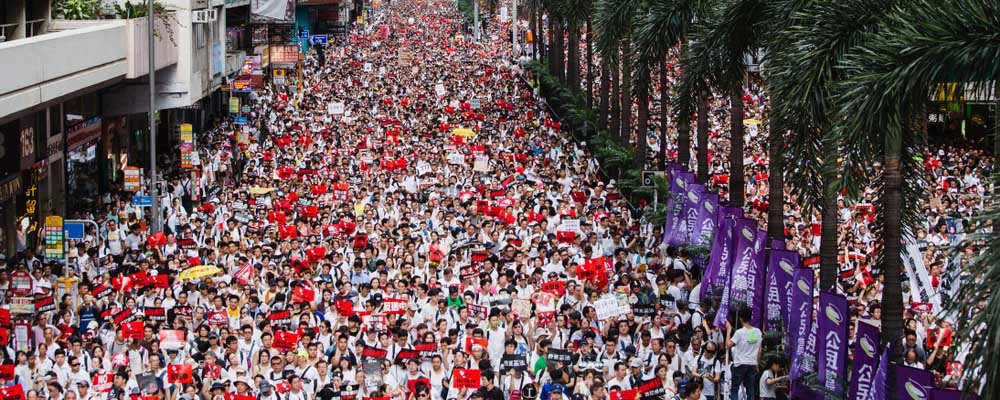 Pic: Anti-Extradition Bill demonstration, Hong Kong, 9 June 2019
Demonstrators stormed Hong Kong SAR's Legislative Council building on 1 July 2019 in protest at an extradition bill that many fear will give Beijing undue influence over the city's judiciary.
The brief occupation of the legislature represents a defining moment in the protests against the bill that have taken place in Hong Kong since late March.
Carrie Lam, Hong Kong's Chief Executive, suspended the bill on 15 June and has since described it as 'dead'. However, the bill has not been withdrawn and tensions remain high.
The Fugitive Offenders and Mutual Legal Assistance in Criminal Matters Legislation (Amendment) Bill 2019 was first proposed in February and would amend a colonial-era law from 1997 to allow for extraditions to mainland China, as well as to Macau and Taiwan, Republic of China.
The bill eliminates Hong Kong courts from intervening to deny extradition. Hong Kong courts can merely rubber stamp the extradition request
John Vernon
Former Chair, IBA Human Rights Law Committee
The law was initially proposed in the wake of a high-profile case in which a Hongkonger fled Taiwan after allegedly murdering his pregnant girlfriend while on holiday in Taipei. Despite the man's confession, Hong Kong was unable to prosecute him for the murder domestically. According to Chiu Chui-cheng, Deputy Minister of Taiwan's Mainland Affairs Council, Taipei's requests to discuss extradition were ignored by the Hong Kong authorities.
Hong Kong's government has defended the proposed law by describing it as necessary to 'plug the loopholes in Hong Kong's overall co-operation mechanism in criminal and juridical assistance matters'. Critics disagree and insist it could imperil Hongkongers who fall foul of the Chinese government.
Taiwan, which is self-governed but claimed by China, has called the legislation a threat to its own people and politically motivated. Its president, Tsai Ing-wen, supports the protests in Hong Kong. Few countries maintain extradition treaties with China amid concerns over China's human rights record and politicised judiciary.
Minor revisions were made to the bill in late May. For example, the bill now applies only to cases with a minimum sentence of seven years. Another amendment requires the requesting party to 'include safeguards that are in line with general human rights protection regarding special surrender arrangements, such as presumption of innocence, open trial, legal representation, right to cross-examine witnesses, no coerced confession, right to appeal, etc.'
Legislative Council building, Hong Kong
Opponents of the bill say such measures fall short. Chinese courts are routinely used to silence journalists, lawyers and rights activists, and in 2015 a group of Hong Kong booksellers claimed that Chinese authorities had kidnapped them before placing them in extrajudicial detention on the mainland.
Lawyers have been outspoken about the proposed legislation. In early June, some 3,000 lawyers and legal professionals held a rare silent protest march. Hong Kong's top legal bodies – the Hong Kong Bar Association (HKBA) and the Law Society of Hong Kong – have repeatedly condemned the proposed legislation, calling it unnecessary, harmful and a threat to the city's judicial independence.
The HKBA called the suspension of the bill insufficient. It urged the government to withdraw the bill and to confirm it would not reintroduce similar legislation. The HKBA also called for an independent inquiry into protest injuries.
Government lawyers meanwhile have argued that such laws are in line with international practice and mirror similar mechanisms in the UK and elsewhere.
Ronny Tong, a member of the Hong Kong Executive Council and a former HKBA chair, says the bill has a number of safeguards and is well in line with the UN's standards on extradition law. 'The government proposed that we would seek assurance from any state to ensure that trial would comply with the minimum guarantees set out in the [UN's International Covenant on Civil and Political Rights],' says Tong. 'There is nothing perverse, nothing evil, quite the contrary… however this is being portrayed as a law that would enable Hong Kong to move people who criticise [the] mainland to [the] mainland. Of course it's a travesty of the facts.'
The bill, Tong says, is similar to those found in Australia, Canada, New Zealand and the UK. However, the IBA's Human Rights Institute and six other international law groups have issued joint observations on the human rights implications of the bill, which highlight the key fallacies in such comparisons.
The UK legislation, for example, gives judges broad power to deny extradition on human rights grounds. This includes violations such as torture and degrading treatment, but also 'exposure to a compromised or corrupt judicial system, or to a system of justice that "flagrantly" fails to protect basic fair trial rights'.
While the Hong Kong bill has some safeguards, the joint observations call them deeply insufficient. For instance, the bill says that 'political offences' would be exempt. However, the joint observations point out that 'persecuting states do not realistically advertise the "political" nature of their allegations.'
'Most crucially [the bill] vests no power in a Hong Kong court to refuse extradition on the grounds that extradition exposes the person to violation of the UN's International Covenant on Civil and Political Rights or the Hong Kong Bill of Rights,' the joint observations note.
Under the proposed legislation, Hong Kong's Chief Executive has the power to determine whether safeguards are met. In their joint observations, the international law groups – alongside other critics of the bill – argue that it should be judges who make such determinations, rather than a leader appointed by Beijing.
John Vernon, a former Chair of the IBA Human Rights Law Committee and a partner at Dallas-based Vernon Law Group, says the most troubling aspect is that the bill 'excludes the Legislative Council in Hong Kong from any role in overseeing the extradition process, even though the Council has the power to block extraditions under existing law.'
'The bill's human rights standards are non-existent,' says Vernon. 'The bill eliminates Hong Kong courts from intervening to deny extradition. Hong Kong courts can merely rubber stamp the extradition request. Sadly, Hong Kong's leader, Carrie Lam, was selected by a small circle of pro-Beijing electors and not elected by the citizens of Hong Kong, meaning that there is no check and balance on her abuse of authority under the extradition amendments.'