Sport plans its comeback

The pandemic has stopped the world of sport in its tracks. With the first tentative steps to restart elite competition being taken, or considered, Global Insight assesses the wide-ranging implications.
When asked if the Tokyo Olympics could be postponed by another year if they couldn't be held in 2021, 'Tokyo 2020' President Yoshiro Mori was unequivocal. 'No. In that case, the Olympics will be scrapped.' Mori's statement at the end of April was remarkable for various reasons, not least because it offered certainty at a time of great uncertainty.
The Tokyo Olympics – if they do take place one year later in 2021 as currently proposed – will be the first truly global celebration in the aftermath of the Covid-19 pandemic. As such, they now have the potential to be the greatest modern Games in history. But as the Tokyo 2020 Organising Committee talks up the potential value proposition of a rescheduled Games, health experts have warned of the danger of hosting the event without vaccines or effective drugs being developed to treat Covid-19.
The potentially devastating impact of Covid-19 on the staging of global sports championships first became apparent at the end of January when the World Athletics Indoor Championships, scheduled to take place in Nanjing, China, in March 2020, were postponed until next year. As the virus initially spread across Asia, the devastating impact was felt by an increasing range of sports: domestic football leagues were halted; Formula 1 races suspended; the start of cricket's lucrative Indian Premier League was delayed indefinitely.
By March, major sporting events beyond Asia were hard hit: all European football leagues stopped, most with as little as half a dozen games remaining; the Euro 2020 football tournament was postponed until next year; and all professional tennis tournaments were cancelled, including Wimbledon for the first time since the Second World War.
At this stage, the International Olympic Committee (IOC), the Japanese Olympic Committee and the city of Tokyo were looking very much like outliers. And, on 25 February, IOC member Richard 'Dick' Pound described Olympic preparations as 'business as usual'. On 4 March, IOC president Thomas Bach insisted there'd been no talk of postponing the Olympics at that day's executive board meeting.
Less than three weeks later, however, the IOC succumbed to the inevitable and confirmed that the Games of the XXXII Olympiad were postponed until 2021. To put this in context, the Olympics have only been called off three times in their 124-year history; each of these occasions due to World Wars.
'It was a pretty confusing time for sports administrators, and everybody really wanted to ask governments and public health authorities, "what is it that I am precluded from doing",' says Max Duthie, a sports lawyer and partner at Bird & Bird in London. 'There's no criticism but it just wasn't terribly clear because people in different countries had taken different views, and it was all happening so quickly.' Duthie, who was appointed as legal officer for the British and Irish Lions rugby tour to Australia in 2013, and to New Zealand in 2017, adds: 'Generally, there would've been a hope and expectation, just like there is now, of continuing sports competitions where it was possible, partly because most people would want to do that but also because as soon as you start cancelling fixtures you run into the potential for legal issues, liability to broadcasters and sponsors and so on.'
Covid-19 and the Tokyo Olympics
22 January
Women's Olympic football qualifiers moved from Wuhan to Nanjing, then to Sydney.
25 January
IOC member Dick Pound says Olympic preparations are 'business as usual' (subsequently extended until 4 July behind closed doors).
3-11 March
IOC Olympic boxing qualifiers held in Amman, having been moved from Wuhan.
4 March
IOC president Thomas Bach says there is no talk of 'cancellation' or 'postponement'.
21 March
USA Track and Field and the Brazilian Olympic Committee respectively call for this year's Tokyo Olympics to be delayed.
22 March
The IOC gives itself a four-week deadline to make a decision on the postponement of Tokyo 2020.
24 March
The IOC confirms Tokyo 2020, due to begin on 24 July, is postponed until next year.
30 March
The Tokyo Olympic Games will start on 23 July 2021 and run to 8 August 2021. The Paralympic Games, originally due to start on 25 August 2020, will now take place between 24 August and 5 September 2021.
A question of liability
Rights holders have preferred that events be postponed, rather than cancelled – delaying the performance of their rights and obligations rather than immediately confronting the repercussions of non-delivery. Some have resisted postponing until the very last minute as they wait for governments to explicitly prohibit such activities, thereby indemnifying them against non-delivery.
According to the Olympic Charter, the Olympic Games are the exclusive property of the IOC, which owns all rights and data 'relating to their organisation, staging, exploitation, broadcasting, recording, representation, reproduction, access and dissemination in any form, and by any means or mechanism whatsoever, whether now existing or developed in the future, throughout the world in perpetuity'.
Satish Khandke, a corporate sports lawyer and partner at Charles Russell Speechlys in London, says the IOC would have considered a multitude of factors, such as broadcasting rights, sponsor relationships, venues and numerous agreements pertaining thereto, before making the decision to postpone. 'Liability is a legitimate consideration. Say you make the decision to cancel or postpone too early and it turns out that you could have hosted the event after all. In those circumstances, your insurance cover may not be valid, so it's important not to incur liability unnecessarily.'
A decision to postpone the Games was never going to be made by the Tokyo 2020 Organising Committee, says Shoichi Sugiyama, a partner at Tokyo firm Field-R Law Offices which provides boutique services in the fields of sports and entertainment law. 'At the beginning of March, the IOC, the Organising Committee and Japanese Prime Minister Shinzo Abe understood that it was impossible to hold the Olympics as scheduled. However, the Organising Committee had an obligation to host the Games in 2020 as per its host country agreement with the IOC.'
Article 66 of that agreement enabled the IOC to withdraw the Games from Tokyo if, among other things, 'the safety of participants would be seriously threatened or jeopardised for any reason whatsoever'. However, although this technically permitted the IOC to unilaterally terminate the contract and seek damages for breach of contract, Sugiyama says the Organising Committee would have been in a strong position when it came to the negotiation of related costs.
There's no criticism but it just wasn't terribly clear because people in different countries had taken different views, and it was all happening so quickly
Max Duthie
Partner, Bird & Bird, London
'At the time, a major world athletics event and world swimming event were due to be held in the United States,' he explains. 'Several discussions took place in the middle of March and a mutual decision to postpone the Olympics followed the postponement of these events, which had been agreed with various US broadcasters.' The agreement with the broadcasters set a precedent of sorts, enabling both the IOC and the Tokyo Organising Committee to commit to postponing the Olympics without breaching their own agreement.
Contract analysis
The need to entertain millions of people around the world, who've become used to multiple sports being readily available 52 weeks of the year (and who've craved their fix all the more through periods of lockdown), is a key driver for a swift return. Financial concerns are also important as sport generates hundreds of billions globally in revenue from the exploitation of commercial rights. While a significant part of this – such as food and drink sales, and ticketing – is derived on 'match days' that are no longer happening, broadcasting and sponsorship revenues continue and are typically the backbone of sports funding.
In the United Kingdom, bosses from a number of different sports warned of huge financial losses as a result of Covid-19 when they appeared before the Digital, Culture, Media and Sport legislative Committee. These included a £200m ($248m) 'hit' to the English Football League by September and a £380m ($471m) loss to the English and Wales Cricket Board, while cancelling England's Autumn tests was said to cost the Rugby Football Union £107m ($133m).
Japan's professional football league (J.League) started in 1993 and can trace its origins back to company clubs associated with well-known conglomerates, such as Mitsubishi Motors, Nissan and Toyota. At the beginning of the outbreak, J.League sponsors publicly announced that they would keep sponsoring the league throughout the crisis.
'The financial situation with Japanese football clubs is that 50 per cent of their revenues on average are sponsor fees,' says Sugiyama. 'Ticketing fees are approximately 15–20 per cent of revenues, so compared to the European style of business our J.League should find it easier to overcome the Covid-19 outbreak. But this is on the condition that sponsors continue to pay their sponsorship fees this year.'
Sports contracts in Japan fall under the jurisdiction of the country's Civil Code, with a new version enacted in April this year. Under the new Civil Code, it is possible to terminate an agreement without any cause attributable to either party. In such cases the country's risk allocation rules are applied. 'Our civil law has the risk principle that if the person who has the legal obligation can't perform their duty due to force majeure, then they couldn't be remunerated,' says Sugiyama.
'Not all of our sports contracts include force majeure articles, for example, baseball and football contracts do not include them,' he adds. 'I have seen some sponsorship agreements include force majeure articles, but they specifically stipulate the force majeure – for example earthquakes or typhoons. It is difficult for lawyers to clearly conclude that Covid-19 applies to force majeure if the article does not include the word "pandemic".'
The basic concept of force majeure – excusing non-performance under a contract due to events outside of one's control – is widely recognised around the world, but its application varies according to different legal systems. In some European countries, force majeure is implied into contracts, such as in France under its Civil Code, whereas in some Asian countries, such as China, it is codified under contract legislation. 'As I understand it, in some civil law jurisdictions, lots of what would have to be expressly set out in a contract under English law – such as a force majeure clause – is effectively enshrined in the contract as a result of the relevant contractual code,' says Duthie.
South Korea also operates a civil law legal system, although more recent legislation has been influenced by US law. Since the start of the pandemic there have been attempts to postpone the closing of, or other obligations under, contracts signed prior to the outbreak.
Unfortunately, it seems rare that 'pandemic' is expressly mentioned in force majeure clauses and consequently there are debates on its applicability and enforcement in Korea
Youn Nam Lee
Partner, Bae, Kim & Lee, Seoul
Seoul-based Bae, Kim & Lee entertainment and sports partner Youn Nam Lee says some buyers in mergers and acquisitions deals have considered risking breakup fees and cancelling contracts rather than paying the purchase price and closing deals.
'Unfortunately, it seems rare that "pandemic" is expressly mentioned in force majeure clauses and consequently there are debates on its applicability/enforcement in Korea,' she says. 'As Korea has not imposed a country-wide lockdown or a ban on overall business activity, it is unlikely that force majeure clauses will be triggered by Covid-19.'
There is no implied force majeure in common law jurisdictions so, in the absence of an expressed force majeure clause, if a party doesn't perform it is in breach of contract and that can lead to termination.
Australia and Hong Kong have a similar construct to the position under English law. 'Often, sophisticated contracts that have been drafted by lawyers will have a force majure clause at the back, alongside all the other so-called boiler plate clauses,' says Duthie. 'But people don't often think too much about those clauses. They are not always "standard" and ought to be carefully reviewed.'
India maintains a hybrid legal system with a mixture of civil law and common law, as well as religious law. On 13 March, the Board of Control for Cricket in India delayed the start of the Indian Premier League (IPL) for a month before suspending it indefinitely. Manavendra Mishra, a principal associate specialising in dispute resolution at Khaitan & Co in Mumbai, says the organisers and participants are faced with multiple considerations with the imminent threat of cancellation looming large.
'The title sponsors and other sponsors have committed substantial amounts to the IPL,' says Mishra. 'Some of them are contingent on the event happening and, while in some cases payment has already been made, there may be committed amounts that would be held back in the present scenario. There are likely to be renegotiations on terms in case the IPL does not take place this year.'
Where there is no force majeure clause in contracts, disgruntled parties may still seek alternative remedies – for example, under English law there is the doctrine of 'frustration', meaning if it is impossible to 'perform' the contract, then that contract is frustrated.
Duthie says that force majeure provisions are quite nuanced in that many of them have a 60-day period in which, if you can't perform a contract as a consequence of a force majeure, the other party can't terminate that contract for 60 days. 'A typical force majeure provision will mean that, for example, in the event of a typhoon or other calamity that prevents a party from fulfilling its obligations under a contract, that party's lack of performance will be excused and the contract will continue; there is clearly some sensible commercial rationale behind that.'
'Whereas "frustration" (the doctrine that will typically apply in the absence of a force majeure provision) is more of a blunt instrument,' explains Duthie. 'If it's impossible for a party to perform its obligations and the contract is "frustrated" then the contract comes to an end.'
Pandemic halts sport around the world
29 January
The World Athletics Indoor Championships, scheduled for Nanjing from 13–15 March, are postponed until next year.
30 January
China postpones the start of its domestic football season.
12 February
The Chinese Formula 1 Grand Prix in Shanghai, set for 17–19 April, is postponed.
13 February
The Singapore and Hong Kong legs of the World Rugby Sevens Series are moved from April to October.
24 February
The start of South Korea's football K-League is postponed.
25 February
World Team Table Tennis Championships in South Korea, due to be held from 22–29 March, are postponed until September; Japan's football J.League postpones all domestic games scheduled until the middle of March (subsequently extended until 4 July behind closed doors).
9 March
The Asian qualifiers for the 2022 FIFA World Cup in Qatar, due to be played in March and June are postponed; Japanese officials postpone the start of the professional baseball league season, scheduled for 20 March.
12 March
No professional tennis tournaments to be played anywhere in the world until at least 20 April (subsequently extended until 7 June).
13 March
In cricket, the Indian Premier League's start is delayed from 29 March until 15 April. In Football, the English Premier League is suspended until at least 3 April (subsequently extended until 30 April).
14 March
The start of the F1 season is suspended with the Bahrain and Vietnam Grands Prix, due to be held in March and April respectively, called off.
17 March
Euro 2020 competition postponed until 2021; Tennis' French Open postponed until September.
23 March
UEFA postpones the Champions League and Europa League finals, scheduled for 30 May and 27 May respectively. Talks ongoing to host both finals in August.
1 April
All Champions League and Europa League matches are suspended 'until further notice'; UEFA postpones all international matches until at least the end of June; and, Wimbledon, due to be held from 29 June to 12 July, is cancelled for the first since the Second World War, while all tennis is suspended until at least 13 July (subsequently extended until August at the earliest).
3 April
The English Premier League agrees the season will not resume 'until it is safe and appropriate to do so'. A provisional restart date of 17 June is subsequently agreed.
6 April
The summer football transfer window will be moved and contracts ending on 30 June will be extended for a short period under proposals agreed by football's major stakeholders.
16 April
The Board of Control for Cricket in India announces the 2020 Indian Premier League is suspended 'until further notice'.
24 April
South Korea's K-League season kicks off on 8 May behind closed doors after more than two months' delay.
Dispute resolution
In addition to contract analysis, sports lawyers are experiencing unprecedented demand for advice across various sports-specific areas. This is made more challenging by the multitude of stakeholders and the evolving nature of the crisis itself. 'There's a lot of focus on force majeure at the moment but you've got to understand what your clients are trying to achieve. It may not be enforcement of their contractual rights, which are really just a backdrop to commercial negotiations,' says Khandke.
Much of the discussion between sports bosses and governments is on the resumption of sporting events and fixtures in a manner consistent with public health guidance and government mandates. Other areas of focus include, disciplinary suspensions imposed before sport stopped and whether they are still 'meaningful'; how to feasibly dope test during lockdown; and legal issues around the pursuit of alternative sources of income, such as e-sport equivalents.
Meanwhile, a great deal of the potential for disputes lies around employment contracts. In football, for example, there are likely to be many cases of contractual non-payment or late payment, both in Asia and Europe, as a result of Covid-19. In Europe, employment contracts for many of the continent's top football leagues are standardised, with player contracts typically concluding on 30 June. 'I think it fair to say that in most, if not all, sports there will be an ambition, wherever possible and so long as it's safe to do so, to finish the current season,' says Duthie. 'That will avoid, or at least limit, the potentially catastrophic losses of revenue that might happen if the current season is not concluded.'
Japan's special measures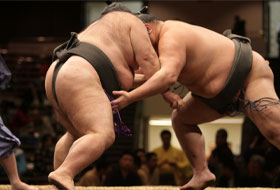 On 4 May, the Japan Sumo Association cancelled its Summer Grand Tournament, scheduled to take place in Tokyo between 24 May and 7 June, after initially being postponed by two weeks in response to the outbreak of Covid-19. The decision to cancel, for only the third time in sumo history, was made by the sumo's governing body after Prime Minister Abe extended the nation's state of emergency until the end of May.
Prime Minister Abe declared a month-long state of emergency – in which the movements and activities of citizens were restricted – on 7 April for seven prefectures, which included the urban areas in Fukuoka, Osaka Tokyo. This was subsequently extended to the entire nation on 16 April.
Prime Minister Abe had to revise Japan's special measures law in mid-March in order to grant prefectural governors the authority to expropriate private land and buildings to provide medical care. The existing special measures law was enacted in April 2012 in response to lessons learned from the 2009 H1N1 influenza pandemic (known as swine flu).
'Japan created a kind of pandemic act in 2012 that had to be amended for Covid-19 as the latter was not included in its scope,' says Shoichi Sugiyama, who also represents athletes or federations in his capacity as manager of the Japan Sports Arbitration Agency (JSAA). 'But it did not stipulate sanctions against non-compliance, so we have no compulsory article in any law in Japan.'
Fortunately, such sanctions have not been necessary, with the majority of the population staying at home during the state of emergency. Unfortunately, for Olympic athletes and governing bodies, this has led to a shortage in earnings.
'Olympic athletes have now lost the opportunity that the Games would have brought,' says Sugiyama. 'Of course, they would like their new or existing sponsors to support them but, unfortunately, Japanese company business is suspended so only a few companies can keep providing that level of support to individual athletes. This is also true for national sports governing bodies, who are also dependent on sponsorship.'
'But if this season is to be concluded, it seems inevitable that that will happen well into the summer. Then you've got a bunch of questions to resolve about, for example, those players whose contracts will ordinarily have expired before the conclusion of the season,' he says.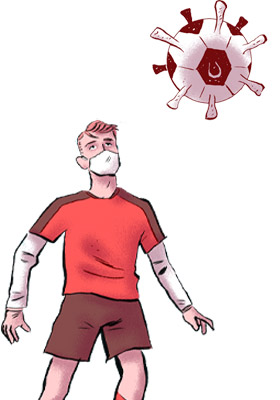 FIFA (Fédération Internationale de Football Association) issued guidelines for rule changes and temporary dispensations on 7 April, effectively recommending that those contracts ought to be considered as extended. However, it's a matter for the law in each jurisdiction as to what effect FIFA's guidance will have on contracts between players and clubs ending on 30 June. 'From an English law perspective, where you have a contract between an athlete and their club, it seems to be quite a difficult proposition for a third party (for example, an international governing body like FIFA) to make any sort of ruling that would affect the date on which the contract expired, and it will be difficult for players and clubs to wrestle with that issues,' says Duthie.
Duthie believes it's inevitable that there will be cases where players are due to leave clubs at the end of June and transfer to other clubs, and the player is faced with the difficult decision about whether to continue for the rest of the season or to transfer to that other club.
Many sporting entities are not hugely profitable at the best of times, with player salaries their biggest outgoing. 'So, there might well be lots of legal issues for sports entities to deal with post-virus, whenever that is,' says Duthie. 'It seems inevitable that for those sports entities that do suffer a significant loss in revenue, they're going to have to cut their costs and if that's in terms of players then there might well be litigation that follows.'
Health and safety
Given that event owners and sports businesses have both moral and legal duties of care, and other legal obligations, to staff, contractors, athletes and fans, the prevailing emphasis for now is on political and health considerations, which are taking priority over any strict legal or liability, or even contractual, considerations. 'When we talk about what do we do once we get out of this, we're all in danger of losing sight of the massive cost that everyone who's died or been very ill has had to pay,' says Duthie. 'But the clients I'm working with are at absolute pains to stress that any return to sport must be subject to being entirely consistent with what the public health authorities are saying. Nobody is cutting corners on any of that.'
Ticketing fees are approximately 15–20 per cent of J.League revenues, so compared to the European style of business our J.League should find it easier to overcome the Covid-19 outbreak
Shoichi Sugiyama
Partner, Field-R Law Offices, Tokyo
Anybody involved in sport must now assess in what circumstances the sector can restart. 'Everyone recognises that it isn't business as usual at the moment,' says Khandke. 'Sports are public events, and so everyone is adopting a respectful tone and is focused on commercial solution-finding.' In future, that is likely to include an increased tendency to reference 'pandemic' in any force majeure clause.
Stephen Mulrenan is a partner at Lextel Partners Ltd. He can be contacted at smulrenan@lextelpartners.com