In memoriam: M Cherif Bassiouni

'A legendary figure in the field of international criminal law'
Cherif Bassiouni was a friend and mentor to many leading figures in the field of international law who describe him as a warm, generous and wise man. The Egyptian-American law professor, known to the world as the 'father of international criminal law', passed away in his home on 25 September, aged 79.
Bassiouni held many positions with the United Nations, including Chair of the Drafting Committee of the Diplomatic Conference on the Establishment of an International Criminal Court, in 1998. The following year, he was nominated for the Nobel Peace Prize for his work on global justice.
Bassiouni worked on the draft of a treaty on crimes against humanity, which the International Law Commission referred to the Sixth Committee of the General Assembly for review in September. As recently as 2011, Bassiouni simultaneously chaired the Bahrain Independent Committee of Inquiry and the International Commission of Inquiry on Libya.
'The passing of Professor M Cherif Bassiouni represents an enormous loss for all those involved in the advancement of international criminal justice,' says the IBA's Executive Director, Mark Ellis. 'In this field, Cherif was a giant. He, as much as any individual, was responsible for the growth of international justice in the twentieth century. He will be missed greatly.'
Diane Orentlicher is Professor of International Law at American University and former Deputy for War Crimes Issues in the United States Department of State. 'Cherif was exceptionally accomplished, cultivated, elegant and cosmopolitan; qualities one does not often find in someone as warm and generous as Cherif,' says Orentlicher. 'He excelled in the art of collegiality, motivating and mentoring generations of leading experts in international criminal law. Cherif routinely transformed the hard work of building new institutions, like the International Criminal Court, and of challenging abusive authorities into an inspiring collaboration.'
Bassiouni chaired the UN commission of experts that investigate the crimes committed in the former Yugoslavia. It was during a briefing on the report that Justice Richard Goldstone, the first Chief Prosecutor of the International Criminal Tribunal for the former Yugoslavia (ICTY), had his first meeting with Bassiouni. 'Soon after my appointment as the first Chief Prosecutor of the ICTY, I invited Cherif to spend a week in The Hague taking our skeleton staff through his report. That was my first meeting with Cherif. We formed an immediate and close friendship, which continued for the following quarter-century,' Goldstone says. 'Cherif Bassiouni was a legendary figure in the field of international criminal law. His contribution to laws of armed conflict was comprehensive, his writings were prodigious and his leadership in paving the way for the first truly international criminal court was crucial.'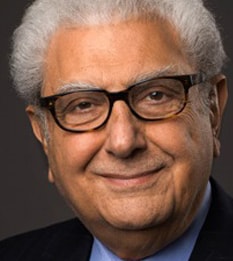 To many, Bassiouni's work and teachings were an inspiration. David Scheffer is Director of the Center for International Human Rights. 'I first met Cherif Bassiouni in 1993 when, as the Senior Adviser and Counsel to the US Permanent Representative to the UN, Madeleine Albright,' says Scheffer, 'I travelled to Chicago to visit with him and examine his research on the atrocity crimes in the Balkans. His presentation had a profound effect on me. From that day forward, my career would be the quest for accountability for atrocity crimes, and it still is. I owe that inspiration to Cherif Bassiouni. His life's work will live for the ages.'
From 1964 to 2009, Bassiouni taught at DePaul University, where he was a founding member of the International Human Rights Law Institute. He was also one of the founders, and later President, of the International Institute of Higher Studies in Criminal Sciences in Siracusa, Italy. He was a mentor to many he knew and he shared his knowledge through his teachings at renowned institutions in the US as well as abroad. He is also the author of two-dozen books and more than 250 articles. 'Cherif Bassiouni is the founder of modern international criminal law,' says David M Crane, Founding Chief Prosecutor, Special Court for Sierra Leone. 'He shaped our thinking, developed rules of procedure and evidence, commented on jurisprudence, and affected completely the way we now hold those who commit atrocities accountable for their crimes.
'Cherif was a quiet mentor and friend to me, who listened to my challenges while in West Africa and provided solid and practical guidance on various issues. His quiet smile always gave me assurance and confidence.'
Bassiouni actively participated in a number of IBA projects, including as a member of the IBA's groundbreaking Terrorism Task Force, created after 9/11. In 2013, Cherif received the Stockholm Human Rights Award, an annual award presented by the IBA, the International Legal Assistance Consortium and the Swedish Bar Association for extraordinary achievements in the field of human rights.
'Cherif Bassiouni was my mentor and dear friend. His passion for international criminal law was contagious, his vision was singular, and his charisma was legendary. Cherif was an unstoppable force of nature, and for his unmatched contributions to the field, he deserves to be remembered as the "Father of International Criminal Law",' says Michael Scharf, Professor of Law and Director of the Frederick K Cox International Law Center at Case Western Reserve University School of Law.