Avoiding a tech-driven dystopia

From contact tracing apps to teleworking, the Covid-19 pandemic has accelerated the adoption of technologies. Global Insight explores the opportunities and challenges for individuals, businesses, governments and regulators in a tech-driven future.
Technology has played a major role in the fight against the Covid-19 pandemic. As offices, shops and factories closed down, the use of communications apps, such as Zoom and Skype, rocketed. Despite poor internet connectivity and less-than-perfect cameras, microphones and speakers, digital technology has kept many working in a way that would have been impossible just a decade ago.
The accelerated adoption of technologies has brought forward practices that would have been adopted years later, raising hopes and concerns in equal measure. For instance, epidemiologists deployed natural data processing algorithms to scrape the web for the most useful papers on fighting the virus. Labs worked flat out to decode the virus' gene sequences, to work on vaccines and antibody tests. International scientific cooperation has cut the response to this virus – and possibly future ones – from years to months. The landscape for scientific collaboration promises to yield faster results across a wider range of problems – from medicine and environmental research – than ever before.
Governments, on the other hand, have been slower to cooperate. The devolved parliamentary system in the United Kingdom, for example, has created an unhelpful patchwork of conflicting messages about how businesses and members of the public can emerge from lockdown.
Surveillance
One common thread to those strategies has been to boost state surveillance. The social and legal issues that technologies, such as contact tracing, create could profoundly challenge notions of privacy and data protection – not just in public places, but in the workspace too as more organisations develop hybrid machine-human businesses.
A four-legged robot dog called SPOT patrols a park as it undergoes testing to be deployed as a safe distancing ambassador. Singapore, 8 May 2020. REUTERS/Edgar Su
Adrien Basdevant, a lawyer who specialises in new technologies and digital rights and member of the Paris Bar, says that the trade-off between liberty and surveillance implied by such devices represents a fundamental change in social and legal norms. In Singapore, for example, the country's mobile app TraceTogether required citizens to voluntarily register their phone numbers on the app to process 'anonymised data, encrypted locally on the users' phones.' The app then contacts people who have come into close proximity with a person who has tested positive for the virus so they can self-isolate if necessary. People effectively surrender access to their data in order not to be subject to severe lockdown restrictions – heralding in an era of what Basdevant has called 'individual control.'
'The control of individuals may well be in its third age, extending Michel Foucault's reasoning,' Basdevant wrote recently. 'Not that of exclusion, nor that of inclusions by confinement or quarantine, but of certain freedom to come and go, in return for real-time tracking and surveillance.'
Today's most relevant legal frameworks – the Council of Europe's Convention 108 and the European Union's General Data Protection Regulation – may not fully meet the challenges involved. Well-documented biases in the deployment of algorithms in mass surveillance need to be tackled if countries are to move towards consensual surveillance, both during the current pandemic and in future outbreaks. Standards governing the legal and technical definitions of data anonymisation, such as the WP29's Opinion No 5, adopted by EU advisory body Article 29 Working Group in 2014, are also out of date. And China's more muscular regime of proximity tracking throws up further potential risks, such as political and racial discrimination, if the state decides to refocus the software once the pandemic is over.
Hybrid working
In many ways, the pandemic has been a mass social experiment in the future of flexible working. The impact of that style of working is likely to be mixed – but technology is playing a sometimes surprising role in enabling more inclusion in the workplace. A recent special issue by The Future of Work research centre, of the University of Bath, shows just how different experiences can be. While continuously accessible human-machine interactions intensify the experience of homeworking, people trying to balance family life and work, and other potentially disadvantaged groups, could benefit.
Sociology researchers Heejung Chung and Mariska van der Horst show how organisations' new-found adoption of flexitime and teleworking can help women sustain their careers after childbirth. 'These new ways of working can be constructed as human resource tools to help boost minority and underrepresented groups of individuals at work,' they say.
The strategy and consultancy centre Accenture cautions that while such flexible arrangements could help many businesses 'bounce back better,' standard employment contracts may need to change. 'Increased levels of employee monitoring and new security measures will demand explicit and implicit contracts with employees,' it said in a recent report entitled 5 Priorities to Help Reopen and Reinvent Your Business. Pressure to enforce gig-style, pay-as-you work conditions may be hard to resist.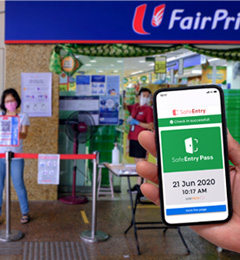 Show of SafeEntry (digital contact tracing app) on phone at NTUC Fairprice supermarket. Woman scanning entry code in the background. Singapore, 21 June 2020. Shutterstock.com/kandl stock
Supply chain nationalism
The acceleration of trends for remote working and online shopping is also driving businesses to incorporate more artificial intelligence (AI) into their operations. Supply chains have been sorely tested during the pandemic. Some essential goods – toilet roll and hand sanitiser being the most obvious examples – were in short supply in the UK during the first weeks of the lockdown. Local stores and organic food producers saw sudden spikes in sales as people began to focus more on health. Taken together, the reality of unstable international supply chains and what might be called supply chain nationalism – where people opt for locally produced products – could be served better by AI-driven businesses.
The control of individuals may well be in its third age… freedom to come and go, in return for real-time tracking and surveillance
Adrien Basdevant
French lawyer and member of the Paris Bar
'AI offers the potential for companies to build resilience into manufacturing operations and supply chains, while at the same time minimising cost and damage to margins,' according to a recent briefing note by Boston Consultancy Group. 'AI enables manufacturers to optimise cost in each factory through predictive maintenance and better planning. It also allows them to operate a larger number of small, efficient facilities nearer to customers – rather than a few massive factories in low-wage nations – by deploying advanced manufacturing technologies, such as 3D printing and autonomous robots, that require few workers.'
Recent guidance by the UK's Information Commissioner's Office requires such businesses to ensure that the decisions taken by AI routines are transparent and explainable – a difficult task for programs that involve machine learning, as the programmers often do not know how the decisions taken have been arrived at.
Optimism on climate
Former UN Secretary General Ban Ki-moon has recently suggested that the lessons learned from dealing with the pandemic could be applied to the climate crisis. Air pollution naturally plummeted when airlines around the world cancelled flights and governments restricted all but essential travel on the roads.
However, there is tension between countries that may seek to reduce environmental protections to boost economic growth, and those committed to a greener future. Disrupted technology supply chains could potentially cause delays in new solar and wind power projects over the next couple of years.
On the other hand, lockdowns have highlighted the human cost of polluting technologies. 'In China alone, it's estimated that 78,000 fewer people will die this year because of reduced pollution during the shutdown,' according to Ben Abbott, assistant professor of Ecosystem Ecology at Brigham Young University. 'The improvements in air pollution have been clearest in the areas with the largest shutdowns, including China and northern Italy, but we've seen improvements in California, Utah and just about everywhere with available data.'
Abbott believes that a renewed focus on human health issues following the pandemic could keep the issue on the table. 'This crisis shows that when we recognise how serious a problem it is, we can take global action to stop it. Pollution kills more than 15 million people every year. Are we willing to take drastic measures to save those lives as well?'
In an age of increasingly interconnected crises, a human-centred approach to finding technological solutions may be the most compelling way forward.
Arthur Piper is a freelance journalist. He can be contacted at arthurpiper@mac.com