The battle for the news

Journalism has been reshaped and – in the eyes of some – imperilled by the power of the tech giants in today's world. Global Insight assesses how journalism can continue to perform its vital role in society as publishers, lawmakers, tech companies and regulators seek to mould its future.
When Facebook blocked all news links for Australian users in mid-February, it was a key standoff in an increasingly fierce dispute between factions in the news industry globally and the world's digital tech giants.
Facebook's action was a response to the Australian government's proposed News Media Bargaining Code, which was introduced to compel the likes of Google and Facebook to negotiate payment with Australian media companies for their content.
We neither take nor ask for the content for which we were being asked to pay a potentially exorbitant price
Nick Clegg
Vice President of Global Affairs, Facebook
Nick Clegg, Facebook's Vice President of Global Affairs, said in a later statement that the code fundamentally misunderstood Facebook's relationship with publishers. Additionally, 'assertions – repeated widely in recent days – that Facebook steals or takes original journalism for its own benefit always were and remain false. We neither take nor ask for the content for which we were being asked to pay a potentially exorbitant price'.
But Facebook faced backlash when its blocking and removal of content that it designated 'news' also included public safety alerts relating to issues like Covid-19 and bushfires.
The situation was ultimately resolved by several amendments being made to the code. These included exempting tech giants from being forced to negotiate payments if they made – and could prove they had – a 'significant contribution' to the Australian news industry.
Clegg said that, under the law as it had been proposed, 'Facebook would have been forced to pay potentially unlimited amounts of money to multi-national media conglomerates under an arbitration system that deliberately misdescribes the relationship between publishers and Facebook'.
Since the amendments were made, Google has signed deals in Australia as part of its 'Showcase' initiative involving news publishers, having initially said that it might delay its rollout there when the code was first mooted.
Commentators ranging from press advocates to technology lawyers and competition law experts have keenly followed each instalment in the conflict between the Australian government and Facebook. The Australian media code is the most direct attempt by any nation state, so far, to bring the technology giants to heel.
But critics are worried by the 'capitulation' to Facebook, arguing that, inevitably, smaller news outlets will financially lose out.
'Josh Frydenberg, our treasurer, who's responsible for this bill, is going to allow the tech companies to avoid the [penalty] card being imposed', says Justin Quill, a media lawyer and partner at Australian law firm Thomson Geer. 'And what's happened is just a development in an ongoing negotiation. This isn't over, by any stretch.'
The price of news
In recent years, several jurisdictions have pursued various, more or less direct, legal routes to force the big technology companies to pay for news. In October 2020, for example, a French court upheld an earlier order from the country's competition authority requiring Google to negotiate payment terms with media businesses under the 'neighbouring rights' enshrined by the EU's overhaul of copyright law in 2019.
Why has the relationship between the likes of Facebook and Google and the news industry become so acrimonious – and why is it attracting government scrutiny? The answer is a potent combination of power, concerns for the future of journalism and the intense commercial pressures of our digital age.
Print sales continue to decline at a precipitous rate, and so securing – and markedly expanding – an online readership has become vital to the survival of journalism. However, the rise of social media has transformed how we access news on a daily basis, while outpacing traditional competition laws and regulation.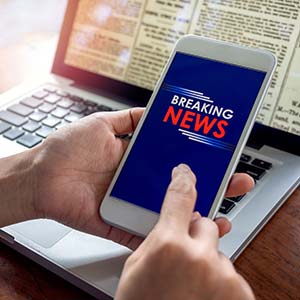 One of the major shifts is that, from the user's perspective, 'the services are free', says Ruben Hofmann, Co-Chair of the IBA IP Transactions and Technology Transfer Subcommittee and a partner at German firm Heuking Kühn Lüer Wojtek.
'It's very smart', he says. 'But while we're not paying with Euros, we are paying with our data.' What we search for or click on while browsing Google or Facebook is invaluable.
And the targeted advertising using this data is big business. In 2019, the UK's Competition and Markets Authority (CMA) reported that, in 2018, Google accounted for over 90 per cent of all revenues earned from search advertising in the UK, at around £6bn. In the same year, Facebook accounted for nearly half of all display advertising revenues in the UK, at more than £2bn.
One big tech sector player that has expressed its support for Australia's new media code and stated its willingness to comply with it, should it apply, is Microsoft. 'Many people don't realize how much money is at stake', says the company's Corporate Vice President and General Counsel, Dev Stahlkopf. 'Google and Facebook control a majority of the $325bn global digital advertising market.'
But very little of such profit goes to news outlets, says Danielle Coffey, Senior Vice President and General Counsel of North American trade association, the News Media Alliance (NMA). In June 2020, the NMA published a white paper detailing its concerns over Google's significant power as the 'dominant online platform'.
'We've been trying to rely on advertising revenue', she says, 'but we can't, because we only get 30-50 cents for every dollar – because they're the dominant monopolies'.
And since headlines and story snippets attract users to the large tech platforms, says Stahlkopf, this is another opportunity for those platforms to profit by displaying ads to these viewers.
Currently, he says, this means they 'get the benefit, often without any compensation to the news organisations who have invested in creating and publishing quality news'.
In recent years, everyone from the UK's The Guardian newspaper to the Association of National Advertisers in the US, to the UK government-commissioned Cairncross Review into the sustainability of high-quality journalism in the digital landscape, has raised questions about the transparency of digital advertising, including the high 'ad-tech tax' cost of advertising on social media platforms.
A spokesperson for Google tells Global Insight that 'every news organization can choose whether or not they want to be included in [our] services. Most do because it results in valuable free traffic. Each month, people click through from Google Search and Google News results to publishers' websites more than 24 billion times. The traffic we send to news sites helps publishers increase their readership, build trust with readers and earn meaningful revenue'.
Meanwhile, Facebook's Nick Clegg said in his response to the Australian code that, in 2020, 'Facebook generated approximately 5.1 billion free referrals to Australian publishers worth an estimated AU$407m to the news industry'.
The tech giants respond
But the tech giants aren't blind to the scrutiny they've been under. In October 2020, Google announced that it has earmarked over $1bn to pay media outlets to display curated content on its news apps, initially as part of a three-year programme.
Publishers chosen by Google on a market-by-market basis will be paid to provide blurbs for the company's News Showcase app, which will give readers free access to certain paywalled articles.
Many news outlets have signed up to Showcase. Stefan Ottlitz, Head of Product Development at German newspaper Der Spiegel, said in 2020 that the initiative shows Google is 'serious about supporting quality journalism in Germany'.
A Google spokesperson tells Global Insight that an added Showcase feature enables users to register with publishers, who 'can use that information as they would on their own websites'.
But some are sceptical about how much this will genuinely help them to build their readerships or drive traffic their way. One news industry source, speaking on condition of anonymity, expressed the view to Global Insight that $1bn isn't a significant amount, given the size of the industry and the value of the media.
'In 2020, Google's global digital advertising revenue was $147bn', says Stahlkopf. 'Their commitment the same year to spend $1bn with news publishers accounts for less than 0.7 per cent of the company's digital advertising revenue'.
The industry source also says that accepting money in this way could tacitly validate Google's behaviour in areas such as the 'fair use' of content. Google's spokesperson highlights however that the only content that appears in Showcase is what 'publisher partners have curated. Google does not choose the content'.
The law's shortcomings
Facebook and Google are arguably the gatekeepers of the digital world in which we now live. However, conventional regulations for preventing market dominance and anti-competitive behaviour – laws established to scrutinise the industry impact of mergers and acquisitions – don't map easily onto this new frontier, where Google is the backdrop to everything we do.
'A big challenge for authorities around the world is that concepts within competition have morphed over the years', says Michelle Meagher, a UK competition lawyer, author and co-founder of think tank the Inclusive Competition Forum.
'The business models of these tech companies can be hard to fit into what might be seen as "anti-competitive". Their products are free. Consumers love them. It can be hard to pinpoint where the "harm" is', says Meagher.
Until now, litigation has really been the primary – sometimes only – recourse for aggrieved parties. 'My clients who are not satisfied ask me what to do', says Ruben Hofmann. 'I tell them, in my experience of Google, for as long we don't launch a formal lawsuit, they will not react. But as soon we do, two or three lawyers [who represent the company in Germany] will call.'
However, while the threat of litigation might resolve issues on a case-by-case basis, many feel that what's missing is a rigorous regulatory framework to fundamentally shake up practices within the sector.
The business models of these tech companies can be hard to fit into what might be seen as 'anti-competitive'
Michelle Meagher
Co-Founder, Inclusive Competition Forum
That's why Danielle Coffey at the NMA has been closely watching events in Australia. The Australian government, she argues, 'threatened the duopolies' business model in which they monetize news content that they receive for free', by adding an arbitral process, 'so they came to deals really quick'.
When you're dealing with businesses with such financial power and influence, she continues, such mechanisms are needed 'to get them to pay'.
In 2019, the NMA championed the Journalism Competition and Preservation Act before the US House of Representatives. This bill proposed a 'safe harbour' – a four-year shield against US antitrust laws – for news publishers to collectively negotiate better business arrangements with online content providers. While it was struck down then, it was reintroduced in January this year.
Coffey is hopeful that the Australian government's decision – though she notes that the media code's details are still being worked out – is creating a ripple effect, building on rulings like those in France and elsewhere in Europe.
In the US, which, historically, has been far less keen to regulate than elsewhere. 'Congress is all excited', she says, 'because they want legislation here that looks like what's going on in Australia'.
The plight of small publishers
One of the NMA's objectives, via laws like the 'safe harbour' bill, and collective negotiation, is to ensure equitable treatment for the many smaller news outlets. 'We have a tremendous local base of journalism across our country', says Coffey. When it comes to Google Showcase, 'unless they're going to compensate publishers with 2000 little side deals, we'll see a loss'.
This is why Michelle Meagher – for whom Australia is 'a stage on which the initial conflict is happening' – is dismayed by the Australian government's decision to allow Facebook and Google (via Showcase) to effectively opt-out of the new media code by inking their own deals.
'We have a situation where a regulated entity can say, well, if we self-regulate, we don't have to be affected by this law, which was precisely designed to target us', she says.
Meagher is concerned that only 'rearranging the deck chairs' this way will create unnecessary complexity and will see smaller media companies and news publishers continue to lose out. 'How many of these smaller organisations will get anywhere near the $1 billion Google is handing out?', she asks. 'It actually entrenches many of the monopolies we're already talking about.'
Meagher thinks it's inevitable that Google 'will end up boosting the links of the companies it has the best relationships with', So far, in Australia, the organisations that Google has signed Showcase licensing deals with include Nine Entertainment Co Holdings and Seven West Media – two of Australia's biggest media companies – and Rupert Murdoch's News Corp, which owns two thirds of the country's newspapers and is, itself, regularly subject to competition-related scrutiny.
'Our objective is to encompass local and national organizations of all sizes that are providing comprehensive current events coverage in the public interest of their communities', says Google's spokesperson. 'Of those 500+ publications currently under license for News Showcase, over 90 per cent are considered local, regional, or community newspapers. Local is a particular focus for Showcase.'
In the UK, Facebook tells Global Insight that it pays tens of millions of pounds to national and local outlets to be part of Facebook News, its dedicated tab for journalism. It has also extended its Community News Project, which funds 80 trainee reporters in local newsrooms across the country.
Changing attitudes
For Meagher, this period is a crucial one, a 'germination phase' for changing attitudes towards the status quo globally, particularly – as Coffey also observes – in the UK and Europe.
'What's interesting is the seriousness with which the authorities seem to be taking the problem at its biggest level', Meagher says, as government reports into the digital sector reveal the power of the online giants. She sees an opportunity as the UK formulates its post-Brexit competition regime.
Meagher highlights the CMA's recommendations to the UK government in December for new competition rules to be implemented by a Digital Markets Unit. As proposed, this would include giving companies identified as having 'substantial and embedded market power' Strategic Market Status, subject to an enforceable code of conduct, specific merger rules and 'pro-competitive interventions'.
There has been little international legislation, and national legal systems have not been powerful enough to make a counter-position to Google
Ruben Hofmann
Co-Chair, IBA IP Transactions and Technology Transfer Subcommittee
In Europe, Ruben Hofmann echoes Meagher in raising the potential impact of the EU's proposed Digital Services Act and Digital Markets Act, which were put forward in December 2020. The latter could be a 'game-changer in the same way the GDPR [the EU General Data Protection Regulation] was for data protection', says Hofmann, because it will require all the big social media players 'to explain to customers why they are being shown certain advertisements – the logic of the algorithm'.
Those critical of the social media giants hope that new legislation will demystify their practices and hold them to account – at the EU level and if nation states can evolve a consistent approach, via precedent and example. 'There has been little international legislation', says Hofmann, 'and national legal systems have not been powerful enough to make a counter-position to Google'.
But it's a question mark for Meagher whether the introduction of a designation for small and medium-sized businesses and 'other ground-breaking stuff' in reports such as the CMA's Online Platforms and Digital Advertising Market Study – which include 'proposing breaking up Google and Facebook, if needed' – become a reality.
Meagher is worried that the more radical ideas will be diluted. She points to the emphasis in the section on digital of the Penrose Report – a review of UK competition policy published in September 2020 – on limiting the powers of a new regulator.
For commentators like Meagher, a thorough evaluation of whether existing competition laws are still fit for purpose in our digital age, followed by the implementation of significant reforms, is essential. Without these, establishing a truly democratic future for journalism online – one enabling equal access to the work of smaller, often local, media outlets alongside the output of well-funded networks and newspapers owned by multinational conglomerates – will be impossible to achieve.
'Unless there is external pressure, the large platforms have no real incentive to fairly compensate publishers', says Stahlkopf, who supports new regulatory and legislative approaches that target this 'power imbalance'.
It's imperative that news organisations, especially smaller and independent ones, 'get a fair share of the money their work generates for large digital platforms', he says. 'These platforms must be required to negotiate in good faith with publishers.'
But has the landscape changed irrevocably? Rajesh Sreenivasan is Secretary-Treasurer of the IBA Media Law Committee and Head of the TMT Practice at Singapore firm Rajah & Tann. Unlike some other commentators, he defines the actual 'democratisation of content' today as the 'experiential difference' of identifying news articles purely by Facebook or Google interfaces, rather than tied to a specific newspaper, publisher or media company.
He argues that news outlets only rejected this when online ad revenue no longer cushioned a loss of brand identity.
'Right from the start, there should have been a better – or more nuanced – discussion between social media platforms and news agencies', says Sreenivasan.
He suggests this discussion should have been one where the 'commercial value' these platforms contribute could be brought to bear and the news agencies 'wouldn't feel like they're being held to ransom'. The reality, he says, 'is that the market has shifted. Your old corner shop has become Apple News or Google'.
Some parts of the news media sector may dispute this version of events. But Sreenivasan highlights how social media sites – driven by instant reactions and what gets clicks – have changed the way we digest the news.
'The news cycles have compressed to such an extent that the value proposition of newspapers as a going concern today is questionable', he says. 'Long-form analysis will also suffer as a result.' Sreenivasan anticipates that we could end up with a 'bifurcated model' online. This will divide between the 'immediate, knee-jerk news reporting' already familiar on social media and the longer form content on websites established by people frustrated by the lack of such writing anywhere else online.
'We'll need to see how that content can be adequately supported on high-visibility platforms like Google News', he says.
Could newspapers and their content become the exclusive preserve of those privileged enough to be able to pay the subscription prices necessary to keep them viable? Trying to predict the future – particularly where it involves the internet – is tricky. However, as we advance into 2021, the sense that we're rapidly approaching a crossroads in the relationship between news outlets and the gatekeepers of social media is unshakeable.
Tom Wicker is a freelance journalist and can be contacted at tomw@tomwicker.org.