Boardroom blame: the new focus on executive liability

There's an increased appetite for holding directors and executives to account for corporate offences through fines or even jail sentences. Global Insight assesses where the line should be drawn between personal negligence and company failings.
Executives worldwide have always faced the prospect of jail time if caught defrauding the company to line their own pockets.
In May 2016, for example, Federico Buenrostro Jr, former head of the biggest public sector pension fund in the United States, was sentenced to four and a half years in prison after he admitted accepting more than $200,000 in bribes and trying to steer investments to help an associate. Last August, a South Korean court sentenced Samsung's billionaire heir-apparent Lee Jae-yong to five years in prison for bribery, corruption and embezzlement.
However, successful prosecutions of directors for other corporate offences – such as operating a cartel, paying bribes to win contracts, acting corruptly, manipulating financial market benchmarks, or causing death through negligence – are low. This is the case even where there might be compelling evidence that boards knew of the risks and dangers (or ought to have known), or actively connived to cut costs, boost profits and enhance market share.
For instance, although a number of banks have faced million-dollar fines for their involvement in the Libor scandal, no executive has been jailed for rigging the bank rate. In 2015, trader Tom Hayes was sentenced to 14 years in prison, subsequently cut to 11 years, for conspiracy to manipulate the Libor rate to enhance his trading results. But, he was found to have acted of his own accord, with no responsibility at a higher executive level.
Hayes, for his part, argued that he was a scapegoat for a broader system of wrongdoing. He claimed that rate manipulation was common practice at the banks where he worked and that senior managers were aware.
In another example, BP has been held to account for the Deepwater Horizon fire and oil spill in the Gulf of Mexico in 2010 – the worst environmental disaster in US history – but, again, no senior executives have faced charges.
In September 2014, a US District Judge ruled BP was guilty of gross negligence and wilful misconduct, while the company later agreed to pay a $20bn settlement to address environmental and economic damages – part of an ongoing compensation process.
As for personal accountability, in December 2015, US prosecutors dropped manslaughter charges against two BP rig supervisors connected to the disaster, making it highly unlikely that criminal charges will be brought against any individuals. At the time, the US government was criticised for focusing on mid-ranking employees rather than senior executives.
Executives in the firing line
In the last few years, however, there's been an increased appetite globally to make board directors and senior executives more accountable for corporate actions that break the law.
One reason for this, says Peter Rees QC of 39 Essex Chambers and former Chair of the IBA's Corporate Counsel Forum, is that, in the vast majority of cases, the effect of holding the company liable is the payment of large fines and adverse impacts on the company's share price. Therefore, it is the shareholders who suffer – not the executives who may have contributed to the problem in the first place.
Rees, former General Counsel of Shell, adds that the prospect of personal action against directors may help curb executives undertaking, or encouraging subordinates to undertake, activities that can give rise to corporate offences.
It may be more appropriate to target individuals rather than the whole board. 'Boards should not be accountable for the actions of employees, save in very rare circumstances – nor, indeed, of executives,' says Rees. 'Equally, executives should not be personally accountable for the actions of rogue employees whose actions could not be prevented by reasonable corporate practices and procedures.'
But, while executives may be responsible for setting the risk appetite and 'tone' of the organisation, not every corporate offence should result in them or other individuals being penalised.
'If an executive is acting bona fide in what he or she thinks is in the best interests of the company and the shareholders, is not consciously acting in breach of law or regulation of which he/she ought to be aware, and is not acting for any personal gain, then it may be more appropriate for the company to be penalised rather than the individual,' says Rees.
Boards should not be accountable for the actions of employees, save in very rare circumstances – nor, indeed, of executives
Peter Rees QC
39 Essex Chambers; Former Chair, IBA Corporate Counsel Forum
Often, it is the lack of evidence showing criminal intent or criminal negligence that prevents direct action against executives.
Matt Reinhard is a member of Miller & Chevalier and Co-Chair of the IBA's Criminal Law Committee. 'At best, board minutes might reflect questions directed at professional advisers about whether a course of action is legal, or what legal risks are associated with a particular strategy,' he says. 'But, the fact that executives or board members sought to understand and evaluate legal risk is a far cry from showing intent to violate the law.
'Unless you can find evidence that an executive deliberately tried to mislead a board and caused a company to engage in criminal activity, it's hard to send an executive to jail.'
Rees agrees that executives should only go to jail in circumstances where they have been deeply and personally involved in actions that have caused death or serious personal injury. Instead, he recommends that directors found liable should face significant fines – such as payment of compensation to those financially affected – and be barred from future corporate activity, such as holding directorships.
Justice in the boardroom
Even so, there are clear moves globally to hold executives to account. New legislation is one way forward. For example, South Africa has made the move to hold company directors and managers criminally liable for cartel activity. They can now face fines of up to 500,000 rand ($40,000) and a maximum of ten years' imprisonment if they cause their companies to take part in cartel conduct or 'knowingly acquiesce' in such conduct.
'There is nothing quite like making board directors personally liable for the criminal behaviour of their organisations to move issues such as cartel activity and anti-competitive behaviour to the top of the risk agenda,' says Pieter Steyn, Director at Werksmans and former Co-Chair of the IBA's Antitrust Committee.
In the US, the Foreign Corrupt Practices Act has long imposed prison terms and fines on individuals directly for illegally influencing foreign officials with personal payments or rewards, while more recent legislation also looks to make individuals more directly accountable for their actions. Under the Dodd-Frank Act 2010, for example, the chair of a company's audit committee has a responsibility to sign off financial statements and can be held liable for non-compliance or misstatements.
The US Department of Justice has also signalled a willingness to prosecute individuals on an equal footing with companies.
'Corporations can only commit crimes through flesh-and-blood people,' said Sally Yates, the former Deputy Attorney General, in a memo issued in September 2015. 'The public needs to have confidence that there is one system of justice and it applies equally, regardless of whether that crime occurs on a street corner or in a boardroom.'
The Yates Memo followed years of criticism that executives at leading companies and financial firms escaped jail for their role in the financial crisis. It effectively instructs civil and criminal investigators to target individual employees from the beginning. It also states that companies cannot gain credit for cooperating with the government – and thus receive a substantial reduction in fines and obtain a civil settlement rather than a criminal charge – unless they identify employees and turn over evidence against them, 'regardless of their position, status or seniority'.
Under Yates' predecessor, former Attorney General Eric Holder Jr, no top Wall Street executives went to prison, although prosecutors did collect billions of dollars in financial penalties.
Indeed, it is the banking sector and the failure to prosecute major corporates during the financial crisis that is driving calls for greater executive liability. Up until now, Iceland has often been credited as the only country to put its top bankers in jail for their direct involvement in the banking crash when Kaupthing Bank's chairman, former chief executive officer and other executives were convicted in 2015 of market manipulation and fraud.
The failure to prosecute top Wall Street executives following the financial crisis has prompted a new approach by the Department of Justice.
But, courts and enforcement agencies elsewhere are beginning to make their powers felt. In January 2017, Spain's leading criminal court, the Audiencia Nacional, handed out two-year prison sentences to five former executives of regional bank Novacaixagalicia 'due to the gravity of the crime, its macroeconomic impact and in order to avoid impunity'.
In the United Kingdom, there is also a move to clamp down on banking executives. In June 2017, for example, the Serious Fraud Office charged Barclays plc, parent company of Barclays Bank, its former chief executive and three former executives with conspiracy to commit fraud, as well as providing unlawful financial assistance over the bank's dealings with Qatar at the height of the financial crisis.
Justice [should apply] equally, regardless of whether that crime occurs on a street corner or in a boardroom
Sally Yates
Former US Deputy Attorney General
The trial is scheduled for 2019. Barclays said that it was considering its position in relation to the charges, while the executives have indicated that they would plead not guilty.
Risk of corporate paralysis
Felix Ehrat, Group General Counsel of Novartis and Chair of the IBA's Corporate Counsel Forum, says that executives should not be held culpable for perceived wrong business decision-making.
'Unless executives have shown grossly negligent and unprofessional conduct in violation of statutory board obligations, the company did not conduct any customary due diligence in a material M&A transaction, failed to engage professional advice without specific reason, did not consider substantiated multiple and continued warnings not to proceed, and so on – I can see no reason why they should be criminally investigated or even be accountable.
'Shareholders may lose confidence in them and demand replacements, but they should not be held legally liable for such real or perceived shortcomings. Otherwise, legitimate corporate and commercial activities could be paralysed.'
But, perhaps the more important issue is around the questions executives fail to ask, rather than the actions they take, says Ehrat. 'If board members never ask the right questions around the company's bribery and corruption policies, for example, or if non-executives fail to challenge management thinking, then this inaction can be very damaging. If boards operate a "code of silence" so that any potentially problematic behaviour is not discussed, this may give them the belief that they are immune from challenge or even prosecution because they were not aware of the risks or the conduct. This would be plainly wrong.'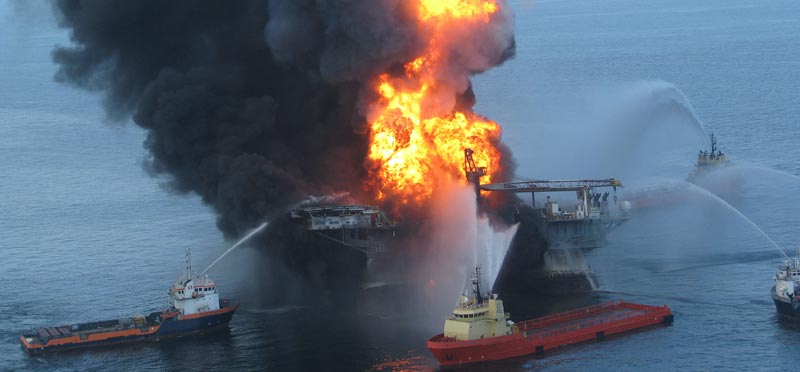 Fire boats battle an explosion at the offshore oil rig Deepwater Horizon. US Coast Guard Photo / Alamy Stock Photo
Many European Union countries are trying to exclude individuals from corporate settlements for corporate wrongdoing. For example, the UK's newly established offer of deferred prosecution agreements only apply to the company: individuals are not covered under the agreement, and the company may be forced to help supply evidence in the prosecution of executives and other individuals as part of the deal.
The Netherlands is taking a similar tack. Enide Perez, a partner at Sjöcrona Van Stigt and Co-Chair of the IBA's Criminal Law Committee, says that, 'with increasing frequency, the Dutch Public Prosecutor's Office explicitly exempts executives from settlements with corporations. This may have to do with the fact that the judicial authorities feel that corporations, especially the larger ones, are little affected by fines – although efforts are being made to change this through revenue-related fines – so they fear that this is not a sufficient deterrent.'
The fact that executives or board members sought to understand and evaluate legal risk is a far cry from showing intent to violate the law
Matt Reinhard
Member, Miller & Chevalier; Co-Chair, IBA Criminal Law Committee
There is also ongoing legal debate over whether it should be made easier to impose prison sentences on the top executive layer of a company. 'The problem with holding managers or senior executives criminally responsible is that, often, they cannot actually be criminally blamed for the mistakes that might have been made,' says Erik Witjens, an associate at Sjöcrona Van Stigt.
'It is vital to ensure that criminal liability and accountability – both for managers and individuals, as well as the company itself – does not develop into some sort of risk liability that does not coincide with criminal law and its core values.'
Neil Hodge is a freelance journalist and can be contacted at neil@neilhodge.co.uk