Managing supply chain risks in the Covid-19 era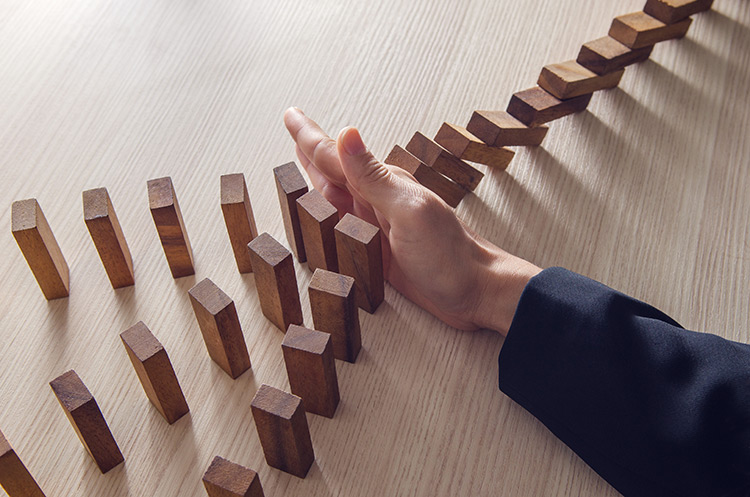 Supply chain management is increasingly important at board level, but it has taken on even greater prominence with the advent of the Covid-19 pandemic. The virus has disrupted companies' due diligence and put pressure on the resiliency of businesses' supply chains. Neil Hodge considers the pandemic's impact and how companies can manage supply chains better in the future.
Supply chain management has gained prominence on most boards' risk registers over the past decade. Companies are increasingly checking whether the entities they do business with are acting illegally, unethically, or are ignoring best practice, especially around sensitive areas such as child labour, slavery/bonded labour and workplace health and safety. This due diligence goes beyond the obvious need to monitor whether suppliers can do the work or deliver the goods/services they're being commissioned for.
Major companies say they have much greater traceability regarding the companies that supply them directly, as well as those businesses providing goods and services to their suppliers. They're also more prepared to use their influence to ensure companies they have an 'indirect' relationship with – namely, those entities that provide goods or services to suppliers on that company's behalf – are bound by the same contractual obligations and expectations.
For example, it's increasingly common for major companies to say that the strict codes of conduct and practice already in place with direct tier one suppliers also apply to tier two, three and even tier four suppliers. This means that any contractor within its supply chain is bound by the same expectations of legal and ethical best practices.
However, explicit and draconian contracts are only as effective as the monitoring that enforces them. 'Supply chains are about more than just connecting companies, people and processes,' says Tony Harris, Global Vice President, Business Network Solutions at IT firm SAP Procurement Solutions. 'Organisations need to be able to truly see what goes on inside them. There is little point in having a supplier agree to your code of conduct if you aren't also going to audit them to ensure compliance.'
'Organisations need to be able to truly see what goes on inside supply chains. There is little point in having a supplier agree to your code of conduct if you aren't also going to audit them to ensure compliance'
Tony Harris, Global Vice President, Business Network Solutions, SAP Procurement Solutions
The pandemic's impact
The lengthy lockdowns caused by the Covid-19 pandemic have shown how precarious such oversight is in practice. Business interruption has caused trusted and approved suppliers to go bust, while an inability to source goods and materials quickly has forced some companies to switch contractors without conducting the usual levels of due diligence or without conducting site visits due to travel restrictions and health and safety concerns.
Approved suppliers may have also sub-contracted part of the work due to financial necessity, despite the terms of their contracts. Suddenly, 'tick-box' compliance exercises do not offer the same level of assurance anymore and supply chain mapping might not bear resemblance to reality.
Covid-19 has highlighted problem areas in supply chains regarding labour practices and a lack of health and safety. Suppliers to supermarkets and other retailers have faced complaints from unions that social distancing on factory floors has been 'non-existent'.
Workplace safety failings have also come under the spotlight after virus outbreaks were detected in dozens of food and meat processing plants in France, Germany, Ireland, Spain and the United Kingdom. Perhaps the most serious accusations of abuse of employee welfare involve Uighur Muslims in China being forced to produce personal protective equipment (PPE) to meet growing global demand, according to a New York Times report.
'Covid-19 has made scrutiny of supply chains harder because of the difficulties in conducting audits and, in some sectors, the need to change supply chains in response to the pandemic,' says Chris Wrigley, an associate director at law firm Osborne Clarke and co-lead of the firm's global compliance team. 'However, supplier due diligence should be ongoing and as restrictions ease, there will be opportunities to address gaps that have been created by the pandemic.'
'Supplier due diligence should be ongoing and as restrictions ease, there will be opportunities to address gaps that have been created by the pandemic'
Chris Wrigley, Associate Director, Osborne Clarke
Closer to home
Conducting physical checks on companies in far-flung parts of the globe during a lockdown is obviously important, but such due diligence shouldn't be limited to businesses operating overseas or in emerging markets.
A problem in monitoring supply chains is that companies tend to focus on getting greater assurance on working practices in high-risk countries – in the case of garment manufacturing, this would include Bangladesh, Cambodia, China, India and Pakistan for example – rather than looking at suppliers based locally. It's tempting to take it as 'read' that suppliers on their own doorsteps will act in accordance with their contractual obligations.
However, recent scandals in the UK have shown how fanciful such expectations can be.
In July UK fashion retailer Boohoo saw several of its major clients sever ties after an undercover reporter for The Times alleged that a factory believed to be one of its suppliers was paying its employees less than half the UK National Minimum Wage.
The reporter investigated a factory based in Leicester, then the only UK city to have its lockdown extended by two weeks because of a spike in Covid-19 cases. The factory was alleged not to have been complying with recommended social distancing measures, despite the local lockdown.
In a press statement, Boohoo said the company on the factory sign – Jaswal Fashions – had actually ceased trading in 2018 and was not one of its declared suppliers, and that a different company was using the premises. Boohoo said it was trying to establish the identity of the company now using the factory and why Boohoo garments were in its hands.
Within a few days of the investigation, Boohoo stated it would launch an immediate independent review of its UK supply chain, commit £10m to root out supply chain malpractice and speed up its independent third-party supply chain review with ethical audit and compliance specialists. The first update on its review will take place in September.
However, despite this, major retailers including Next, Asos and Zalando dropped Boohoo following the allegations, while one of its largest shareholders, Standard Life Aberdeen, also divested most of its stock in the company.
Meanwhile, in July, fashion company Quiz suspended a supplier and began an investigation after claims that a Leicester-based subcontractor to the supplier offered a worker just £3 ($3.77) an hour to make its clothes – the national minimum wage for people over 25 years old in the UK is £8.72 ($11) an hour. In a statement, Quiz said that the claims – if accurate – were 'totally unacceptable'.
Following the allegations concerning Leicester factories, the UK's National Crime Agency and the Gangmasters and Labour Abuse Authority (GLAA) were among agencies that visited a number of business premises in the Leicester area 'to assess some of the concerns that have been raised in respect of modern slavery', adding that further visits were likely to continue. As of August, they had not identified any offences under the Modern Slavery Act 2015.
The cases highlight two key issues: firstly, that supply chain due diligence needs to include locally-based companies and avoid assumptions that entities in developed markets do not need to be assiduously scrutinised; and that sub-contracting can pose risks, and might be more prevalent than companies think.
'There is an assumption that manufacturing close to home means good factory conditions and workers' rights. However, local doesn't guarantee ethical standards are met'
Flora Davidson,Co-Founder, SupplyCompass
Flora Davidson is Co-Founder of SupplyCompass, a company that provides end-to-end production software for fashion brands and manufacturers. She says 'there is an assumption that manufacturing close to home means good factory conditions and workers' rights. However, local doesn't guarantee ethical standards are met. Some of the most exceptional factories we've visited have been in India, Nepal and Sri Lanka.'
Davidson questions how retailers do not link low unit prices with the possibility of slave labour, low wages or abuse of employees. With products sold at such low prices 'it brings into question the factory conditions and wages of their tier 2 and 3 suppliers,' she says. 'The livelihoods of workers further down the value chain are so often missed out of the conversation.'
Sub-contracting and site visits
With regards to sub-contracting, Tim Deacon, a consultant solicitor at law firm Keystone Law, says there's nothing wrong with such an arrangement, but notes steps companies can take within their contracts to provide greater assurance. For example, rights to subcontract can be limited to an approved list, enabling due diligence to be undertaken on those subcontracting entities.
Further, breaches by a subcontractor can be made the responsibility of the main supplier or manufacturer to ensure they are incentivised to actively manage the relationship in compliance with the main agreement and to give options if breaches occur down the chain. Such contractual provisions, Deacon says, 'will like help to provide a framework for operating and managing the supply chain.'
Dalton Albrecht, Senior Vice-Chair of the IBA International Commerce and Distribution Committee and senior counsel at EY Law in Toronto, Canada, says 'there is no substitute for site visits', adding that it's 'vital to have "boots on the ground"'.
'There is no substitute for site visits […] it's vital to have 'boots on the ground'
Dalton Albrecht, Senior Vice-Chair, IBA International Commerce and Distribution Committee
'Visiting a company's premises shows you that the production exists; that the company is located where it says it is; that it doesn't employ children or use slave labour; that it follows health and safety at work guidelines; and that it is actually carrying out the work you have commissioned from it, rather than sub-contracting all or important parts of it,' says Albrecht.
He adds that companies should make it a necessity to conduct a site visit prior to engaging any company as a long-term supplier, and to schedule regular or periodic site visits while the contract is ongoing.
However, even when site visits are not possible or practical, there are still plenty of options available for companies to gain necessary assurance, says Albrecht. 'Site visits may be out of question for the time-being, but companies can still drill down and ask for a lot of information that can give them give them adequate assurance,' he says.
Albrecht suggests questions a business might ask, including about ownership details; the names/CVs of the management team; the number of employees; number of sites/offices; how many suppliers it may be reliant on to fulfil the company's orders; evidence that it has signed up to industry best practice; its code of conduct; and its history of regulatory/criminal fines or sanctions.
'There is absolutely no reason why you should not be able to obtain this kind of information on an ongoing basis if you have or are negotiating a long-term supply contract – nor is there any reason why a supplier can't provide it,' he says.
Avoiding disruption
The pandemic has also highlighted that many companies may not have the level of resiliency in their supply chains that they should. China's dominant role as the 'world's factory', for example, has meant that disruption caused by Covid-19 lockdowns has put global supply chains at risk. According to professional services firm Deloitte, more than 200 of the Fortune Global 500 firms have a presence in Wuhan, the highly industrialised province where the Covid-19 outbreak originated – and which was among the hardest hit economically by the lockdown.
Initially there was concern over the availability of supplies from China as it went into lockdown. The tables soon turned, however: China's recovery was stalled by a shortfall in orders from Europe and the United States as both regions simultaneously experienced some form of lockdown. Such scenarios cannot be ruled out from happening again, as countries brace for subsequent waves of the pandemic.
To ensure that production is not disrupted, says Albrecht, a company's procurement due diligence process needs to be much more thorough if they want to have assurance that suppliers are acting legally, ethically, in accordance with contractual terms, and that they are financially solvent and resilient.
'The lockdown has exposed just how fragile some supply chains are, especially for those companies that are over-reliant on one or maybe two key suppliers,' says Albrecht. 'Companies need to learn the lessons from the pandemic and ensure that they conduct checks not just to assess the legitimacy of the supplier(s) they are dealing with – whether it is a registered company, if it is actually based at the given address, whether it is sub-contracting parts or all of the work – but also whether it is financially strong enough to withstand a crisis, such as another lockdown.'
Albrecht recommends that in-house counsel prompt their companies' procurement officers to re-evaluate their supply chains, as well as their contract terms along with counsel. He suggests companies need to look at their contracts with suppliers and see what information they are entitled to have access to. 'If the contracts only allow for limited exchanges of information, they should be changed at the earliest opportunity,' says Albrecht. 'If a supplier is reluctant to provide more information, or refuses to do so, this should be red-flagged and risk-assessed.'
He also believes that companies should make it part of their terms and conditions – if they have not already done so – to ask for regular (quarterly) financial statements from key or large suppliers so they know whether they are at risk of going bust or defaulting on their contractual terms.
'Companies need to examine the cashflow of the suppliers they are dealing with,' he says. 'The pandemic has shown that too many companies are operating with heavy debt burdens that put them at risk if production is slowed down or interrupted completely. Companies sourcing goods or services need to do regular financial health checks of their suppliers, as well as consider their own resilience if one or more of these key suppliers goes out of business or refuses to deliver if , for example, their own government prohibits export as we have seen in the pandemic.'
Limiting damage
There is no 'cast iron' defence available for any company that has engaged a supplier that is complicit in slavery, child labour, or abuses of workers' safety or rights. A contract that only indemnifies the purchasing company for the failings or criminal behaviour of a supplier is unlikely to limit or defuse blame or keep a corporate reputation intact. Also – and even if such a contract can be enforced in a foreign jurisdiction with a possibly very different legal system – it may be difficult to obtain a damage award (and probably years after the fact).
However, says Albrecht, a company may be able to limit the damage that it may suffer as a result of its relationship with that supplier if it can show that there might be exceptional circumstances as to why it wasn't aware of the behaviour or conduct and that it acted diligently.
'If a company can show that it would normally conduct a site visit prior to formally engaging any new supplier, and that it would usually conduct annual or regular checks thereafter, it may be able to mitigate some of the damage as this could demonstrate that the company has robust vetting processes in place and takes supply chain monitoring seriously,' he says.
Albrecht adds that if a company only does a site visit at the beginning when it is about to engage the company as a supplier and there is no subsequent follow-up or monitoring, this is unlikely to prove much of a defence.