Cuba and sanctions: IBA and ONBC join forces to support transition to 'new legal reality'
RUTH GREEN
As the US eases trade restrictions with Cuba, a new training programme organised by the IBA and Cuba's National Organization of Collective Law Offices (ONBC) is set to prepare the country's lawyers for a new era of legal practice.
Cuba has an extremely active legal profession, but the country's traditionally closed economy and ban on private practice has limited the majority of Cuba's lawyers to working for state-run entities on solely domestic transactions.
This has created a knowledge gap that needs to be filled urgently, says former IBA President Fernando Peláez-Pier, who has been heavily involved in the IBA's ongoing work in Cuba.
'We must remember that the Cuban legal profession has exercised law in a limited fashion over the past five decades, mainly focusing on civil law, criminal law and disputes,' he says. 'Only a small group of Cuban lawyers over this period have had the opportunity to participate in international transactions or represent foreign companies' businesses and interests in Cuba. Cuban lawyers have excellent professional training but limited or no experience in international transactions.'
''

Our country is currently witnessing a reform of its economic model, driven by an agreed roadmap

Ariel Mantecón Ramos, President, ONBC
The recent shift in US-Cuban relations confirmed the demand for a nationwide training programme, says Mark Ellis, the IBA's Executive Director. 'Training lawyers to engage in international commercial transactions is even more urgent now since the normalisation of US-Cuban relations and there's a real eagerness from lawyers in Cuba to engage with the IBA,' says Ellis.
Although the programme starts this month, Peláez-Pier says the groundwork for the initiative began several years ago when Cuba's current President, Raúl Castro, first started to introduce economic reforms.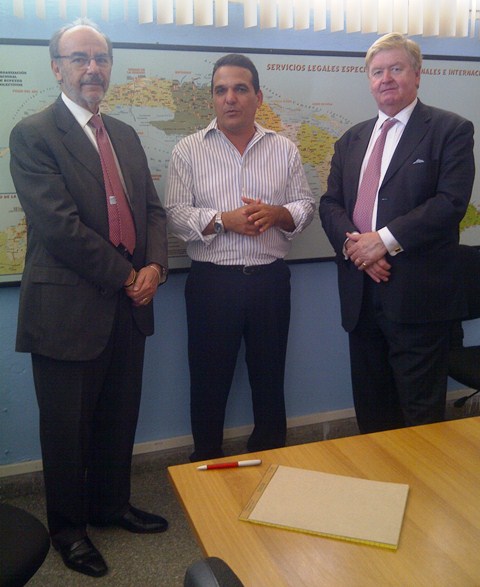 Former IBA Presidents Fernando Peláez-Pier (left) and Michael Reynolds (right) with ONBC President Ariel Mantecón Ramos (centre)
'This initiative emerged before the "normalisation" of relations between the US and Cuba, specifically when Raúl Castro introduced certain changes in the Cuban economy, which might be considered somewhat insignificant in a capitalist or free market system, but for Cuba were of great importance,' he says. 'It was then that the IBA proposed to re-establish contact with the relevant bodies that oversee the legal profession in Cuba to look at the possibility of contributing to the development and training of lawyers in certain subject areas.'
Together with the ONBC, which was established in 1965 and today oversees the practice of 187 law firms in Cuba, the IBA designed a training programme, which draws on the experience of the existing distance-learning LLM it runs in conjunction with the College of Law in London.
'We worked with the ONBC and picked a number of modules from the LLM that are specifically geared towards commercial lawyers,' says Ellis. 'We were most concerned with consistency and the idea was to take our courses that have already stood the rigour of educational oversight and select the most appropriate modules, translate them into Spanish and then our selected course leaders would teach from these modules.'
The one-year programme, which starts on 25 February, will cover four core practice areas – international sales, corporate M&A, intellectual property and arbitration. The four sessions will each take place over three days in the ONBC's resident training centre in Havana and will be attended by 40 lawyers from law firms across the island.
Elizabeth Moya Linares, Director of Development at the ONBC, believes the training will help local lawyers prepare for the prospect of participating in international cross-border work. 'Forty lawyers from all provinces across the country are due to attend the training and this is very important because it will help improve their ability to confront the new professional challenges they will encounter in this new economic scenario,' she says.
Ariel Mantecón Ramos, President of the ONBC, agrees the sessions will stand the lawyers in good stead to practise law in a new era for Cuba's economy. 'Our country is currently witnessing a reform of its economic model, driven by an agreed roadmap,' he says. 'This resolution will have a strong impact on foreign investment and on our relationship with issues outside of the economy, but this process will need to be accompanied by the law and the legal profession.
'The impact of this course will be seen in its ability to prepare our lawyers to confront this new legal reality by exposing them to topics in which they have only been able to gain partial expertise up until now. It will be a very positive experience for them.'
The IBA has selected course leaders from its pool of Spanish-speaking experts in each of the four subject areas. At the end of each session the lawyers will be required to prepare some work for assessment and after the final session in November they will be examined on all four topics.
Upon successful completion of the programme each lawyer will receive a corresponding diploma. All course costs will be covered by the IBA and it is hoped the programme will be extended to cover other practice areas in 2017.
Ellis says the decision by the ONBC to include an assessed component within the programme is indicative of the significance it holds for Cuba's legal profession. 'The ONBC and its President are the ones that have pushed for the lawyers to be examined at the end of the programme, which to me is very impressive and I think this shows they realise the importance of the commitment,' he says. 'Lawyers really understand that the legal profession will play a very important role in the transformation that is occurring in Cuba.'
---
Ruth Green is the IBA's Multimedia Journalist and can be contacted at ruth.green@int-bar.org