Human rights news from the IBA - December 2017/January 2018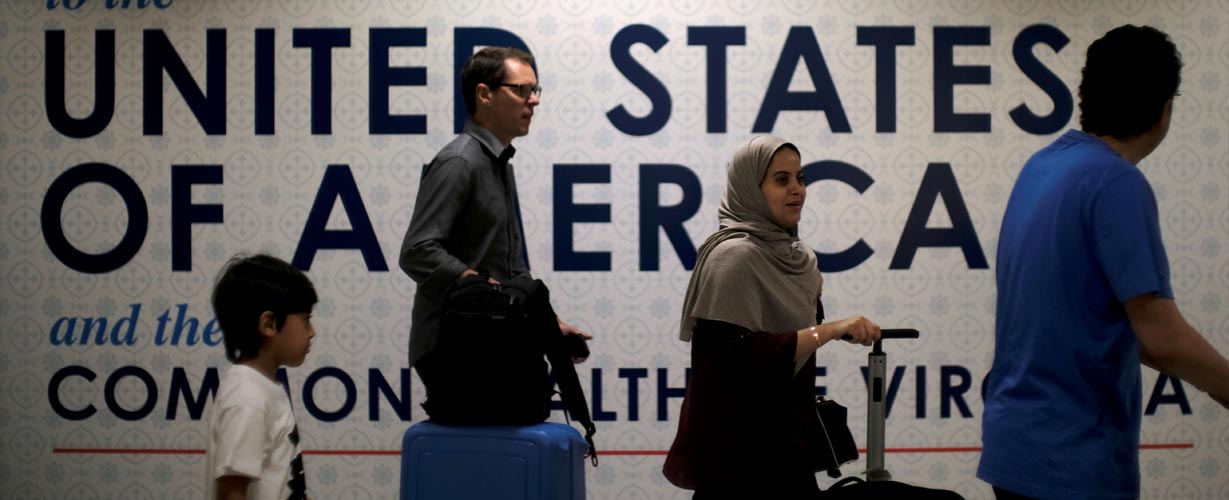 The voice of the next generation – the imperative of change in Israel and Palestine
Yola Verbruggen, IBA Multimedia Journalist
When a group of young Palestinian and Israeli lawyers sat down together for the first time just over two years ago, some of them had never met with anyone from 'the other side'. At least, not with anyone who wasn't wearing army fatigues. Some of them feared there would be arguments and silence. Yet, quickly, the young men and women realised how much they had in common.
The lawyers were brought together under a joint programme of the IBA and the CEELI Institute in Prague, entitled 'The voice of the next generation: the imperative of change in Israel and Palestine', to explore opportunities for conversation about the seemingly intractable conflict. The project began under the auspices of David W Rivkin, then President of the IBA, Mark Ellis, Executive Director of the IBA, and Homer Moyer, founder of the CEELI Institute and the main driver behind the implementation of the project.
Also crucial to the programme were Eytan Epstein and Essam Al Tamimi, an Israeli and a Palestinian lawyer, respectively, whose unlikely friendship inspired the project. 'In the past, the IBA has engaged in the region through training and technical assistance. I wanted to do something completely different. A more personal, intimate format focusing on individuals in the same way that I saw a friendship emerge between Eytan and Essam,' says Ellis.
Restricted freedom of movement and the lack of a common ground means Palestinians and Israelis hardly ever meet, says Efrat Shalev, one of the Israeli participants. At the same time, accounts of life on 'the other side' do not often make it into news reports in both Israel and Palestine. Conversations about daily life kindled trust and understanding between the lawyers. 'We have so much in common. It's hard to describe. They're different from you but they're not. Everybody has the same goals,' adds Shalev.
Yara Karram, a Palestinian citizen of Israel, says the project has opened her eyes. 'On a personal level, when you know about each other's daily lives, you can achieve so much more. You come to understand that a true dialogue can do wonders,' she says.
The conversations that led the young lawyers to find common ground during that first meeting in August 2015 were led by two Israeli and Palestinian therapists through a method, often used in couple's therapy, that fosters a dialogue focused on conscious listening and respect by repeating and reflecting on what others have said.
We are not going to change the world, but we hope to create momentum. We are throwing a pebble in a pond and letting the ripples move forward
Mark Ellis
IBA Executive Director
The participating lawyers say this technique was essential to making the meetings a success, and Moyer agrees. 'The project demonstrates that, even in a region in which the conflict, enmities and separation are greater, longer-standing and more deeply culturally embedded than just about anywhere else, it is still possible to bring a group like this together and develop relationships and have an honest, candid, constructive dialogue,' says Moyer.
Listening to each other's stories, the participants soon became aware that all of them had been affected by the conflict in one way or another. As Yotam Blaushild, an Israeli lawyer who says he hardly ever interacted with Palestinians before joining the programme, says: 'You find out these are people you can both speak with about professional issues, but also laugh with and talk to about hobbies, friends and family,' he says.
Various participants expressed frustration at the enduring conflict and the unwillingness or incapability of their leaders to reach an agreement. Epstein, who, like some of the participants, worries about the impact the conflict has on his children, is not confident that peace is possible under the current leaderships. 'Solutions exist for all the issues that are on the agenda. These agreements have been written, they're there.
That's not the issue. I believe they also have the support of the vast majority of the population on both sides. It is about personalities, ambitions, courage and political agendas,' he says.
Personal relationships are essential, says Aaron Miller, Vice President at the Woodrow Wilson International Center for Scholars, formerly an advisor on Arab-Israeli negotiations to six secretaries of state, who was a guest speaker at the IBA-CEELI project.
'Governments can't legislate or make peace, only people can do that. Personal interactions are critically important to the transformation of attitudes. The IBA programme deals with young adults who, if they can engage successfully, can become force multipliers. They are in a position now to affect others through their own work and social relationships. That, in my view, is the importance and value of the IBA programme,' says Miller.
Meeting the group has not been easy for everyone, as both sides often do not accept interaction with 'the other'. Palestinian anti-normalisation regulations, as one Palestinian lawyer explained, prohibit a 'connection with the occupier'. The Palestinian lawyer explained that, before joining the programme, he had interacted with Israelis only as soldiers at check-points. But now, he says, 'I can see the other side of the story'.
The participants expressed a strong desire to continue with the project, to ensure that others in their communities could benefit from it as well. Yasmin Mansour, who grew up as a Palestinian in Israel, explains that the marginalisation she faces as a woman and a Palestinian has contributed to her resolve to contribute to a solution to the conflict. 'Every boundary that I break through comes with the responsibility to help others break through those as well,' she says.
Acknowledging the sensitivity regarding personal repercussions for those involved in the project, discussions are now being held about how to build on the project's success, says Ellis. 'We are not likely to change the world, but we hope to create momentum. We are throwing a pebble in a pond and letting the ripples move forward.'
---
IBAHRI submits amicus briefs to US courts in travel ban cases
Prompted by the comments of President Donald Trump and other United States Executive Branch officials questioning the validity of judicial rulings, and denigrating the motives and integrity of US federal judges, the IBA's Human Rights Institute (IBAHRI) has submitted amicus curiae briefs to US courts in the pending travel ban cases.
In the amicus briefs, the IBAHRI urges the courts to consider international law principles regarding judicial independence and due process rights of refugees in assessing the travel bans.
Global law firms Debevoise & Plimpton, DLA Piper and Simpson Thacher & Bartlett fulfilled an IBAHRI request to research, draft and file the amicus briefs with the Fourth and Ninth Circuits. In both courts, federal judges had issued partial injunctions blocking key provisions of President Trump's controversial Proclamation 9645, the successor to prior travel ban executive orders.
The amicus briefs were filed on 17 November 2017 in support of plaintiffs-appellees in the Fourth Circuit case of International Refugee Assistance Project v Trump and on 22 November 2017 in the Ninth Circuit case of Hawaii v Trump.
The briefs address the impact of Proclamation 9645 on the due process rights of refugees. International law agreements and federal law commit the US to provide due process protections to refugees within its borders, and prohibit the US from discrimination against refugees based on national origin or religion. By placing a blanket ban on individuals from certain countries, the Proclamation effectively violates these commitments.
---
UN seminar on preventing torture in custody and detention
The IBAHRI took part in a United Nations Human Rights Seminar on 6 October, which examined safeguards for preventing torture and other cruel, inhuman or degrading punishment in police custody and pre-trial detention. A broad range of stakeholders sought to exchange national experiences and practices. Speaking at the event, IBAHRI Senior Programme Lawyer Muluka Miti-Drummond explained how lawyers can 'practically prevent torture' by being available early after arrest and detention, acting as a deterrent against security forces committing these crimes.
Torture and other forms of ill-treatment are most likely to occur in the first hours and days after an arrest. Detainees can be prevented also from access to a lawyer or legal aid, or to an independent medical examination.
Among other topics, the seminar examined the role of the judiciary in the safeguarding of detainees against torture – for example, the inadmissibility of evidence obtained by torture and the accountability of perpetrators. It also set out international human rights norms relevant to torture prevention, and their implementation in national legislation.
---
ICC honoured with Stockholm Human Rights Award
The King of Sweden presented the International Criminal Court (ICC) with the 2017 Stockholm Human Rights Award on 20 November in recognition of its critical role in fostering the international rule of law and strengthening respect for human rights.
The award is bestowed annually by the Swedish Bar Association, the IBA and the International Legal Assistance Consortium.
The ICC is committed to the fight against impunity for atrocity crimes that threaten the peace, security and well-being of the world, in accordance with the Rome Statute. So far, more than 40 individuals have been indicted by the ICC for alleged atrocities, with a number of convictions.
At the ceremony, IBA Executive Director Mark Ellis interviewed ICC President Judge Silvia Fernández de Gurmendi, Prosecutor Fatou Bensouda, and Registrar Herman von Hebel (pictured above, from right to left).
Watch the presentation ceremony and the interview
---
Turkish lawyer accepts IBA Human Rights Award 2017
Ramazan Demir, who has been representing victims, journalists and lawyers in Turkey in extremely challenging and threatening circumstances, is the winner of this year's IBA Human Rights Award 2017. He received the award at the IBA Annual Conference in Sydney.
Described as 'a prominent and fearless defender of the rule of law', Demir has defended journalists, academics, politicians and lawyers accused of terrorism by state authorities in Turkey.
In 2013, he advised on cases relating to police violence during the Gezi Park and the 1 May demonstrations and, in 2016, he represented academics prosecuted for signing a peace declaration that criticised military action.
In Southeast Turkey, he documented human rights violations and recently defended 46 lawyers accused of belonging to a terrorist organisation. He has also been litigating on behalf of victims in the conflict between the PKK and Turkish forces, bringing cases before the European Court of Human Rights.
As a result, he has twice been charged by the state.
He most recently spent seven months in pre-trial detention charged with terrorist-related activities, because of his work for TUAD, an association for relatives of prisoners in Southeast Turkey. Despite the ongoing trial, Demir has taken up his work again.
Demir's acceptance speech can be found on page 27 of this edition, or watch the film
---
IBAHRI signs up to action plan for gender parity in international tribunals
The inaugural GQUAL Conference, held in The Hague in October and sponsored by the IBA's Human Rights Institute (IBAHRI), aimed to raise awareness of the under-representation of women across international tribunals and monitoring bodies.
With women globally occupying only 33 per cent of the 599 seats found on the 91 adjudicatory bodies of international law, the conference brought together ambassadors, legal experts, practitioners and activists to discuss how gender representation can be strengthened.
The event also saw the approval of an action plan, which the IBAHRI subsequently signed up to at the IBA Annual Conference in Sydney.
In doing so, the IBAHRI reaffirms its commitment to 'actively promote parity or adequate gender representation in nomination and appoints for positions at international tribunals and bodies and the international and regional level' and to 'help document processes and results and gather data to support further advocacy to achieve gender parity in international tribunals and bodies', among others.
The conference in the Hague was part of the GQUAL campaign, which calls on states to live up to their legal and moral obligations to shatter the glass ceiling, reform nomination and selection procedures, and proactively work to achieve gender parity on international judicial and adjudicatory bodies.
---
Calls for stronger links between human rights and sustainable development
A new report from the IBA's Human Rights Institute examines the state mobilisation of resources for the realisation of human rights. The Obligation to Mobilise Resources: Bridging Human Rights, Sustainable Development Goals, and Economic and Fiscal Policies analyses the legal basis, guiding principles and sources of this obligation.
It recommends that all human rights monitoring bodies give due attention to the issue of mobilisation of resources in their work. 'This is an issue highly relevant to the assessment of whether or not states are complying with their human rights obligations that has yet to be addressed adequately by special procedures and treaty bodies,' it says.
Human rights monitoring bodies should also overcome their legalistic tendencies and collaborate more closely with other specialists, such as economists, tax specialists, political scientists, journalists and sociologists, states the report.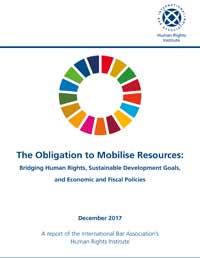 The focus on resource mobilisation is particularly timely, given the renewed emphasis on the United Nations Sustainable Development Agenda. According to the report, there should be international focus on, for example, the negative impact of economic policies, such as austerity measures, on human rights; insufficiently regulated financial flows and tax evasion; and the extraterritorial impact of some taxation policies.
---
Dozens held in Saudi mass arrests as young prince consolidates power
Emad Mekay, IBA Middle East Correspondent
At least 70 political activists, intellectuals and prominent public figures have been detained in Saudi Arabia in an unprecedented wave of mass arrests. Many observers see it as a crackdown on potential opposition to the rise of Crown Prince Mohammed bin Salman and his increasingly controversial policies. Ali al-Ahmed, an exiled Saudi opposition leader and Director of the Institute for Gulf Affairs in Washington, DC, told Global Insight: 'Families are afraid to report the absence of their loved ones for fear of retaliation.'
Following the arrests, the Saudi government instigated a massive state and social media blitz, claiming those detained were agents of foreign powers. But many in the country have been surprised by the scope and ferocity of the arrests – and baffled by their motivation.
As de facto ruler of the Kingdom, the Crown Prince has repeatedly said he plans to overturn decades-long traditions and open up the conservative country to more freedoms. He has surrounded himself with self-styled liberal secularists.
One of the high-profile figures arrested is Sheikh Salman al-Ouda, a prominent Sunni Islamic scholar. According to reports, he was allegedly detained because of his apparent reluctance to support a regional embargo against Qatar.
Amnesty International described the arrests as targeting 'the last vestiges of freedom of expression in the Kingdom… almost all the country's most prominent human rights defenders are [now] in prison on bogus terrorism-related charges'.
Sheikh Ouda, a popular figure who has 14 million followers on Twitter and is prominent on many other platforms, had called for improvements in the country, but was not part of the opposition to the ruling Al Saud family.
John Vernon, an officer of the IBA Human Rights Law Committee Advisory Board, says the Saudi government fears Sheikh Ouda and his followers, on YouTube especially, because he speaks to students and the middle class, who are being hardest hit by the current downturn in the Saudi economy.
The alliance between Salman and the authoritarian clerics generates a momentum to get rid of reformists
Professor Sari Hanafi
American University of Beirut
'He apparently challenges the regime's godliness and their Salafi credentials,' says Vernon, who is also an Adjunct Professor at SMU Dedman School of Law. 'His brand of Salafi awareness looks like another "Arab Spring". He has been called the "Bernie Sanders of Saudi" because of his belief in equality for all Arabs. He wishes to open the Saudi Peninsula to all immigrants who live in Saudi Arabia.'
Also among those arrested were Abdullah al-Maliki and Mustafa al-Hasan, two Saudis known for their youth activism, though not for being opposed to the government. 'I know Abdullah al-Maliki very well. He is definitely not part of any political opposition. He was arrested simply because he is a reformist,' says Sari Hanafi, a professor at the American University of Beirut.
Hanafi, who was among the first to report the undisclosed arrests, says that, contrary to the Crown Prince's public statements, an odd alliance is emerging between the young Salman and ultra-conservatives who fear reformist scholars.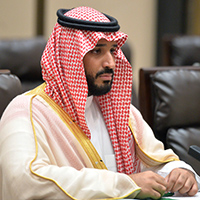 'The alliance between the authoritarian pseudo-secularism of Salman and the authoritarianism of clerics, particularly the Saudi Permanent Committee for Islamic Research and Issuing Fatwas, generates a momentum to get rid of reformists,' says Hanafi.
Other detainees include figures who have traditionally been close to the Saudi regime. Essam al-Zamil is a businessman who had just returned from a government-sponsored trip to the United States, while Muhammad Musa al-Sharif is an academic who has made a career on television by re-examining Islamic history, backed by the state or members of the royal family.
Also initially detained were two female Saudi academics, Nora al-Saeed and Rokaya al-Mohareb, both of whom are prominent on social media. Calling in women for questioning or arresting is rare in the Kingdom, where tribal traditions frown over sending women to prison.
Saudi officials have not shared information on the motivation for the arrests other than citing undefined terrorism charges. The Saudi Embassy in Washington, DC did not respond to requests from Global Insight for comment.
The Saudi news agency issued a government statement that referred to 'intelligence activities by a group of persons for the benefit of foreign parties against the security of the Kingdom'.
Al-Ahmad says the statement may be referring to Qatar. He believes the arrests may be used later to justify another crackdown against Qatar to protect the national security of Saudi Arabia or even a potential 'military operation' to force regime change in Qatar.
In a related move, the Saudi government has announced the reorganisation of its 'state security' force, which will be placed under the direct leadership of the Crown Prince. The secret force is now charged with keeping 'internal social peace' and guarding against 'foreign interventions' – unmistakable code to many in the Arab region for state brutality and repression.