The IBA's response to the war in Ukraine  
IBAHRI condemns ongoing and escalating violence against protestors in Myanmar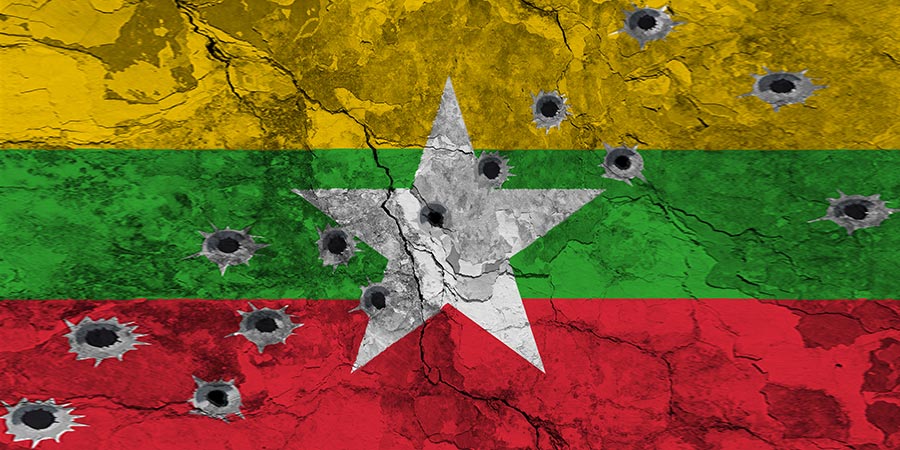 With more than 700 civilians killed by security forces and 3,080 arrested in Myanmar (Burma), as cited by the Assistance Association for Political Prisoners (AAPP), the International Bar Association's Human Rights Institute (IBAHRI) again condemns the ongoing and escalating violent attacks against people protesting the 1 February 2021 military coup d'état. The IBAHRI calls for an end to the violence, the harassment of lawyers who risk being arbitrarily detained when visiting prisons to represent jailed protestor, and for the restoration of the democratically elected government.
IBAHRI Co-Chair and former Justice of the High Court of Australia (1996 – 2006), the Hon Michael Kirby AC CMG stated, commented: 'The IBAHRI is shocked by reports of the scale of killings and level of brutality inflicted by security forces with impunity on Myanmar's (Burma's) civilians. We again condemn the violence and call for the security forces to allow Myanmar's (Burma's) citizens to protest peacefully as is their human right guaranteed under Article 21 of the International Covenant on Civil and Political Rights.'
Mr Kirby added: 'Furthermore, we call for a return to the democratically elected government, democratic standards and for lawyers in Myanmar (Burma) to be able to carry out their legitimate professional activities without intimidation, harassment or improper interference, as per Principle 16of the United Nations Basic Principles on the Role of Lawyers. All lawyers should be allowed to carry out their duties without reprisals.Our colleagues in Myanmar (Burma) deserve the utmost respect for their commitment, despite the potential of adverse personal and professional consequences.'
Recent attacks by the security forces using military grade equipment have escalated to include air strikes. The military junta has expanded its crackdown on rural areas. AAPP confirms that in the north-western town of Kale, peaceful protestors were shot by the security forces with an estimated eight people killed and dozens wounded, with similar attacks having occurred in other towns in the Sagaing region and the town of Bago near Yangon.
On a single day, Saturday 27 March 2021, more than 100 civilians were reported to have been killed by the military junta. According to AAPP, the overall death toll of 710 includes 48 children.
Michelle Bachelet, UN High Commissioner for Human Rights, said in a strongly worded statement on 13 April 2021: 'States with influence need to urgently apply concerted pressure on the military in Myanmar to halt the commission of grave human rights violations and possible crimes against humanity.' Ms Bachelet also issued a message on social media platform Twitter urging 'States to take immediate, decisive and impactful measures to push military leadership into halting its campaign of repression and slaughter of its people.'
On 27 March 2021, the chiefs of defence from Australia, Canada, Germany, Greece, Italy, Netherlands, the Republic of Korea, New Zealand, the United Kingdom and United States released a joint statement condemning 'the use of lethal force'. The statement called for the military junta 'to cease violence and work to restore respect and credibility with the people of Myanmar.'
The military has increased internet restrictions, thereby hampering citizens' in-country communications as well as those with the international community. Moreover, the assurance given by the military to hold elections within a year from 1 February 2021 has been rescinded, with a new timeframe of within two years articulated, and the democratically elected leader, Aung San Suu Kyi, having more charges heaped on her; the latest being related to breaking rules around COVID-19. Ms Suu Kyi has asked to see her lawyers in-person, thus far she has only been allowed to talk with them via video link with security officials present.
International concern has grown further as reports have highlighted the maltreatment of lawyers: U Nyan Win, a lawyer for Aung San Suu Kyi, has been arrested. Lawyer U Kyaw Win Naing is detained in Taunggyi, Shan State, as is U Kyaw Hoe, a member of the Legal Aid Committee for Yangon Region, whose whereabouts is unknown. Saw Chit Myint Lay, Karen State advocate general is under house arrest. U Khin Maung Hla, regional advocate general for the Sagaing Region, has been charged under section 505(b) of the Penal Code, which carries a prison sentence of three years for anyone making a statement that is perceived as having the intention to cause public harm. He is being detained in Monywa prison.
Furthermore, law student, Myo Hein Kyaw, 24 years of age, was killed at a protest in Mandalay, Myanmar on 28 March 2021. Credible reports indicate Yangon students are being detained without trial, although 14 law students who had been held at Insein Prison since 3 March, have been released.
On 9 March 2021, security forces raided the Kamayut Media office in Yangon and arrested Nathan Maung, editor-in-chief, and Han Thar Nyein,co-founder. There are now more than 3,000 people, including politicians, doctors, actors and social media influencers, arrested, charged or sentenced according to AAPP.
IBAHRI Co-chair and Immediate Past Secretary General of the Swedish Bar Association, Anne Ramberg Dr Jur hc, commented: 'At every turn, reports reveal that General Min Aung Hlaing is sliding Myanmar backwards from the small gains made towards democracy. Declaring the 8 November 2020 elections fraudulent without evidence, then ceasing power and declaring a long state of emergency is unacceptable to the people of Myanmar. The constituents of the international community that adhere to the rule of law, also find the actions offensive and call for greater targeted sanctions to be imposed on the general and his aides and for the sale of arms to the Myanmar military to be halted.
Ms Ramberg added: 'The continued violence and numerous human rights violations against the citizens of Myanmar are depriving people of their right to life and liberty, as well as justice. We remind Myanmar's generals of the text of the Universal Declaration of Human Rights: "Whereas disregard and contempt for human rights have resulted in barbarous acts which have outraged the conscience of mankind, and the advent of a world in which human beings shall enjoy freedom of speech and belief and freedom from fear and want has been proclaimed as the highest aspiration of the common people."'
The UK and US have imposed sanctions on military-controlled businesses, as well as the UK having sanctioned six individuals, and the European Union 11 individuals, from the military. However, the UN-appointed Special Rapporteur for Myanmar, Tom Andrews, has called for further coordinated international condemnation, 'a diplomatic offensive designed to meet the moment' that goes beyond just words.
ENDS
Notes to the Editor
Related material:
The International Bar Association's Human Rights Institute (IBAHRI), established in 1995 under Founding Honorary President Nelson Mandela, is an autonomous and financially independent entity, working to promote, protect and enforce human rights under a just rule of law, and to preserve the independence of the judiciary and the legal profession worldwide.
Find the IBAHRI (@IBAHRI) on social media here:

The International Bar Association (IBA), the global voice of the legal profession, is the foremost organisation for international legal practitioners, bar associations and law societies. Established in 1947, shortly after the creation of the United Nations, it was born out of the conviction that an organisation made up of the world's bar associations could contribute to global stability and peace through the administration of justice.

The IBA acts as a connector, enabler, and influencer, for the administration of justice, fair practice, and accountability worldwide. The IBA has collaborated on a broad range of ground-breaking, international projects with the United Nations, the European Parliament, the Council of Europe, The Commonwealth, the Organisation for Economic Co-operation and Development (OECD), the World Trade Organization, the International Monetary Fund and the World Bank, among others.

Find the IBA (@IBAnews) on social media here:
For further information, please contact:
Romana St. Matthew-Daniel
Press Office
International Bar Association
5 Chancery Lane
London WC2A 1LG
United Kingdom
Mobile: +44 (0)7940 731 915
Direct Line: +44 (0)20 7842 0094
Main Office: +44 (0)20 7842 0090
Fax: +44 (0)20 7842 0091
Email: romana.daniel@int-bar.org
Website: www.ibanet.org
IBA website page link for this news release:
Short link: tinyurl.com/hmazyt8h