Legal and business news from the IBA - August/September 2017
Chinese investment: Belt and Road strategy signals global expansion
Stephen Mulrenan
On 31 May 2017, President Uhuru Kenyatta of Kenya attended the inauguration of the African nation's Standard Gauge Railway (SGR).
A pet project of the President, and a key pledge in his 2013 election campaign, the $3.2bn Madaraka Express is the country's largest infrastructure project since it secured independence more than 50 years ago.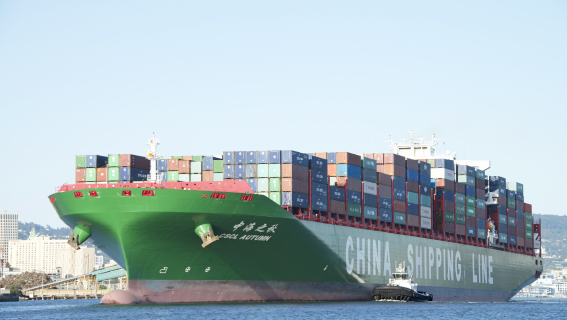 The administration of Kenyatta, who secured a second and final five-year term in the national election in August, has become ever-more dependent on China's help in transforming the economic fortunes of Kenya in accordance with its Vision 2030 development programme.
China's Export-Import Bank financed 90 per cent of the new railway, which was constructed and, over the next decade, will be maintained and operated by China Road and Bridge Corporation.
But, while the Madaraka Express will reduce transport costs and times by more than 60 per cent, and bring economic benefits such as Kenyan business investment and jobs, the SGR 'bill' represents the largest loan that Kenya has ever received: the equivalent to approximately six per cent of its GDP.
China's strategic interest in East Africa goes beyond Kenya's newest railway. The Asian superpower is also playing a prominent role in the development of the country's ports, as well as those of neighbouring Tanzania. For example, the China Communication Construction Company is on course to complete the first berth of a huge new port at Lamu by mid-2018.
In addition, the container terminal at Tanzania's Dar es Salaam port is operated by an offshoot of Hong Kong's Hutchison Whampoa, while China Merchants Group has been involved in the financing of Bagamoyo Port, which Tanzanian authorities hope will handle 25 times the container load of Dar es Salaam.
These investments represent an important component of China's 'One Belt, One Road' initiative – a development strategy proposed by Chinese President Xi Jinping in 2013 to bridge the infrastructure gap along the land and maritime trade routes between China and Europe, Asia and Africa.
Belt and Road is often cited by China to justify its investments in various strategic ports around the world. However, there are concerns, particularly among other global powers, that the strategy is being driven by the desire to acquire strategic assets and fulfil geopolitical ambitions.
In May 2017, the United Nations published a report on the financial risks that many countries are taking when partnering with China on Belt and Road projects. For instance, in addition to Kenya's SGR deal, a $15bn China-Uzbekistan investment deal signed in late 2013 equates to about a quarter of Uzbekistan's GDP, while a $57bn China-Pakistan Economic Corridor of infrastructure and energy projects equates to more than one fifth of Pakistan's GDP.
China's announced investment value under Belt and Road is often high, compared to the relative size of the economy of the recipient country. This has prompted claims that China is channelling exorbitant amounts of money into countries ill-equipped to navigate such a huge debt trap, in order to obtain economic and political leverage.
At the same time, China's expansion of its ports network has raised concerns that the country's maritime ambitions may have a military component. Nowhere has this been more contentious than in the South China Sea, where China, Brunei, Malaysia, the Philippines, Taiwan and Vietnam all have competing claims over territory known to house reserves of natural resources.
China has backed its expansive claims with island-building and naval patrols, and this follows its opening last year of a naval base in Djibouti in the Horn of Africa, where up to 10,000 military personnel will be stationed until at least 2026.
But, while such developments represent a significantly more assertive foreign policy to those of recent Beijing administrations, Pieter Steyn, Vice Chair of the IBA African Regional Forum and a partner with Werksmans, does not believe that Belt and Road is focused on military goals.
'I don't think one should over-emphasise the importance of China's Djibouti base. France, the United States and, interestingly, Japan have bases in Djibouti, but these have not raised similar concerns in the media. In addition, China has been involved in anti-piracy operations off the Somali coast and Horn of Africa, while Chinese peacekeeping forces are involved in Liberia, Mali and South Sudan, and it seems likely that China will continue to expand this role.'
Graham Wladimiroff of the IBA Asia Pacific Regional Forum and a legal executive, director and compliance business partner at AkzoNobel, says that China's primary motivation is safeguarding economic interest.
'The South China Sea may be about oil and gas, and breaking the complete encirclement of China (at least in the East) with US friends. However, it is also a story of food supplies getting to China from, among other places, Africa. It is the aorta', he says.
Whether China's position over disputed areas in the South China Sea enflames opposition and proves detrimental to its Belt and Road initiative remains to be seen. But, Wladimiroff says, the country's geopolitical ambitions need to be considered in the context that China cannot feed itself – an issue that is becoming more pronounced as its youth flock to cities and away from the countryside.
While China will continue to set conditions for receiving money and use its leverage in the short term, securing food supplies from regions such as Africa is also key to maintaining civil harmony and national stability.
---
Seven nominees shortlisted for IBA Pro Bono Award
Following a large number of entries for this year's IBA Pro Bono Award, the judging panel has selected a shortlist of seven from whom this year's winner will be selected. The next stage of deliberation is now under way, with the winner to be announced at the IBA Annual Conference in Sydney in October.
Sponsored by LexisNexis, the award reflects the huge amount of pro bono work carried out worldwide. The shortlisted candidates are:
Anna Higuera, Fernando Pombo Foundation: Combining her role as a law professor with that of Pro Bono Director for the Clearing House, the first in Spain, established by the Fernando Pombo Foundation.
Balazs Sahin-Toth, Allen & Overy Budapest: Balazs has been involved in a diverse range of pro bono activities in Hungary, as a trustee for PILnet, advising a range of non-governmental organisations, teaching at ELTE Department of Civil Law and conducting strategic litigation.
Delvin Sumo, DIFC Dispute Resolution Authority Academy of Law: In addition to expanding the Pro Bono Programme at the Dubai International Finance Centre's Academy of Law, Delvin is working to develop pro bono initiatives in other parts of the United Arab Emirates.
Juan Najera, NDA Nájera Danieli & Asocs: Juan has demonstrated a longstanding commitment to judicial and law reform and a dedication to pro bono causes in Mexico.
Manuel Granados C, Mexico City Government: Manuel has designed an innovative programme in Mexico City, 'Lawyers at your Home', involving volunteer lawyers visiting impoverished neighbourhoods or responding to a toll-free hotline.
Roberth Puertas, Fundación Fabián Ponce Ordóñez: Over 24 years, Roberth has introduced a number of initiatives, including an inter-disciplinary approach to pro bono, especially in relation to domestic violence cases.
Suhaan Mukerji, PLR Chambers: Suhaan has been described as a pioneer in institutionalising pro bono as a practice in India. He has been particularly involved in assisting significant legislative reform in the field of countering human trafficking.
For more information, go to tinyurl.com/ProBonoAward2017.
---
Law Firm Management webinar series
On 19 July 2017, the IBA's Law Firm Management Committee started what is due to become a series of webinars. The first, which looked at the law firm model, was entitled 'Disrupt or die: Is it too early to speak of the death of the "classic" law firm model?' and is now available to watch on the IBA website at tinyurl.com/IBA-LFM-webinar1. In the next webinar, taking place on 12 September 2017, a panel of experts will discuss 'Legal directories: the bane of lawyers' lives, or the way to the stars?'
For full details, go to www.ibanet.org/Conferences/webinar-sept17.
---
Sydney Annual Conference – still time to register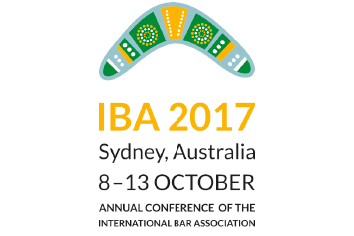 The IBA Annual Conference is this year taking place in the metropolitan city of Sydney, Australia, from 8–13 October 2017.
The Annual Conference is recognised as one of the largest and most prestigious events held for legal professionals, and provides a chance for lawyers to meet, share knowledge, network, build contacts and develop business.
Highlights this year will include exceptional showcase sessions presented by the LPD, SPPI, BIC and IBAHRI, and a diverse range of committee sessions hosted by leading experts in the field.
Also, the popular lunchtime event 'A conversation with…' continues this year with the schedule to include:
Robert Gates: 22nd US Secretary of Defense (2006–2011) and the only person in US history to be asked to remain in office by a newly-elected President. Prior to that, Gates worked for almost 27 years at the Central Intelligence Agency.
John Winston Howard: Australia's 25th and second-longest-serving Prime Minister (1996–2007). Winston Howard was Treasurer to an earlier government and a Member of Parliament for more than three decades.
Julian Assange: (via video-link) Founder and Editor-in-Chief of WikiLeaks, an organisation reported to have published more than
10 million large datasets of censored or otherwise restricted official materials involving war, spying and corruption. Assange, an Australian by birth, has been granted political asylum by Ecuador and will be interviewed while in the country's Embassy in London.
To register for Sydney 2017, visit www.ibanet.org/Conferences/Sydney2017.
---
European Union hits Google with e2.4bn fine for anti-competitive behaviour
Jonathan Watson
At the end of June, European Union Competition Commissioner Margrethe Vestager announced that Brussels would fine Google e2.42bn for abusing its dominance in online searches. After an investigation that lasted seven years, regulators concluded that the firm had favoured its own comparison shopping service at the expense of rival offerings.
'Google [gave] its own product a significantly better treatment than rivals,' Vestager said. 'In search results, Google systematically gave prominent placement only to its own product. Google also demoted rival comparison shopping services, which means a lower ranking in generic search results. That's illegal under EU antirust rules,' she said.
Many were surprised the Commission took so long to reach this point. 'Unfortunately the previous Competition Commissioner, Joaquín Almunia, having initially talked tough, decided he could solve it with commitments, which was a mistake and a rather fruitless waste of time as Google was never going to voluntarily make sufficient changes,' says Stephen Kinsella OBE, a partner and Head of the European antitrust/competition group at Sidley Austin. 'The clock on this part of the process only really started [ticking] when he left, since which time it has actually moved fairly quickly.'
The Commission is reportedly considering tougher powers to intervene earlier in antitrust cases in a bid to avoid the type of delays that affected the Google investigation. These could include broader powers to impose so-called interim measures, which order companies to cease suspected anti-competitive behaviour even before there is a formal finding of wrongdoing.
Almunia 'made a serious error of judgement in seeking to settle with Google,' adds Thomas Vinje, a partner at Clifford Chance who acted for opponents of Google in the case. 'Google was never going to give anything meaningful in settlement, so he wasted three years of precious time.'
The Commission has been extremely kind to Google in dealing with its 'ploys' to delay the proceedings, such as its 'unreasonable confidentiality demands,' Vinje says. 'The Commission has been more careful about ensuring rights of defence in the Google cases than I have ever seen.'
In response to Vestager's statement, Google said: 'We respectfully disagree with the conclusions announced today. We will review the Commission's decision in detail as we consider an appeal and we look forward to continuing to make our case.'
If Google's response is to not show Google Shopping ads, the decision will certainly strengthen Amazon, as users will go straight there to get the information they need
Martin Schirmbacher
Head of Technology law, Härting; Co-Chair, IBA Technology Law Committee
Martin Schirmbacher, Head of technology law at Berlin-based firm Härting and Co-Chair of the IBA Technology Law Committee, is not surprised that it took so long for the Commission to reach a verdict. 'Things are not as easy as they seem and the Commission needed to deep dive into the facts,' he says.
Schirmbacher sees two issues arising from the length of the proceedings. 'One is that the business models of the internet are changing quickly,' he says. 'A few years back, nobody used Amazon to search for products and compare prices between different merchants. Now, the first starting point for a lot of users when interested in buying a product is Amazon. That does not seem to be reflected in the decision.'
Secondly, he adds, if the Commission is right, its decision comes too late for comparison shopping search engines that went out of business in the last few years.
Kinsella does not necessarily agree, arguing that the ultimate outcome for smaller shopping search engines will depend on what remedies emerge from the case. 'Sufficient change [will be necessary] to allow rivals a real opportunity to compete on a level playing field, plus substantial damages to make up for years of loss,' he says.
Vinje thinks it will be hard for the pioneers in comparison shopping services to claw their way back, but believes 'there's room for hope' that competition can still be restored.
When discussing fair competition, Schirmbacher argues that one cannot neglect how users conduct their searches. 'People searching for products on Google (instead of Amazon, eBay or one sole search engine) are helped best by a precise answer on where they can get the product and at what price. Being redirected to another search engine doesn't really help them,' he says.
Schirmbacher is not sure whether the Commission's decision sufficiently reflects this, especially when considering the consequences for Google. 'If Google's response is to not show Google Shopping ads, the decision will certainly strengthen Amazon, as users will go straight there to get the information they need.'
The Commission's decision requires Google to give rivals 'equal treatment' – the same as its own services in its search results. This principle could be used to limit Google promoting its own services in other areas of specialised search, including travel and local advertising.
How likely is this to happen? 'Maybe at the margins if Google takes the proper lessons from this decision, but it will remain immensely powerful and require constant scrutiny,' says Kinsella.
---
China Working Group and India Contact Group webpages launched
The IBA Asia Pacific Regional Forum has established two advisory groups, the China Working Group and the India Contact Group, to provide guidance on issues specific to two of the most important jurisdictions in Asia. The two groups recently launched their own webpages to serve as a hub of information on IBA activities in each jurisdiction, as well as providing updates on their projects and programmes.
Created in late 2015, the China Working Group's aim is to better understand the needs of Chinese lawyers and the Chinese legal community; to recruit more speakers and attendees to IBA events in the region; and work on specific Asia/China initiatives.
The main aims of the India Contact Group, set up at the end of 2016, are to engage Indian members to become more actively involved in IBA activities; increase the number of Indian IBA members; and identify and implement ways the Association can assist lawyers in the country with issues pertinent to its legal profession.
For the China Working Group, go to tinyurl.com/IBA-chinawg.
The India Contact Group can be found at tinyurl.com/IBA-indiacg.
---
Code of Conduct survey focuses on multinationals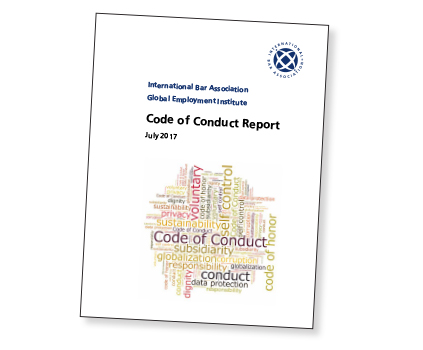 The findings of a survey on codes of conduct in multinationals have been issued by the IBA Global Employment Institute (IBA GEI) – highlighting that many companies aim to foster a culture of ethical corporate behaviour.
According to the Code of Conduct Report, the survey of 36 multinationals, carried out during 2016, sought to understand the prevalence, purpose, application, jurisdiction, legal effect, enforceability and efficacy of codes of conduct.
It found that 90 per cent attested to having a code of conduct in place, most of which had been in effect for more than ten years.
Of the surveyed companies – from a broad range of industries, including automotive, legal, mining, financial and insurance – almost 50 per cent had adopted the practice of incorporating the code as part of the employment contract, with 96 per cent citing a 'desire to foster a culture of integrity and ethical corporate behaviour'. On the question of whether codes of conduct influence the behaviour of employees, respondents were unanimous in their belief that they do.
Dirk Jan Rutgers, IBA GEI Council Vice-Chair for Knowledge Management, commented: 'The survey demonstrates that multinational companies are exporting norms of behaviour through the implementation of codes of conduct. Although the reasons given for creating codes of conduct vary, they generally revolve around creating a company-wide ethos of excellence, regardless of jurisdiction, including core tenets such as prevention of harassment and respect for human rights. Such soft law is a powerful option in a toolbox of solutions when issues may arise in different jurisdictions.'
The Code of Conduct Report can be downloaded at tinyurl.com/IBAGEI-CodeOfConduct.