Moro's anti-corruption speech takes a hard line during Bolsonaro's maiden Davos trip

In January, Brazil's newly-elected President Jair Bolsonaro's decidedly measured speech at the World Economic Forum in Davos offered welcome reassurance to business and world leaders that he's serious about building a 'new Brazil.'
Bolsonaro was accompanied by new Justice Minister Sérgio Moro and Finance Minister Paulo Guedes, reinforcing this message. They cancelled a joint press conference during the summit, reportedly due to tiredness, and it was Moro's declarations that resonated most strongly with the crowds at Davos.
'Brazil is probably the country [that] did more [to fight] corruption in the last four years…than any other country,' he told delegates during a panel on globalised crime. 'If you look at the details you will realise that it was the work of law enforcement personnel, policemen, prosecutors and judges. You haven't seen [anything] substantial from the Federal Government, so I think this has to change. The Federal Government has the main responsibility to address these kinds of problems.'
Moro made his name as the federal judge who presided over the Car Wash investigation that put former President Luiz Inácio Lula da Silva in prison. Now working within the government, he said he planned to present a wide-ranging anti-crime bill tackling 'grand corruption, but also organised crime, and violent crime' to Congress to address these issues head on.
True to his word, on 4 February, Moro presented the bill, which he pledges will toughen prison sentences, curb violence, crack down on illegal campaign financing and end impunity.
''

I do believe some tougher measures are necessary in order to fight corruption and try to put an end to a long cycle of violence and impunity in our country

Flávia da Costa Viana
Vice-Director of International Affairs, Brazilian Association of Judges
Horacio Bernardes Neto is IBA President and a senior partner at Motta Fernandes Advogados. He says the law has considerable potential, but has caused some raised eyebrows. 'It's a very aggressive law that has the intention of combatting corruption,' he says. 'They're also trying to introduce plea bargaining, where you can negotiate with public attorneys, which they've had in the United States, but in Brazil and other civil law jurisdictions it is something that is very difficult to do. Let's see if the bill is approved or not.'
Flávia da Costa Viana is Vice-Director of International Affairs at the Brazilian Association of Judges (AMB). She agrees that Moro's plans are ambitious, but says such a hard-line approach on corruption is sorely needed. 'I do believe some tougher measures are necessary in order to fight corruption and try to put an end to a long cycle of violence and impunity in our country,' she says.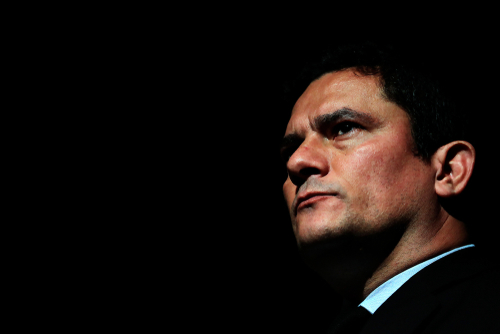 Justice Minister Sérgio Moro
The bill includes a proposal to force offenders to be jailed after their conviction is upheld on first appeal. This measure, designed to end impunity for wealthy and well-connected criminals – who often walk free while their cases work their way through the judicial system – would be a significant move. It also comes less than two months after the President of Brazil's highest court revoked a decision that could have released 1,500 prisoners, including former President Lula, before the end of their appeal process.
'Our Supreme Court has been ruling, since 2016, that convicts must go to prison right after a first appeal is denied,' says Da Costa Viana. 'This decision is supposed to be revisited in April 2019 and could be then modified by a majority of justices. However, if this measure is approved by the Congress, it will become mandatory and would take the matter out of the Supreme Court's hands.'
If Congress does pass the bill proposed by the ruling Social Liberal Party (PSL), it could mark a significant departure from previous Brazilian administrations that have been tainted by corruption. Bolsonaro himself has been relatively quiet since his inauguration on 1 January, having recently undergone intestinal surgery. However, on 18 February he was forced to dismiss Gustavo Bebianno, his Secretary-General and former President of the PSL, amid allegations the party misused campaign funds during the 2018 presidential election.
Reform of Brazil's political system will be vital to doing away with corruption and impunity in the country for good. Deltan Dallagnol, who leads the taskforce overseeing Car Wash, told Global Insight as much in an interview in 2016: 'In my view we have two critical problems,' he said. 'One is the criminal justice system, which does not work in regards to white-collar crimes, and the second problem is the political system, which favours corruption as well because nowadays electoral campaigns depend on huge amounts of money in order for people to get elected.'
Bolsonaro also appointed André Luiz de Almeida Mendonça as his new Attorney General of the Union. Mendonça says the cabinet line-up is a 'clear signal' that the new President is focused on 'strengthening public institutions' in the country. 'The President is establishing a new standard of public governance in Brazil,' he told Global Insight via email. 'He is practising good politics, which involves the legitimate and necessary inclusion of the political classes in a government that is placated by technical criteria. In other words, the quid pro quo is gone. Impersonality and morality have prevailed in the way the entire administration has been assembled, from the highest to the lowest levels.'
Bernardes Neto is cautiously optimistic about what changes Moro and others in the cabinet can bring. 'There is a proposed pension reform and if we are able to do this then we will be halfway towards fixing the economic problems in Brazil, but this is a new Congress and nobody knows how they're going to act,' he says. 'Bolsonaro has just been discharged from hospital and is recovering. He's not in full shape, but when he starts to work let's see what he does. From the economic point of view, things are going perfectly well. Paulo Guedes – the Finance Minister – is someone who is doing excellent work and has surrounded himself by first-quality people.'