Legal and business news analysis - December 2017/January 2018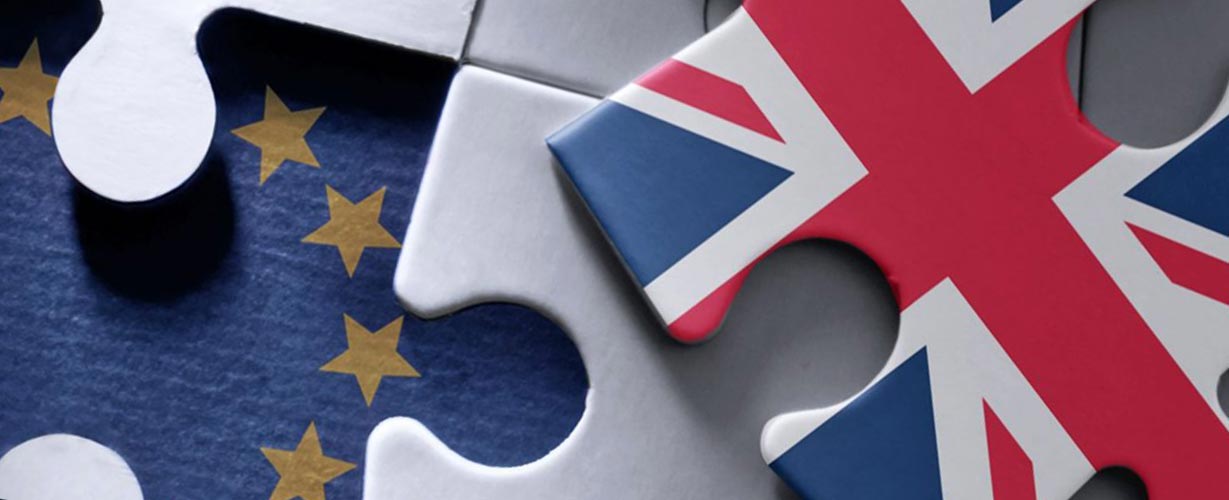 Regulators anxious about role of AI in global finance
JONATHAN WATSON
It may be the latest big trend in the finance industry, but artificial intelligence (AI) is making regulators nervous. The Financial Stability Board (FSB), the international body that monitors and makes recommendations about the global financial system, has become the latest institution to voice its concerns in a report on the role of AI in finance.
Published in November, the report warns that market power could rest with only a few large AI technology firms supplying to the industry which, in turn, could lead to financial stability risks. It also says major suppliers of AI and machine learning tools to financial services firms may 'fall outside the regulator perimeter or may not be familiar with applicable law' – suggesting that software developers and regulators need to develop a better understanding of each other.
The report doesn't claim that AI is an entirely bad thing. 'The use of AI and machine learning [whereby computers are given the ability to learn without being explicitly programmed] in financial services may bring key benefits for financial stability in the form of efficiencies in the provision of financial services and regulatory and systemic risk surveillance,' says the report.
Andrus Ansip, the European Commissioner in charge of driving the European Union's 'digital single market' project, also highlighted the possibilities of AI in a recent speech. 'There is huge potential in technologies like AI, distributed ledgers, cloud computing and Internet of Things applications,' he said. 'These kinds of disruptive technologies promise cost-efficiencies as well as new opportunities for the financial sector.'
However, the use of AI does come with risks. One issue for the FSB is that AI and machine learning services are increasingly being offered by a small handful of large technology firms. 'There is the potential for natural monopolies or oligopolies,' says its report. 'These competition issues… could be translated into financial stability risks if, and when, such technology firms have a large market share in specific financial market segments.' If one of them were to face major disruption or insolvency, there would be major repercussions in the world of finance.
'While technological innovation in finance is of itself nothing new, I think there is a sense that the nature, scale and speed of what is happening now could be unusually disruptive,' says Josh Hogan, Head of the Financial Services Regulatory Group at McCann Fitzgerald and Young Lawyers Liaison Officer for the IBA Banking Law Committee.
We already have ample evidence from the financial crisis of why it's important to avoid a dependency on firms that are 'too big to fail
Josh Hogan
Head of Financial Services Regulatory Group, McCann Fitzgerald; Young Lawyers Liaison Officer, IBA Banking Law Committee
Hogan thinks that, if we get to the stage where there is an over-concentration of market power in the hands of a few large technology firms central to AI, then the natural response of governments will be to intervene – either to break up the firms themselves (eg, on competition law grounds), to regulate them or to impose additional requirements on regulated entities such as banks using the services of the AI firms.
'I think it's inconceivable that a large dependency could be allowed to develop on a few technology firms where the financial system would become vulnerable to difficulties with those firms,' he says. 'We already have ample evidence from the financial crisis of why it's important to avoid a dependency on firms that are "too big to fail".'
Chris Holder, a partner at Bristows and incoming Co-Chair of the IBA Technology Law Committee, believes it's almost impossible to predict how the AI industry will evolve. 'Most of the developments in this area are being driven by companies with fewer than ten employees,' he says. 'If they are successful, they may be acquired by much larger providers. But technology changes very quickly. IBM was around for years, then Microsoft became the dominant player, then Google. Who knows what will happen next? The dangers that come with large, dominant companies have always existed. It's no different now.'
Holder believes that much of the anxiety about AI is based on a fundamental misunderstanding of what it really means. 'There is a huge amount of hype and the term is being misused,' he says. 'AI at the moment is just a set of algorithms that interrogates data sets. It's very clever software that looks at data and spits out answers.' Machines are not, as many mistakenly believe, making decisions or providing advice, he adds. 'They are just interrogating data sets. They are only as good as the information that's put in and the person interpreting the results that come out.'
The FSB report also warns that major suppliers of AI and machine learning tools to financial services firms may 'fall outside the regulator perimeter or may not be familiar with applicable law and regulation'. In other words, software developers working on the latest tech don't have a sufficient understanding and awareness of regulations, and regulators don't really understand the tech developments taking place.
When machines do actually start making decisions for people and providing advice, that is the point when financial services regulators will have to get involved, says Holder. 'A lot of regulators are looking at this and trying to understand what AI is doing.'
Hogan says that, while, in theory, the law and regulation governing financial services can and should be technology-neutral, there are certain features of AI that will probably mean special rules are needed. 'For example, the updated Markets in Financial Instruments Directive regime (MiFID II), which will apply in the EU from January 2018, will introduce specific rules relating to algorithmic trading,' he says. This is trading that uses computer algorithms to automatically determine parameters of orders such as whether to initiate the order, the timing, price or how to manage the order after submission, with limited or no human intervention.
International bodies and regulators, for the most part, appear to be adopting a wait-and-see approach, adds Hogan. 'An example of current regulatory thinking can be seen in an August 2017 discussion paper from the European Banking Authority. A key point it makes is that existing risks that are currently deemed to be immaterial may be amplified through the use of financial technology.'
---
IBA Task Force on the Future of Legal Services assesses major drivers of change
The IBA President's Task Force on the Future of Legal Services has completed phase one of the project relating to 'Drivers of change in legal services'. The Task Force was formed to address critical issues arising from profound changes in the legal profession, both in terms of the challenges and opportunities, to make a tangible and meaningful contribution to help the profession transition through this period.
Phase one summarises and categorises, on a global basis, the changes found to be affecting the profession, ranging from emerging new forms of value creation and legal technology development, to regulatory innovations and the shift in economic power.
The findings are being circulated for commentary to IBA member bar associations and to a broad group of global thought leaders in the area of change in legal services. This outreach will ensure that the findings reflect, as comprehensively as possible, the major drivers of change in legal services.
Phase two will see the Task Force discuss, debate and identify how the IBA can help its members to manage change or prevent it. In phase three, the Task Force will conduct independent research with the bars and IBA committees to determine the tactics likely to have the best leverage in enabling members to deal with the global changes identified.
Watch the video presentation of the phase one findings
---
Pro bono and law student award winners
Three individual lawyers have received IBA awards recognising their respective achievements.
The Pro Bono Award 2017 was presented to Balázs Sahin-Tóth, a corporate commercial lawyer at Allen & Overy, during the IBA Annual Conference in Sydney. It recognised his work over the last decade to promote and institutionalise pro bono practices in Hungary.
Among his achievements, Sahin-Tóth was the first lawyer in Hungary to take on a national pro bono case defending social inclusion of Roma children. After six years of litigation, the country's Supreme Court granted 'moral damages' to the children, who had been segregated in a rural school.
The Outstanding Law Student of the Year Award 2017 has been handed out to Pitamber Yadav, who graduated in International Economic Law from Georgetown University Law Center in Washington, DC. He also holds a Diploma in Cyber Laws, BA and LLB (Hons).
In addition to his academic excellence, Yadav spent his time at law school involved in a number of leadership and mentoring activities. The award was announced at the IBA-ELSA Law Students' Conference in London in November.
---
Sydney 2017 – Annual Conference highlights
Legal practitioners from around the world met in Sydney on 8–13 October as the IBA staged another successful Annual Conference.
Welcoming delegates to this year's event, IBA President Martin Šolc called on all lawyers to be 'whistleblowers for the rule of law'. The opening ceremony also featured a keynote address from the Attorney-General of Australia, Hon George Brandis QC, who discussed the obligations of lawyers to defend the rule of law, and a speech by Chief Justice of Australia, Susan Kiefel, who stressed the importance of an independent legal profession.
These and many other highlights from Sydney – including key interviews and the Showcase sessions – are now available to view online. Watch the full-length 'Conversation with' interviews with Wikileaks' founder Julian Assange, former United States Defense Secretary Robert Gates and former Australian Prime Minister John Howard, as well as Showcase sessions on cybercrime, women 'firsts', migration and security, and the impact of populism.
There are also films of the keynote session on data and disruptive innovation, and the Rule of Law Symposium on anti-corruption and judicial appointments, plus interviews with other leading international figures, extensive photo galleries and more.
Visit the Sydney 2017 website and see this edition of Global Insight for all the highlights.
The IBA Annual Conference 2018 will take place in the 'Eternal City' of Rome on 7–12 October. Register your interest to receive further information when online registration opens in March and when the conference programme becomes available in April.
---
Brexit: financial services businesses prepare for 'most disruptive cliff-edge scenario'
Yola Verbruggen, IBA Multimedia Journalist
Uncertainty surrounding Brexit is putting the financial services sector in a difficult situation as businesses attempt to ensure future compliance with as yet unknown regulations. Urged on by regulators, they are preparing for a worst-case scenario that could make parts of their business transactions illegal overnight as Britain leaves the European Union.
'It's a challenging time, yet again, to be in senior management at a regulated business,' says James Bateson, Global Head of Financial Institutions with Norton Rose Fulbright.
Lawyers are advising financial services businesses on contingency plans for the 'most disruptive scenario' that should provide protection against the immediate structural challenges.
'Businesses need to plan for a hard Brexit. What they don't want to find is that, come March 2019, they have to stop trading in that locality. This is a massive problem,' says Bateson.
Regulatory bodies are spurring companies on to get their contingency plans in place.
'The supervisory authorities are concerned that banks are waiting too long. Because, once the regulatory status changes and we have a hard Brexit, this status changes overnight and many banks may have compliance problems,' says Hendrik Haag, a partner at Hengeler Mueller in Frankfurt and Chair of the IBA's 2009 Task Force on the Financial Crisis.
Businesses are not yet wholeheartedly committed to implementing the more disruptive parts of their contingency plans, lawyers tell Global Insight.
They are starting small, doing only what they need to do now to avoid making too many changes that might later prove unnecessary.
'If you want to manage uncertainty, you are running the risk of overinvesting too early, but some institutions say "I'd rather do that than be caught by surprise",' says Haag.
Though some banks and businesses are considering bolstering their operations outside the United Kingdom, most informed observers agree that the emergence of a financial centre equalling the City of London remains a long way off. 'This will strengthen New York, not Frankfurt or Paris, because they are far, far smaller and less significant on the global scale. It will strengthen them, but not significantly,' says Simon Morris, a partner in CMS's Financial Services and Products team.
Businesses need to plan for a hard Brexit. What they don't want to find is that, come March 2019, they have to stop trading in that locality. This is a massive problem
James Bateson
Global Head of Financial Institutions, Norton Rose Fulbright
Morris sketches a dark picture of Brexit, as he says companies are 'building their own Brexit', prompted by the uncertainty of the UK government. 'Brexit is about the destruction of certainty, and the destruction of certainty equates to the destruction of value,' says Morris.
Uncertainty also surrounds the transitional period, which the government has repeatedly said will be about two years. Caroline Meinertz, a partner with Clifford Chance, says that, though from a business perspective a transition period would be 'the longer, the better', two years is an acceptable minimum. 'Also, the substance of the transition period is important.
It would have to be negotiated whether businesses would have to comply with existing and new EU laws during this period,' says Meinertz.
A longer transition period is seen as unlikely. 'A two-year transition period is simply not enough time. But political expediency is such that you would have some turbulence about [extending it],' says Bateson. After all, it would be a hard sell to Brexit voters or supporters that, even after the divorce date, the UK would remain bound by European regulations for another five or seven years.
Leaving the EU without a transition period, most likely in the case of a no-deal Brexit, could have considerable negative consequences for the financial services sector. 'The most difficult scenario would be no deal; an exit with no transitional arrangement and it being illegal for companies to carry on some lines of business,' says Michael Wainwright, a partner in Dentons' Financial Services and Funds practice.
Hogan Lovells and the International Regulatory Strategy Group (IRSG) look at the possibilities for a free trade agreement that would avoid such a cliff-edge scenario and reduce additional risk of market instability, in a new report entitled: A New Basis for Access to EU/UK Financial Services Post-Brexit. 'We are looking at something that has some similar characteristics to passporting, because this would ensure capital efficiency and eliminate the need to relocate. The EU and the UK now have aligned legal and regulatory regimes and, by managing divergence, we can ensure that EU and UK laws remain sufficiently aligned to guarantee access across borders,' says Rachel Kent, Head of the firm's Global Financial Institutions Sector.
Problems do not start or end in March 2019, however. Already, contracts – usually signed for more than a single year's cycle – will transcend the Brexit period. 'This isn't a 2019 problem. The practicalities are really quite immense,' says Bateson. The actual impact of any Brexit deal, without a historical precedent, will not be clear until at least ten years from now.
---
Access to justice for persons with disabilities
The legal community and governments should do more to help protect the rights of people with disabilities, according a new report commissioned by the IBA Access to Justice and Legal Aid Committee.
Access to justice for persons with disabilities: From international principles to practice identifies the main legal issues and practices that act as barriers to access to justice for those with disabilities. It also outlines examples of good practice and how they can be transferred internationally.
Written by the Bingham Centre for the Rule of Law, the report explores how a rights-based approach could help ensure that justice policy, planning and implementation take appropriate account of the input and needs of persons with disabilities, in line with the United Nations Sustainable Development Agenda.
Encouraging better reporting of crimes against people with disabilities, advocating against discriminatory laws and incorporating specialist training within legal education are among its recommendations.
Other key findings include:
strategic litigation is often a very effective 'eye-opener' in exposing the conditions and needs of those with disabilities;
the need to develop existing guidelines related to standards of treatment and communication with persons with disabilities involved in judicial proceedings into more coherent statutory codes of practice;
the legal community should be open to the effective use of technology solutions where they can enhance inclusion of persons with disabilities; and
psychological analysis should be integrated more into legal research and practice, to help address the needs of persons with disabilities in the field of justice.
---
2018 Outstanding International Woman Lawyer Award
Nominations are now open for the Outstanding International Woman Lawyer Award, presented by the IBA Women Lawyers' Interest Group.
The award is aimed at female lawyers who have achieved professional excellence in their field; influenced other women to pursue legal careers; opened doors for women lawyers in a variety of job settings that historically were closed to them; or advanced opportunities for women within their practice area or segment of the profession.
All applications must be received by midnight (GMT) on 25 January. The award will be handed out at the 8th World Women Lawyers' Conference in London in April.
View the full criteria and access the online application forms
---
Blockchain research examines 'rule of code'
The need for the legal sector to rethink the business of law in light of the bitcoin and blockchain network is set out in a new research paper by the IBA Legal Policy & Research Unit.
Rule of Law Versus Rule of Code: A Blockchain-Driven Legal World examines the current and future impact of blockchain, including the regulatory challenges and opportunities. It describes new technological and innovation models, business impact and legal treatment to date, and anticipates how this will affect the legal sector and policy perspectives on a global scale.
Considering the financial services sector and beyond, the report considers how the legal profession must adapt and optimise for changing client needs, technological advances, cost-effectiveness and the efficient delivery of legal services.
Bitcoin and blockchain has impacted how we think of the transfer and ownership of information and value, says the report, with new decentralised models emerging such as decentralised governance, autonomous organisations, arbitration and crowdfunding in the form of initial coin offerings.
Among the issues raised by the report are: will there be new or reshaped blockchain-driven business sectors with new or changed products and services; and will there be a shift from human readable law to code?
---
IBA awarded at Cuba legal congress
The IBA participated in the International Congress of Cuba's National Organisation of Collective Law Offices (ONBC), held in Havana in September. Jaime Carey (pictured above left), Chair of the Legal Practice Division, gave a presentation on the development and perspectives of law firms in Latin America to the 900-strong audience. The IBA received an award from the ONBC for taking part in the event and for its commitment to the ongoing training of young lawyers in Cuba.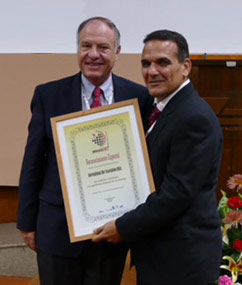 ---