Bullying and Sexual Harassment in the Legal Profession

---
Overview
The legal profession has a problem. In 2018, the IBA and Acritas conducted the largest-ever global survey on bullying and sexual harassment in the profession. Nearly 7,000 individuals from 135 countries responded, from across the spectrum of legal workplaces: law firms, in-house, barristers' chambers, government and the judiciary. The results provide empirical confirmation that bullying and sexual harassment are rife in the legal profession. Approximately one in two female respondents and one in three male respondents had been bullied in connection with their employment. One in three female respondents had been sexually harassed in a workplace context, as had one in 14 male respondents.
In Us Too? Bullying and Sexual Harassment in the Legal Profession (May 2019), the IBA Legal Policy & Research Unit (LPRU) analysed this data to understand the nature, extent and impact of the problem and inform the development of solutions. The Us Too? report outlines 10 recommendations for achieving positive change, and highlights steps the IBA will take to lead by example. Read more
Following the publication of Us Too?, the IBA undertook an unprecedented global engagement campaign. During visits to 30 cities across six continents, the IBA held public events and met with hundreds of stakeholders. In May 2020, the IBA announced the next phase of work, seeking to maintain momentum and draw on the insight gathered during the campaign. This next phase included the development of an anti-harassment e-learning series with The College of Law Australia, a discussion paper on the use of technology to address harassment, a report on the regulatory dimensions of inappropriate behaviour (forthcoming) and collaboration with Osiris Labs to develop immersive anti-harassment training (ongoing).
The IBA remains committed to addressing bullying and sexual harassment in the legal profession. Read more.
Training
The IBA and The College of Law Australia are pleased to provide this e-learning training for use by the legal profession to ensure safe, supportive and respectful workplaces for everyone.
Access training
"This important report is a clarion call for urgent action. I urge you to absorb its facts and findings and then make a difference."
Julia Gillard AC, 27th Prime Minister of Australia
Further research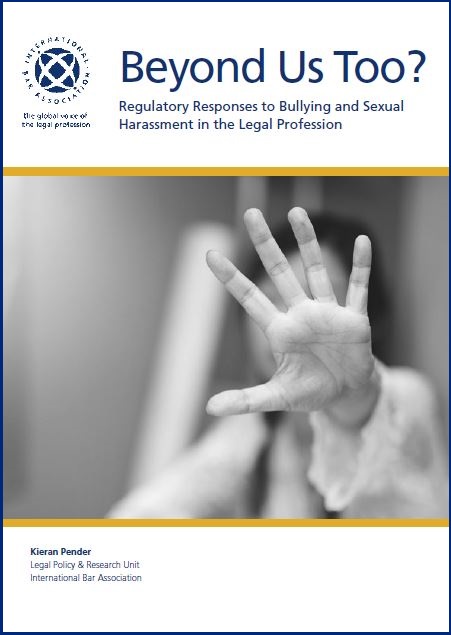 Innovation-led cultural change: can technology effectively address workplace harassment?
In the post #MeToo era, there has been a global awakening to the pervasive and endemic nature of sexual harassment, accompanied by a realisation of the prevalence of these negative behaviours in the workplace context. However, the limitations associated with traditional reporting methods and the fear of retaliation means many targets choose to remain silent. Trust Tech has been at the forefront of new efforts to facilitate reporting of such incidents. This new report from the IBA explores how the emerging field of Trust Tech empowers workplaces, representative bodies and regulators to provide flexible channels for targets to report incidents.