The IBA's response to the war in Ukraine  
General counsel on harnessing technology to alleviate poverty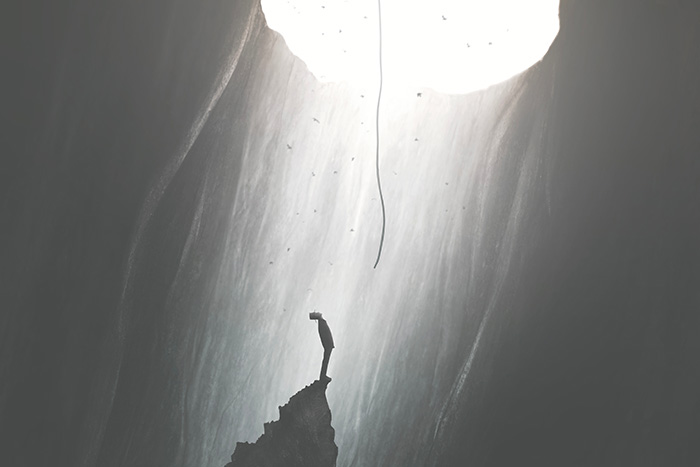 The social and financial impact of Covid-19 has led to one of the biggest shake-ups the not-for-profit sector has seen in decades. As the pandemic continues to raise a plethora of challenges, general counsel are finding innovative ways to ensure vulnerable communities get the support they so desperately need. Ruth Green reports.
In April 2020, the International Fund for Agricultural Development (IFAD) launched the COVID-19 Rural Poor Stimulus Facility to support small-scale farmers in the developing world. At a time when supply chain pinch points were at risk of being exacerbated by the pandemic, the initiative was designed to ensure farmers could maintain access to inputs, markets and cashflow.
'Many of these rural farmers had to move to very disruptive coping strategies, like selling their seeds or selling their fertiliser or livestock just to put food on their table,' says Katherine Meighan, IFAD's General Counsel. 'Then when the next growing season comes, they don't have seeds. The growing seasons and harvest seasons don't wait for anyone. We need to make sure the people that feed us are fed themselves.'
Technology has been a lifeline throughout the pandemic, from allowing people to maintain social interactions to facilitating business transactions. However, some are concerned that it has done little to address inequality more broadly. 'Technology has not narrowed inequality in our society but has widened the gap between the rich and the poor,' says Tara Archer-Glasgow, Co-Chair of the IBA Poverty and Social Development Committee and a partner at Higgs Johnson in Nassau, The Bahamas.
'Low-income Bahamians have to rely on the kindness of those in the legal aid sector or otherwise to assist with their cases,' says Archer-Glasgow. 'This is due to the lack of or limited amount of internet resources available in public libraries and the legal aid clinic.'
Although the legal system has been able to endure despite the pandemic due to a heavy reliance on electronic devices and applications, she says individuals from a poor socio-economic background have been unable to access the internet and as such their cases have 'fallen through the cracks'.
Meighan says this is precisely why IFAD has focused its efforts on using data and digitalisation to ensure that women in the rural world – who have traditionally taken up digital and financial services at a much lower rate than their male counterparts – aren't left behind. 'We're using digitalisation as a way to even the playing field,' she says.
After an initial cash injection of $40m, IFAD has already secured more than $60m in funding from its member states and donors. As well as providing farmers and cooperatives with basic inputs, like seeds and fertilisers, the funding has been used to provide digital support, giving these communities access to iPads and other technologies to help them track local weather patterns and use apps to buy and distribute their produce directly to market.
In India, digital training and the launch of an ATM cashpoint has helped many women in rural communities maintain their financial independence. IFAD also continues to fund the procurement of transport equipment, including tricycles, trailers, helmets, licence plates and stackable crates in several countries after Covid-19 transport restrictions threatened to paralyse local food supply chains. 'During the pandemic it was impossible in some countries even to apply for the licence to drive a truck because the government offices were shut,' says Meighan. 'These projects allow farmers to continue to have access to transport and deliver their products to processing and ultimately to consumers.'
Technology has become a leveller across the world, even in more subtle ways. Oxfam International was forced to accelerate its restructuring plans in 2020 after its chain of charity shops were shut and fundraising events were cancelled in the wake of the pandemic and it placed two-thirds of its UK staff on furlough.
In what has clearly been a challenging time, Oxfam's General Counsel, Joss Saunders, is optimistic about the way that technology has helped the organisation keep its head above water. 'From the legal function's perspective, we've probably leapt forward several years,' he says. 'I'm sure that's true of many, many organisations. The way that we've got used to working with technology with each other – I think that we will reap benefits from that for years to come.'
"The way that we've got used to working with technology with each other – I think that we will reap benefits from that for years to come

Joss Saunders, General Counsel, Oxfam International

Conversations around restructuring the global Oxfam network suddenly had to take place online. Saunders says arguably technology made the process altogether easier. 'In fact, one of the great learnings for us is the way that our meeting discipline has improved hugely,' he says. 'It was still challenging to get 21 different organisations to agree. But, actually, the technology enables breakout rooms. It enables discussion. Technology really has come to our rescue in many ways. It's different, but it can work. There's no looking back. We completed the restructure in March this year and it will go live on 1st July.'

The pandemic made close collaboration between the legal team and other parts of the charity all the more important. 'Of course, the law and the legal team is not isolated from the rest of the organisation,' says Saunders. 'We have been supporting people who've been delivering personal protective equipment and some of the more complex contractual or procurement questions, such as getting hold of half a million face masks early on in the pandemic.'

Like IFAD, Oxfam has been working to maintain small farmers' livelihoods throughout these straitened times. 'The question was whether there was going to be a Christmas season for the shops and how, when we're making very difficult choices about what we can and can't buy, do we ensure that we're protecting the people who are most vulnerable,' says Saunders.

'Although we needed to reduce the scale of our procurement, we took the decision early on that we would continue procurement for all of our Fairtrade suppliers, our ethical sourcing and Sourced by Oxfam range,' she highlights. 'This was about making priorities, but co-making those between legal teams and other teams, which was very important.'

IFAD's latest replenishment round raised a record-breaking $3.8bn. Meighan takes comfort from the fact that many governments are prioritising alleviating poverty and hunger even during this difficult period. 'Given what's going on around the world and with governments really struggling, to have the highest replenishment we've ever had really shows the importance of the institution and our work to support communities in the rural world.'