Gun control: a glimmer of hope from the 'Gunshine State'
MICHAEL GOLDHABER, IBA US CORRESPONDENT
Americans are accustomed to legislators offering nothing but hollow prayers following the latest unthinkable school shooting. But two new things happened in the wake of February's massacre of 17 schoolchildren in Parkland, Florida.
At the state level, a Republican governor and legislature took bold action against gun violence. At the federal level, a Republican President promised even bolder action, although his promises ultimately proved to be empty.
On 9 March – despite a culture so gun-friendly that it's sometimes called the 'Gunshine State' – Florida responded to high school protests by swiftly enacting a package of mostly sensible gun control measures.
To the applause of gun control advocates, Florida banned devices that turn semi-automatic weapons into machine guns, raised the minimum age for buying long guns to 21, and empowered courts to disarm individuals who are shown to pose an 'extreme risk'. To the alarm of gun control advocates, it also gave local officials the discretion to arm school personnel, in a solution embraced by President Trump and the National Rifle Association (NRA).
Of course, Florida's law is incomplete, and arming teachers would be the height of folly, says Chelsea Parsons, Vice President of Gun Violence Prevention at the Center for American Progress. 'But, the biggest point I'd make is that it happened – that the "Gunshine State" debated and quickly passed a gun control package, and it was signed into law by a Republican governor who was rated A+ by the NRA. That in and of itself speaks to tremendous progress, and frankly speaks to the tremendous power of these students.'
Nevertheless, gunmakers have little to fear from litigation, because in 2005 the United States Congress gave them near total immunity. But, reinforcing the shift in state politics is a changed investment climate. Share prices in the US gun industry usually rise after mass shootings (because sales spike), but this time they fell. The fund giant BlackRock talked gun safety with two leading gunmakers and Dick's Sporting Goods ended assault weapon sales after a pressure campaign by the Interfaith Center on Corporate Responsibility.
At the same time, guns demand a federal solution, because they cross state and national borders. America's gun murder rate is 25 times higher than in peer nations, according to a new American Journal of Medicine study. What's more, Parsons recently found America produces 70 per cent of the crime guns seized in Mexico, which suffers grievous gun violence despite reasonably tight gun laws. The President's border rhetoric overlooks how the export of violence goes in the other direction, says Parsons. Unfortunately, at the federal level, the post-Parkland progress of the gun debate has been halting.
"The 'Gunshine State' debated and quicklu passed a gun control package, and it was signed into a law by a Republican governon rated A+ by the NRA. That speaks to a tremendous progress
Chelsea Parsons
Vice President,
Gun Violence Prevention,
Centre for American Progress
Appearing live on television at the end of February, President Trump surprisingly embraced universal background checks and an assault weapons ban – a pair of policies that top the wishlist of gun control experts. There was widespread scepticism given the President's friendship with the NRA, and his reversal last year of an Obama executive order to bar the mentally ill from buying guns.
After two weeks of pressure, the President abandoned his vows on assault weapons and background checks on 12 March, as well as his commitment to raise the federal age limit for buying long guns. 'Not much political support (to put it mildly),' he said of the age policy on Twitter.
Although the President might be correct if one defines political support as support in Congress, over 80 per cent of the public favours raising the age limit, according to a new POLITICO/Morning Consult poll. Universal background checks command near-universal support, as does the ban on selling guns to the mentally ill that the President rescinded last year. 'The gun lobby has shown how damaged our democracy is,' says gun regulation researcher John Donohue of Stanford Law School. 'If you look at public opinion polls, 93 per cent of gun owners believe you should have universal background checks – and the federal government won't even put that to a vote.'
Still, the Parkland massacre has shifted the debate even at the federal level. The President now supports a bill to improve background checks by forcing other federal agencies to share their records with the Federal Bureau of Investigation. He also urges states to empower their courts to issue 'extreme risk protection orders', as Florida has done. Meanwhile, an aggressively gun-friendly bill that passed the House in December may be stalling. The gun lobby wishes to force 'gun-control states' to let visitors from 'gun-rights states' carry concealed weapons. After Parkland, 60 senators are less apt to make 'conceal carry' a national policy.
Parkland poses a sharp contrast with the 2012 shooting at Sandy Hook Elementary School, which inspired Republican state legislatures to pass 70 laws that only expanded gun rights. Even more disturbing, a recent Science study found that Sandy Hook inspired the purchase of three million extra guns in the following five months.
Donohue thinks this moment is different because the past six months have seen three of history's worst mass shootings: in Parkland, Las Vegas and Sutherland Springs, Texas. He also cites the galvanising of dissent in Trump's America – and the new energy of youth protests, seen most potently during the 'March For Our Lives' demonstrations in late March.
'After these big shootings, there's a cycle that we go through, and there's a dance that happens,' says Parsons. 'It's the outrage and then it's "thoughts and prayers" and then it's calls for action and then critiques of calls for action and then it plays itself out in a couple of days.
'What has happened this time, because of the advocacy of the students from Parkland, is that we have extended the life of this conversation. We're still talking about gun violence a month after that shooting. I think that is directly credited to the students… From the moment this happened, they stood up and said "No more."'
---
Hague Office welcomes first ICC acquittal agreement
New agreements between the International Criminal Court (ICC) and Argentina on the release of persons after acquittal have been welcomed by the IBA's Hague Office.
The agreements facilitate the ICC's ability to realise the rights of accused under the Rome Statute. Argentina signed two cooperation agreements on 28 February, becoming the first ICC State Party to do so on the release of persons, and the second – after Belgium – on interim release.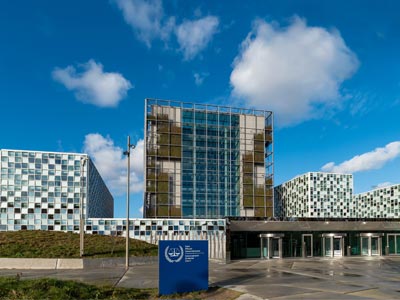 The ICC's legal regime provides that States Parties cooperate with the ICC to accomplish a number of core functions, including the implementation of arrest warrants, witness protection, interim release of accused persons and enforcement of sentences.
However, the low number of existing voluntary agreements has created operational challenges and limitations for the ICC. This is particularly the case for interim release, enforcement of sentences and relocation of persons released by the ICC, all areas where state cooperation is required to implement judgments and judicial orders.
Aurelie Roche Mair, Director of the IBA International Criminal Court and International Criminal Law Programme, which is based in the Hague Office, explained that 'voluntary agreements support the efficiency of the [ICC], as the lack of agreements can result in delays to trial proceedings, protracted pre-trial detention for defendants and the inability of the [ICC] to implement judicial orders'.
Argentina is now the only country to have signed all forms of voluntary agreements, having signed cooperation agreements for the protection of witnesses in November 2016 and for the enforcement of sentences in April 2017.
---
Call for Brazilian government to reverse 'federal intervention' in Rio de Janeiro

The Brazilian government is set to request blanket search warrants
The IBA's Human Rights Institute and the Anti-Torture Initiative (ATI) have urged the Brazilian government to reverse the decision handing control of security in Rio de Janeiro to the military.
President Michel Temer signed a decree of 'federal intervention' on 16 February 2018. The government has also announced it will request blanket search warrants for entire neighbourhoods in the state.
'Given the recent history of such interventions in Brazil, this measure anticipates an increased risk for torture and extrajudicial executions,' said ATI Director and former United Nations Special Rapporteur on Torture, Juan Méndez.
Under current legislation, Brazilian military jurisdiction is excessively broad and does not comply with international standards, while the composition of military courts can hinder due process and fair trial guarantees since military officials take up the role of judges.
---
Nominations for IBA Human Rights Award 2018 now open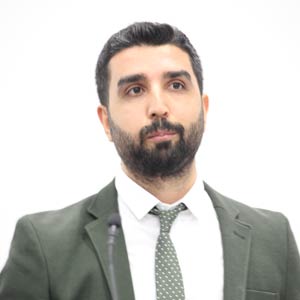 IBA Human Rights Award. The award will be made to a legal practitioner who, through personal endeavour, is deemed to have made an outstanding contribution to the promotion, protection and advancement of the human rights of all, or any group of, people, particularly with respect to their right to live in a fair and just society under the rule of law.
The winner of last year's award was Turkish lawyer Ramazan Demir (pictured). Demir has defended journalists, academics, politicians and lawyers accused of terrorism by Turkish State authorities, and recently spent seven months in pre-trial detention.
For more information and to apply, go to tinyurl.com/hr-award-2018. The deadline for application is midnight (BST) on 1 June 2018.
---
Women Lawyers' Interest Group contributes to UN Commission on the Status of Women
The IBA Women Lawyers' Interest Group, Crimes Against Women Subcommittee and Sextortion Project Working Group hosted a parallel event on 15 March to coincide with the latest session of the United Nations' Commission on the Status of Women.
A panel discussion explored The Rural Woman and Technological Advancement: Sustainable Legal Stratagems, looking at the challenges and opportunities in achieving gender equality and economic empowerment for women.
The event highlighted how the multifaceted roles of women in local communities worldwide are crucial for the enrichment of national economies and imperative to the success of the Sustainable Development Goals.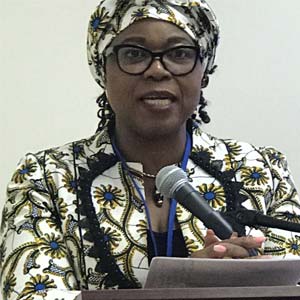 Professor Joy Ezeilo, University of Nigeria
Photo credit: Rosemary Chikwendu
Setting the scene, Fatima Pelaes, Secretary for Women Affairs of the Brazilian Federal Government, considered whether technological innovations are being adequately used to support women. Offering a view from the United States and Africa, respectively, Dan Conaway of Conaway & Strickler and Faculty of Law Member at the University of Nigeria, Joy Ezeilo, examined legal strides and how laws could be strengthened – ranging from reformist policies and advocacy, to ratifications to international treaties.
The event was staged alongside the 62nd Session of the UN Commission on the Status of Women, which took place in New York from 12–23 March 2018 and was attended by representatives of Member States, UN entities, and UN Economic and Social Council-accredited non-governmental organisations.
---
IBAHRI raises rule of law concerns in China, the Maldives and Kyrgyzstan
In an open letter to the President of China, Xi Jinping, the IBA's Human Rights Institute (IBAHRI) has called for an end to the persecution of human rights lawyers in the country.
Disturbed by the number of human rights lawyers and activists disbarred, detained, interrogated or charged since July 2015, the IBAHRI also urges China to adhere to international legal instruments that safeguard the independence of legal professionals.
The IBAHRI references two recent cases: Yu Wensheng was disbarred and detained for 'obstructing official duties'. He was later charged with 'inciting subversion of state officials' after calling for government reform.
Sui Muqing was disbarred for previous events: in 2014, he allowed a client to disrupt the court and, in 2017, he took photographs at a police station while with a client.
The letter urges President Xi to 'take all possible measures to ensure that lawyers can carry out their legitimate professional activities without fear of intimidation, harassment or interference, in accordance with international human rights standards'.
The IBAHRI has also called on the President of the Maldives, Abdulla Yameen, to adhere to the rule of law, after a state of emergency was declared in response to political unrest.
It comes after the government refused to abide by a unanimous ruling of the full bench of the Supreme Court. Two Supreme Court judges were arrested after a Court ordered the release of nine political prisoners in lieu of a fresh investigation and re-trial. The order was subsequently rescinded.
IBAHRI Co-Chair, the Hon Michael Kirby AC CMG, said: 'For democracy to flourish, it is essential that the separation of powers be maintained in accordance with the nation's Constitution as well as international law.'
Grave concern over the case brought against Kyrgyz lawyer Taalaigul Toktakunova by the General Prosecutor of the Kyrgyz Republic have also been expressed by the IBAHRI. The case appears to align the lawyer with charges laid against one of her clients.
The charges revolve around perceived attacks on the honour of former President of the Kyrgyz Republic, Almazbek Sharshenovich Atambayev. Consequently, Ms Toktakunova has been made to pay compensation, and has had her property and assets confiscated.
All IBAHRI news releases can be viewed in full at tinyurl.com/ibahri-latest-news

---
Harassment and bullying: panel discussion
The IBAHRI is hosting a panel discussion on 19 April on Harassment and Bullying in the Legal Workplace: Systemic or Rare? What can and should be done?
Considering issues of gender, race, sexuality and beyond, the panellists will analyse how ingrained abusive behaviours are in the legal profession and how to combat them. The Law Society, London is hosting the event and subsequent drinks reception.
To register to attend, go to tinyurl.com/ibahri-bullying-panel
---
Gender inequality strikes a chord at Davos
RUTH GREEN, IBA MULTIMEDIA JOURNALIST
Women appeared to be all the rage at this year's World Economic Forum (WEF) in Davos as an all-female panel chaired the summit for the first time in its 47-year history. However, the revelation that still only 21 per cent of this year's attendees were women, together with reports that gender equality is declining across many industries, painted a distinctly different picture.
The panel, which included International Monetary Fund Managing Director Christine Lagarde, as well as businesswomen, a physicist, a social activist and a prime minister, was lauded as a bold attempt to increase female representation at the notoriously male-dominated event.
However, Angela Kane, a senior fellow at the Vienna Center for Disarmament and Non-Proliferation, who has spoken at the summit in the past, believes the WEF is still out of step with the rest of the business world.
'The only change this time is that they made more of an effort to showcase women on panels,' she says. 'It is an economic forum and deals with economic issues primarily, but on the other hand there is a big disconnect, I feel, with what's happening in the world and what they're doing. If you look at economic topics, there are more Chief Executive Officers that are men than women. But I still think that if you really look for women, you can find them.'
Kane left the United Nations in August 2015 after 38 years, and told Global Insight shortly after retiring that she hoped to see a woman appointed as Secretary-General one day. Although women now hold 23 of the UN's 44 most senior positions, Kane says it's a similar story of keeping up appearances. 'It's not only the numbers but also the types of jobs they have,' she says. 'And that simply is still not 50/50: the really good, plum political and peacekeeping jobs are held by men. The really important jobs in the organisation are not held by women.'
In November 2017, a WEF report found that the gender parity gap across health, education, politics and the workplace had increased for the first time since 2006. A second report launched at this year's Davos summit cited the growing gender inequality across male-dominated industries, such as information technology and biotechnology.
Charandeep Kaur, a partner at Trilegal in New Delhi and Co-Chair of the IBA Women Lawyers' Interest Group, says although such reports are discouraging, it is important to focus on the positives. 'I think we should look at the progress we've made in this area and draw out positive energy to gear ourselves for the challenges that still persist. The role that technology is playing across industries can't be overlooked any longer, and substantial steps need to be taken at the grass roots level to ensure we have support programmes for women.'
"What we are now seeing is a real sense of urgency in the profession to adopt best practices that nurture and sponsor women through the ranks to ensure gender diversity flows right to the top
Charandeep Kaur
Co-Chair, IBA Women;
Lawyers' Interest Group
Charlotte Heiss, Group Chief Legal Officer and Company Secretary at RSA Insurance Group, who has made moves to increase diversity in her own business, says holding onto and promoting female talent is essential. 'As lawyers, we can play a role in ensuring diversity gets appropriate prominence with boards and we can also help design initiatives and policies for improving diversity and inclusion in our businesses,' she says. 'I am a believer that what gets measured gets done, so providing management with meaningful diversity reporting makes for great conversations.'
Kaur believes private practice is starting to adopt a more proactive approach to gender diversity: 'What we're now seeing is a real sense of urgency in the profession to adopt best practices that nurture and sponsor women through the ranks to ensure gender diversity flows right to the top. Creating flexible workplaces, embedding diversity in the culture at all levels and a sense of responsibility in choosing businesses that demonstrate gender diversity are some of the steps that can have an immediate impact.'
Canadian Prime Minister Justin Trudeau's speech at Davos, urging delegates to do more to promote women's rights, was warmly received at a time when global movements like #MeToo and #TimesUp continue to highlight sexual harassment and gender inequality in the workplace.
However, Isabel Bueno, a partner at Mattos Filho, Veiga Filho, Marrey Jr e Quiroga Advogados in São Paulo, stresses that support starts from the bottom up. 'We believe that support for the global women's movement is fundamental; on the other hand, we believe that local efforts geared towards women addressing the specific issues of each context and culture are essential,' she says. 'Our firm supports, for example, the HeForShe campaign [initiated by] UN Women and, in parallel, works with local organisations to promote gender equality.'
Bueno, who also co-chairs the IBA Women Lawyers' Interest Group, says ensuring women have access to justice is vital to upholding their rights. 'We understand it is not useful having women rights guaranteed by law if they do not have access to justice. Therefore, we engage our lawyers and attorneys to defend clients who do not have sufficient resources to pay for legal services or seek rights in the judiciary.'
Both Kaur and Bueno say there has been progress in their countries. 'In India, we are seeing incremental progress by way of policy changes that are slowly but steadily helping in arresting the gap,' says Kaur. 'These include the Maternity Benefits Programme, the Sexual Harassment of Women at Workplace Act, the Beti Bachao Beti Padhao women protection and women education programme and a statutory provision making it mandatory [for some companies] to appoint at least one female director on the Board.'
'Brazil is focused on adopting solutions and reforms to improve our economic situation,' adds Bueno. 'Maybe the gender gap is not a priority yet. Let's hope international authorities and institutions can further the discussion around the topic in their agendas soon.'