The US Presidency: abortion at the threshold
MICHAEL GOLDHABER, IBA US CORRESPONDENT
In recent weeks, nine American states have enacted highly controversial new laws severely restricting the rights of women to choose to have an abortion.
Six states – Georgia, Kentucky, Louisiana, Mississippi, Missouri and Ohio – passed bills banning abortion as early as six to eight weeks into pregnancy.
Arkansas and Utah drew the line at 18 weeks, while Alabama passed the most restrictive law, prohibiting abortion from conception, with no exception for rape or incest.
'The fact that we have had so many states propose essentially all-out bans on abortion [makes] this legislative session deeply, deeply concerning,' says Center for Reproductive Rights Litigation Director Julie Rikelman.
All nine states are attempting to force the US Supreme Court to either void their new laws, or overturn its landmark 1973 decision Roe v Wade, which held that the US Constitution protects a pregnant woman's freedom to choose to have an abortion until the fetus is medically viable (now on average about 24 weeks into pregnancy).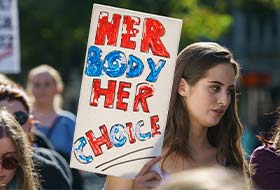 US states have passed bills banning abortion as early as six weeks into pregnancy
The sponsor of Alabama's extremely restrictive law, State Representative Terri Collins, publicly admits that her aim is 'to get this case in front of the Supreme Court so Roe v Wade can be overturned'.
The bans on abortion as early as six weeks have also proven highly controversial. 'Six weeks of pregnancy is just two weeks after the average woman misses her period,' notes Shannon Brewer, who directs Mississippi's last abortion clinic. That leaves no time for the lower-income women who dominate her clientele to save money, arrange time off, and travel to a distant clinic.
'Those laws – six weeks, Alabama, whatever – under current law are one hundred percent unconstitutional,' says National Right to Life General Counsel James Bopp, Jr. 'Any prohibition prior to viability, there's simply no question under current law that it's unconstitutional. And so [if] you prohibit all abortions for any period prior to viability, no federal judge in the United States is going to vote to uphold [any] of those laws. Georgia, Alabama, 15-week bans – just not gonna happen.'
As a matter of law, Rikelman agrees with this assessment. 'It's really important to recognise that the bans are extreme and outrageous and unconstitutional,' she says. But she also stresses that the pro-life movement is pursuing a parallel strategy: 'to eliminate access to abortion at the state level with one restriction after another restriction after another restriction even while Roe remains the law.'
Rikelman cautions: 'Even if all of these bans are struck down by the courts – as they should be because they are clearly unconstitutional -- the other strategy continues and it is just as dangerous.'
By Rikelman's count, states have passed over 400 abortion restrictions since 2010, mostly in the South and Midwest. Of the dozen or so now under challenge in the federal circuit courts, most don't regulate when women can have an abortion, but rather how or why or with whom. So-called TRAP laws impose 'targeted regulation on abortion providers'. Their sponsors say these laws aim to protect health. But their real objective, pro-choice lawyers argue, is to force embattled abortion clinics to close by imposing requirements that are difficult to meet (for instance, specifying how wide a hallway must be).
'In many places, access to abortion is already hanging by a thread,' notes Rikelman. Six states are down to one abortion clinic (the Dakotas, Kentucky, Mississippi, Missouri and West Virginia). In May, regulators tried to close Missouri's last clinic for alleged health code violations. A state judge temporarily blocked the closure, while a commission has given the clinic more time to resolve its licensing dispute.
The case of June Medical Services v Gee will decide whether Louisiana becomes the next state with only one abortion clinic – down from 11 a decade ago. The Center for Reproductive Rights is challenging a Louisiana 'TRAP law' requiring each doctor to obtain admitting privileges at a local hospital. Some Court watchers view June Medical as likely to be the Court's next major abortion case, in part because the Court reached out to stay the law pending the plaintiffs' petition for certiorari.
Rikelman expresses confidence that the Supreme Court will void the law summarily, because it voided a near-identical Texas law only three years ago. But the replacement of Justice Anthony Kennedy with Justice Brett Kavanaugh introduces deep uncertainty. Many Court watchers think it's less likely that the Court will overturn Roe in one fell swoop in a case like Alabama's, than that the Court will chip away at Roe by overturning its precedents on precisely the sort of narrow but consequential abortion regulation presented in June Medical.
Justice Stephen Breyer appears to be concerned about the new majority's disrespect for precedent. In this term's California v Hyatt, the Court overturned its rule on states being sued in the courts of other states. On the face of it, this had nothing to do with abortion, but Breyer's dissent could be interpreted as the most thinly veiled of references to Roe v Wade. 'Today's decision,' he lamented, 'can only cause one to wonder which cases the Court will overrule next.'
---
Media freedom: new panel of global experts
Lord Neuberger and Amal Clooney head a new panel of legal experts addressing media abuses
The first meeting of the Global Media Freedom Expert Panel, an independent high-level body set up by the UK Foreign Office, took place at the IBA's London offices on 10 July.
Convened at the request of the UK and Canadian governments, the panel will consider legal and policy initiatives that states can adopt to improve media freedom worldwide. It's chaired by Lord Neuberger, former President of the UK Supreme Court, with Amal Clooney, UK Special Envoy on Media Freedom, the Deputy Chair. The IBA's Human Rights Institute's Director, Baroness Helena Kennedy QC, sits as a panel member.
Bringing together leading international legal experts on media freedom, including judges, lawyers and academics, the panel will:
propose initiatives that can be taken by governments to ensure existing international obligations relating to media freedom are enforced;
advise on new international commitments by governments that would help to prevent and reverse media abuses;
support the repeal of legislation that's outdated or restricts media freedom; and
promote best practice and model legislation to protect a vibrant free press.
The panel's work is part of an international campaign to shine a spotlight on the issue, improve the safety of journalists and push back against those attempting to prevent journalistic scrutiny.
Find out more at tinyurl.com/globalmediafreedom
---
UN Human Rights Council – latest session
The IBA's Human Rights Institute (IBAHRI) recently attended the 41st session of the UN Human Rights Council (HRC) in Geneva.
During the session on 24 June to 12 July, the Institute highlighted concerns over attacks against the independence of the legal profession in China, the Philippines, Saudi Arabia and Turkey; the failure to effectively investigate extrajudicial executions in El Salvador; and the alleged involvement of state officials in human rights violations in Sudan.
Another development saw the HRC adopt a resolution on the elimination of all forms of discrimination against women and girls. This followed a side event co-hosted by the IBAHRI as part of its work on the GQUAL campaign for gender parity. The resolution calls for states, the UN and other international institutions to promote balanced gender representation at all levels.
The IBAHRI also joined a large number of non-governmental organisations to push for the renewal of the mandate of the Independent Expert on sexual orientation and gender identity, after amendments were proposed that would weaken its focus and universal application. The planned changes were rejected on 12 July, making way for the mandate to be renewed.
Read more at tinyurl.com/IBAHRI-UN-Programme
---
Saudi Arabia and justice for Khashoggi – podcast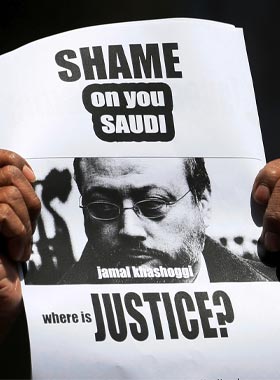 The murder of Saudi journalist Jamal Khashoggi has led to calls for Saudi Arabia to be held to account by the international community.
A damning UN report has concluded that Khashoggi's killing, at the Saudi consulate in Istanbul in October 2018, was an international crime perpetrated by the Saudi state.
The UN's Special Rapporteur on extrajudicial, summary or arbitrary executions has urged further investigation, after finding credible evidence that Saudi's powerful Prince Mohammed bin Salman and senior officials were responsible for the killing and other violations of international law. Saudi Arabia insists it was a rogue operation.
Speaking exclusively to Global Insight's Middle East Correspondent, Emad Mekay, are: Agnès Callamard, the UN Special Rapporteur who headed the UN investigation; and Baroness Helena Kennedy QC, a member of the UN investigation team and Director of the IBA's Human Rights Institute.
In this podcast, they outline the main findings of the investigation team that visited Turkey in early 2019, and which witnessed first-hand evidence shared by the Turkish police and intelligence agency.
Specific issues discussed include Saudi efforts to wipe out evidence, the involvement of high-level officials, and wider criminal accountability for the murder and cover-up operation. Concerns are also raised over the trial in Saudi Arabia of 11 individuals in connection with the killing, which, says Callamard, violates international standards. The speakers also raise the potential for an expanded international investigation, and consider how the case is part of a growing trend that challenges the rule of law.
Listen to the podcast at tinyurl.com/khashoggi-justice
---
Myanmar: murder case highlights concerns over fair trial rights
An international observation of a high-profile murder trial in Myanmar has raised concerns about fair trial rights in the country.
The IBA's Human Rights Institute (IBAHRI) has questioned the fairness of pre-trial and court proceedings in Myanmar, after supporting the monitoring of the U Ko Ni murder trial. 'What is clear from this case is that the criminal justice system and all agents of the system – the police, prosecution, lawyers and judges – should ensure the protection of fair trial rights,' it says.
U Ko Ni, a prominent human rights lawyer, was shot by a gunman in January 2017. The constitutional lawyer and senior legal adviser to the ruling National League for Democracy party was best known for his efforts to amend Myanmar's military-drafted constitution. A taxi driver was also killed when he attempted to intervene.
Five men were charged for their alleged involvement in the murders. A special bench of the Northern District Court in Yangon region convicted four of the men in February 2019.
As the IBAHRI notes in a new report, the trial observation identified many instances where the basic rights of those accused were not respected.
'In some ways the trial appeared to be better than most in Myanmar,' says the IBAHRI. 'However, it did not meet international human rights standards for fair trials. Nor did it comply with Myanmar's domestic law.'
Its concerns include the alleged mistreatment of the accused in custody to encourage them to confess; alleged forced testimony obtained from witnesses; threats to defence lawyers; and the mandatory imposition of the death penalty for the gunman and another man.
The IBAHRI also makes a series of recommendations to the Myanmar's Attorney-General, Parliament, Ministry of Home Affairs and Supreme Court, as well as bar associations and others, aimed to improving the administration of justice and upholding the rule of law.
To read the IBAHRI's report, go to tinyurl.com/Myanmar-trial-observation
---
Iran: criminal code overhaul threatens legal rights
In an open letter to the Supreme Leader of the Islamic Republic of Iran, His Excellency Ayatollah Ali Hosseini Khamenei, the IBA's Human Rights Institute (IBAHRI) has expressed deep concern over a proposed amendment to Iran's Code of Criminal Procedure.
The planned change would allow judicial authorities to deny some detainees access to counsel for a period of 20 days. 'National security', 'terrorism' and 'financial crimes' are included as types of offences to which the amendment would relate while charges are being investigated.
Authorities would be granted the power to extend the ban virtually indefinitely by issuing an order 'prohibiting the presence of a lawyer' – eroding the right to counsel, the right to communicate with a lawyer, and to have adequate time and resources to prepare a defence.
The IBAHRI has urged the Supreme Leader to ensure that lawmakers respect and meet Iran's obligations, both under the International Covenant on Civil and Political Rights and under the Iranian Constitution, to uphold the rights to counsel and to a fair trial.
Find out more at tinyurl.com/IBAHRI-concern-Iran
---
Annual Review highlights IBAHRI's key projects
The global reach of the IBA's Human Rights Institute (IBAHRI) is highlighted in its 2018 Annual Review, now available online. It presents an overview of the IBAHRI's projects and activities to protect human rights and the rule of law.
'In 2018, the world celebrated 70 years of the Universal Declaration of Human Rights, adopted at the end of the Second World War when the international community vowed never again to allow such atrocities to happen. More than 70 years later, many parts of the world appear to have forgotten those lessons,' warns the IBAHRI.
Emphasising the indispensable nature of the IBAHRI's work in this current climate, the review outlines a broad range of regional initiatives and partnerships, including capacity-building at local level, training for judges and lawyers, and fact-finding missions, along with the Institute's advocacy work and support of UN mechanisms.
Download the Annual Review at tinyurl.com/IBAHRI-Review-2018
---
Hong Kong: extradition bill 'dead' but not withdrawn despite outcry
ABBY SEIFF, PHNOM PENH
Demonstrators stormed Hong Kong SAR's Legislative Council building on 1 July 2019 in protest at an extradition bill that many fear will give Beijing undue influence over the city's judiciary.
The brief occupation of the legislature represents a defining moment in the protests against the bill that have taken place in Hong Kong since late March.
Carrie Lam, Hong Kong's Chief Executive, suspended the bill on 15 June and has since described it as 'dead'. However, the bill has not been withdrawn and tensions remain high.
The Fugitive Offenders and Mutual Legal Assistance in Criminal Matters Legislation (Amendment) Bill 2019 was first proposed in February and would amend a colonial-era law from 1997 to allow for extraditions to mainland China, as well as to Macau and Taiwan, Republic of China.
The law was initially proposed in the wake of a high-profile case in which a Hongkonger fled Taiwan after allegedly murdering his pregnant girlfriend while on holiday in Taipei. Despite the man's confession, Hong Kong was unable to prosecute him for the murder domestically. According to Chiu Chui-cheng, Deputy Minister of Taiwan's Mainland Affairs Council, Taipei's requests to discuss extradition were ignored by the Hong Kong authorities.
Hong Kong's government has defended the proposed law by describing it as necessary to 'plug the loopholes in Hong Kong's overall co-operation mechanism in criminal and juridical assistance matters'. Critics disagree and insist it could imperil Hongkongers who fall foul of the Chinese government.
Taiwan, which is self-governed but claimed by China, has called the legislation a threat to its own people and politically motivated.
Minor revisions were made to the bill in late May. For example, the bill now requires the requesting party to 'include safeguards that are in line with general human rights protection regarding special surrender arrangements, such as presumption of innocence, open trial, legal representation, right to cross-examine witnesses, no coerced confession, right to appeal, etc.' Opponents of the bill say such measures fall short.

The proposed Hong Kong extradition bill led to unprecedented street protests
Hong Kong's top legal bodies – the Hong Kong Bar Association (HKBA) and the Law Society of Hong Kong – have repeatedly condemned the proposed legislation, calling it unnecessary, harmful and a threat to the city's judicial independence.
Government lawyers meanwhile have argued that such laws are in line with international practice and mirror similar mechanisms in the UK and elsewhere.
Ronny Tong, a member of the Hong Kong Executive Council and a former HKBA chair, says the bill has a number of safeguards and is well in line with the UN's standards on extradition law. 'The government proposed that we would seek assurance from any state to ensure that trial would comply with the minimum guarantees set out in the [UN's International Covenant on Civil and Political Rights],' says Tong. 'There is nothing perverse, nothing evil, quite the contrary… however, this is being portrayed as a law that would enable Hong Kong to move people who criticise [the] mainland to [the] mainland. Of course it's a travesty of the facts.'
The bill, Tong says, is similar to those found in Australia, Canada, New Zealand and the UK. However, the IBA's Human Rights Institute and six other international law groups have issued joint observations on the human rights implications of the bill, which highlight the key fallacies in such comparisons.
The UK legislation, for example, gives judges broad power to deny extradition on human rights grounds. This includes violations such as torture and degrading treatment, but also 'exposure to a compromised or corrupt judicial system, or to a system of justice that "flagrantly" fails to protect basic fair trial rights'.
While the Hong Kong bill has some safeguards, the joint observations call them deeply insufficient. For instance, the bill says that 'political offences' would be exempt. However, the joint observations point out that 'persecuting states do not realistically advertise the "political" nature of their allegations.'
'Most crucially, [the bill] vests no power in a Hong Kong court to refuse extradition on the grounds that extradition exposes the person to violation of the UN's International Covenant on Civil and Political Rights or the Hong Kong Bill of Rights,' the joint observations note.
Under the proposed legislation, Hong Kong's Chief Executive has the power to determine whether safeguards are met. In their joint observations, the international law groups argue that it should be judges who make such determinations, rather than a leader appointed by Beijing.
John Vernon, a former Chair of the IBA Human Rights Law Committee and a partner at Dallas-based Vernon Law Group, says the most troubling aspect is that the bill 'excludes the Legislative Council in Hong Kong from any role in overseeing the extradition process, even though the Council has the power to block extraditions under existing law'.
'The bill's human rights standards are non-existent,' says Vernon. 'The bill eliminates Hong Kong courts from intervening to deny extradition. Hong Kong courts can merely rubber stamp the extradition request.'An upcoming hearing at the Supreme Court of England and Wales will highlight another aspect of the issue: whether judges themselves can fall victim to bullying. In 2015, Judge Claire Gilham brought proceedings in the Employment Tribunal against the Ministry of Justice claiming detriment after exposing excessive workloads and unsafe working conditions at Warrington County Court. She says she was also asked to tolerate bullying behaviour by a more senior judge.
However, her claim was dismissed on the grounds that, as an office holder rather than an employee, she is not afforded whistleblower protection under the Employment Rights Act 1996. Gilham has, nevertheless, succeeded in getting leave to appeal the case at the Supreme Court, which will hear her arguments in June, including whether she is eligible to bring her claim as an employee of the Crown. When approached by Global Insight, the Ministry of Justice and the JCIO declined to comment as the case is ongoing.
Although Gilham's case is principally about employee rights, she's determined it will shed light on the pervasiveness of bullying within the judicial system. 'Stories of judges bullying lawyers and other judges are related internally – and it's not a gendered issue – but there is great reluctance to examine or even preserve evidence or to acknowledge current problems of this nature,' she says.